The Scottish female author J.K. Rowling is the first US$ billionaire writer in history thanks to her iconic Harry Potter novel series. I may be the second one with this post as it entails a piece of breaking news: I visited Hogwarts recently, including the castle hosting the famous School of Witchcraft and Wizardry. Better, I sighted Harry Potter and his wife Ginevra (Ginny) there.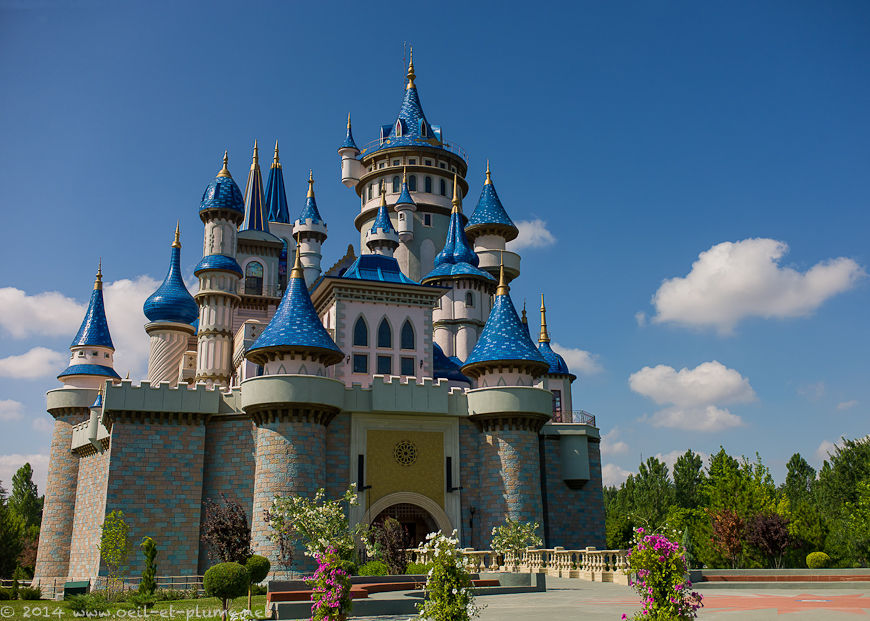 I spot Harry and Ginny in Hogwarts castle for a few seconds only. Harry, now 34, has a couple of silver hairs falling on his eternal round-shaped eyeglasses. Ginny is beautiful as always. The couple is about to board one of those carriages used to transport students between the castle and Hogsmeade railway station.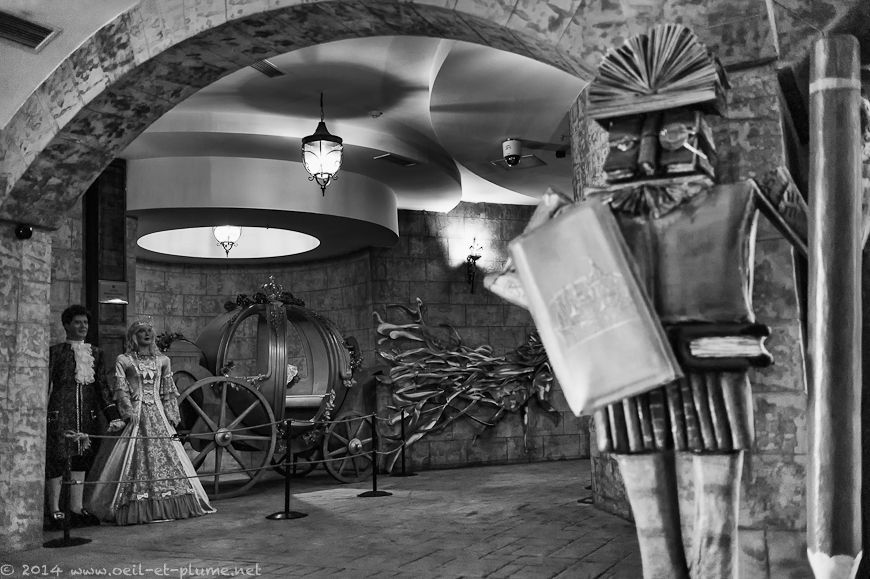 I glance a pair of thestrals pulling the carriage. In Hogwarts' parallel world, thestrals are winged horses that only individuals who have faced death can observe. I hope that you don't see them above.
Where did Harry and Ginny go? You may consult Ritta Skeeter, the well-informed Daily Prophet's Gossip correspondent, to clarify the whereabouts of the couple.
I suspect that Harry and Ginny did not head to Hogsmeade railway station to return to King's Cross railway station in London – the gateway between the wizarding world and our world. They probably boarded the galleon that I find moored in the Black Lake shore close to the Hogsmeade castle on the following day.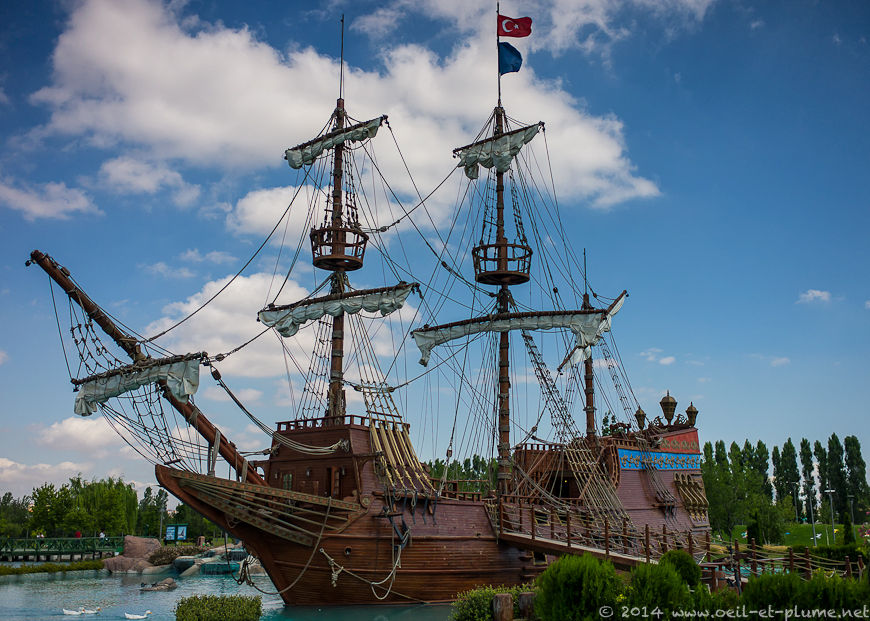 The 16th century vessel could be the ship used by students of the Durmstrang Institute in Harry Potter and the Goblet of Fire to attend the Triwizard Tournament organised in Hogwarts. The magical ship can safely travel underwater and jump from one body of water to another. It likely dropped off Harry and Ginny somewhere before returning swiftly to Hogwarts.
You may object that the sailing ship above looks more like the Black Pearl – the ghostly pirate sea vessel steered by Jack Sparrow and captain Barbarossa in the 2003 Pirates of the Caribbean movie. But the flag floating on the top of the sailing boat is Turkish, not pirate.
Let's leave the fantasy and return to the real world. We are in the Sazova Park of Eskişehir town, in western Anatolia. Amongst other features, the leisure park is dotted with a giant kid's castle and a galleon pirate vessel that have no particular connection with Harry Potter or the captains Sparrow and Barbarossa.
Following a stay in Egirdir, I am Eskisehir to trace the Anatolian soul.
Anatolian soul
Eskisehir is a middle-sized pretty and lively academic town, full of humour and character. It is a city where the visitor feels quickly at ease navigating in the urban landscape and interacting with local people.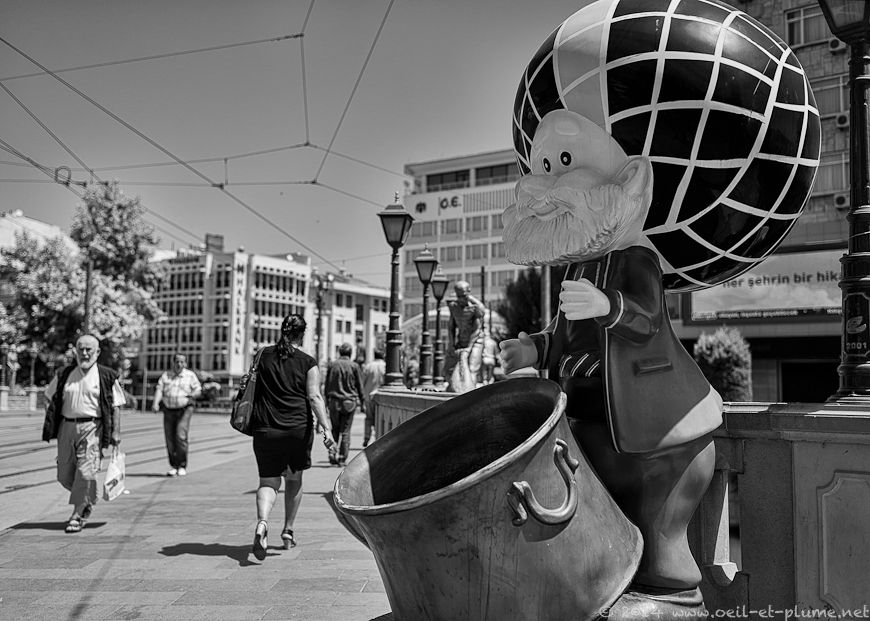 Inescapably romantic
The Porsuk River is the backbone of Eskisehir's cityscape and social life. Recently embanked and beautified, the river displays impeccable grass slopes sheltering countless burgeoning love stories. Love stories start usually just above water. What best place to meet the other half than a narrow walking bridge? Eskisehir counts well a dozen of them. More established couples board lazily romantic gondolas before sitting in of the dozens of cafés along the riversides. Anatolian soul can be very romantic, that's good news.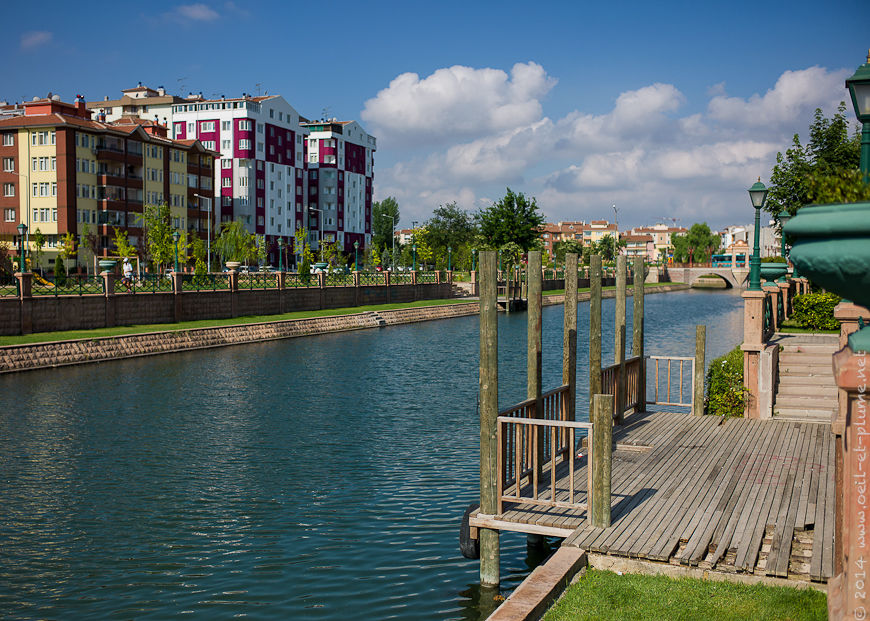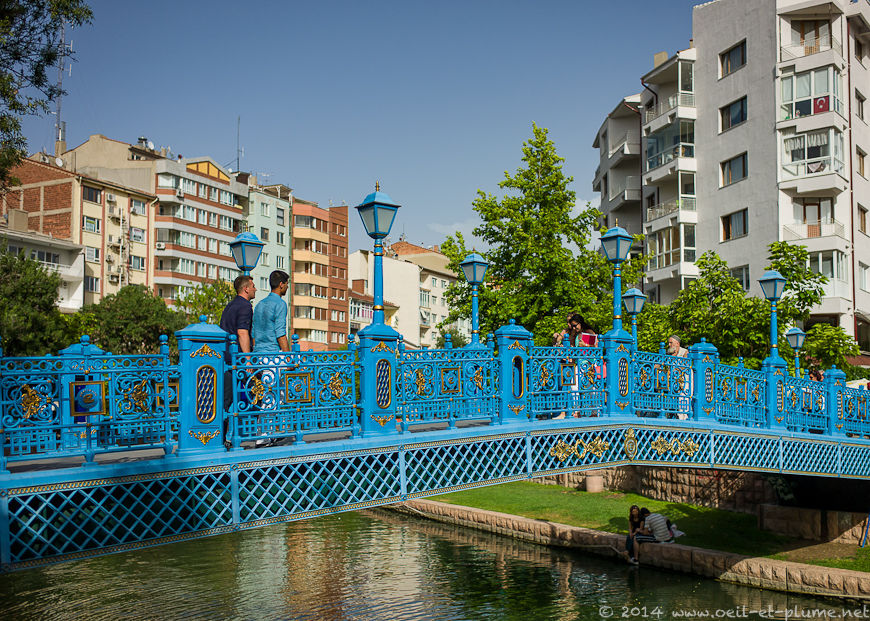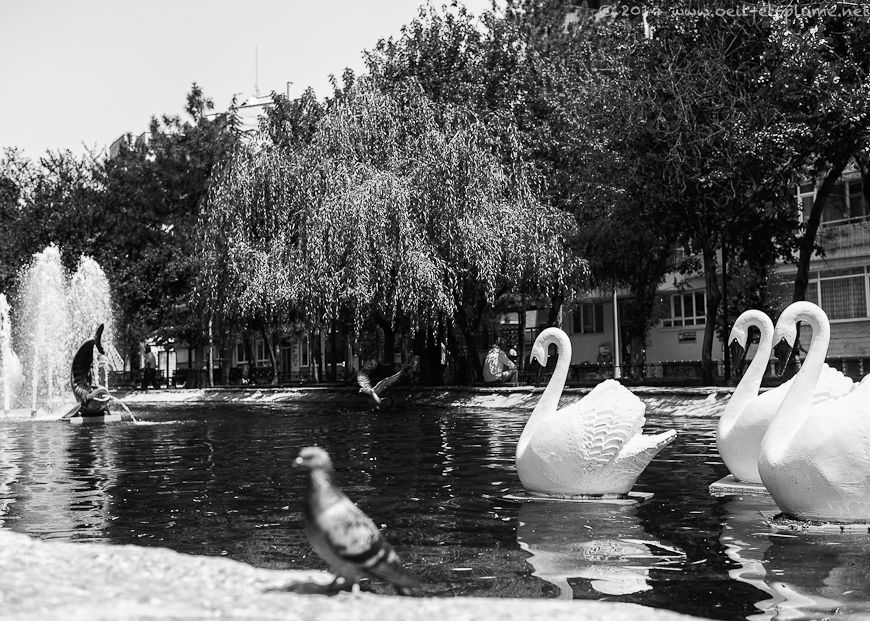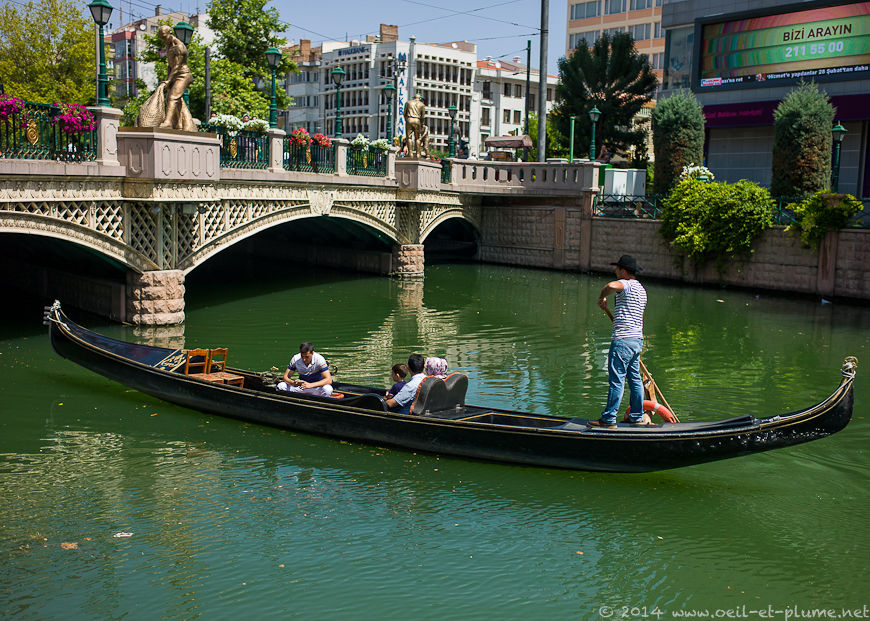 Islamic – Anatolian way
A Turkish proverb reads rather sarcastically: 'The thicker the veil, the less worth lifting'. I do not cross any veiled woman in Eskisehir; even the headscarf is rather uncommon in the modern neighbourhoods. During the Ramadan period, most of restaurants and teashops remain open over daytime. Eskisehir residents are reputed for their open-minded attitude.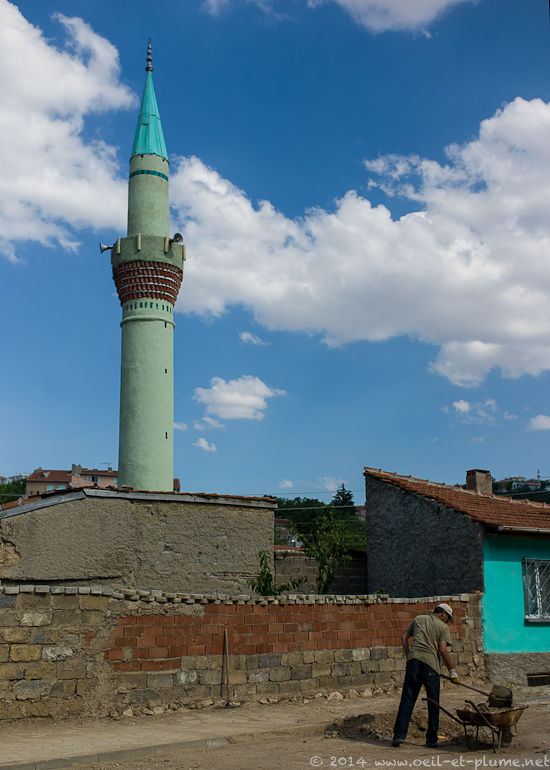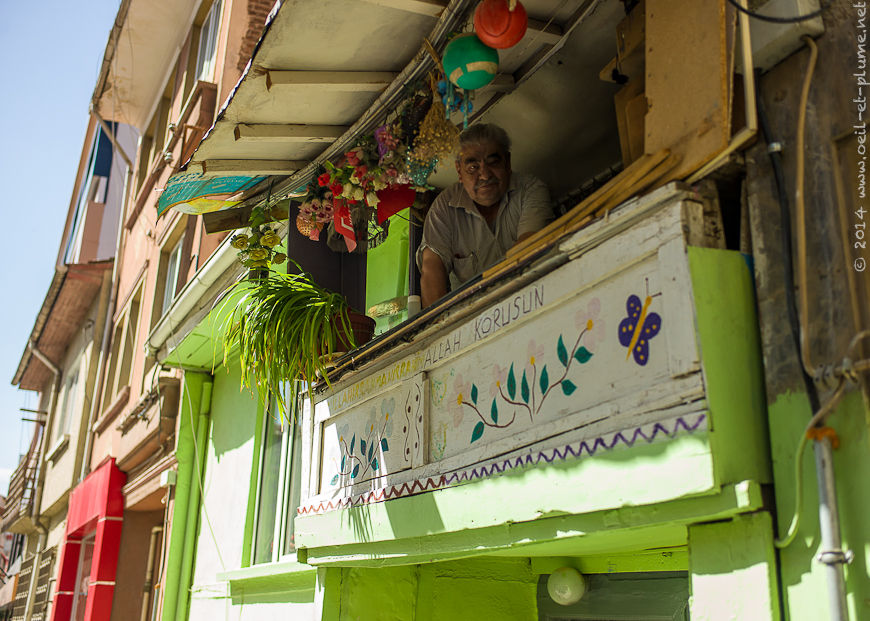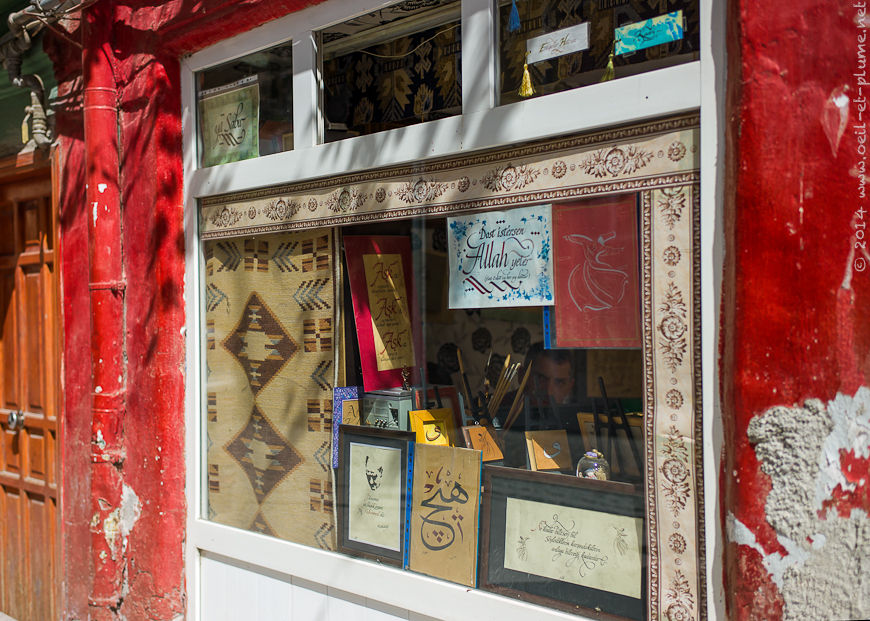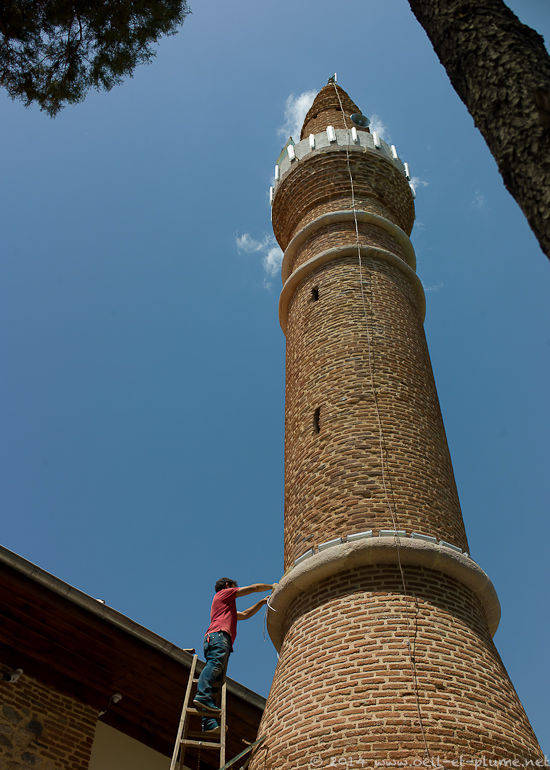 However, Islam is deeply engrained into the local culture. The religious footprint in Eskisehir is less visible in terms of mosques flourishing across the city than through more discrete signs of a strong and rich Islamic culture. In fact, many Anatolians fast during Ramadan. Overall, their fasting appears more joyful and less duty-oriented than in many other places of the Middle East.
As everywhere in the Muslim world, Ramadan implies daily prayers. In Eskisehir business area, sellers turn quickly into devotees, regardless of the location. Cartons replace prayers carpets on the pavements and so escape being collected by the workers of the Refuse Department.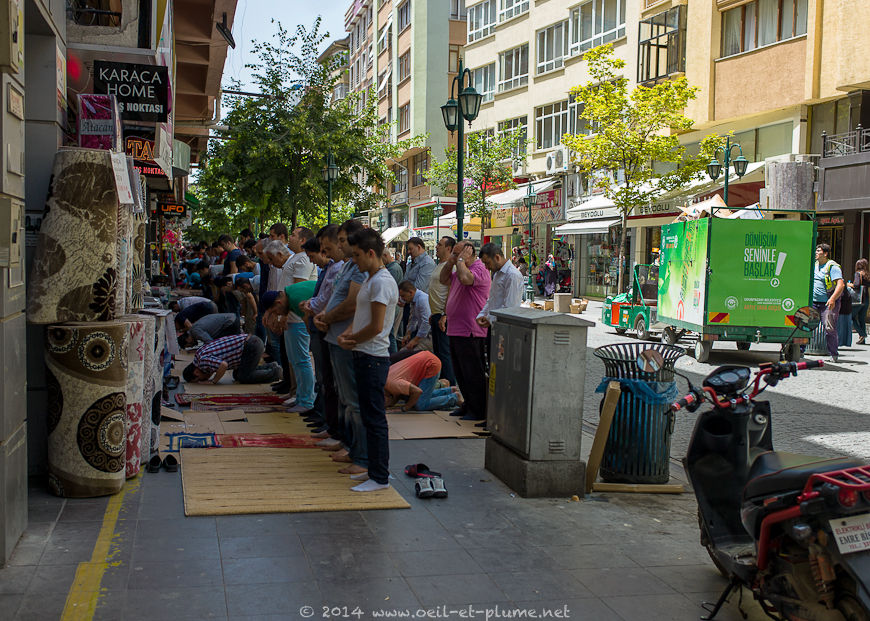 Business-minded
Anatolians typically nurture a certain disdain of monetary and business matters, state my travel guidebook, as Armenian and Greek communities were traditionally running those economic sectors. This is changing fast. Eskisehir is a prosperous city. Upon arrival in my hotel, I am requested to pay in advance but not provided with any bill until my checkout. Every day of my stay, the market area burgeons of activity despite the Ramadan period.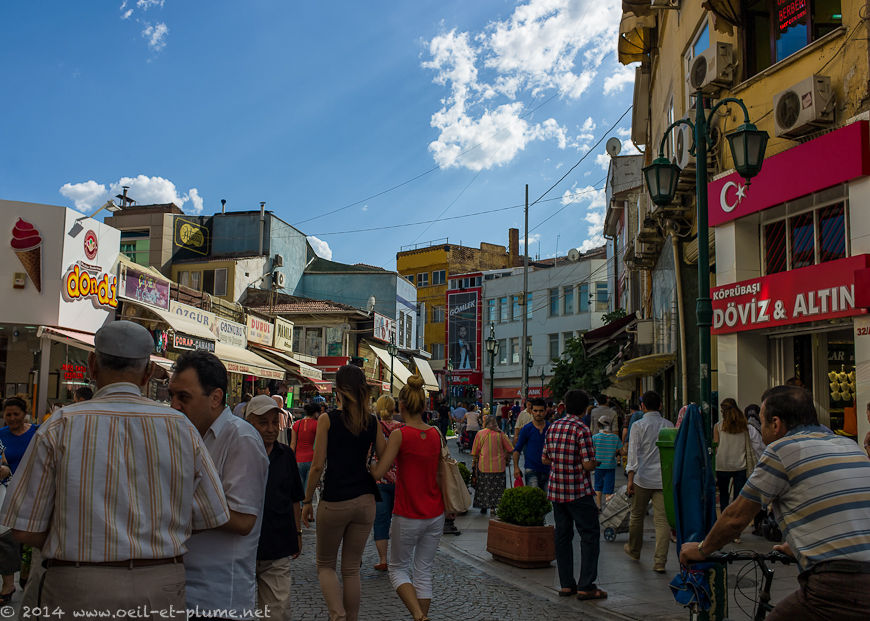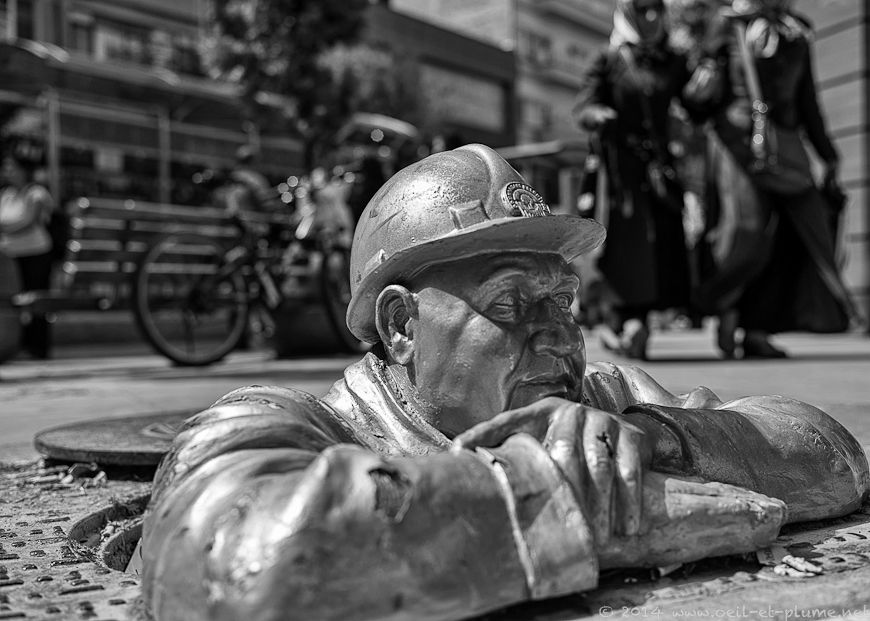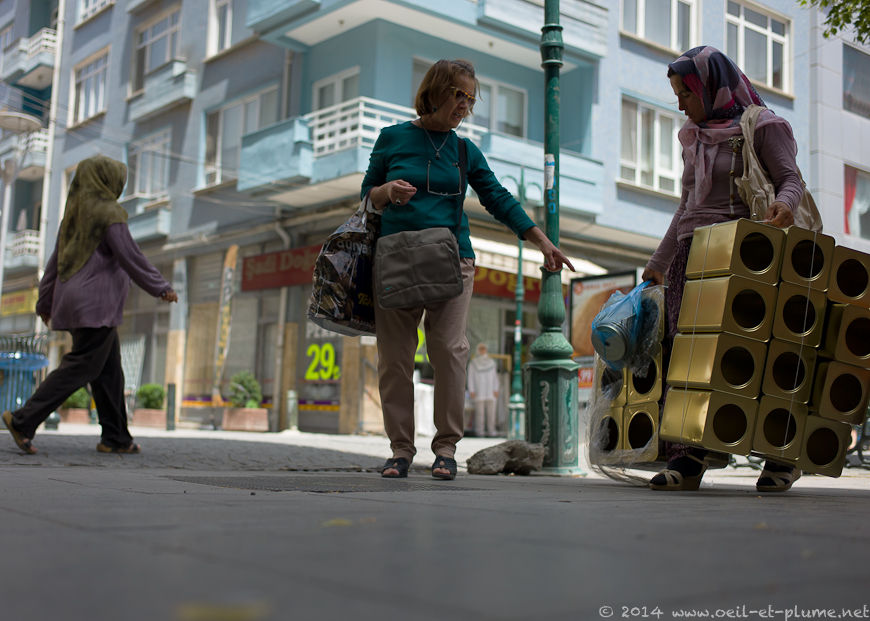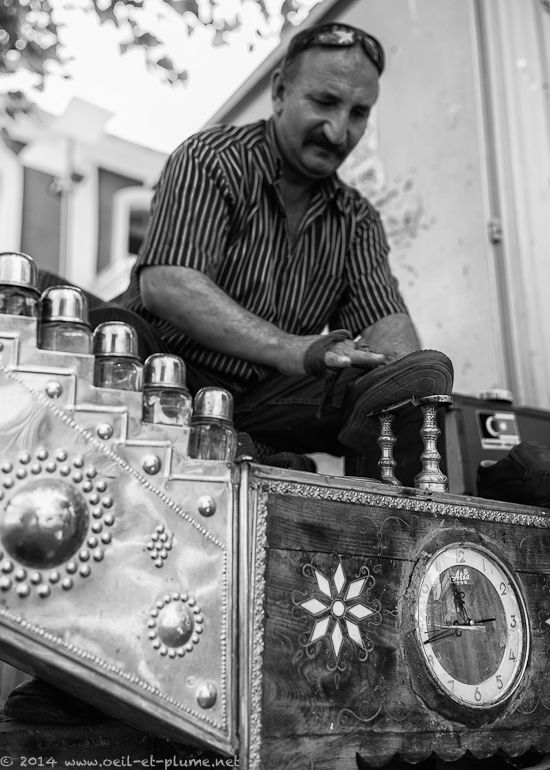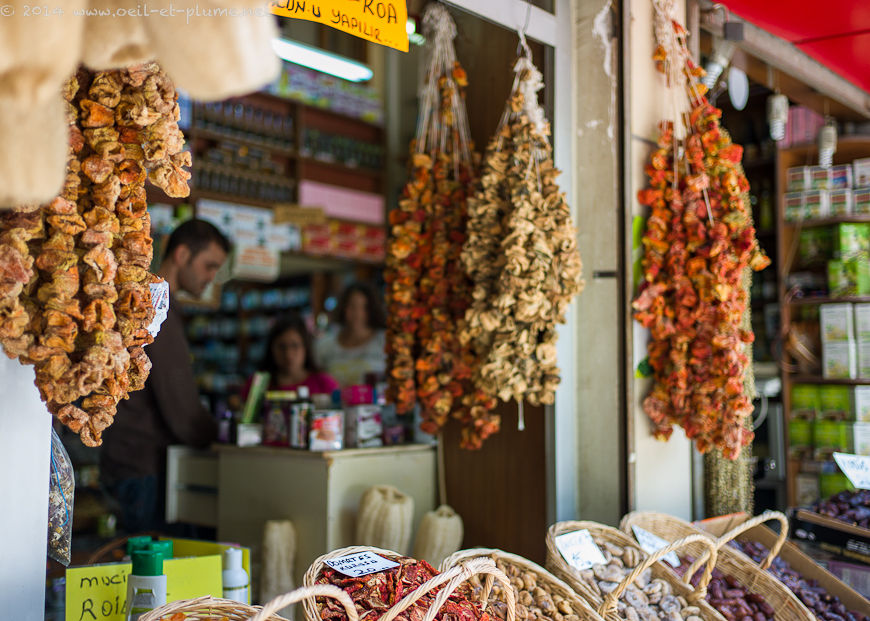 Irrefutably social
Anatolians love to gather in teashops and discussing all aspects of social life. In line with the Ottoman tradition, men are the primary customers of teashops. Nowadays, some of them attract a more gender-mixed audience, particularly in the trendy areas of Eskisehir. However, the conversation between both genders does not seem to be always enticing.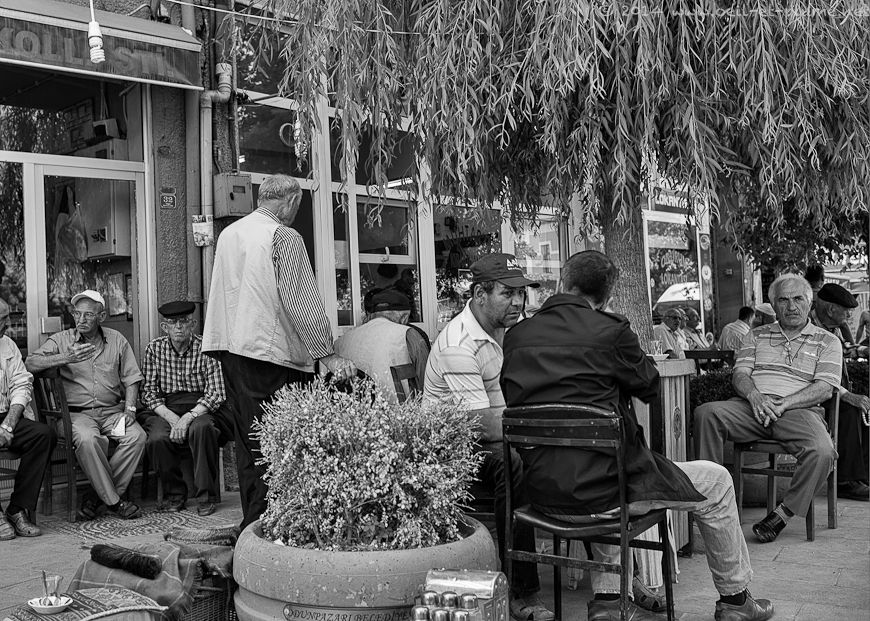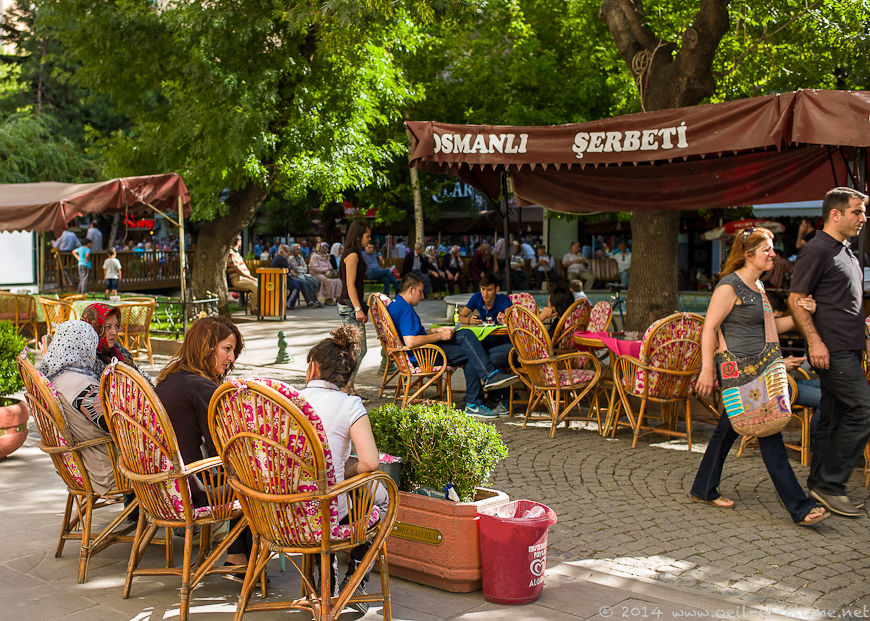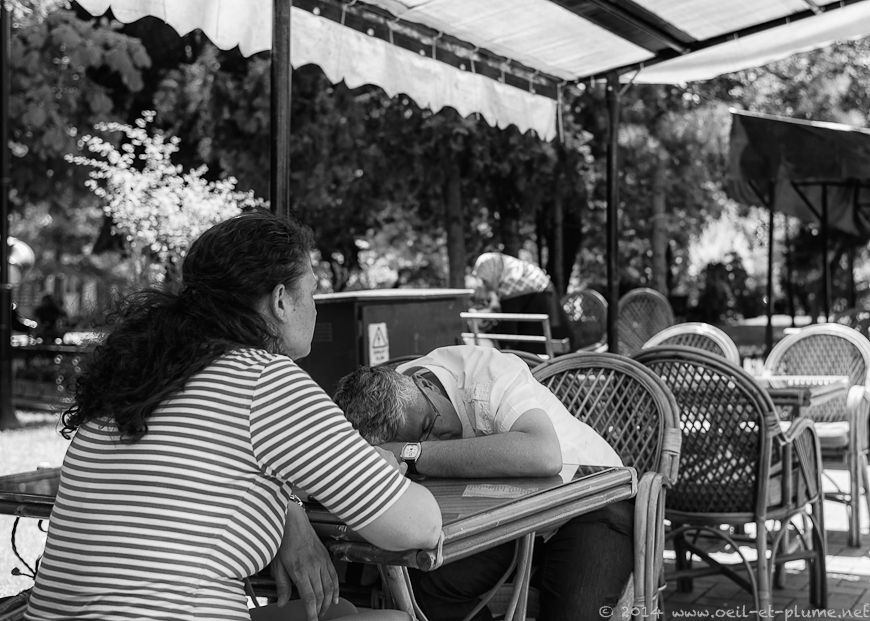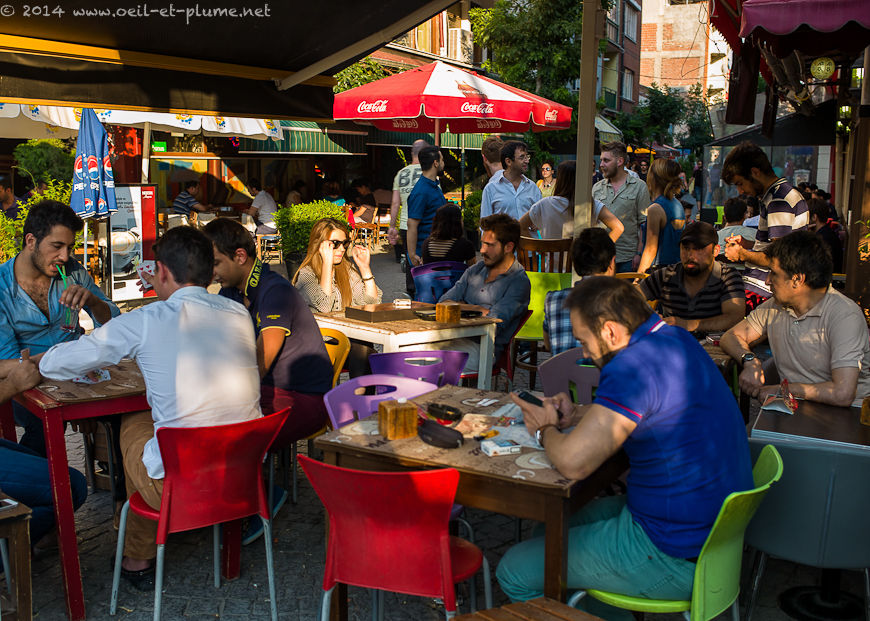 Don't ask for a narghile in an Anatolian teashop. Smoking is banned in public places in Turkey, including in restaurants and cafés. The ban includes also narghile. By the way, you may have noticed the cigarette box lying on the forefront table above…
Tea-loving
Having sipping gorgeous Turkish coffee across the Middle East, I look forward to tasting the hot and black drink in its country of origin. Believe it or not, Turkish coffee is rarely available in Eskisehir, poorly replaced by soluble coffee. In turn, tea reigns unchallenged on the tables. Purchasing coffee proves to be less challenging, fortunately.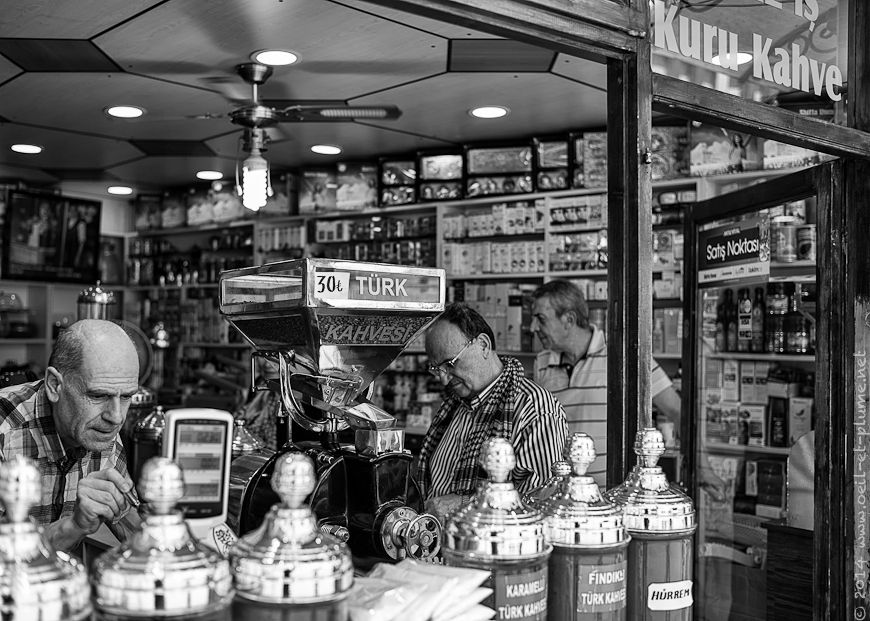 I select carefully my coffee shop. The owner, in the business since over 30 years, has learnt the job from this father. Imported from Brazil or Colombia, his coffee is delicately enriched with a variety of flavours. I choose chocolate and caramel. Humm!
Oriental music fan
The music reflects well the primarily Oriental identity of Anatolia. The main traditional instrument in Anatolia is the saz or baglama – a long-necked lute used in Ottoman classical music. Saz is beloved by mystical poets, whose artistic production, often improvised, is used to express also social and political messages. I meet one of them in a saz shop in Eskisehir. What a nice time spent with him!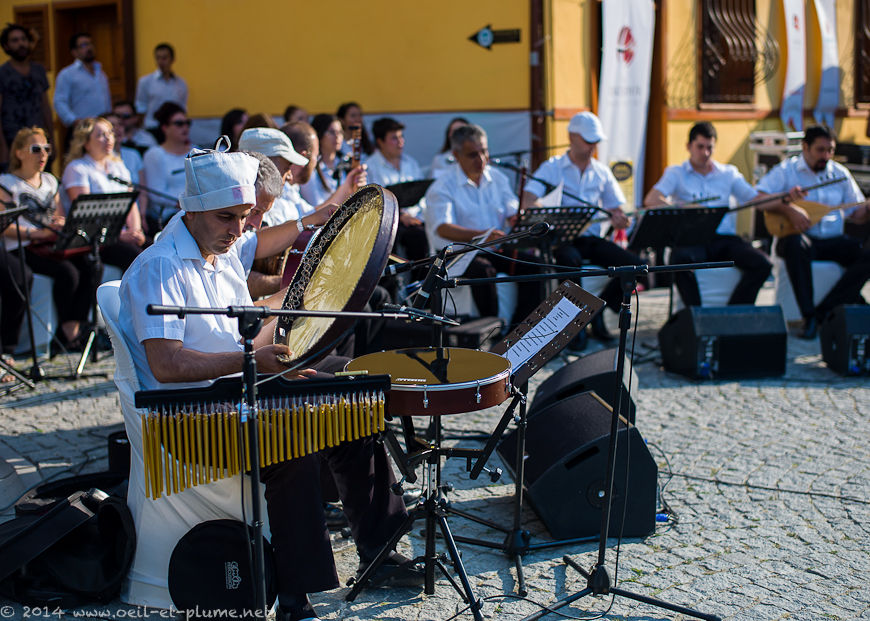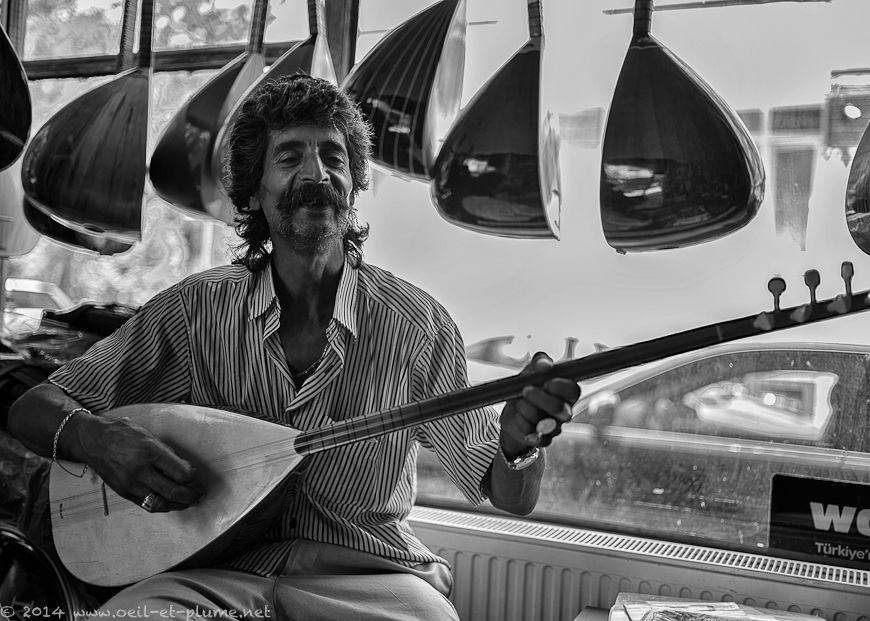 Nostalgic?
Turkish people are sometimes depicted as suffering a collective identity issue: a complex of lost superiority rooted in the rise and the collapse of the former Ottoman Empire (14th-early 20th century). They would behave as it the Empire would still be in place, and indeed cherish its historical legacy.
In order to sense the relevance of the collective strait above in Eskisehir, I head to the atmospheric Ottoman Quarter (Odunparazi). Originally a firewood bazaar, the neighbourhood is rich of Ottoman and even Seljuk historical structures. Part of Odunparazi is being beautifully restored and developed into a rather high-end touristic area.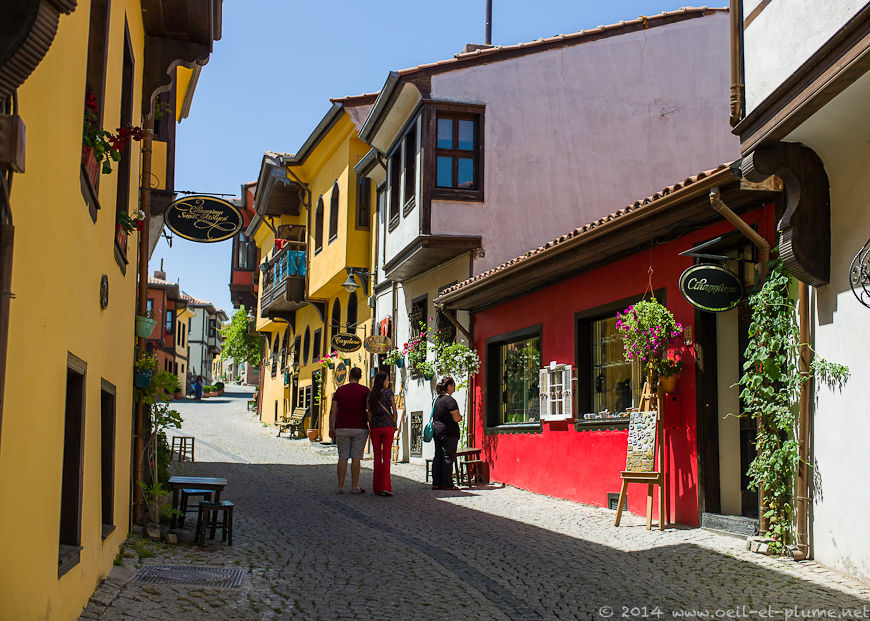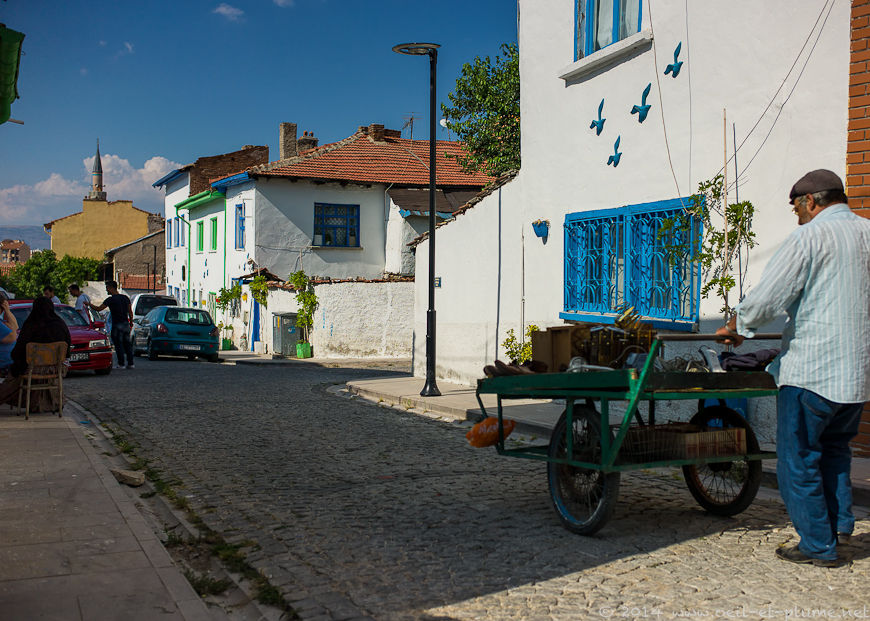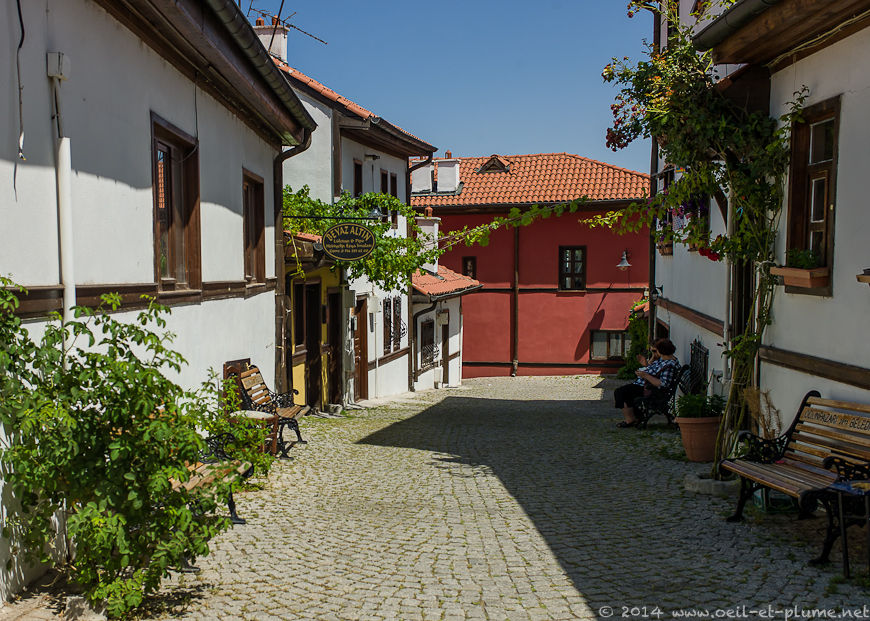 I prefer pursuing my walk uphill to visit the older Ottoman Quarter, where people live their simple but real Anatolian life. This is a highly photogenic area indeed, with highly photogenic people to photograph.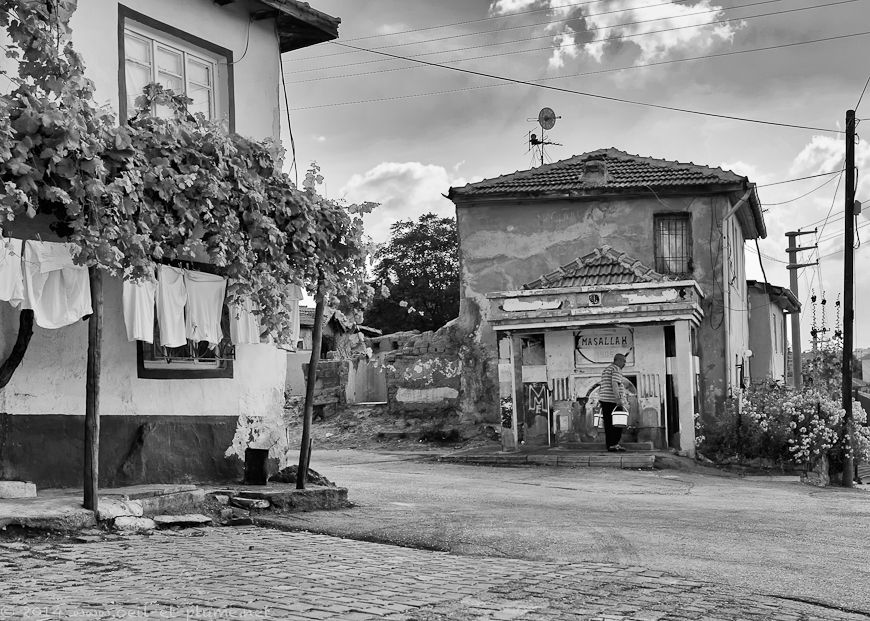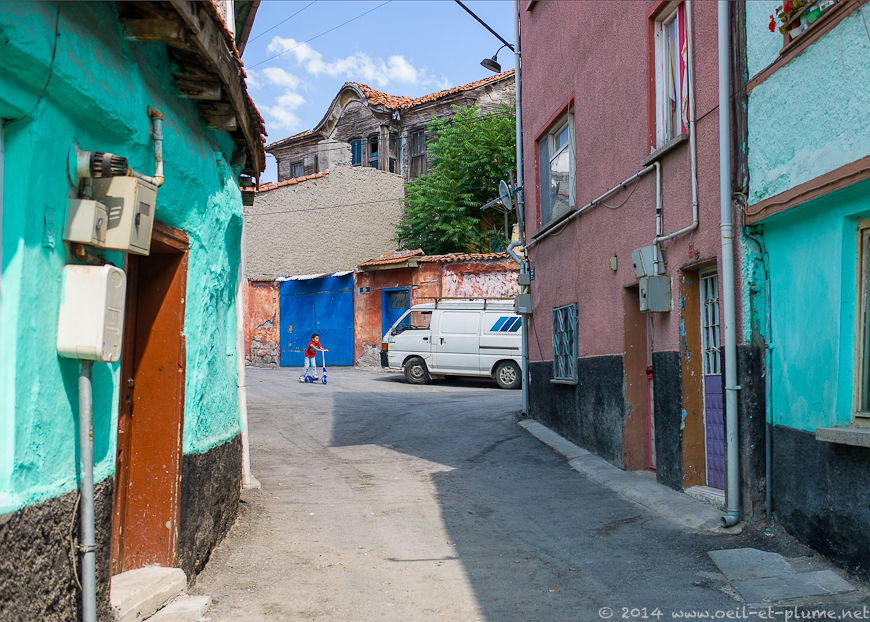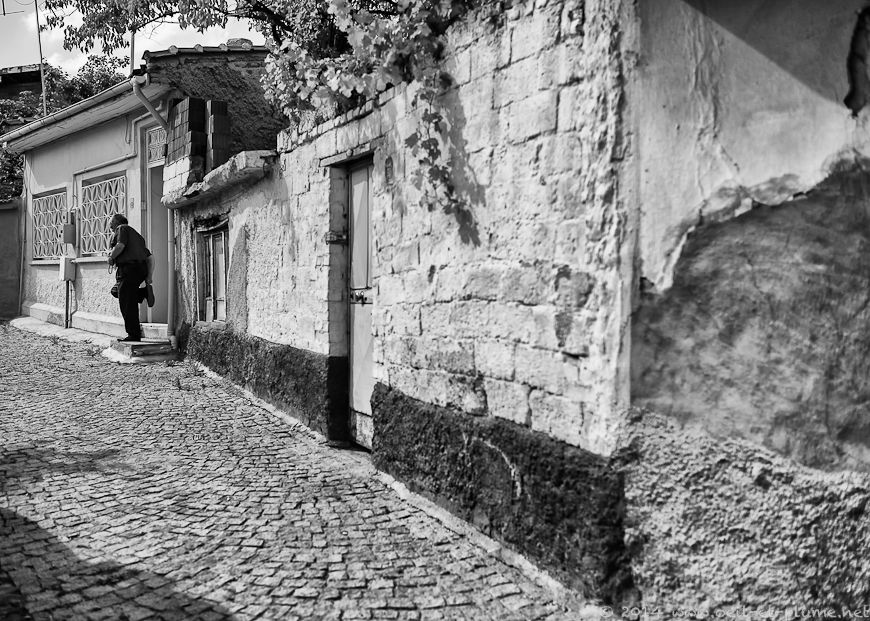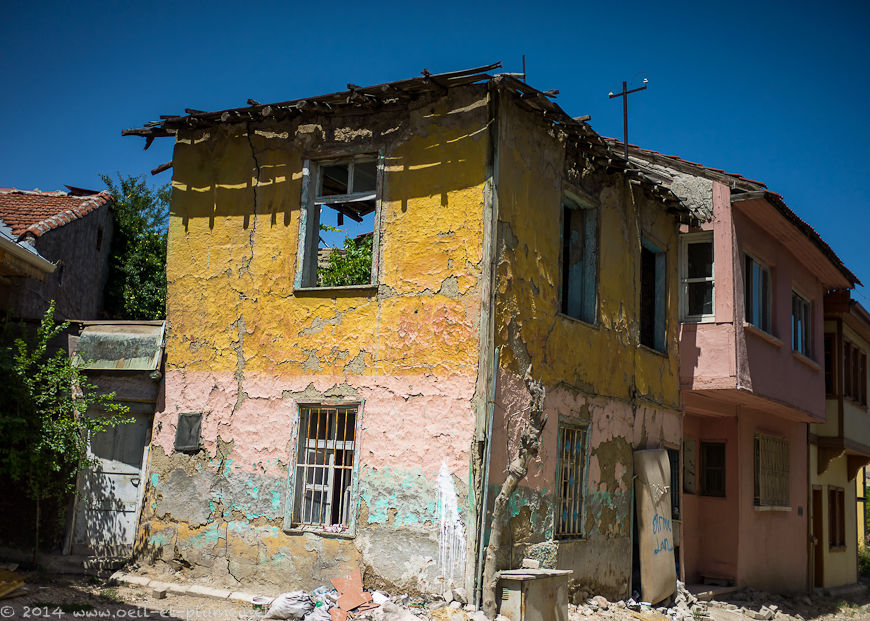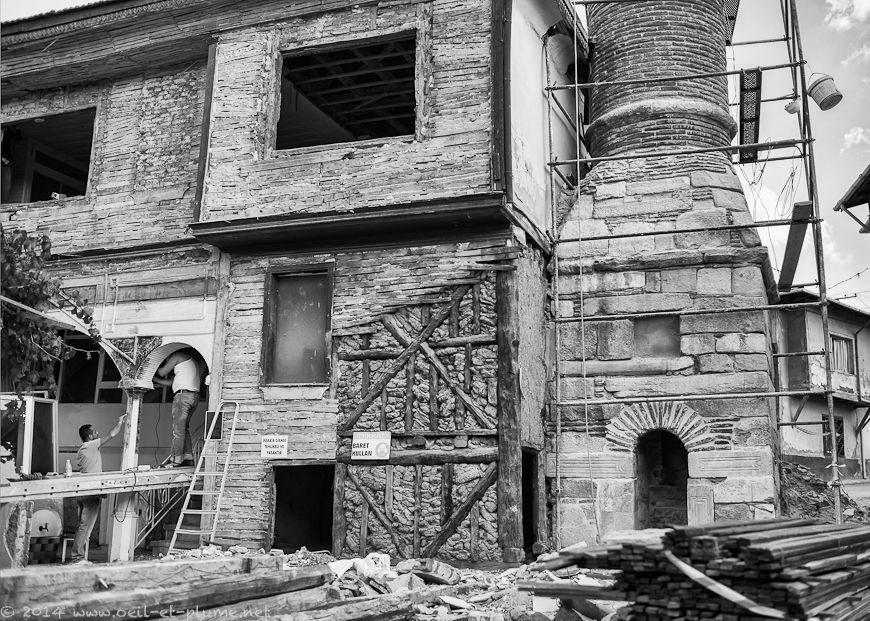 To approach local residents is rather easy, while to photograph them proves to be more challenging, especially for females. 'No photo', I am often told by women. Men and children are luckily more open to the exercise. All of them reward me with respect and hospitality, in the tradition of the nomadic forefathers who arrived from Central Asia centuries ago.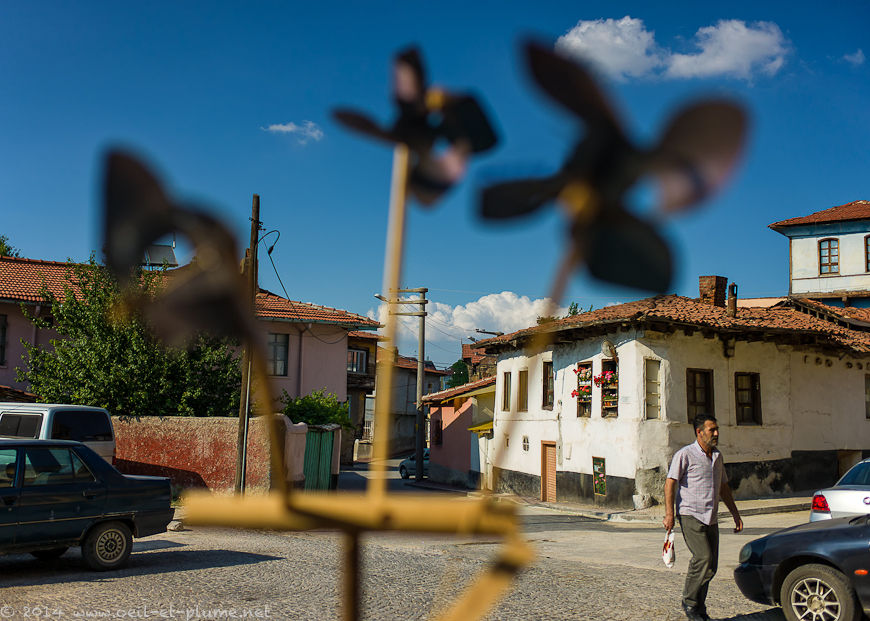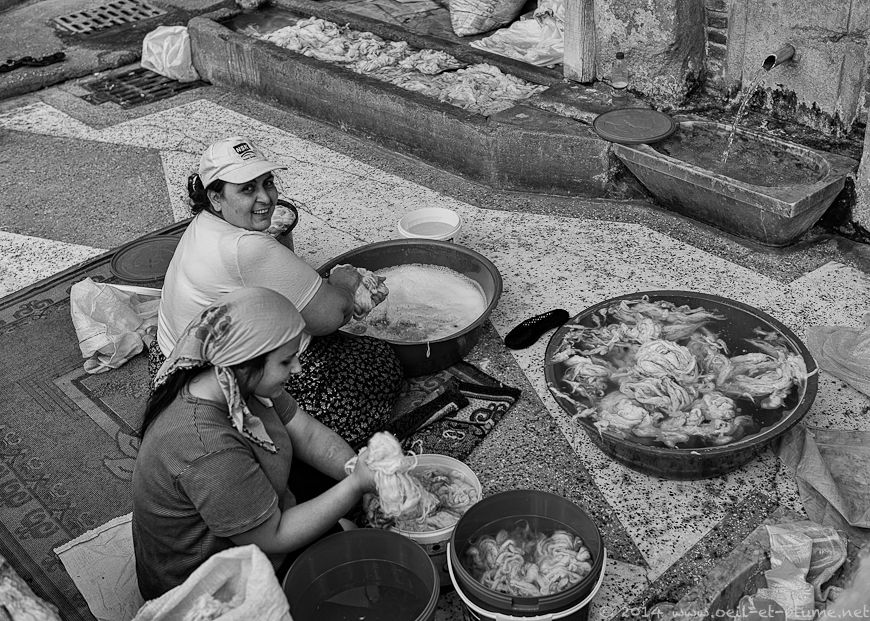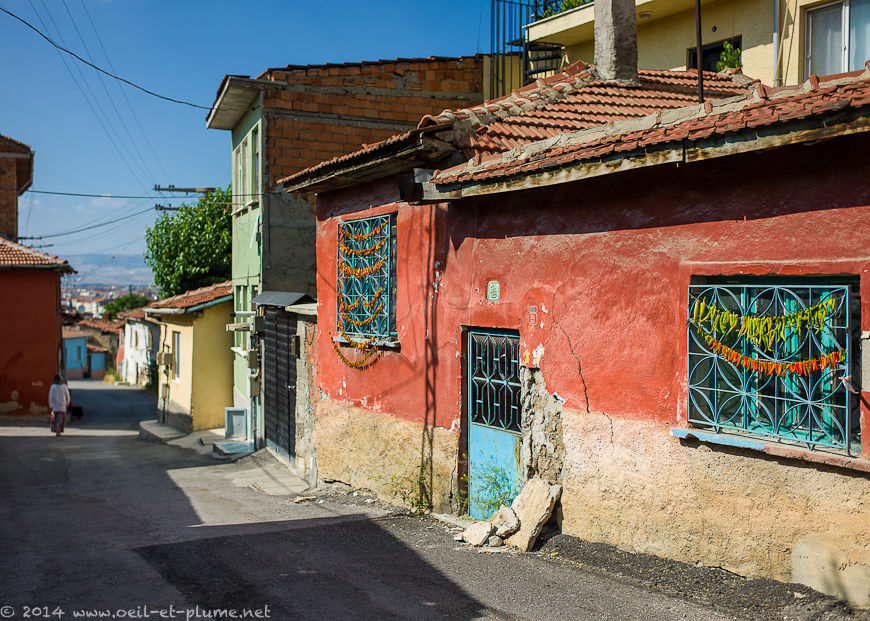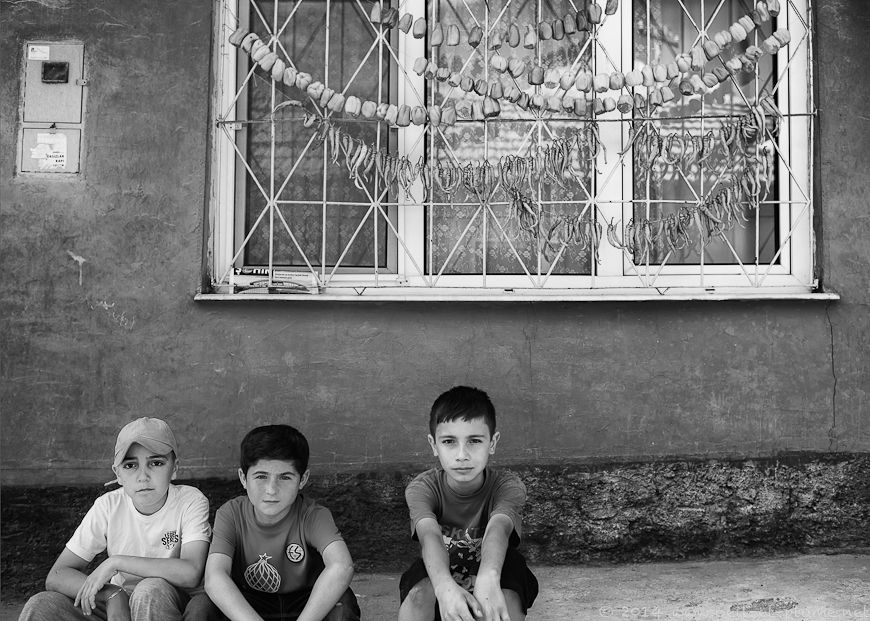 I feel happy and satisfied with my search for the main features of the Anatolian soul. While heading back to the modern city centre, I don't resist looking through buildings windows or into inner yards.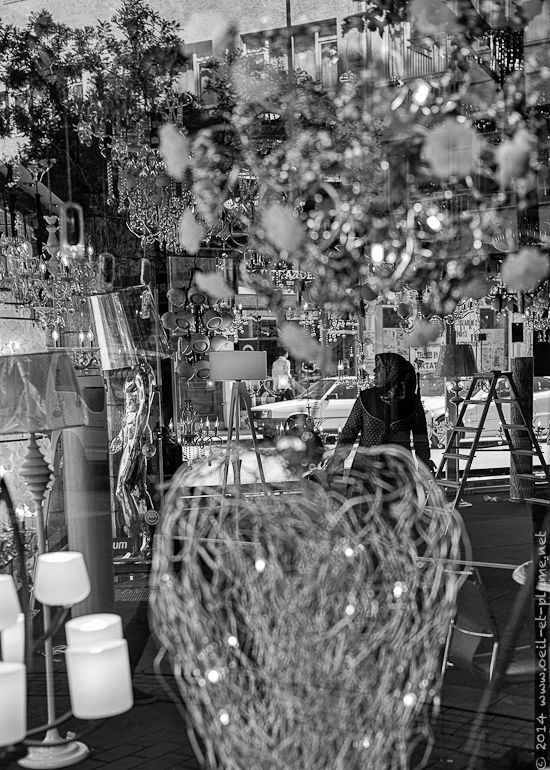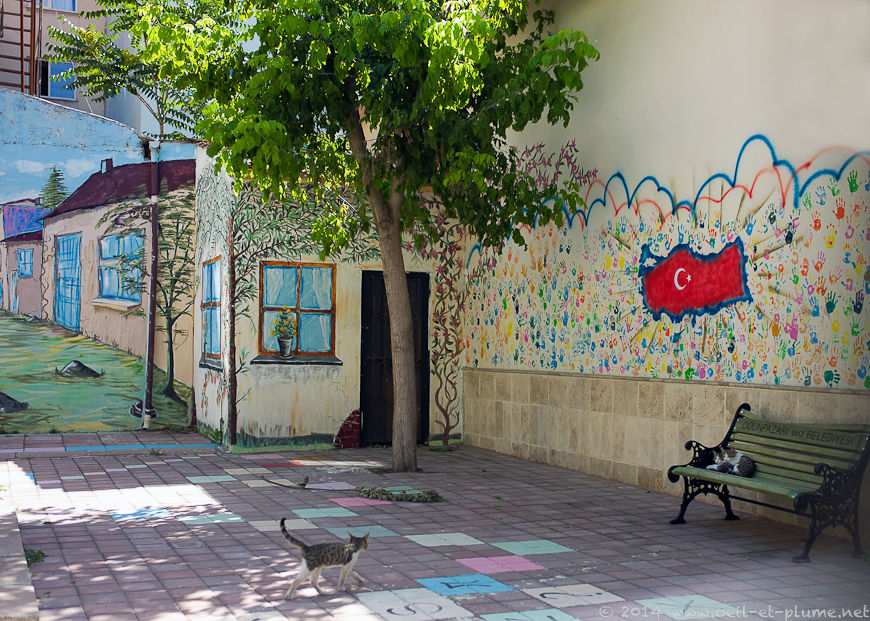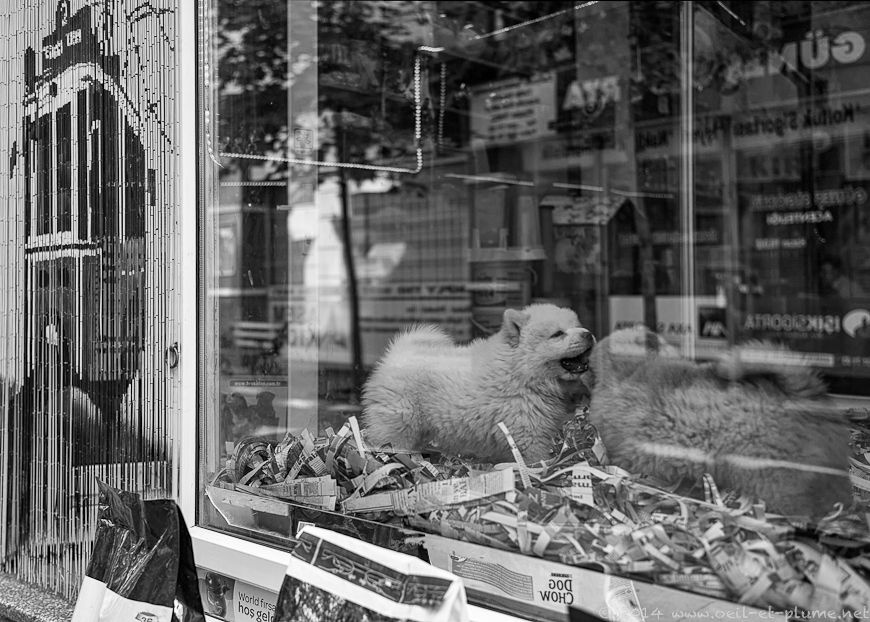 Cultural cradle
So are Anatolians nostalgic? They are at least proud of their cultural roots and political history indeed, quite understandably. They are also very proud of their contemporary national identity pioneering the concept of secular modern democracy with Islam as main religion.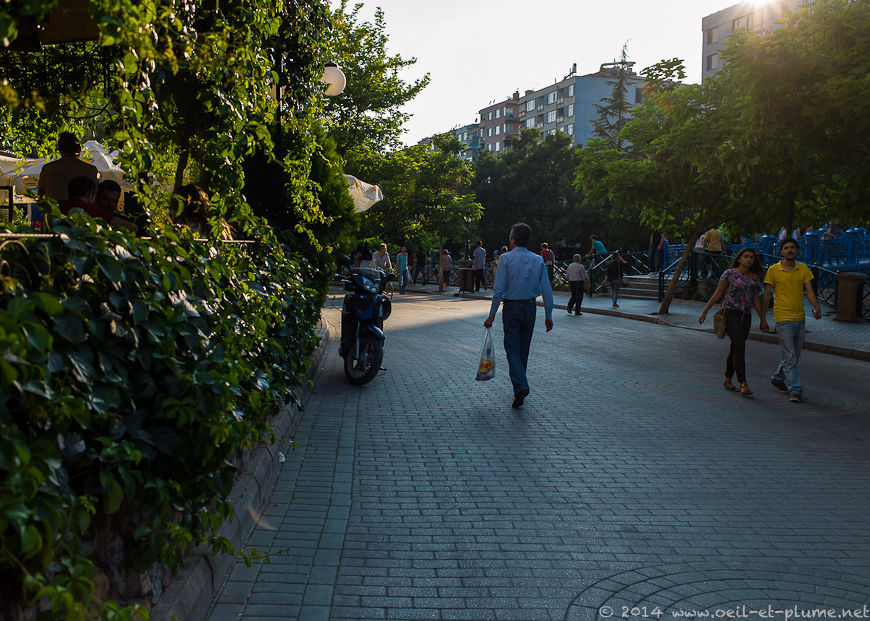 As Turkey is neither from the East nor from the West, Anatolia is full of contradictions. Eskisehir is a lively academic town with all those complementary and sometimes opposing cultural trends at work. As such, the city is one of the cultural cradles shaping tomorrow's Anatolia.
Yes, I know. Cradles are also commonly used in witchcraft and wizardry. You may consult Ritta Skeeter, the well-informed Daily Prophet's Gossip correspondent, to get additional information on the matter.
Cheers,