The history and the legacy of the Silk Road fascinate me since my childhood. Through its various geographical branches transited people, goods and ideas across Asia, Middle-East, Europe and beyond. The Silk Road acted as a terrific communication and exchange tool between peoples and cultures alike the Internet today.
Following my recent stays in Turkey and Iran, I wished to travel further east on the Silk Road to stop in selected locations in Central Asia. This is how and why I visited Kyrgyzstan and Uzbekistan recently.
Issyk-Köl Lake
From the Kyrgyz capital Bishkek, I head to the Issyk-Köl Lake in eastern Kyrgyzstan. The lake is not only very large – 160km by 60km, but also very shallow. Issyk-Köl Lake is the 10th largest in the world considering its volume, and the second largest alpine lake in the world after Titicaca Lake.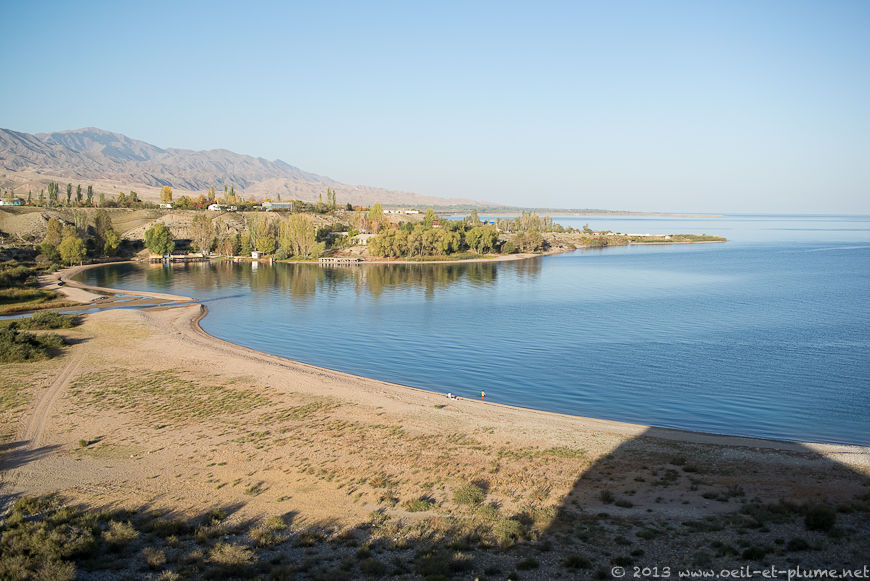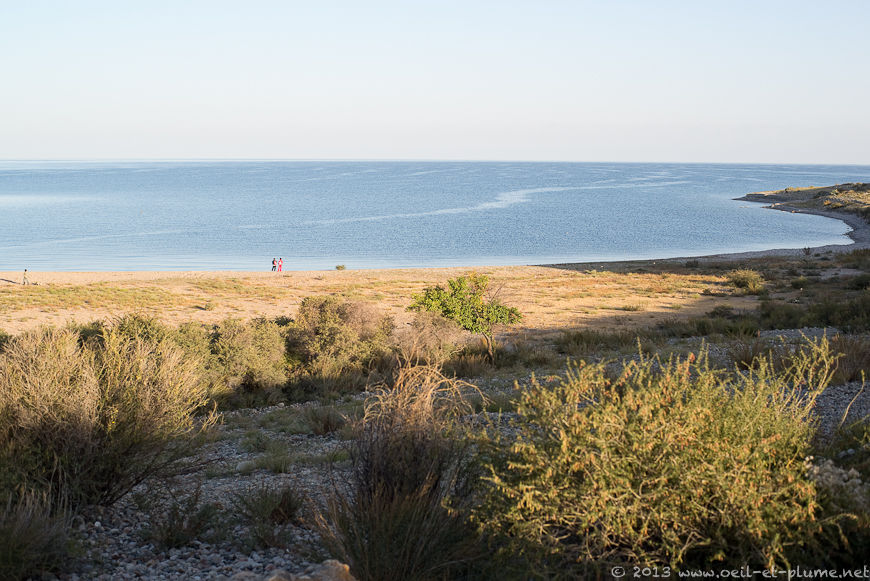 Issyk-Köl Lake means 'hot lake' in Kyrgyz language. The water never freezes due to its extreme depth, its mild salinity and local thermal activity. Blessed by an agreable climate, the lake shore looks like an oasis in the rugged mountainous surroundings through the centuries.
No wonder Issyk-Köl Lake was an important stopover on the Silk Road. Not always for good, since it is believed that this is where the bubonic plague, commonly believed to be the cause of the Black Death pandemy, started its journey along the Silk Road to decimate an estimated 75 to 100 million people across the globe, including 30 to 60 percent of Europe's population in the 14th century.
Trekking to Ala-Köl and Altyn Arashan
From Karakol town on the southern shore of the lake, I decide to trek up to Ala-Köl Lake in the Terskey Alatau mountain range. A physically demanding but beautiful high-altitude trek.
You may read on the Web frightening accounts of the trek to Ala-Köl, entitled for instance 'The worst days of my life' or 'The day we thought we'd die'. A careful reading of these reports suggests often excessive or inadequate trekking equipment, and/or insufficient training of the trekkers. As any mountaineering experience, the Ala-Köl trek remains indeed subject to the challenges linked to high-altitude and unfavourable weather.
Early October, the trekking season is over, but the weather conditions look fine. Kasidin, professional and experienced local guide, joins me. A nice companion and tremendous relief when it comes to itinerary and logistics. Thanks to Kasidin's tremendous carrying capacity, my backpack remains rather light – although balanced my hefty camera bag on the front.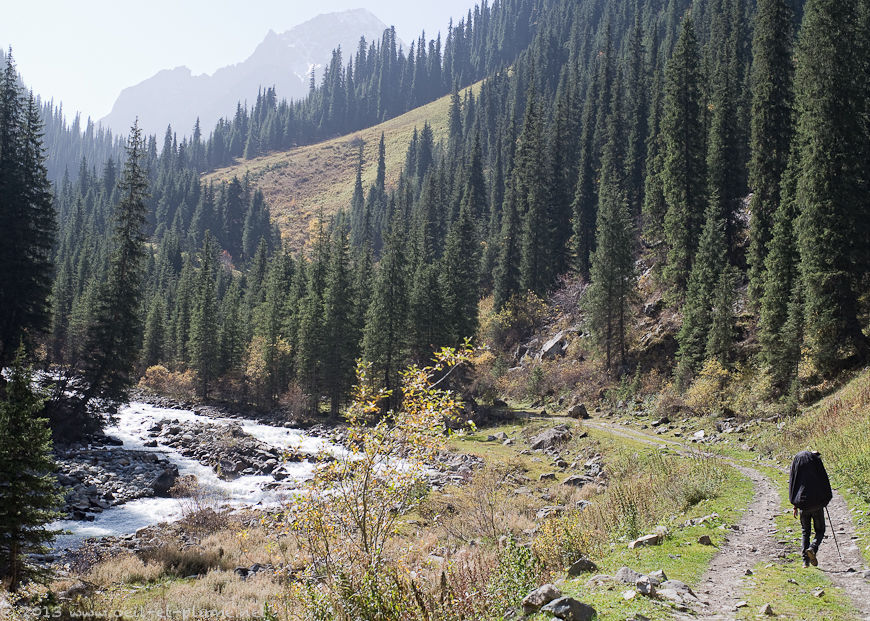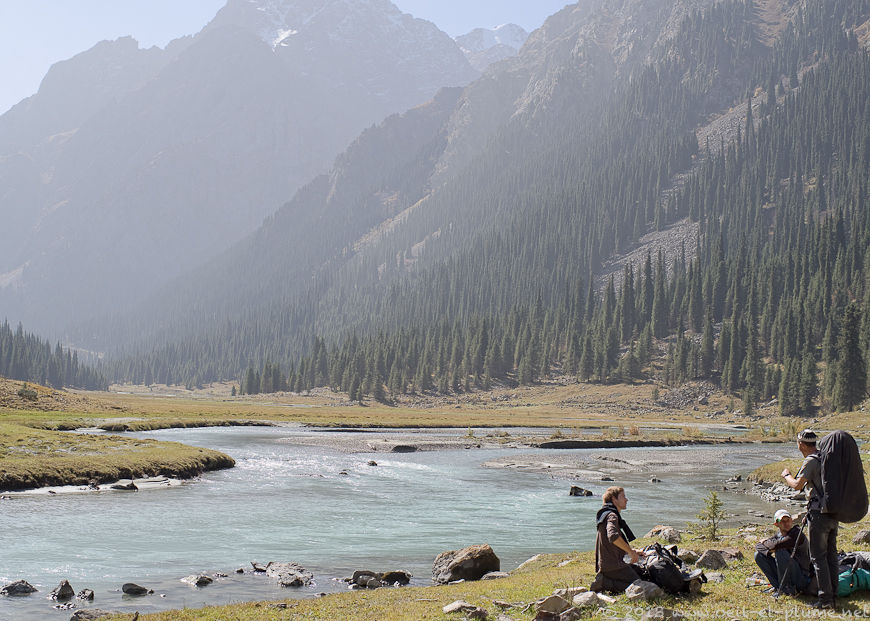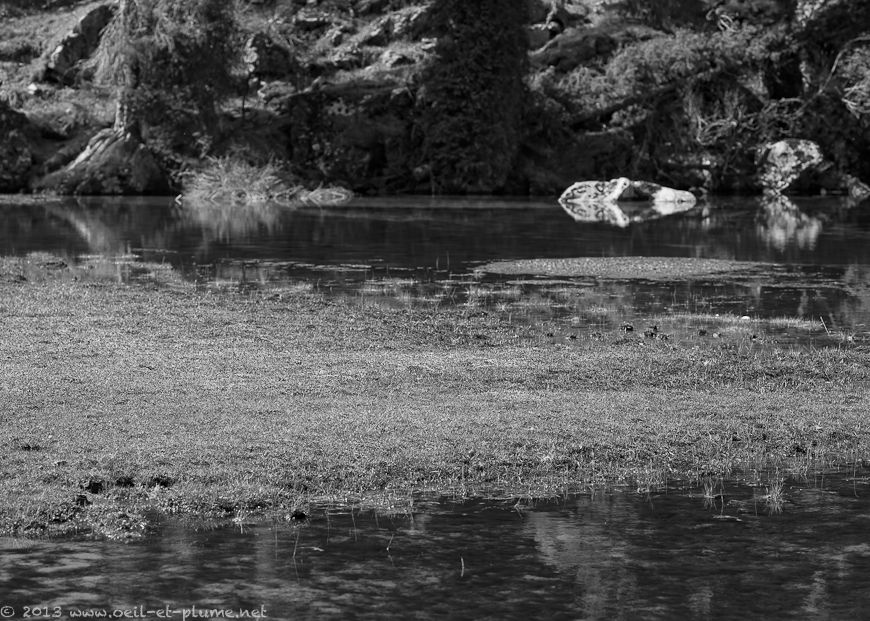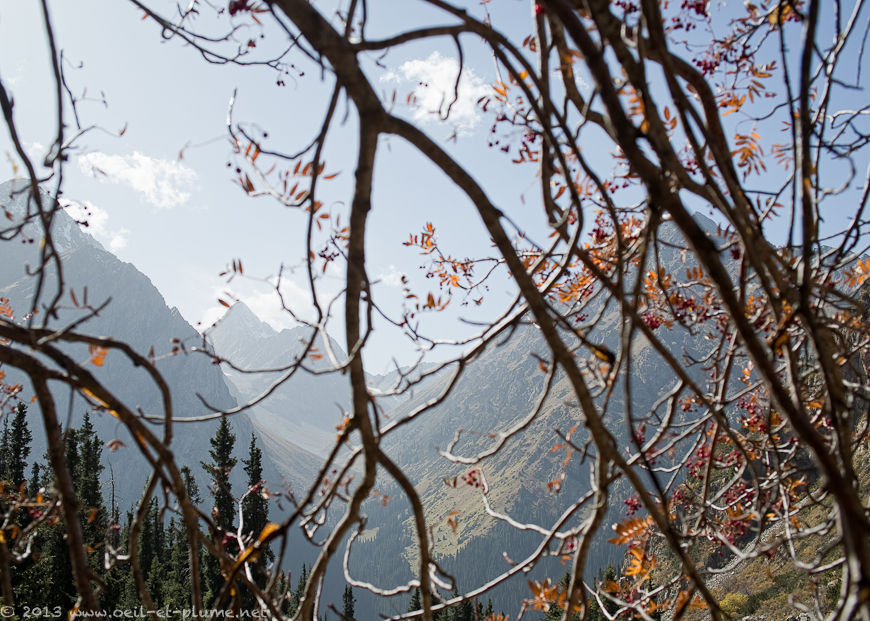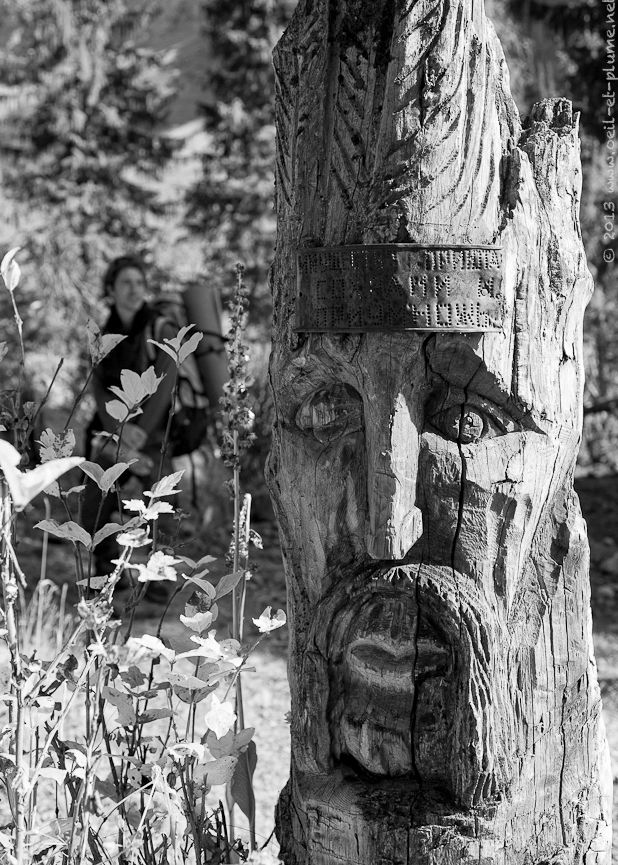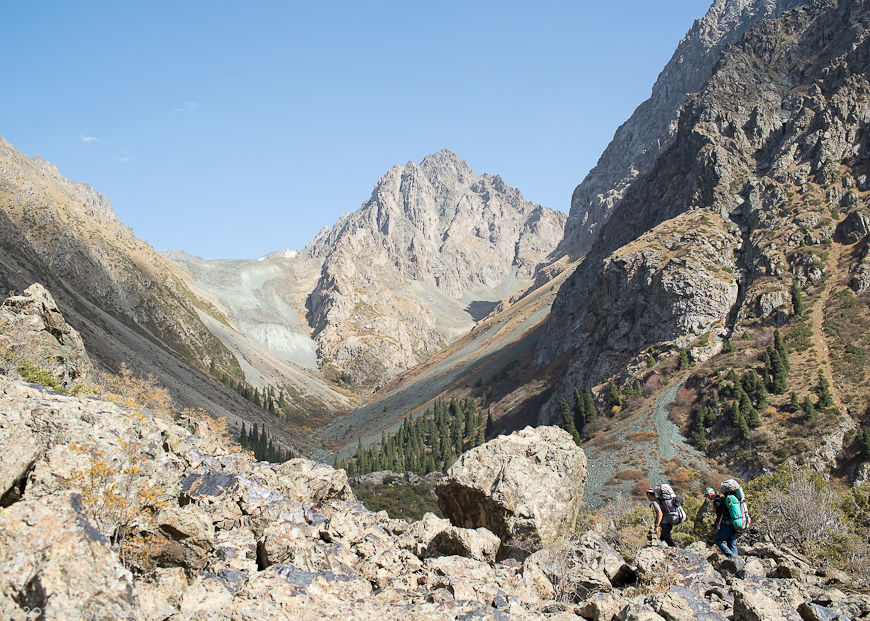 Blessed by fine weather, we trek smooth and fast.
On the first day, we start trekking at about 1.500m of altitude. We fortuitousely meet and soon team up with Alexandre and his guide. We camp just underneath Ala-Köl Lake (3.560m). I push up to the lake for a late afternoon view, before savouring the dinner cooked by Kasidin.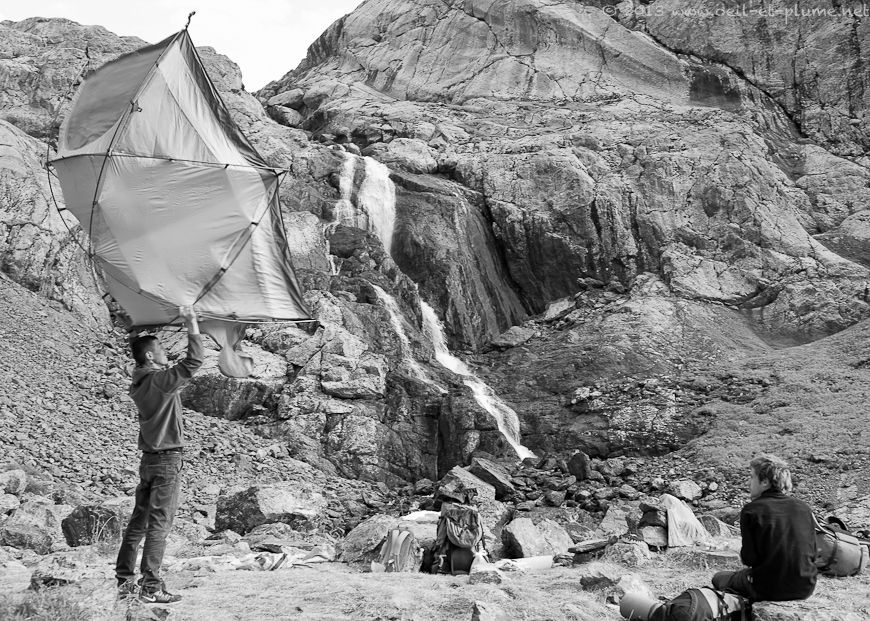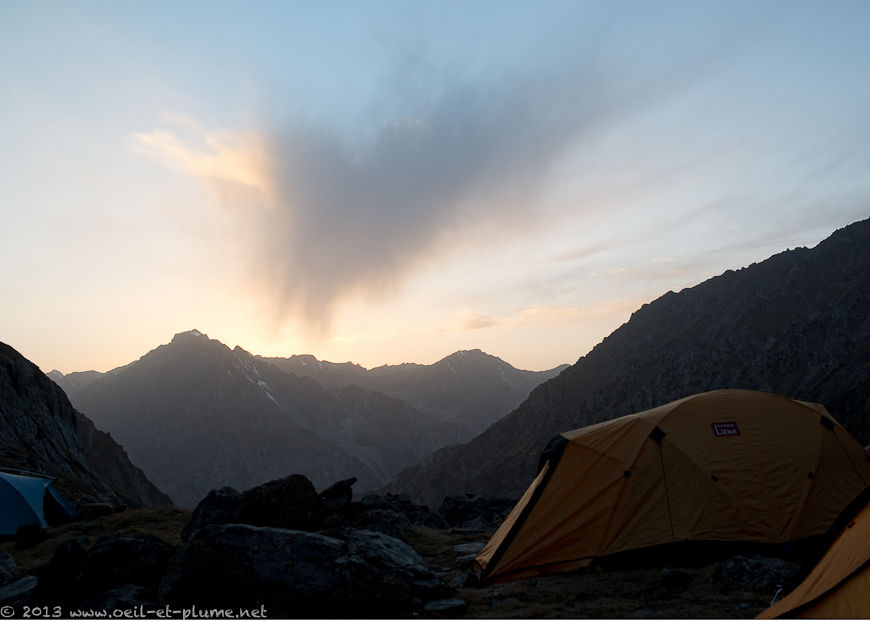 After years spent in the warm Africa and Middle East, I feel the night quite cold, contrary to my trekking guide. No doubt that it could be much worse.
On day two, we climb that steep slope leading to the Ala-Köl Lake. The most demanding part of the trek, in my view. However, we are gratified soon by a sumptuous lake bathing in a soft autumn morning light.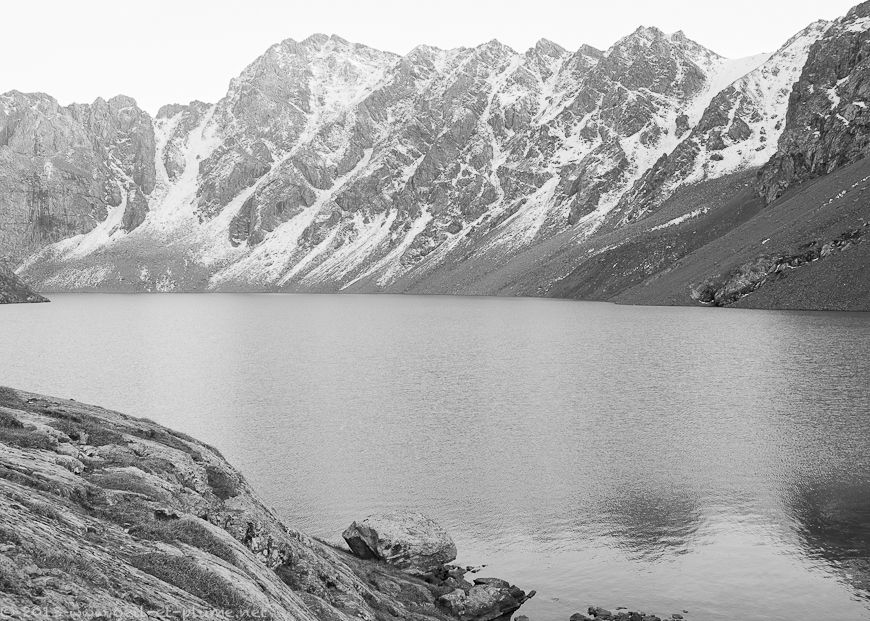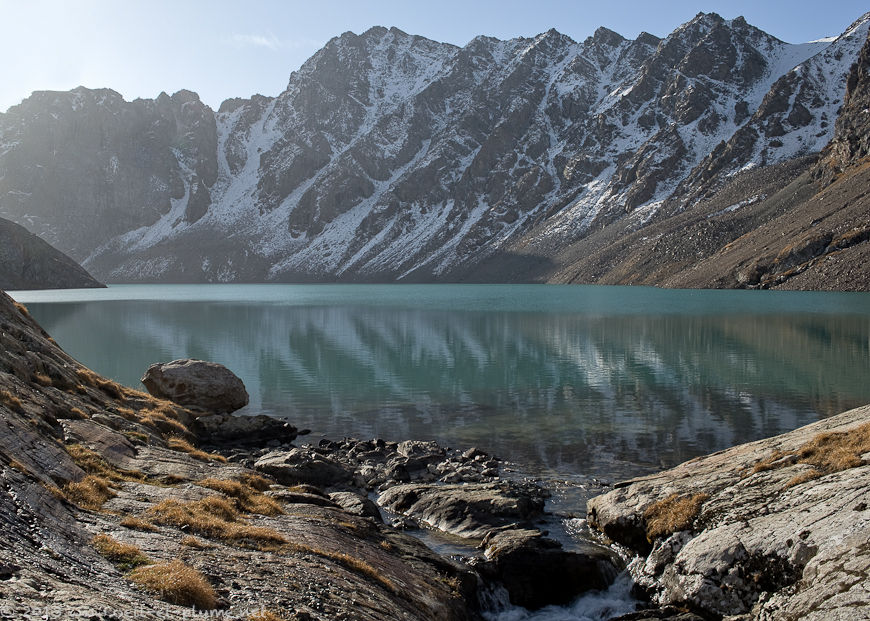 Insatiable, the trekking path pursues to the Ala-Köl Pass (3,860m). The physical effort of the ascent is more than rewarded by the breathtaking views of this rugged mountainous scenery.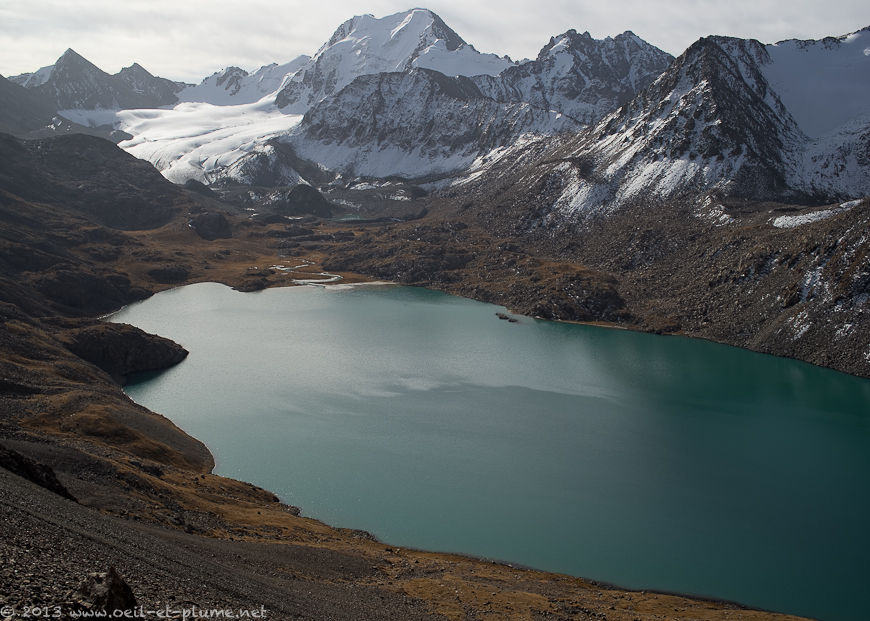 We reach soon Ala-Köl Pass. On the other side, some residual snow reminds us of the altitude and the proximity of winter.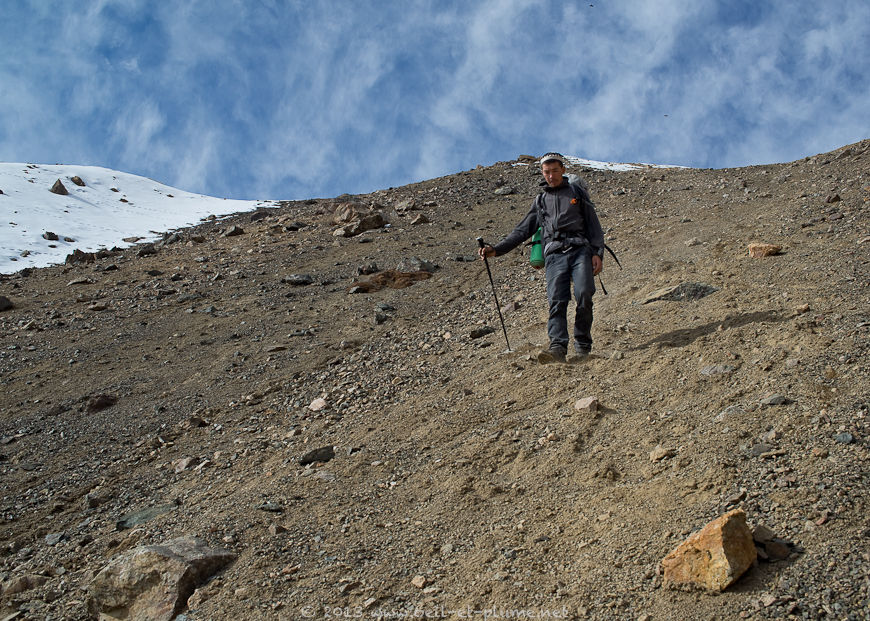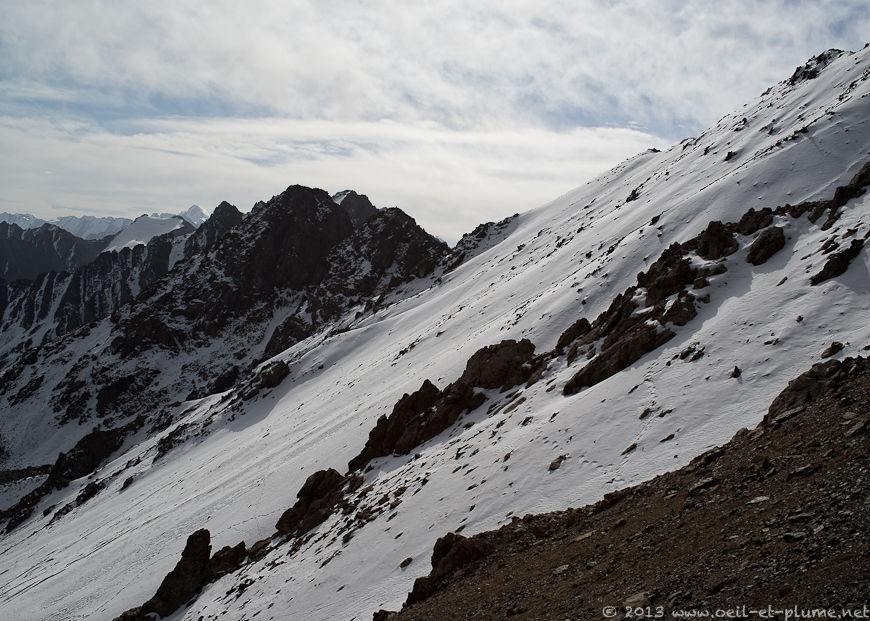 We do not meet many people on our way down to Altyn Arashan hot spring. Shepherds, who spend the summer months with their herds, have already dismantled their yurts and returned to Karakol. Down there, their goats, sheep and cattle enjoy the leftover of the crop harvest that is just completed.
Never mind, we come across herds of horses left unattended. Unlike sheep, horses can be left alone for days because they never get lost in those mountains. Their transfer down to Karakol is anyway to happen very soon, explains Kasidin.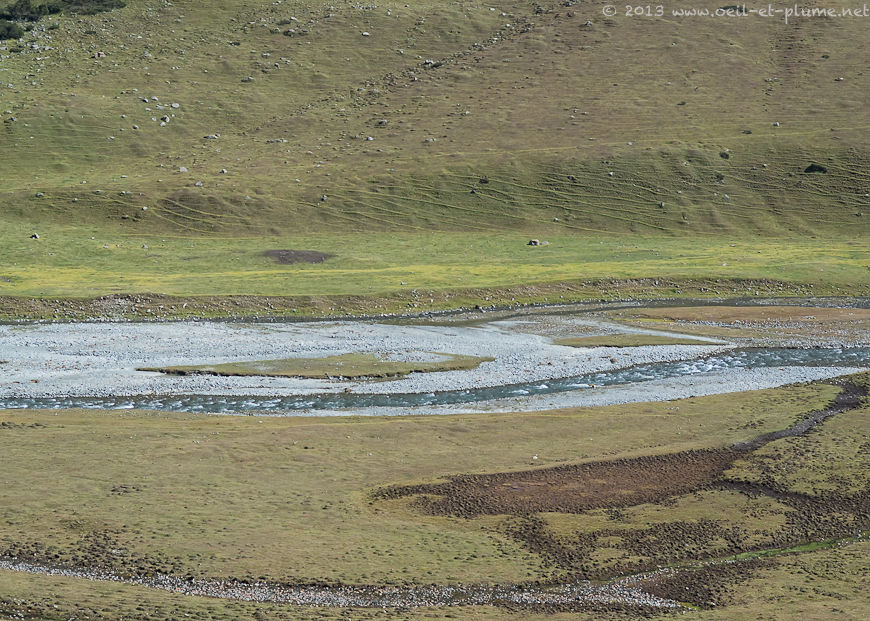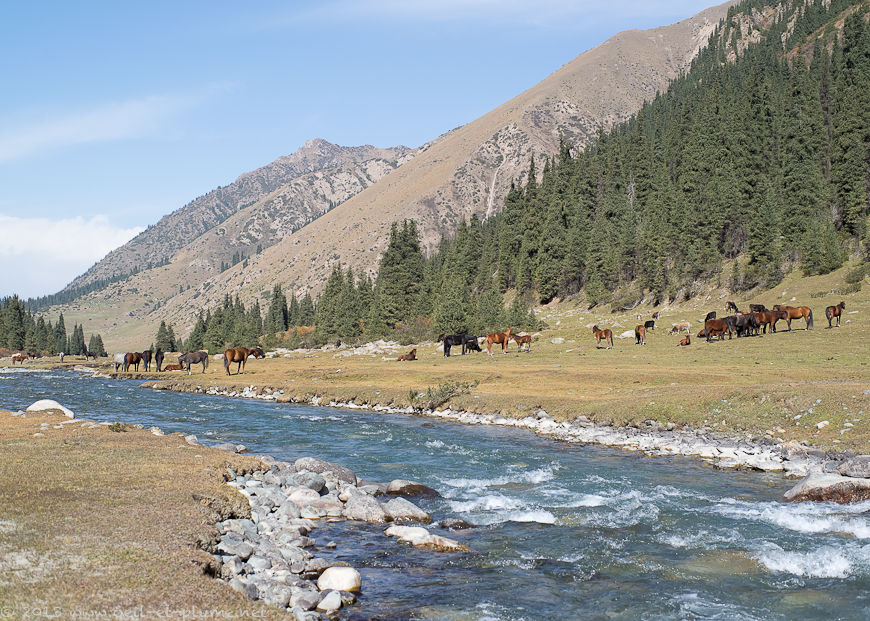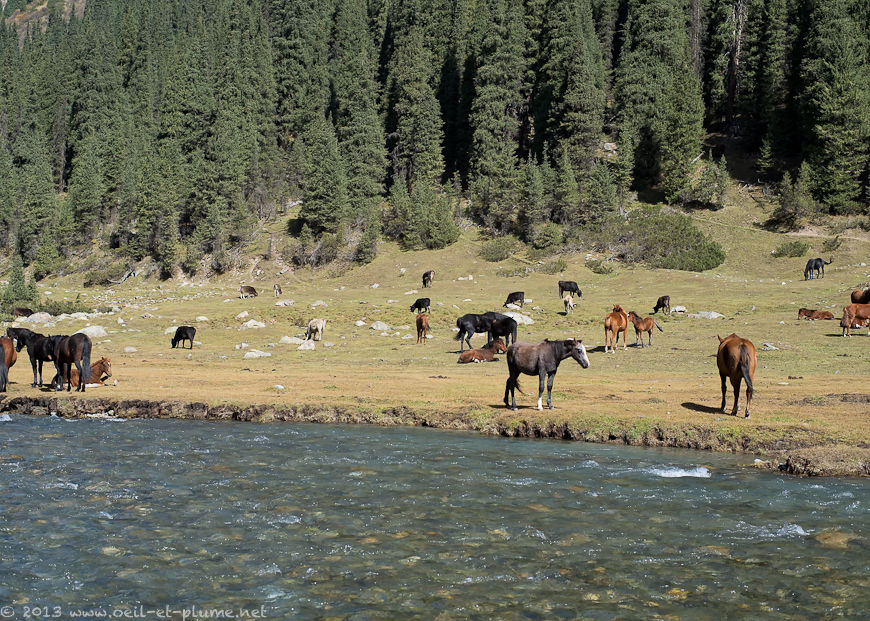 We spend the night in Altyn Arashan, where my body and my soul dissolve deliciously in an hour-long thermal bath: so good after long trekking hours. The guesthouse is full of a group of senior tourists travelling by truck from Beijing to Istanbul. A genuine and comprehensive three-month journey on the Silk Road.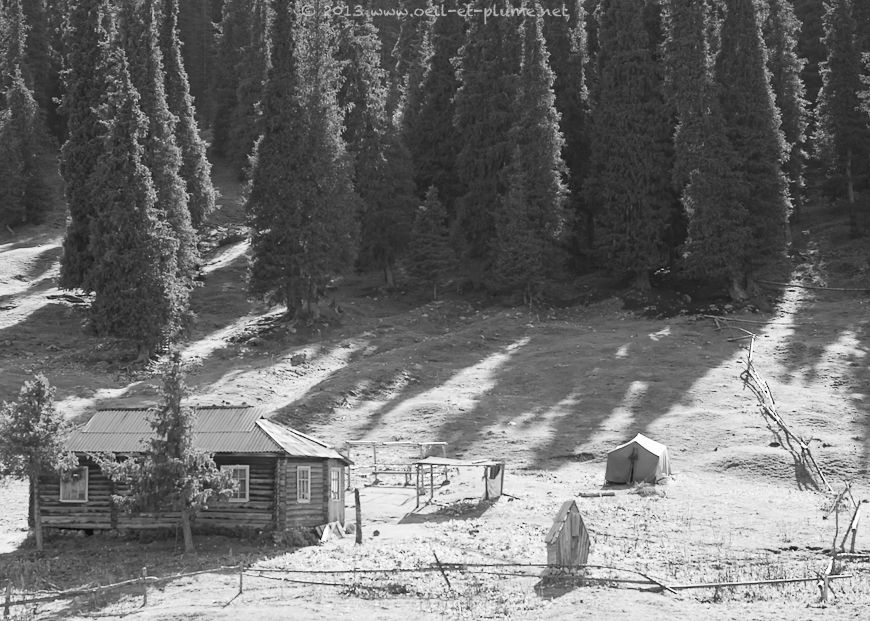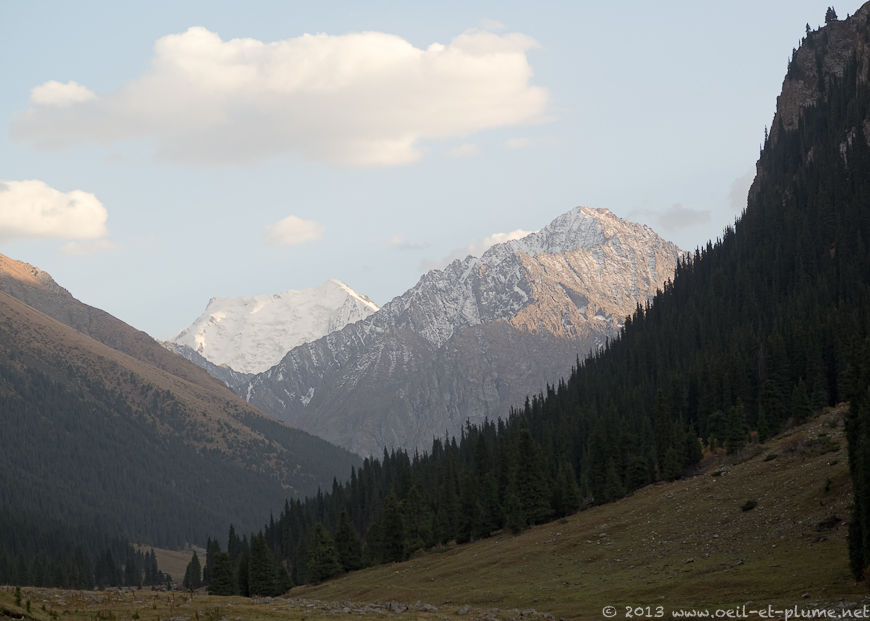 On the third day, we trek down the valley, crossing again beautiful and left-alone horses until a village where our pick-up is organised to return to Karakol.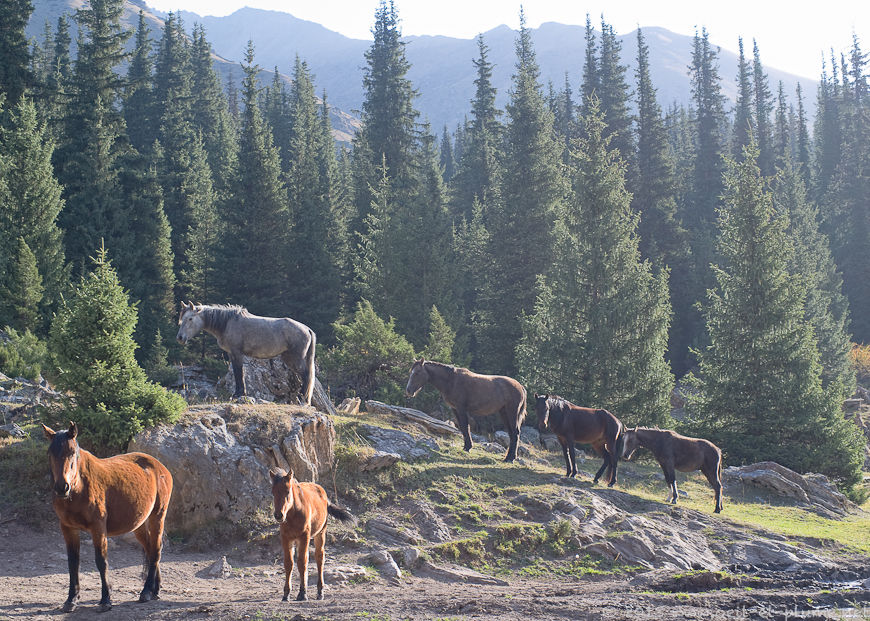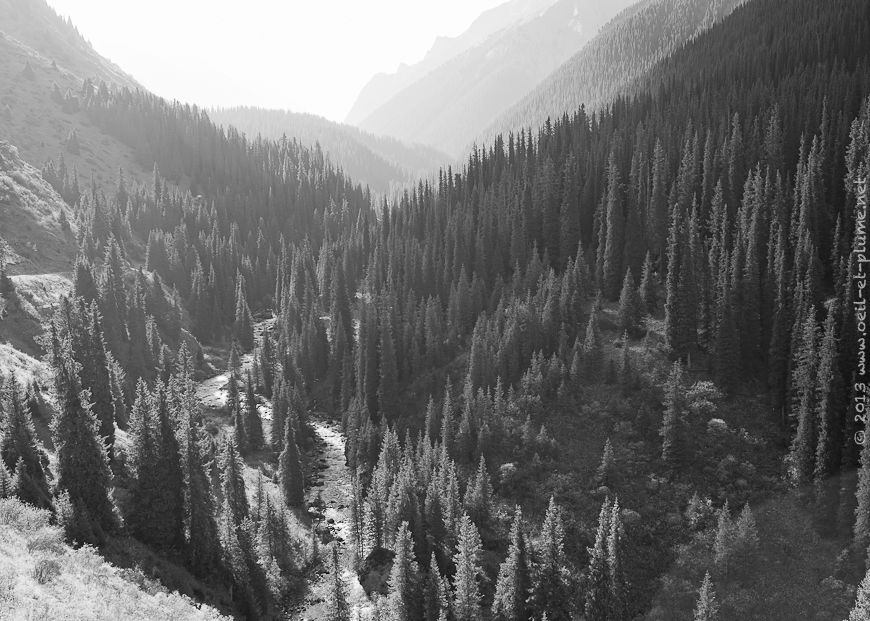 Done, well done. The trek was easier than expected, I must say. The fastest of his 2013 treks to Ala-Köl, states Kasidin.
In any case, consult but don't be overly influenced by guidebooks and online reports. More importantly, train consequently, take adequate equipment and hire a local guide such as Kasidin.
Karakol
I get up early on the following day. No time to rest on this Sunday. Today is the weekly peak of the livestock market in Karakol. In the region, it is second only to the Kashgar livestock market in the Chinese Sinxiang. A superb opportunity for street photography.
Kyrgyz people migrated from Siberia into present-day Kyrgyzstan between 10th and 15th centuries. Their nomadic traditional lifestyle is typical of Central Asian steppes. No wonder that horses, goats, sheeps and cattle constitue for them an essential source of income and pride. My next post will evoke another traditional companion of Kyrgyz people.
The nomadic origin of Kyrgyz people explains also why I barely witnessed any Kyrgyz approaching the Issy-Köl Lake during my stay in the region. Nor did I spot any boat on the lake and its shore. Kyrgyzs' primary natural element is earth, not water.
So different from the Titicaca Lake, where fishing and underwater farming are common, and where Uros indigenous people still live on man-made floating vegetal islands.
So is our world – similar but different.
Cheers,