In Prague, I learn that a Thai classical puppeteer troupe based in Bangkok was awarded twice at the World Festival of Puppet Art held in the Czech capital. Insignificant to many people, the piece of news is interesting enough for me to travel to Bangkok.
You may wonder why puppet theater would entice me. It reminds me of Carlo Collodi's tale of the whimsical Pinocchio who gave such a hard life to his creator Geppetto somewhere in Tuscany in the 19th century. More concretely, I find fascinating the way inert hand-held puppets are brought to life to tell stories.
Thai puppet theatre
At first sight, Bangkok is far from an ideal location for watching hand-held puppets. However, Thai puppet theater represents an elaborated classical performance art practiced traditionally since the 11th century in diverse social spheres including the Royal Court in Bangkok.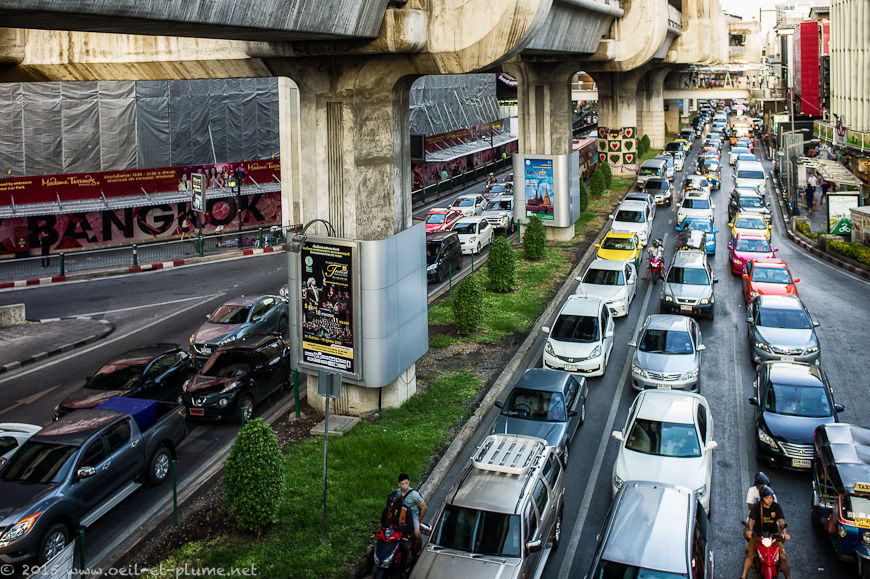 Royal Thai puppets (hun laung) were traditionally of big size and intricate structures, pulled by an compley array of strings from inside the puppet to brass rings on the puppeteers' fingers. During festivals, royal puppets were used to evoke ancient Siamese myths, imitating dances and gestures from traditional opera.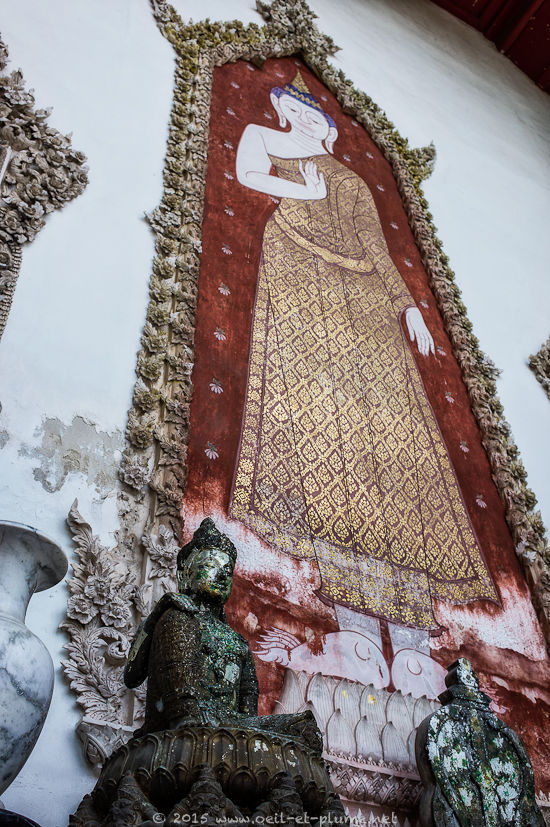 Traditional Thai puppetry nearly disappears in the first half of the 20th century with the relative political decline of Thai monarchy and the emergence of new entertainments such as motion pictures.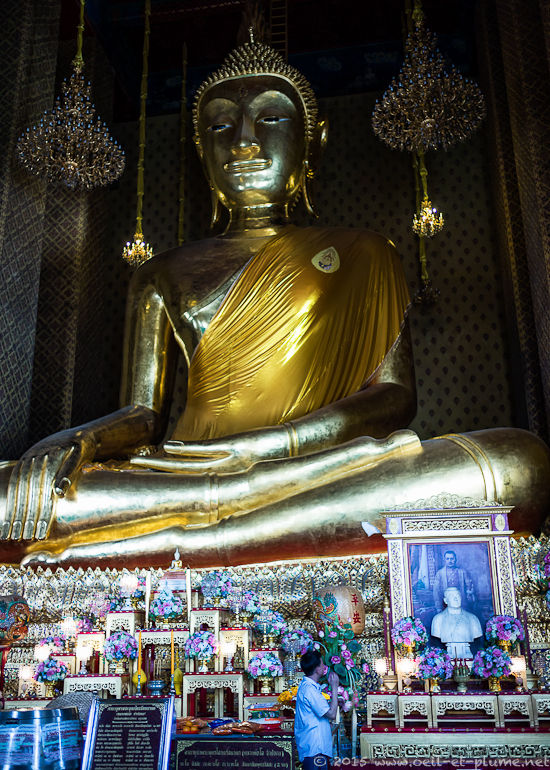 Beginning of the 20th century, a master classical puppetter named Kru Krae Suppawanich develops a smaller and lighter type of puppet (hun la korn lek) by reducing the size and the operational complexity of the traditional royal Thai puppets.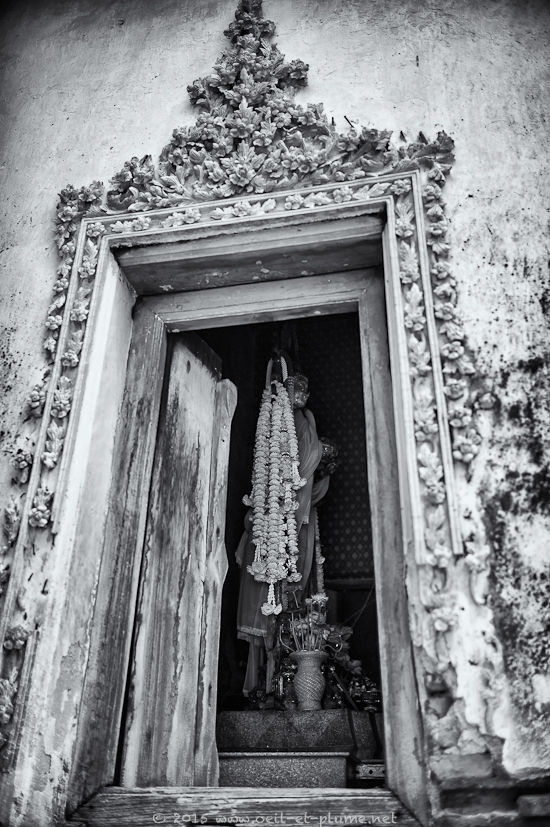 Later in the century, Sakorn Yang-keawsot, a Thai comedian fascinated by traditional puppetry inherits and further develops technically Krae's small puppets to make them more lifelike.
Sakorn aims at reviving and modernising the traditional brilliance and the popularity of Thai puppetry. He trains his nine children who starts staging public performances in their Joe Louis Puppet Theatre in 1985. The puppeteers' family presents various adaptations of Thai epic literature, supported by traditional Thai classical music (piphat). The troupe achieves national consecration in the 1990's, soon echoed internationally.
Artist's House
Joe Louis Puppet Theatre was unfortunately closed during my stay in Bangkok. However, there are a few other locations running performances of Thai traditional puppet theatre. Standing along a canal in Thonburi area, the Artist's House (Baan Silapin) is one of them.
As the Artist's House is quite challenging to reach on your own, I join a guided tour relying on bicycle and boat transportation to get there. It may be surprising to consider bicycling in Bangkok, however it works wonders in humble neighbourhoods rid of road traffic jams.
The journey includes a boat ride on the River of Kings (Chao Phraya River) before entering a maze of canals (klongs) reminiscent of what Bangkok used to be: urban life near and on top of water.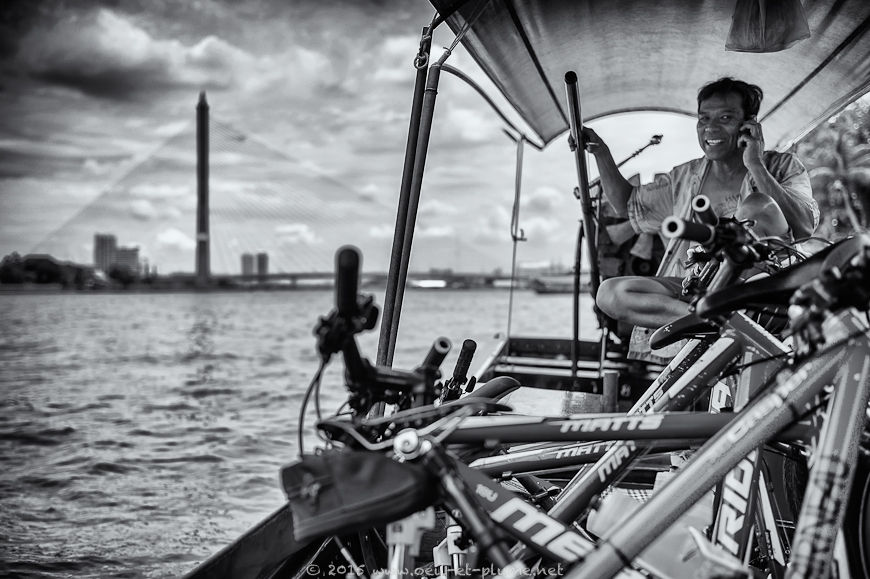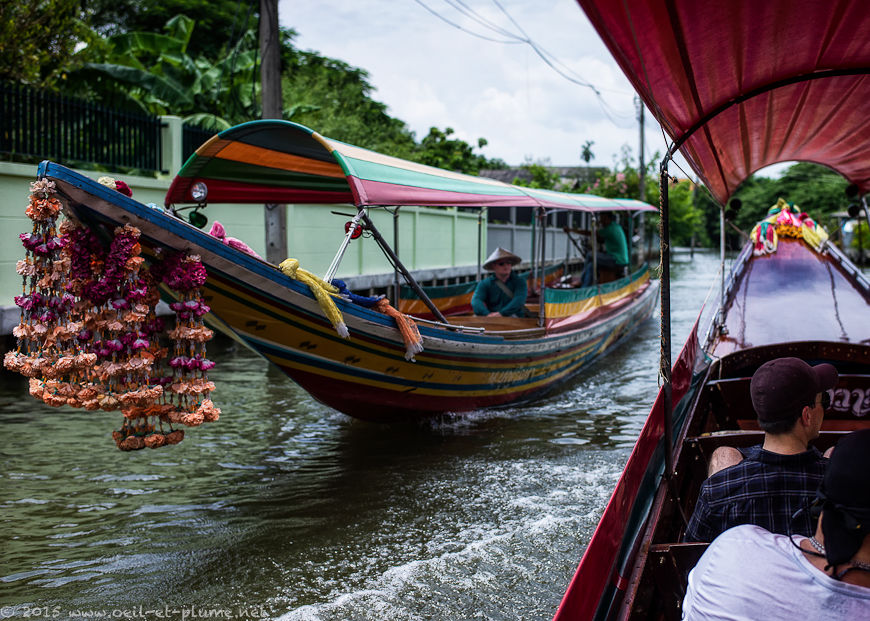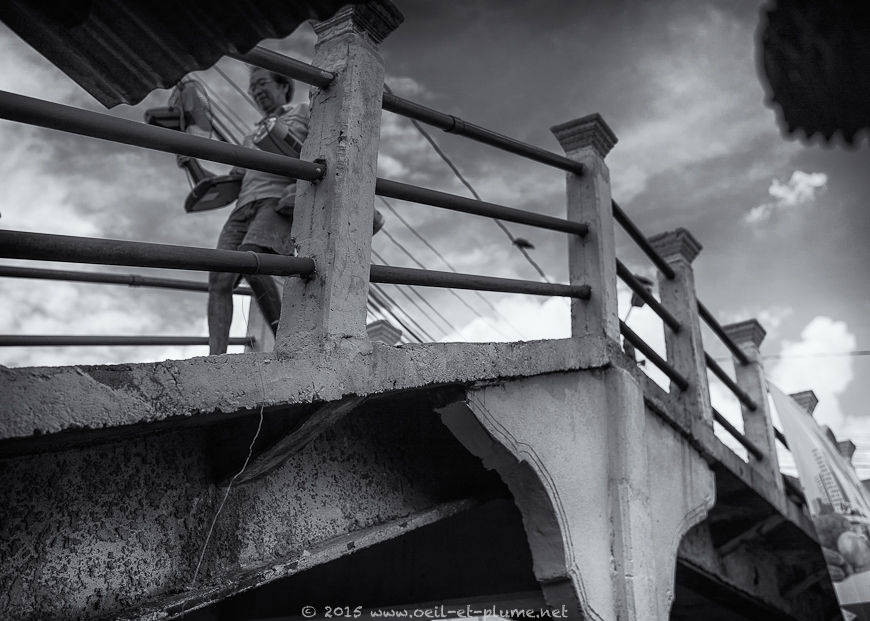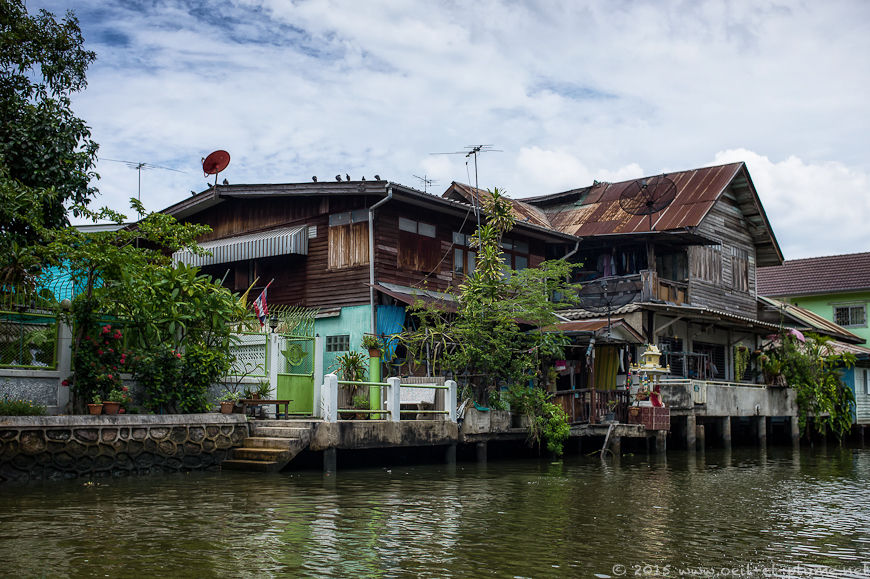 A splendidly restored old Thai wooden house, the Artist's House catches the eyes from afar. A man painted in red sit on the dock, impassibly staring at the canal. Too immobile to be human, right. Another four statues painted in black and white face the water, one of them bearing a second head adorned with gold. I am too happy to stop there.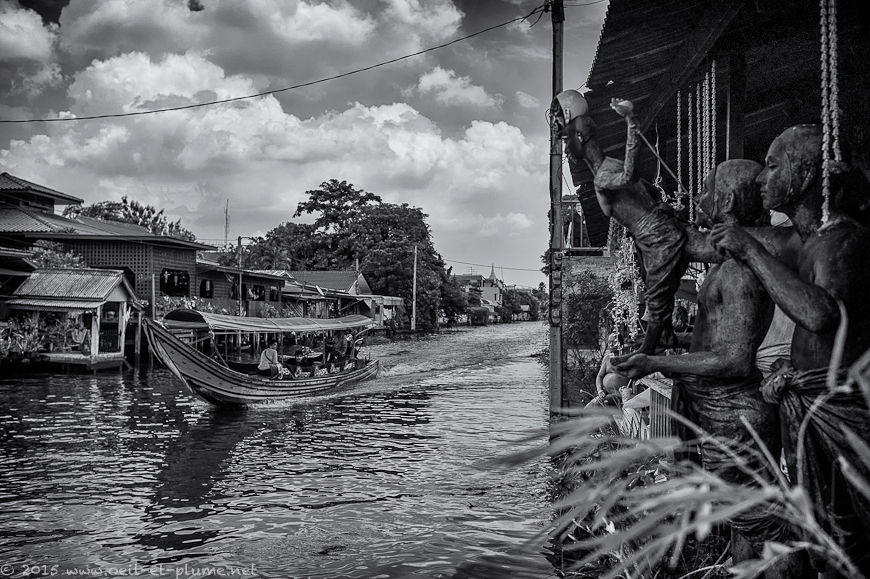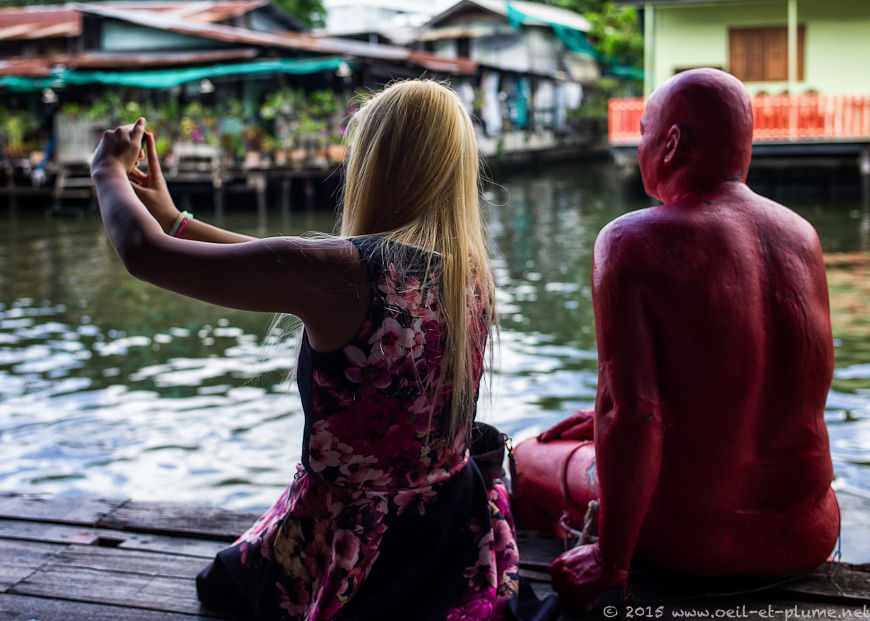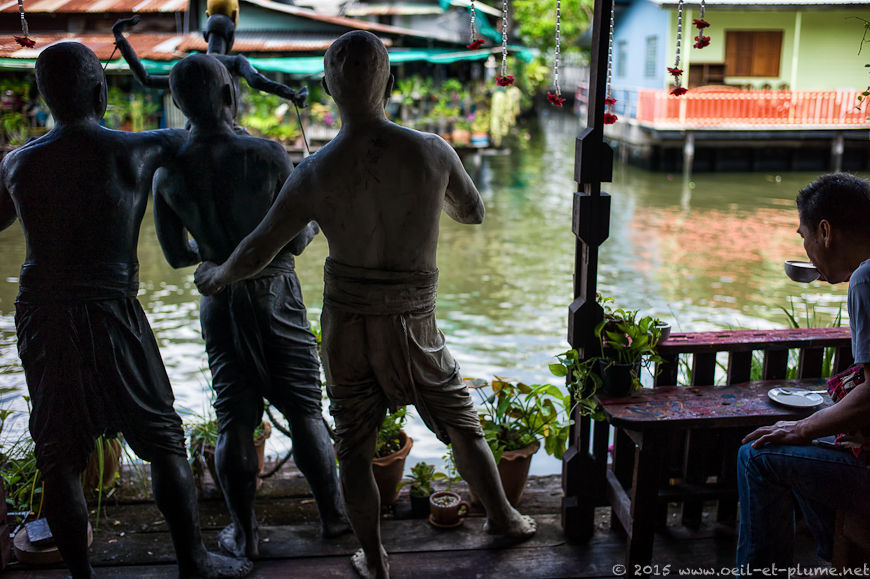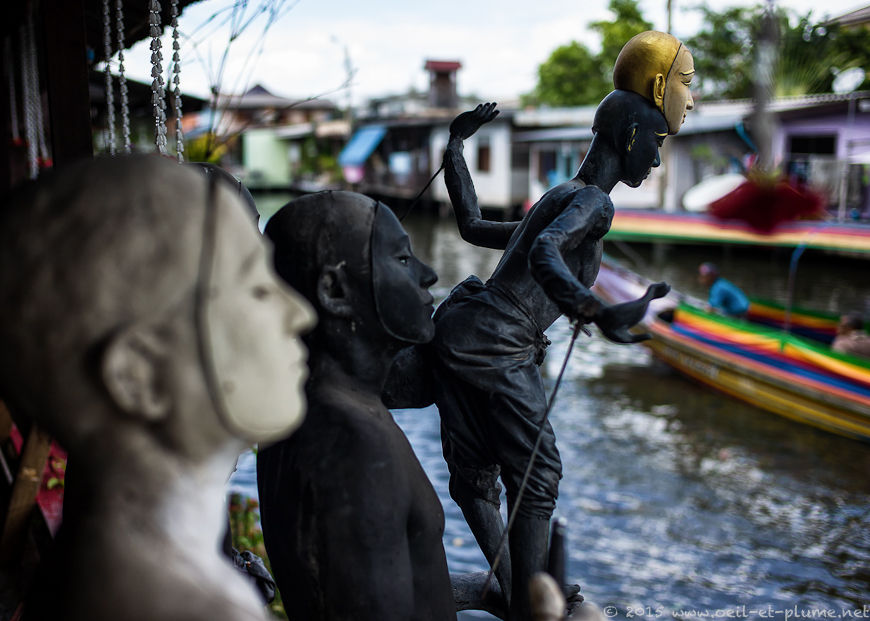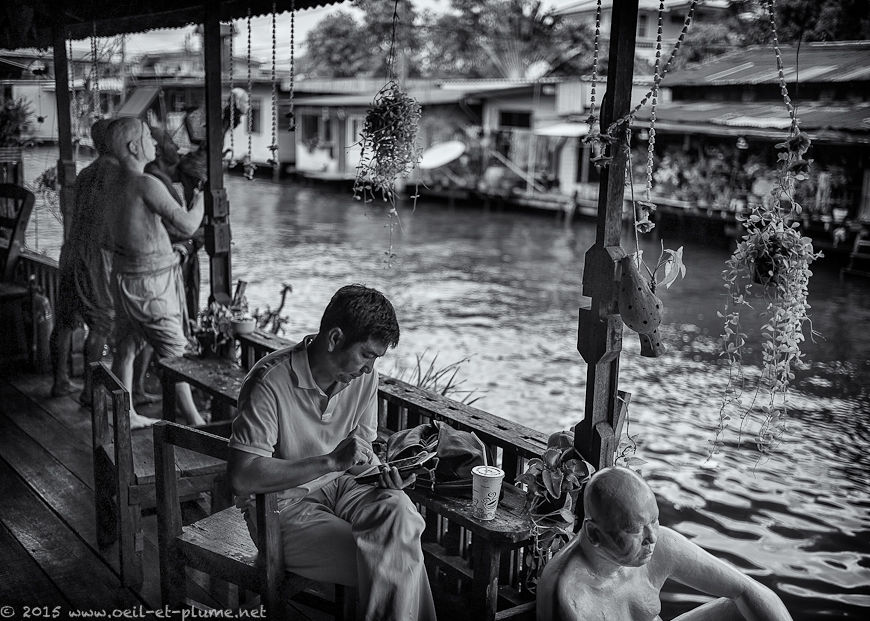 The place is an oasis of tranquillity and culture in the busy and materialist modern Bangkok – a Café des Arts, Thai-style, displaying a wealth of books, sculptures and paintings.
Puppet theatre play
An old stupa (chedi) stands with the utmost dignity in the backyard. It serves as background to the puppet theatre play performed daily with the puppets that used to be part of the Joe Louis Puppet Theatre. Here we go.
A group of six men and women occupy the wooden stage. They wear dark clothing and a black mask to avoid attracting unnecessary attention by the audience. They place two delicate puppets on the stage, one male and the other female. The performance starts with a prayer.
It is believed that these puppets are imbued with their own spirit. No puppeteer will start before first seeking their permission. Moreover, a prayer is addressed to the late master puppeteer Krea, requesting humbly his support.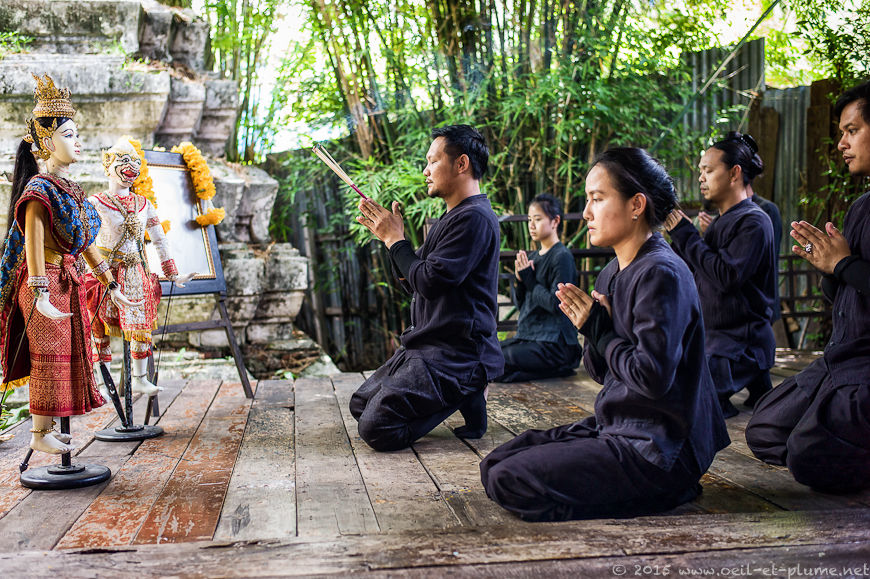 The puppets are gracious and splendid. Made of lightwood, papier-mâché and fine textiles, they reflect the vision of the master Sakorn: to create lifelike craft hand-held pieces. The mid-size puppets are articulated with metal coils wired to cords to action the neck, head and mouth. Hands, wrists, arms and legs come to life through external rods.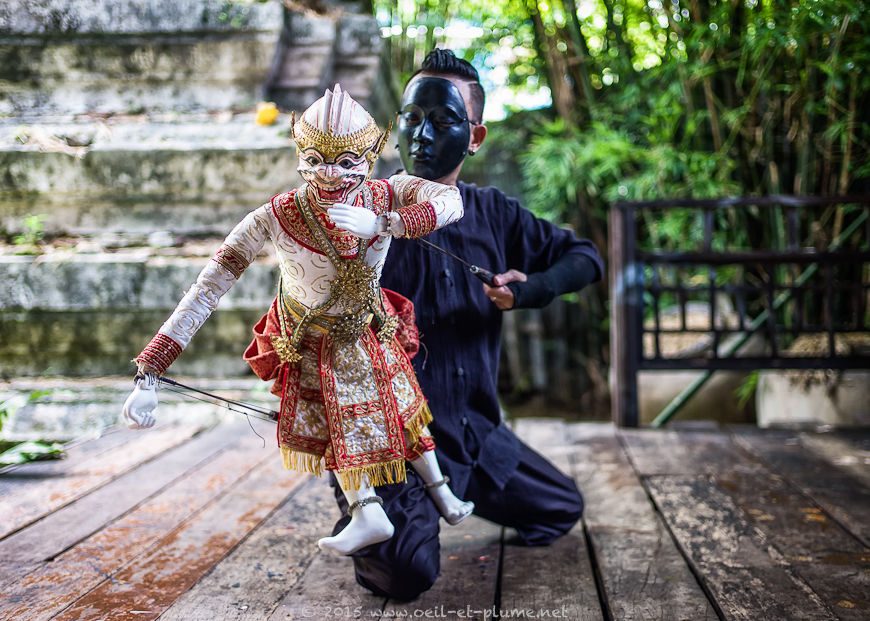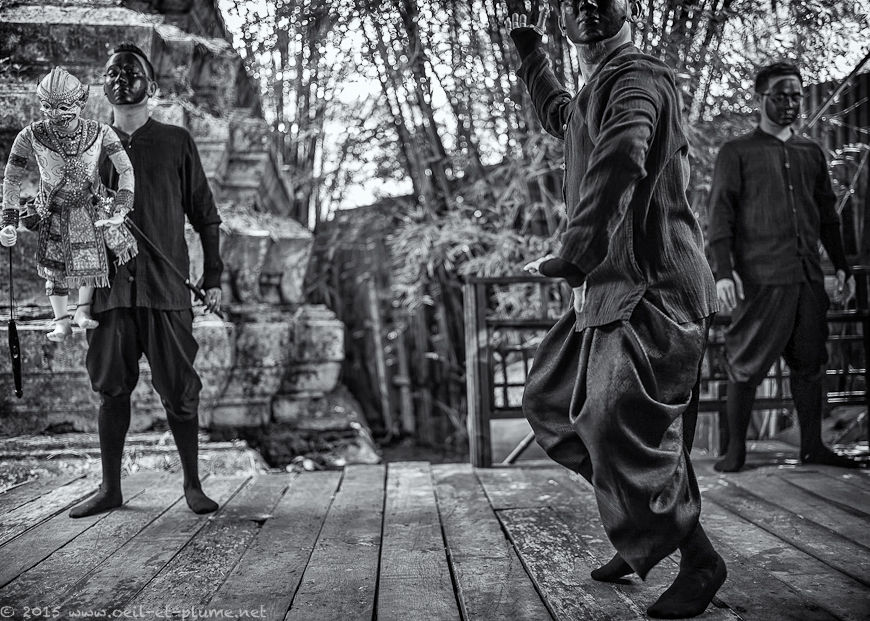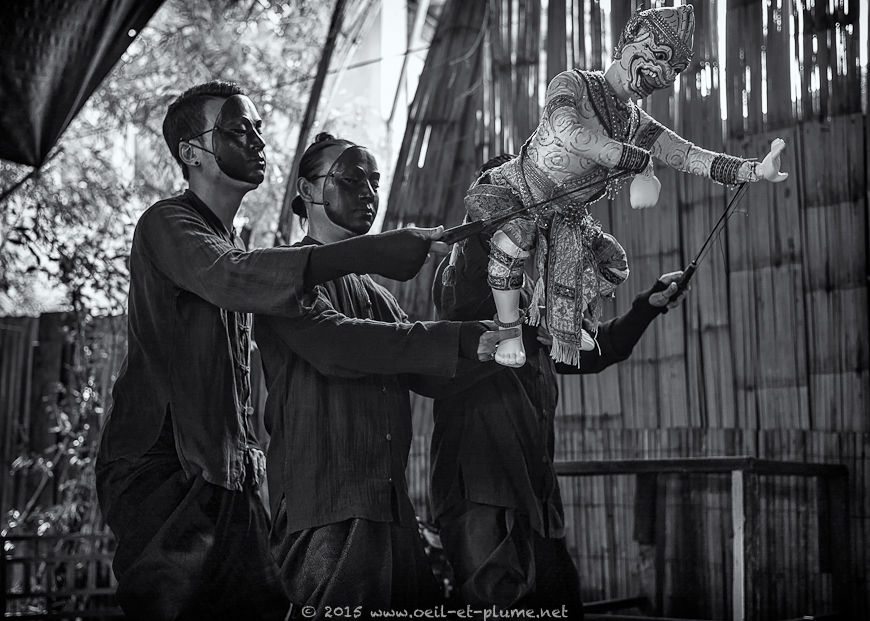 No less than three puppeteers service each creation of the master Sakorn: one for each side of the upper body, while the third one moves both legs. They are professional puppeteers trained in a five-year programme to acquire the basics of the triplet interplay, completed by another two years dedicated to forging expressive motions and attitudes of the puppet.
On stage, the puppeteers move and dance synchronously to the tempo of an orchestra of vocals, xylophones, flutes, cymbals, drums and gongs.
Various stories based on Thai folklore are narrated, involving mythological creatures and deities. Today, the baboon-featured god Hanuman attempts seducing Benjakai, the niece of the Demon King.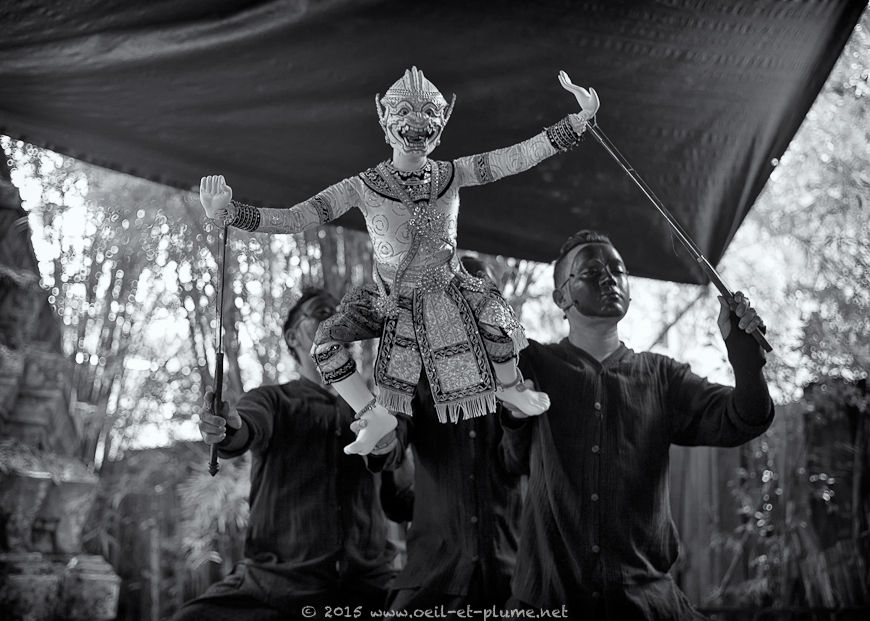 The white monkey god looks attractive in his golden diadem and fine dress. Still, Benjakai rejects his relentless advances. Hanuman's mood goes wild and the romance turns into an argument.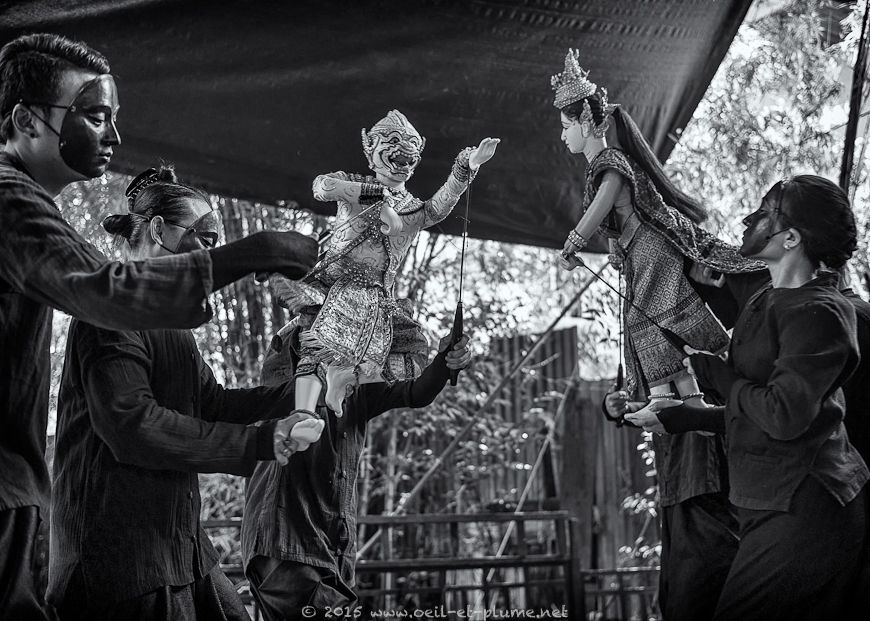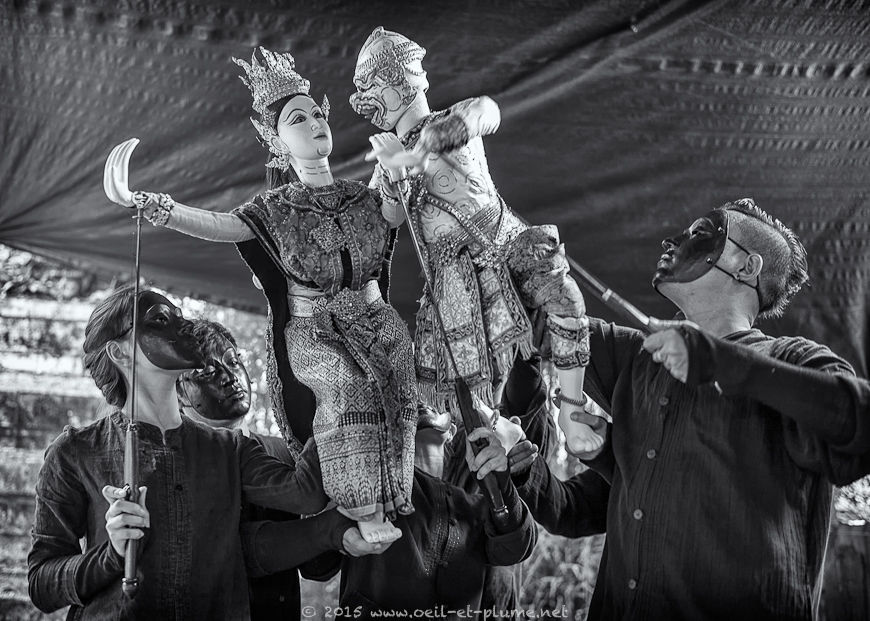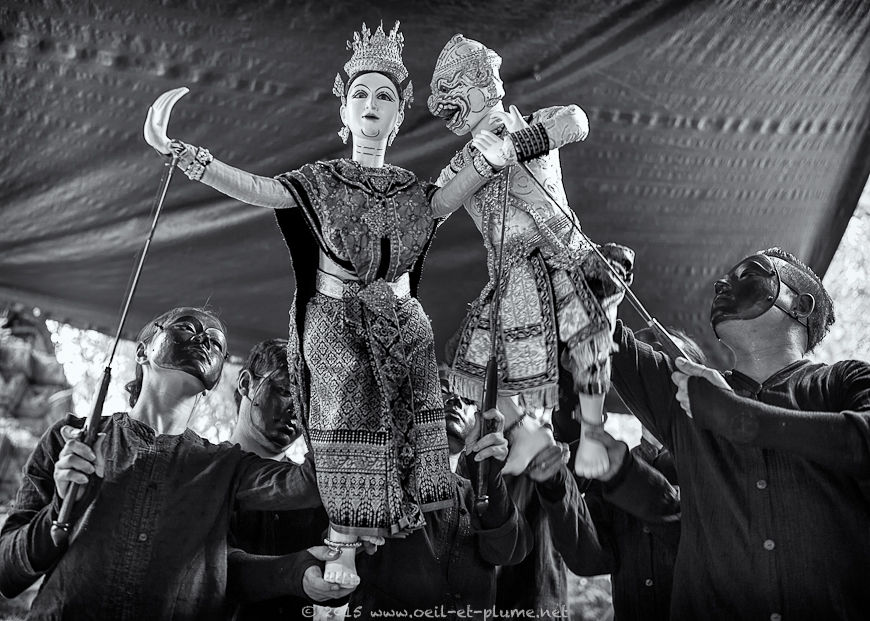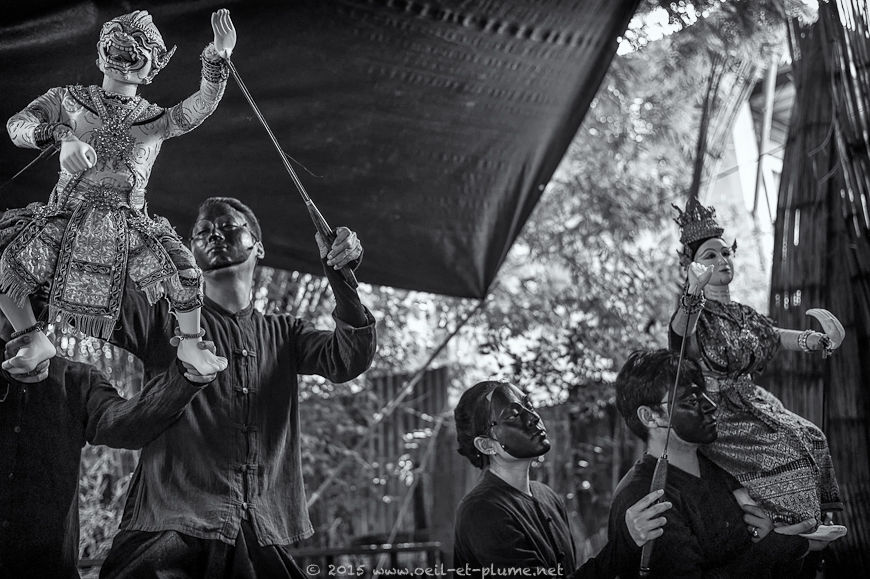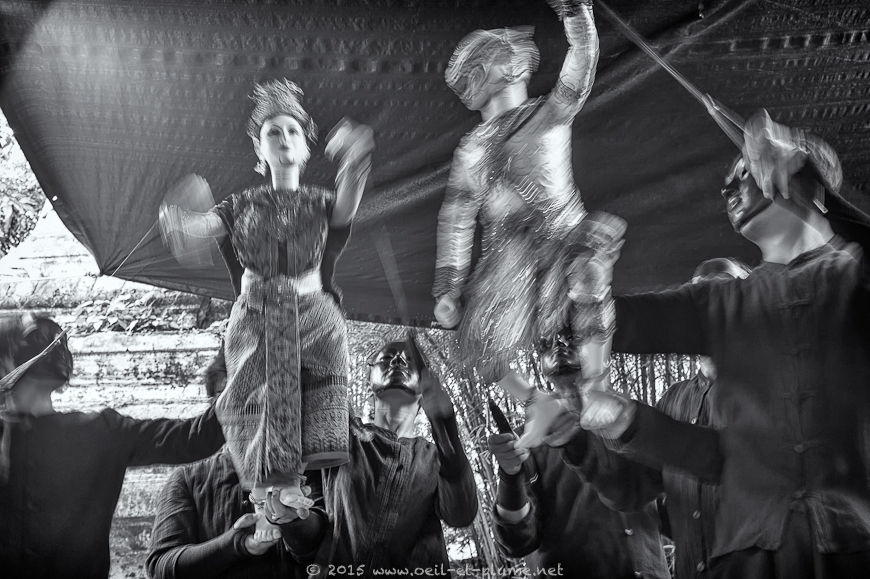 Frustrated, Haneman shifts his attention to the audience. He bounces off the stage to first make a fool of various male spectators. Then, the seducer tries his fortune with a charming female visitor, smiling and caressing her only to better snatch her purse. He agrees returning the purse only against a kiss of her.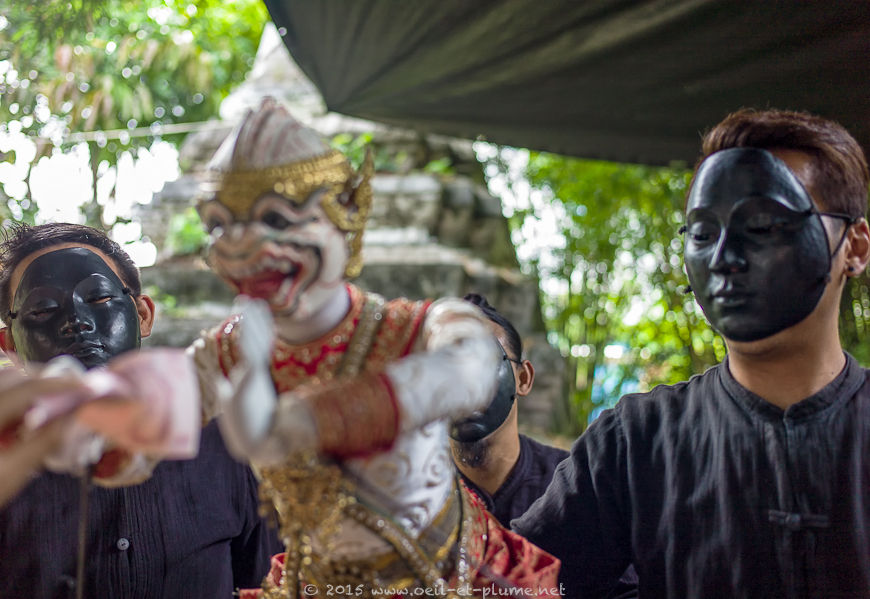 At least Haneman gets a kiss in the end. I leave the Artist's House with much more – a vivid encounter with Pinocchio's Thai counterpart, a memorable moment of Thai cultural fantasy and cleverness.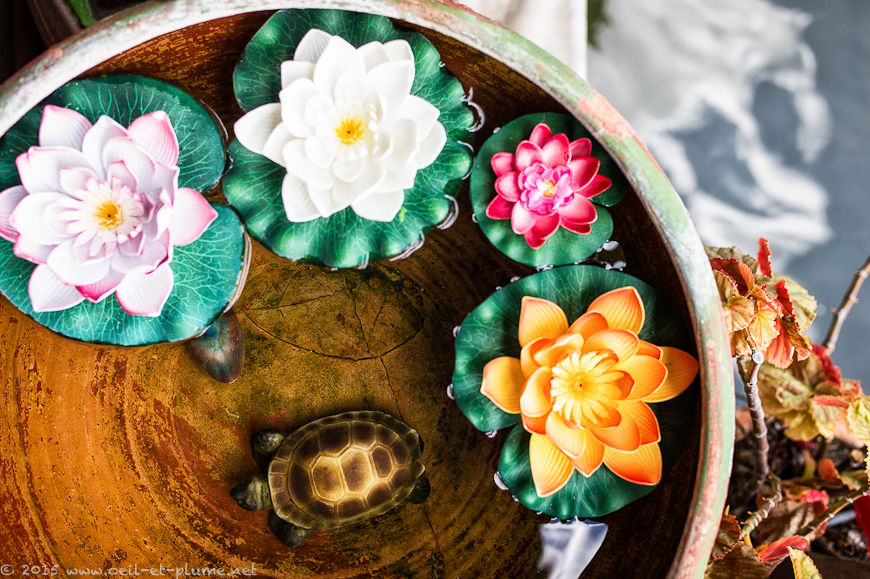 Thailand is full of gems of all sorts. Just open you ears and eyes.
Cheers,