After an introductory visit in 2005, this was my second stay in Bali. I much enjoyed its landscape, people and culture. Bali Island could claim to constitute a paradise on Earth, owing to its magnificently visual and spiritual culture, not to mention its hospitable people.
Marthe discovered the island with much pleasure while recognising many facets of her own malagasi culture located far from there on the western edge of the Indian Ocean. Amazing how people, know-hows and cultures travelled long before modern long-haul air courriers or sea cruises, and how much sea-oriented people resemble in the fundaments of their traditional cultures and habits.
Our Balinese stay constituted a kind of honeymoon holidays, close to three years after our wedding ceremony in Madagascar. Truncated for professional reasons, our first honeymoon in Sainte-Marie Island in 2017 lasted three days only. Bali provided us with an exotic and exquisite opportunity to resume and extend our honeymoon period.
Out of travel experience, we selected a few locations where we stayed as long as possible to get deeper exposure to local life. A first leg devoted to the countryside near a volcano and the second part spent on the seashore. Both stays were amazing, amazingly different also.
Our honeymoon mood did not prevent me from shooting pictures. As for my 2005 visit, my photographic journey in Bali revolved was articulated around three themes: paddy farming, spirituality and sea life.  We first settled in Sidemen Valley, close to the Mount Agung.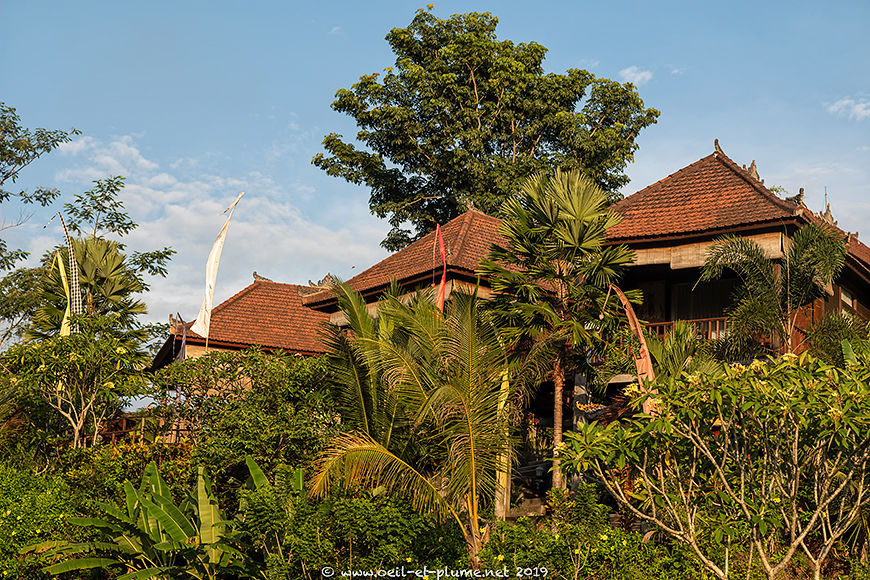 Paddy farming
Bali is overwhelmingly lush, green and fertile, with rice paddies as the main agricultural feature. In some areas, paddies conform exquisite sculpted terraces those lines merge with the ondulations of the local landscape. Terrasses aim also to valorise the land available for cultivation and allow for refined irrigation systems. The most famous terraced paddy fields can be found in the centre and east of the island. Elsewhere, gently rolling rice fields provide charming rural scenery.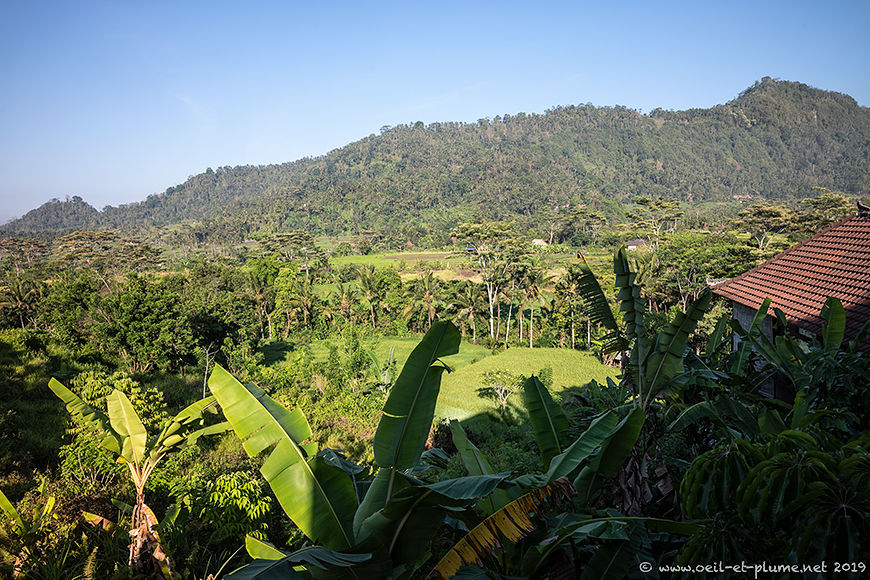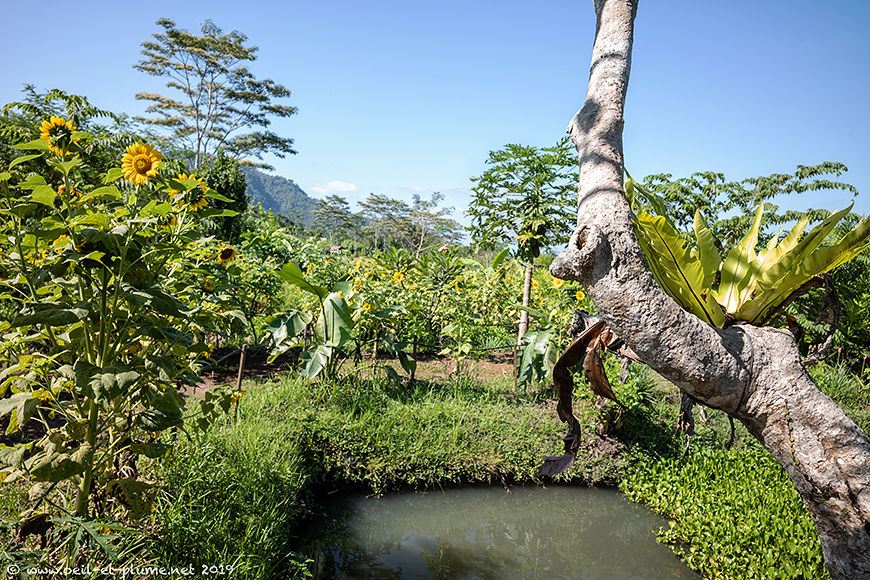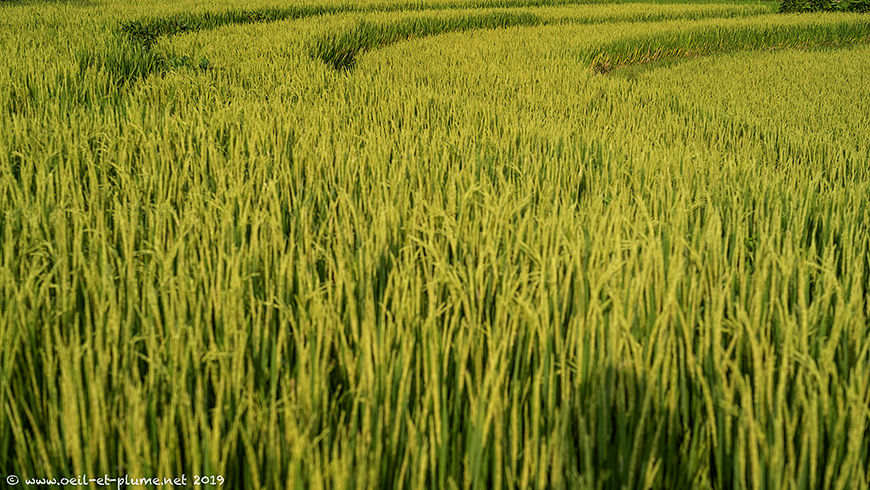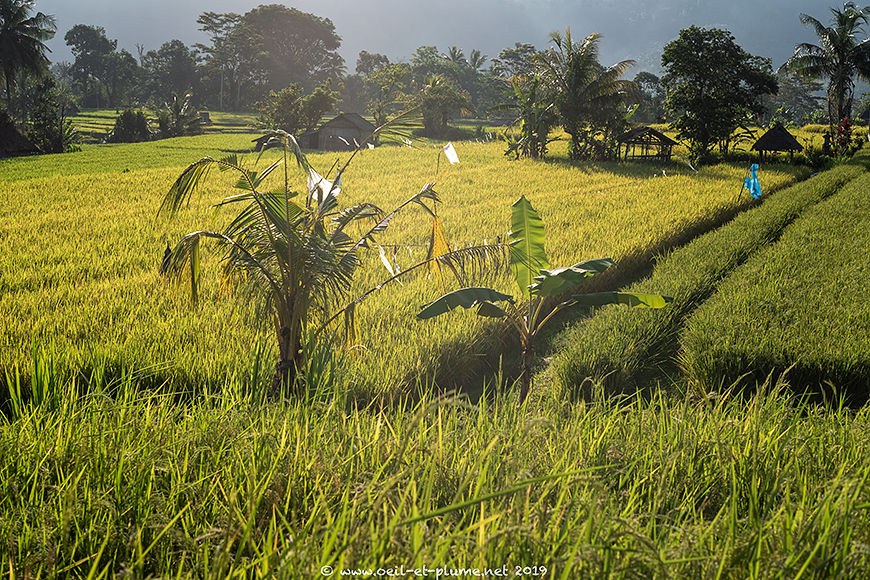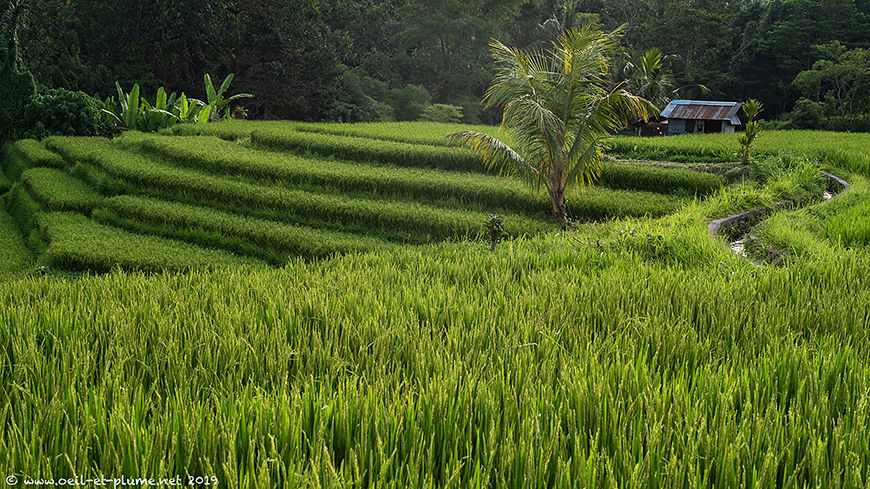 Paddy fields are so much everywhere that the eye struggles to define specific spots of interest and focus on them. They are not only productive units, but privileged places for socialisation and even spirituality. Small altars loaded with vegetal offerings and incense sticks are scattered all around, expressing the concern to associate the Gods to the productive endeavour and its rice yield.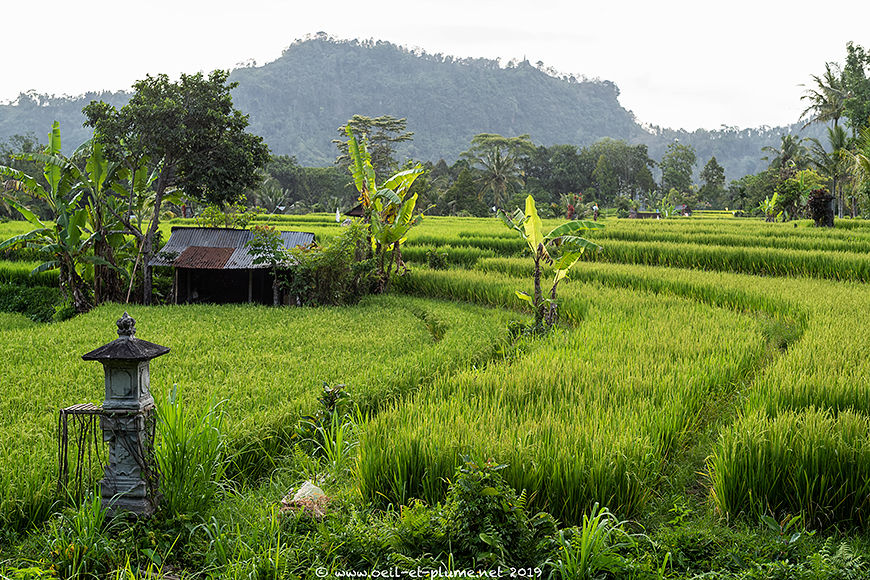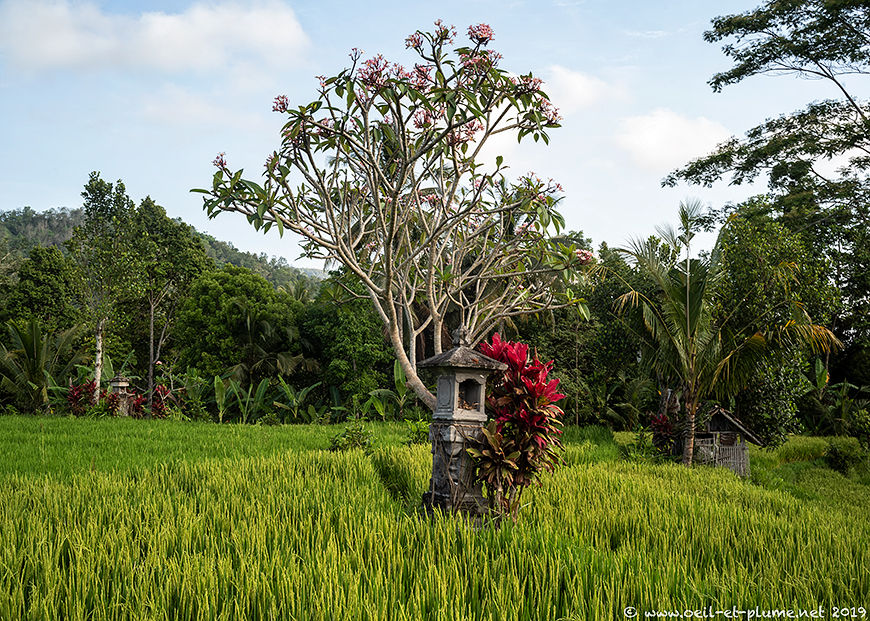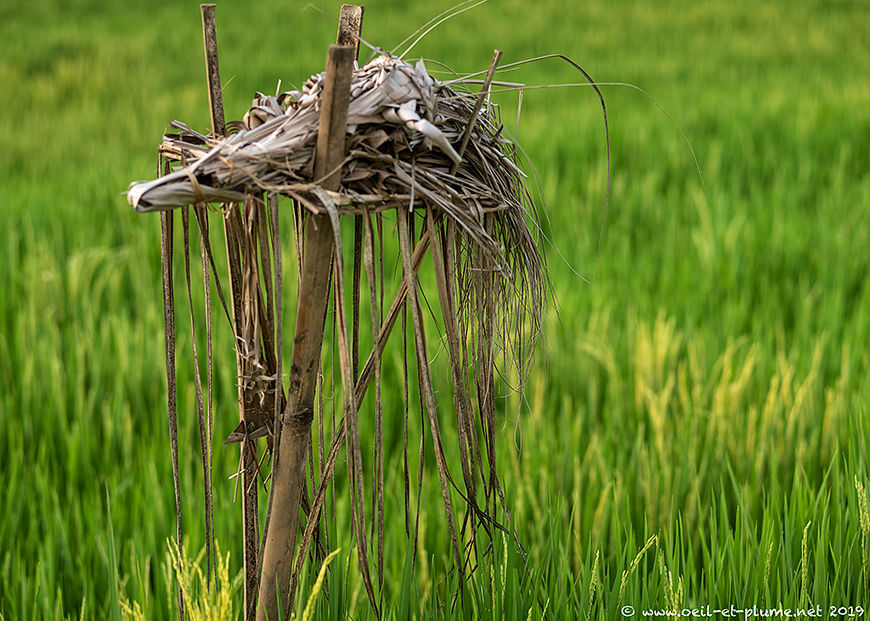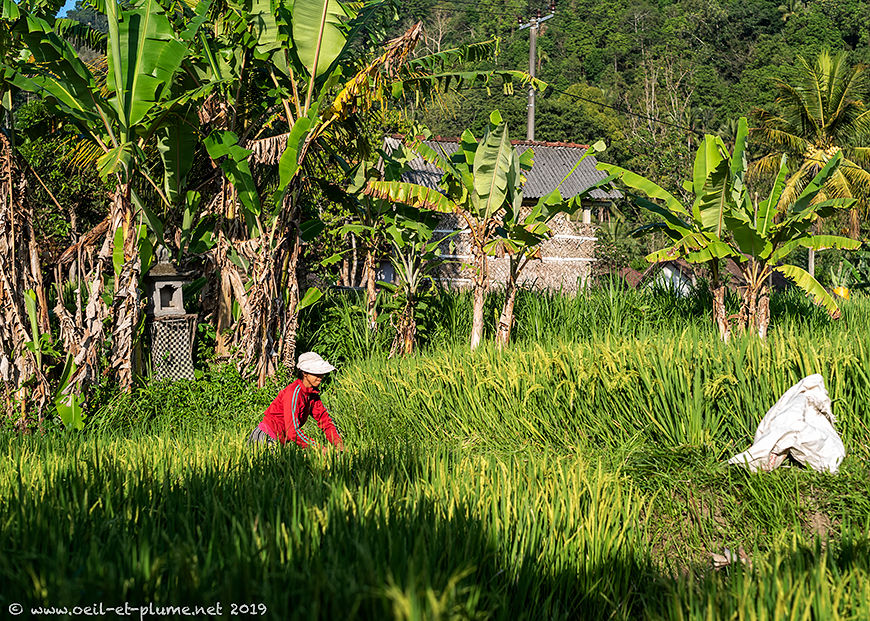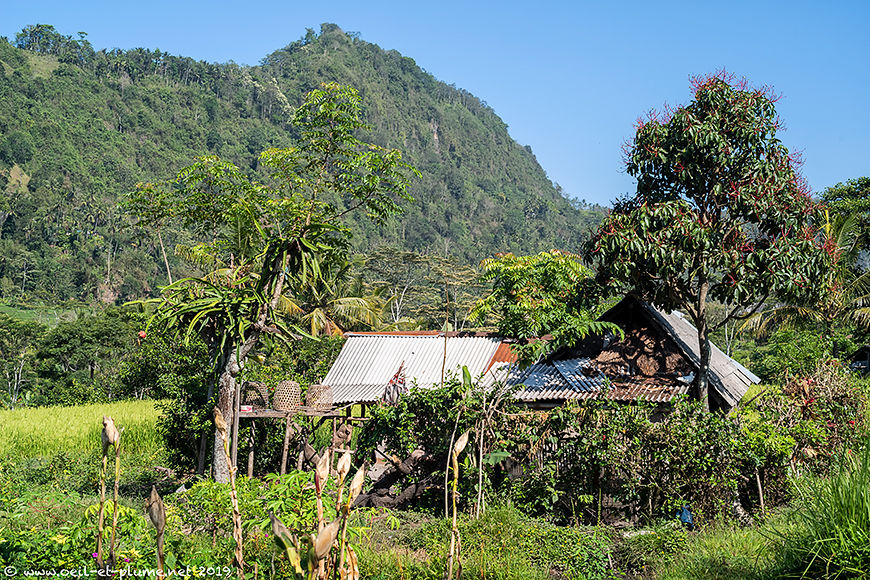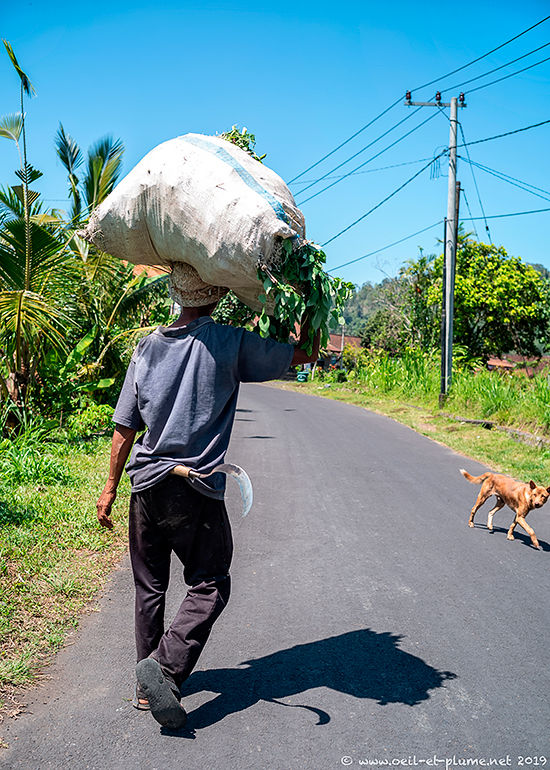 The Gods' blessings are apparently not always powerful enough to protect Bali's rice production. While some farmers sit for hours in their paddy field and make some noise for the sole pupose of scaring the birds, most of them rely on scarecrows. Scarecrows in Bali's paddy fields fascinate me. As everywhere in the world, they intend saving the agricultural output from being spoilt or eaten by the multiple bird species living in the island. However their multiple forms and means are quite interesting.
Balinese farmers are not only hardworking, but also very creative in their way to conceive scarecrows. Some mimic classically human beings at work in the field. Others display solely pieces of clothing or pictures of human faces. Some scarecrows rely on the wind to activate a drum system whose noise will keep the birds away. Built with highly light-reflective materials, some other devices count on the bright sun to achieve similar results. There is so much ingeniosity displayed here.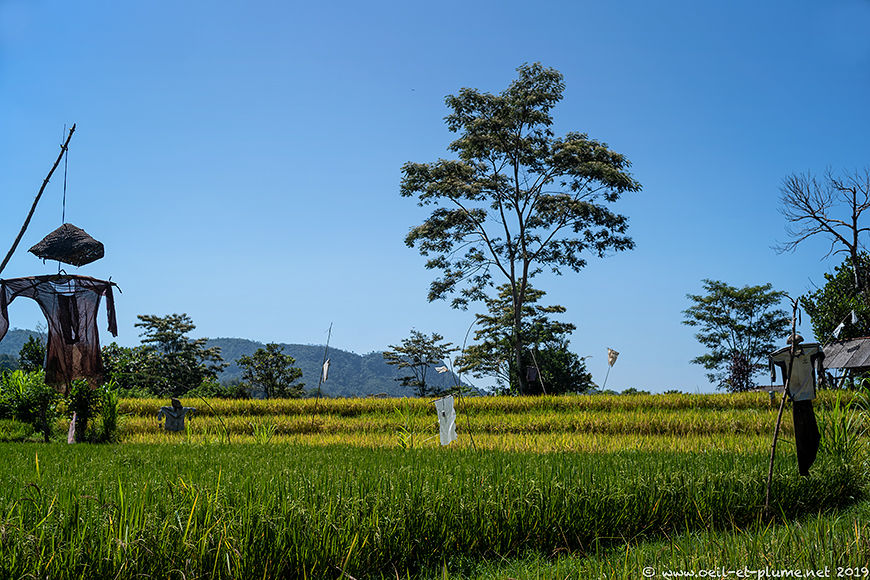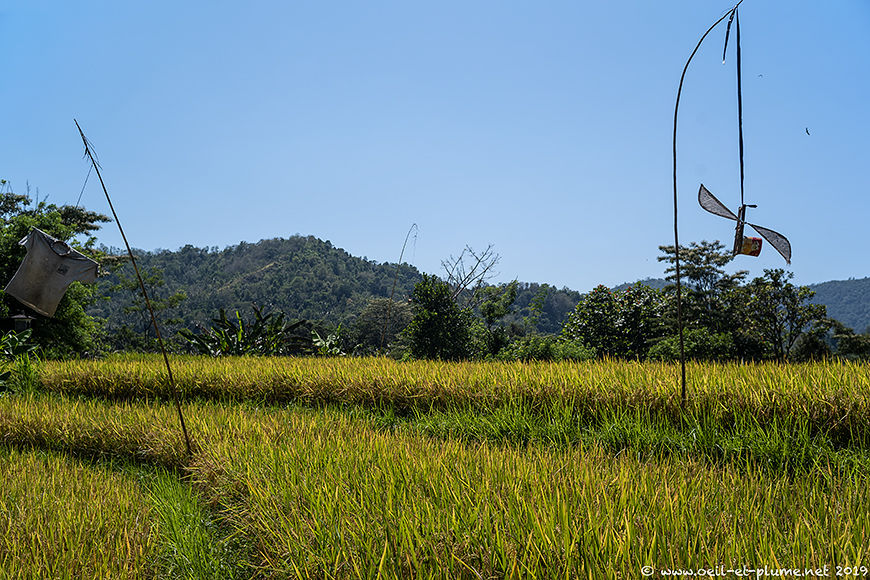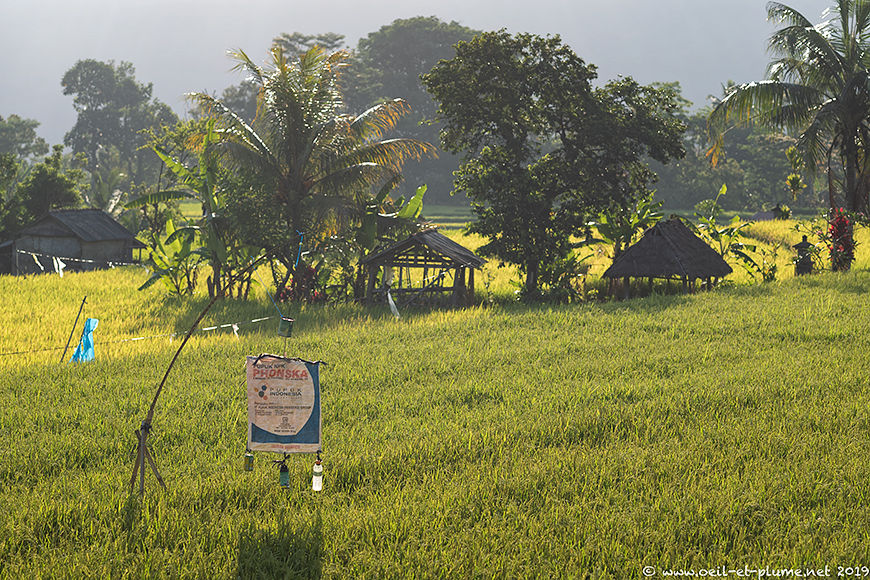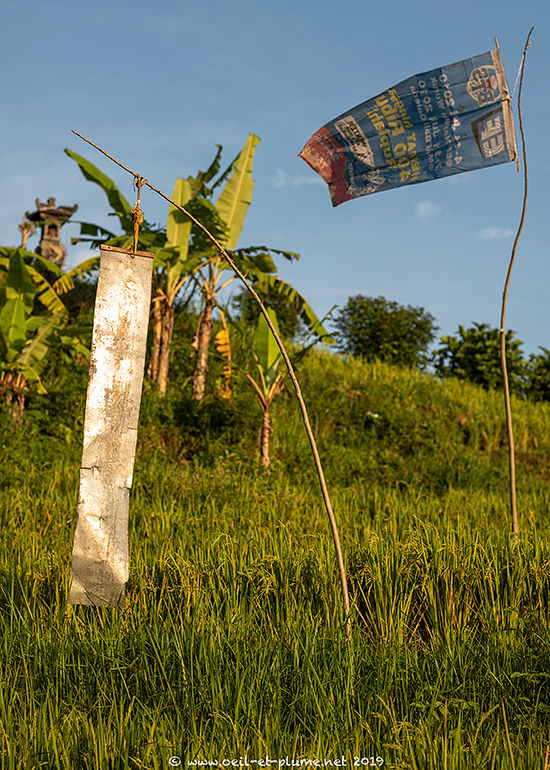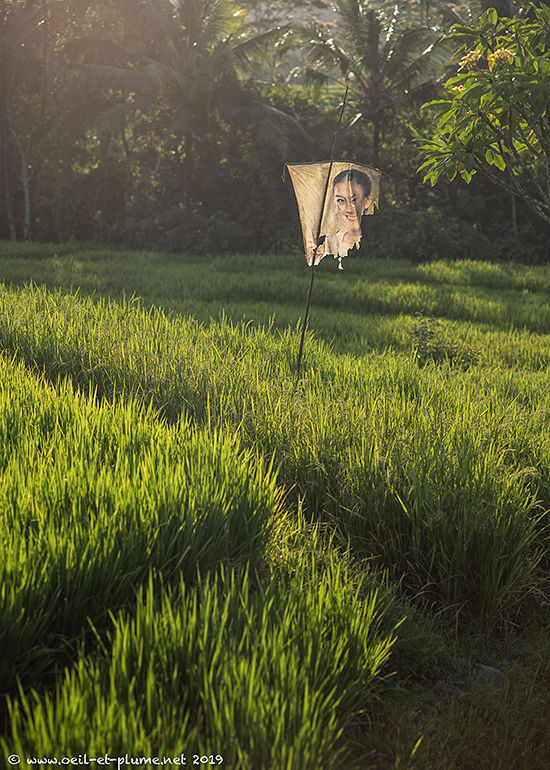 My next Bali's post will bring us closer to the Gods.
Cheers,