Arrived in the desert town of Yazd by midday, I settle in the old city and succumb to the oppressing heat. The nap turned out to last several hours. By mid-afternoon, I wake up and venture out my hotel. The streets and the narrow lanes are still empty. Yazd rests from midday to late afternoon due to the heat. Moving instinctively, I reach soon the Jameh Mosque – sleek skyscraper delicately tiled and coloured.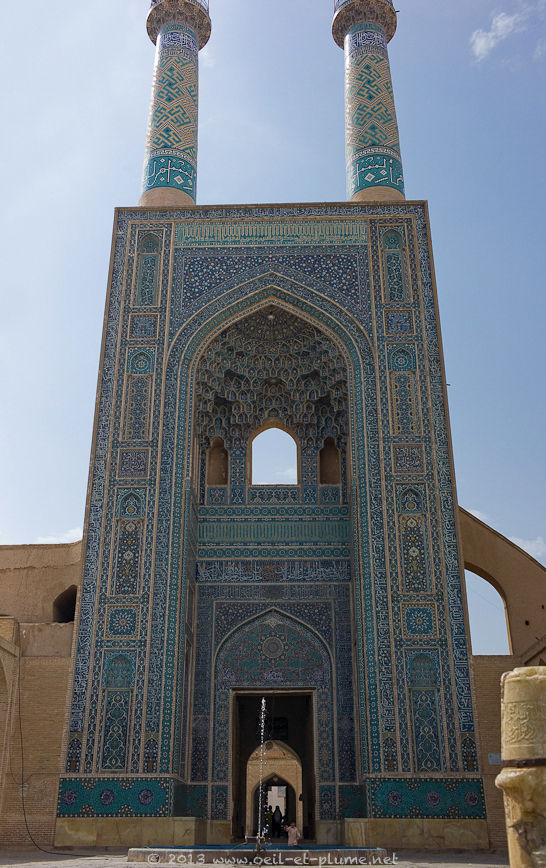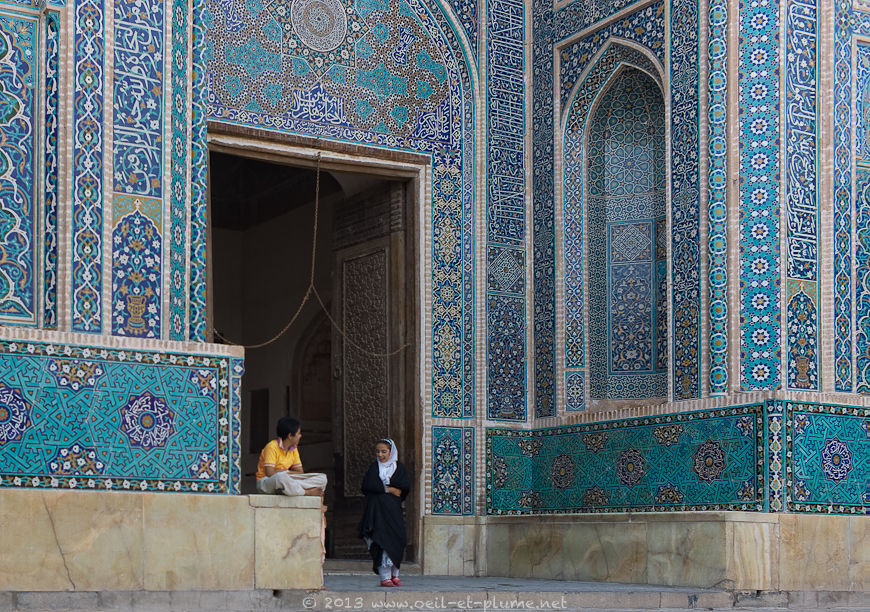 In front of the religious building, a boy and a girl. At my sight, the former promptly orders the girl, his sister in fact, to come closer to him. I sit nearby, still half asleep. After a short while, the two teenagers forget my presence and interact freely. I seize my opportunity to shoot the street pictures that I love. Done. I go closer to try to get portraits of the girl. Delighted by my request, she asks permission to her brother who vetoes politely but firmly the photographic endeavour. Too bad for me and you, but culturally sound in Yazd.
Yazd is architecturally unique in Iran. Located in-between two deserts and counting only on 60mm of annual rainfall, the oasis town adapted over time to its natural surroundings and to the local climate. The process took time, but time is plentiful in Yazd, as the city is 3,000-year old. One of the oldest towns on earth, according to Unesco.
I stayed essentially in the old town, whose complex geography owes more to the oddity and to the scars of history than to a rational urban planning. From my hotel roof, the city displays a forest of fortifications, minarets, domes and wind towers. At ground level, a labyrinth of narrow and winding lanes sandwiched between the high walls of thousands of mud-brick buildings. A delight for the intuitive wandering that I am fond of.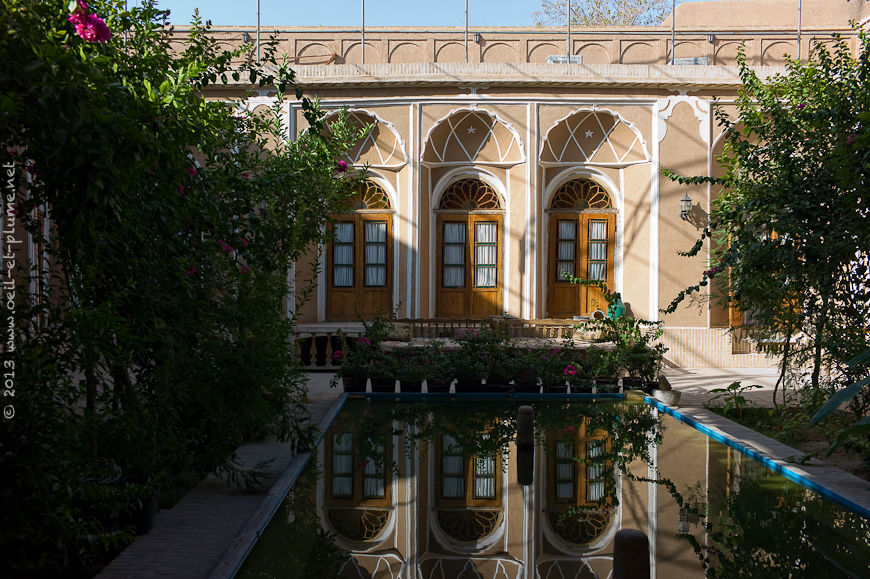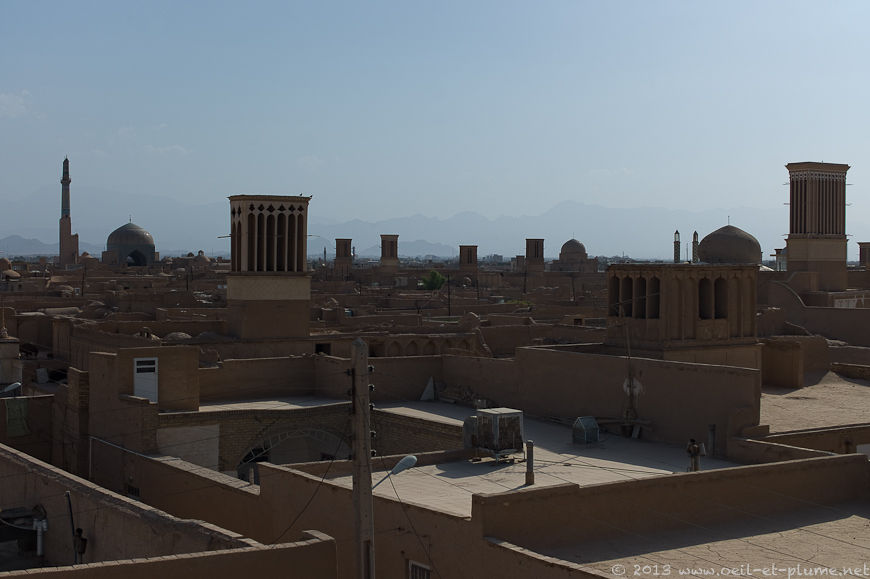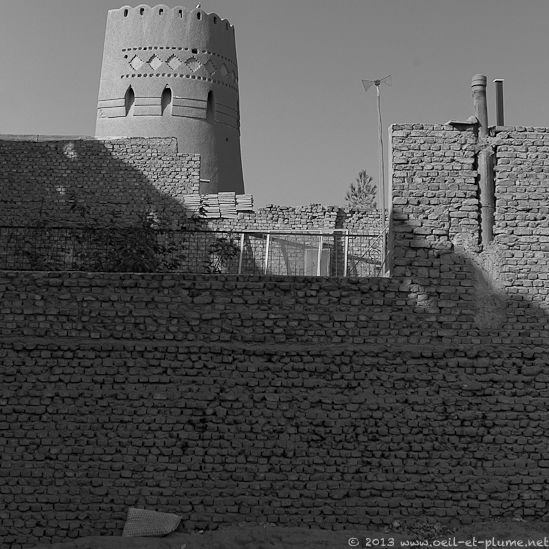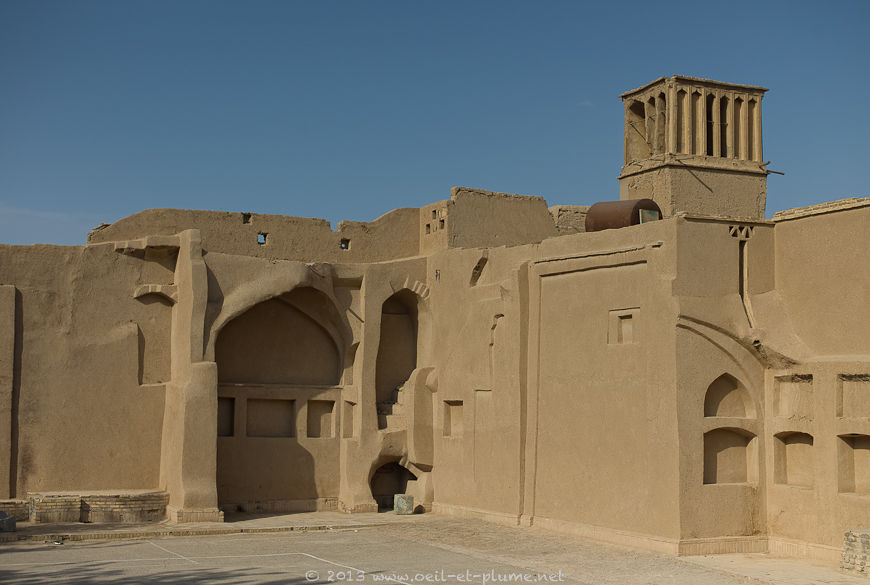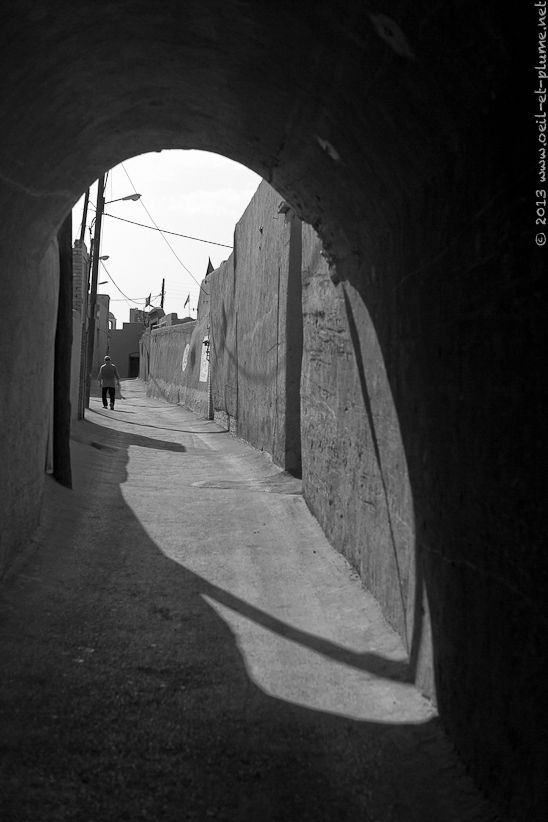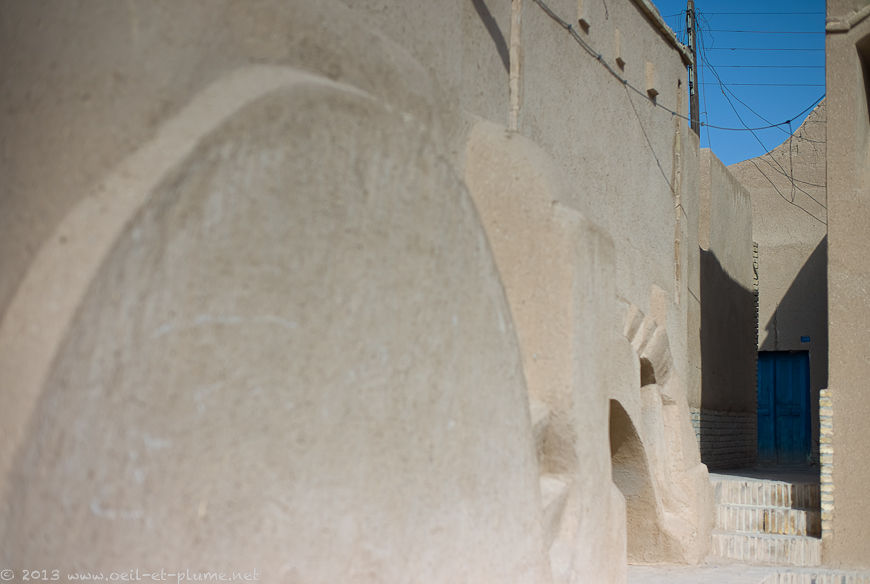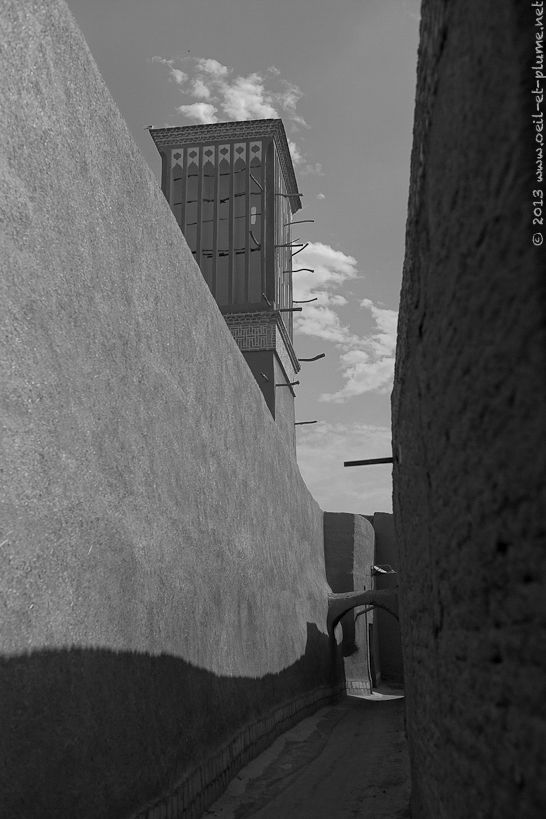 Yazd is famous for its wind towers (badgirs). These ancient systems of air-conditioning catch to the lightest breeze and channel it naturally to the living quarters below. Energy-friendly, noise-free and provoking no cold to the beneficiaries. Who said modern-day technology is so advanced?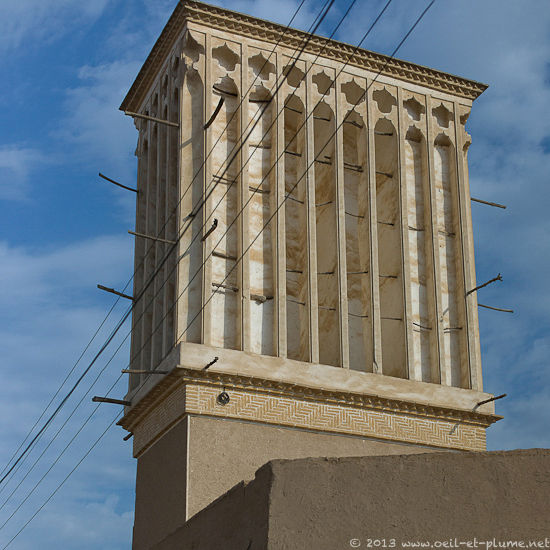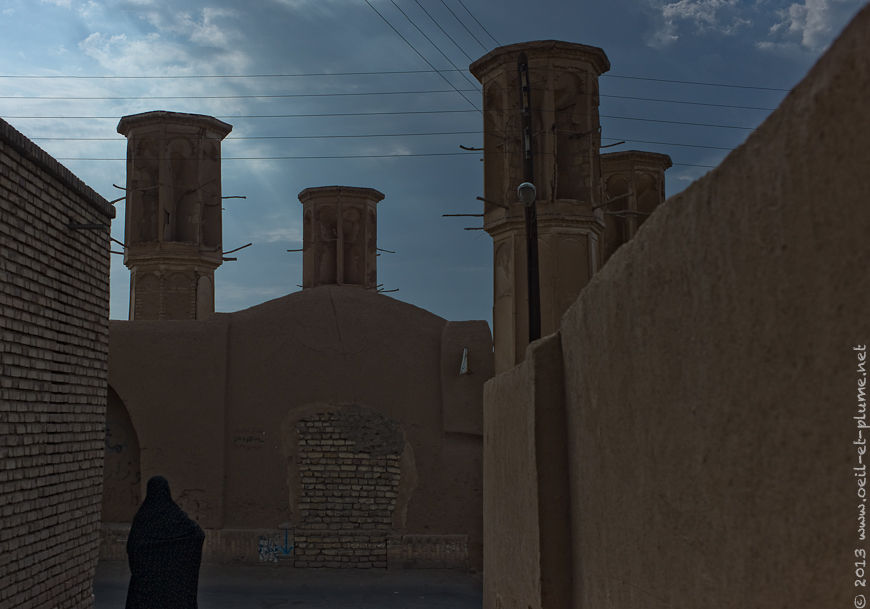 I spent days roaming and crisscrossing the old town, trying to catch inhabitants in their daily life. This is not an easy task, as most of it takes places within private properties. It requires to stay long and often in public places, to be patient or prompt depending on the situation, to be astute at times, to study local rhythms and habits, and to take changing light conditions into account.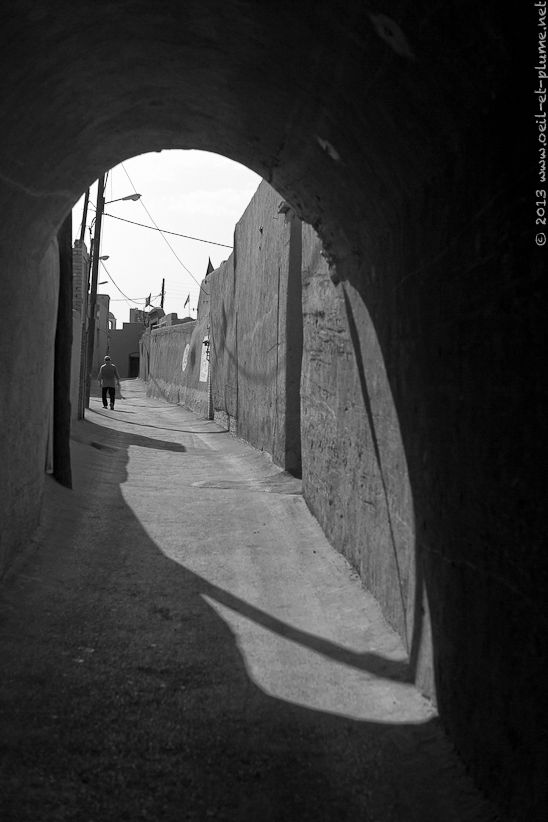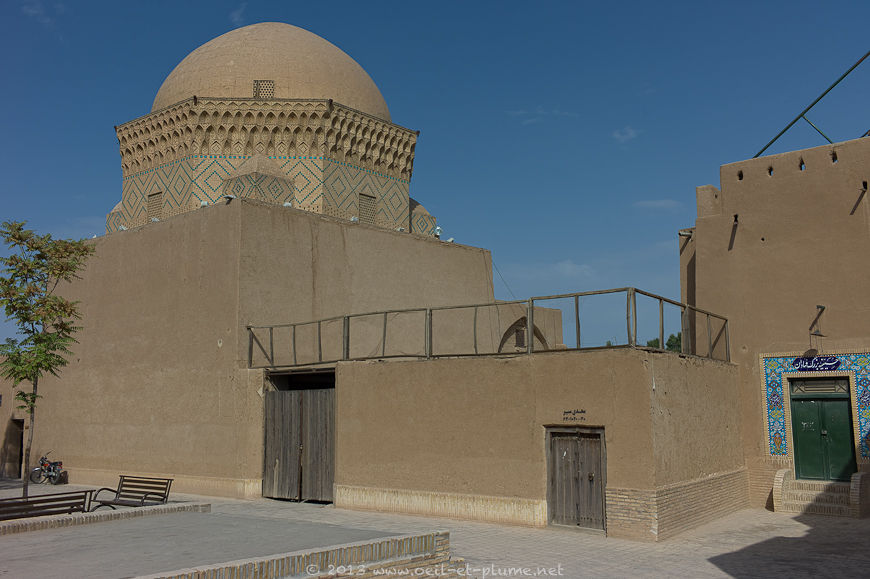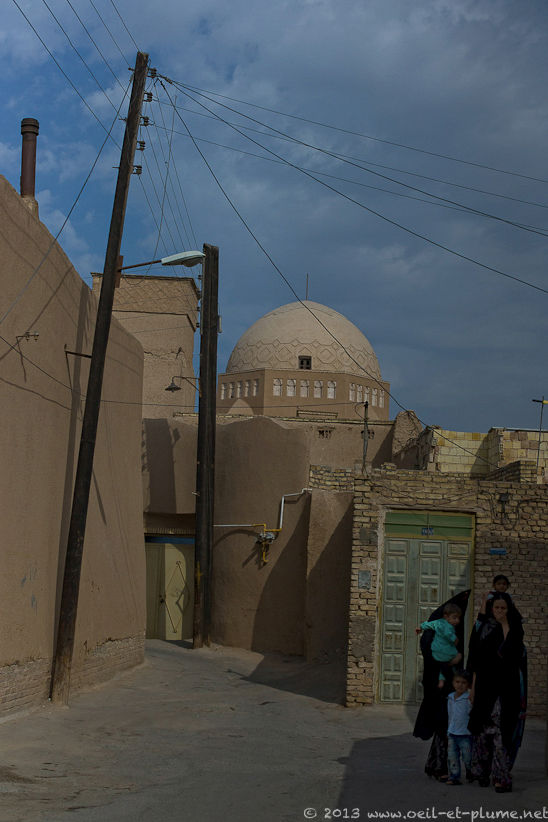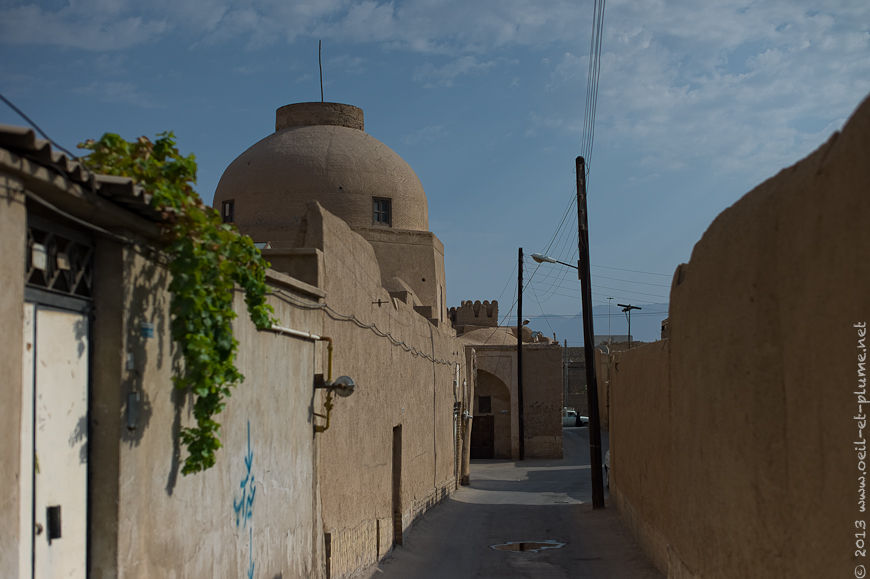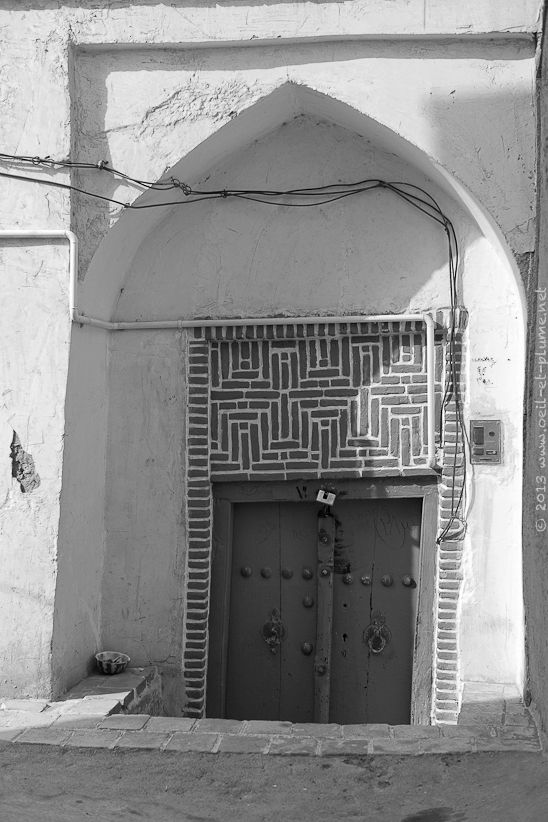 Nearby, a group of female inhabitants in a shopping mood. Here, an old woman carrying her grandchild with utmost care to a female association hall, proud to present the newborn to her friends. There, an aunt meeting joyfully with her niece and nephew. Later, the same young girl playing with her nephew; then slamming her home door behind them to escape my photographic curiosity.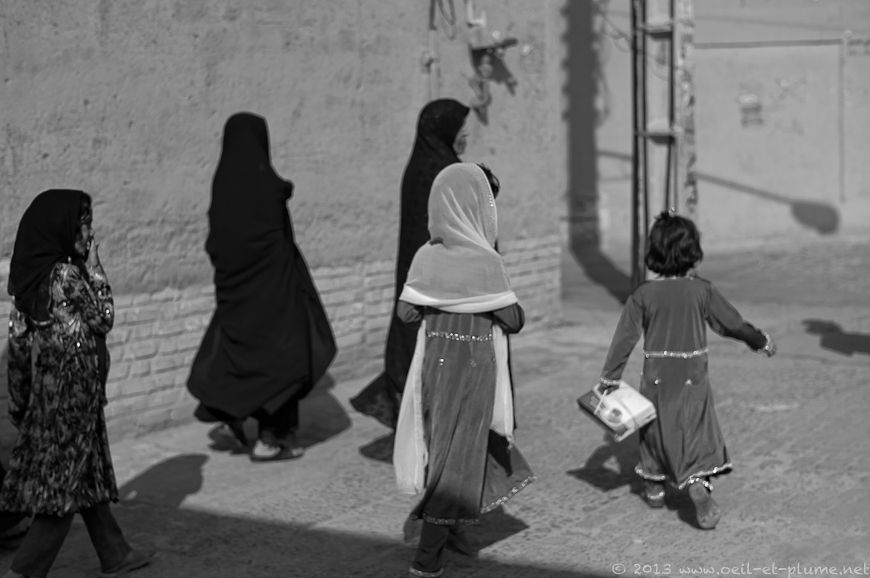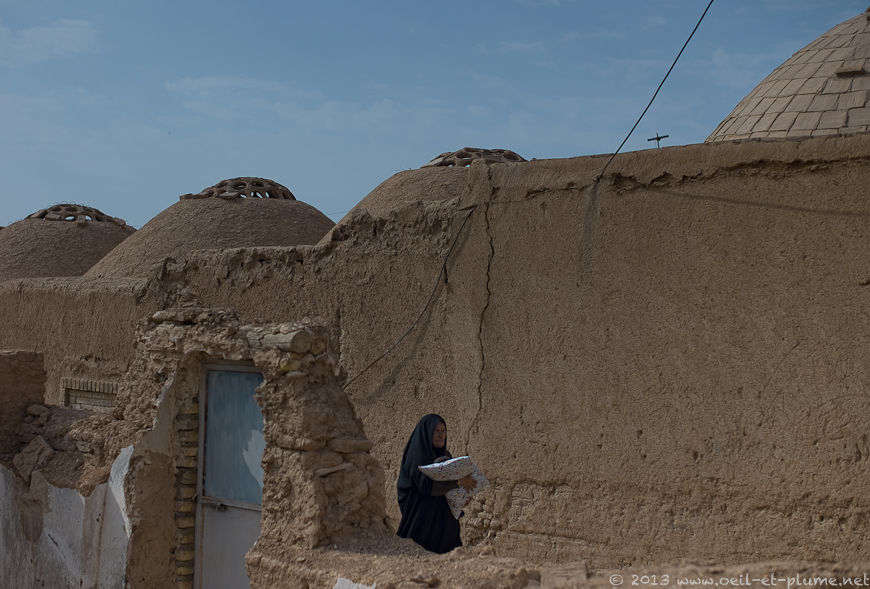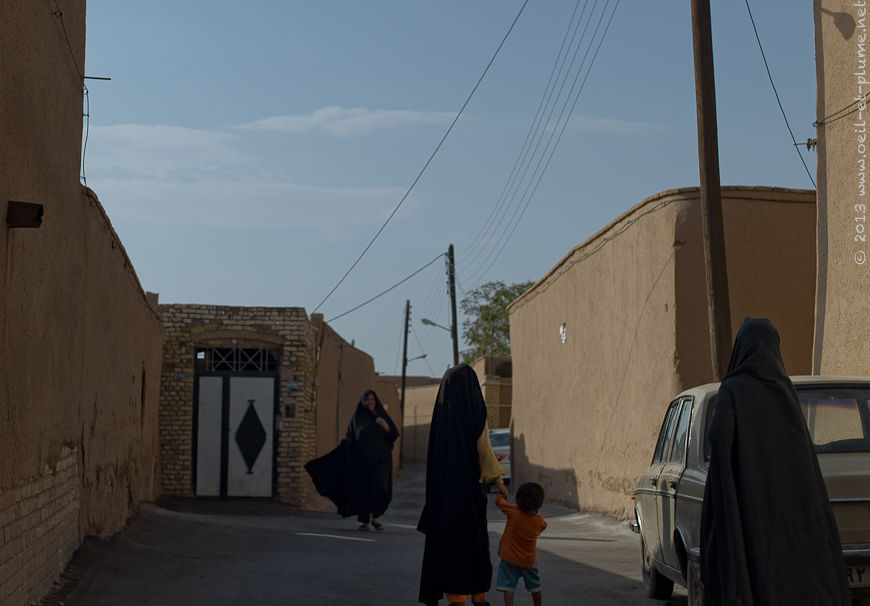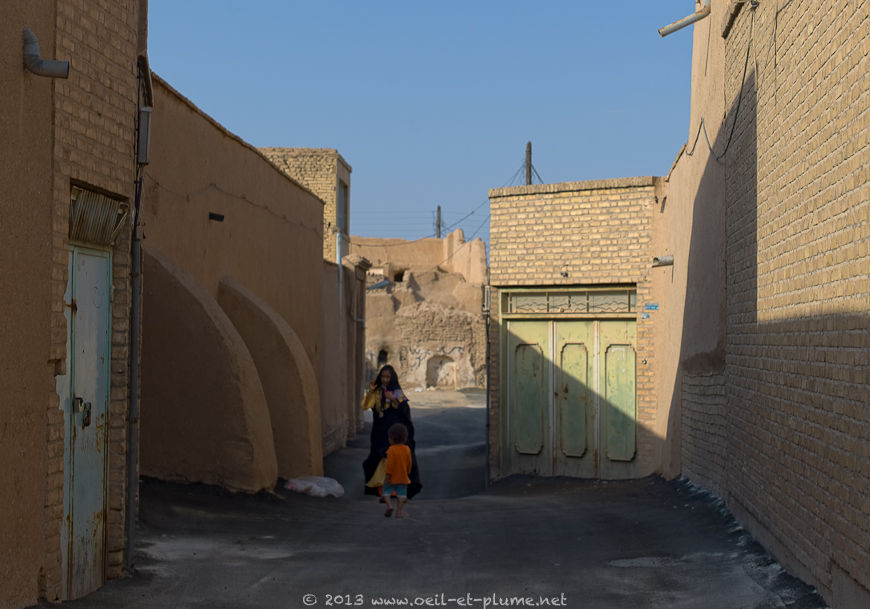 Yazd hosts one important Iranian Zoroastrian community. Zoroastrian culture and religion were very keys in pre-Islamic Iran, particularly during the Sassanid dynasty (3rd to 7th century). It remains very vivid nowadays, albeit at a much smaller scale.
Yazd was an important Zoroastrian centre during Sassanid times. After the fall of the Sassanid dynasty against the Arab Islamic conquest of Persia (7th century), the Zoroastrian community in Yazd disseminated across Iran. However, Yazd remained strongly attached to Zoroastrian culture. Islam only gradually became the dominant religion in the city.
Today, Zoroastrians from across the globe come to see the Zoroastrian Fire Temple. Burning since the 5th century, the flame was moved to Ardakan to escape the Arab and Mongol conquerors; it returned to Yazd only in the 15th century.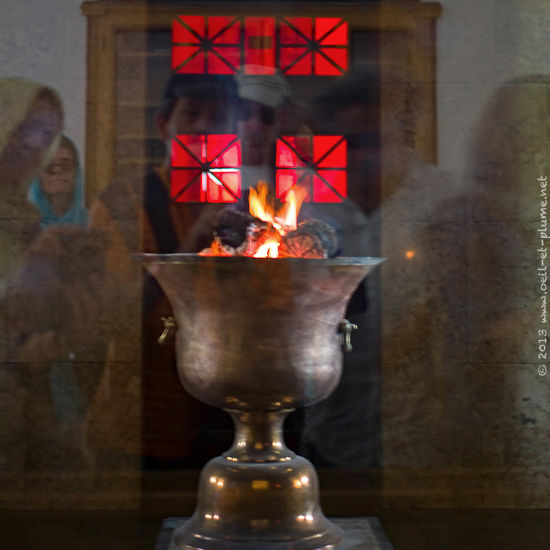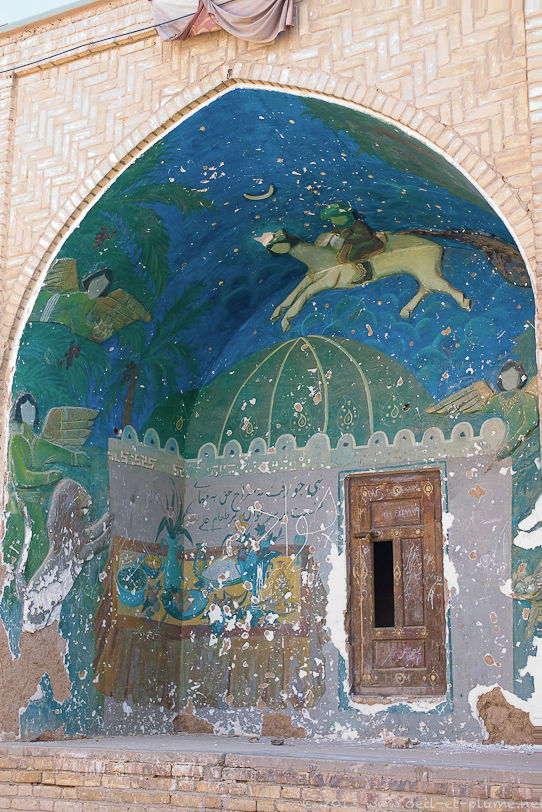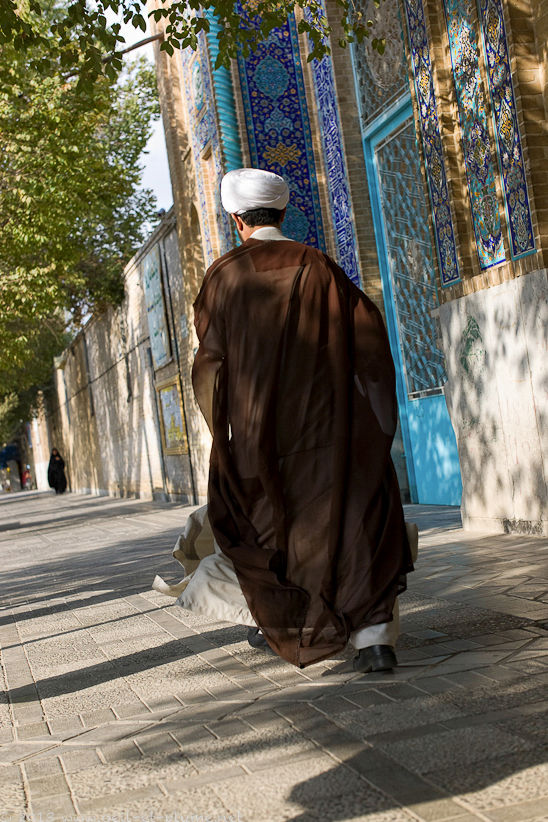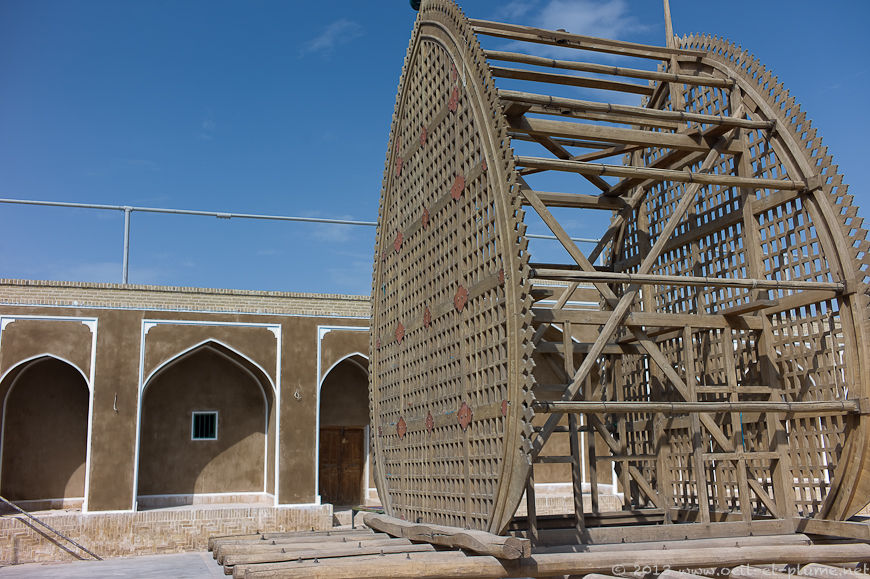 Are you bored with your yoga classes, tired of Jane Fonda's fitness programmes and sick of lifting heavy weights in the gym? One hour of the Iranian traditional sport and you'll stay young, well and fit forever. Rooted in Iranian pre-Islamic culture, Varzesh-e Pahlavani is more than a sport as it combines dancing, fitness, bodybuilding and spiritual exercise.
The training takes place in a beautiful egg-shaped water reservoir transformed into a fitness room called zurkaneh (literally 'house of strenght'). Two dozens of local practitioners, all males, occupy the stage, including a handful of teenagers. One musician starts singing and playing traditional drums, sustaining the dynamic of the session.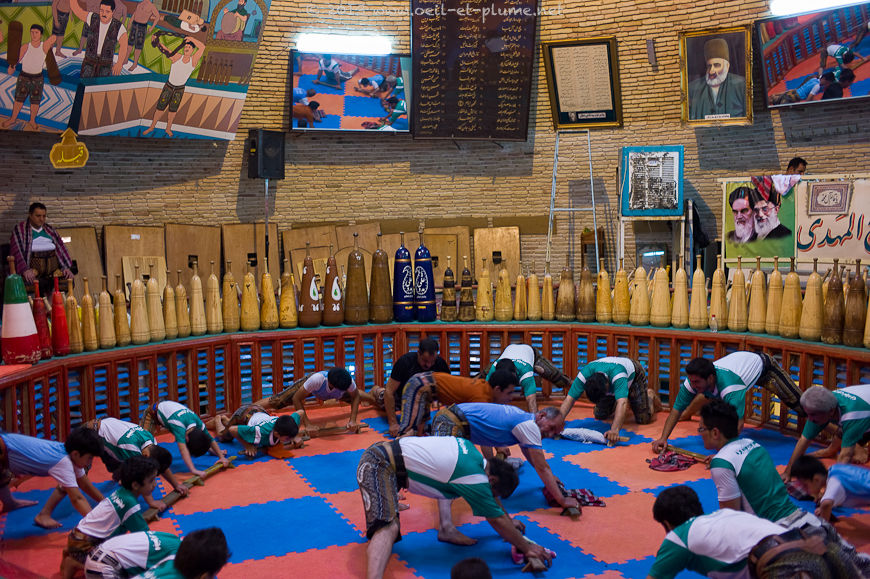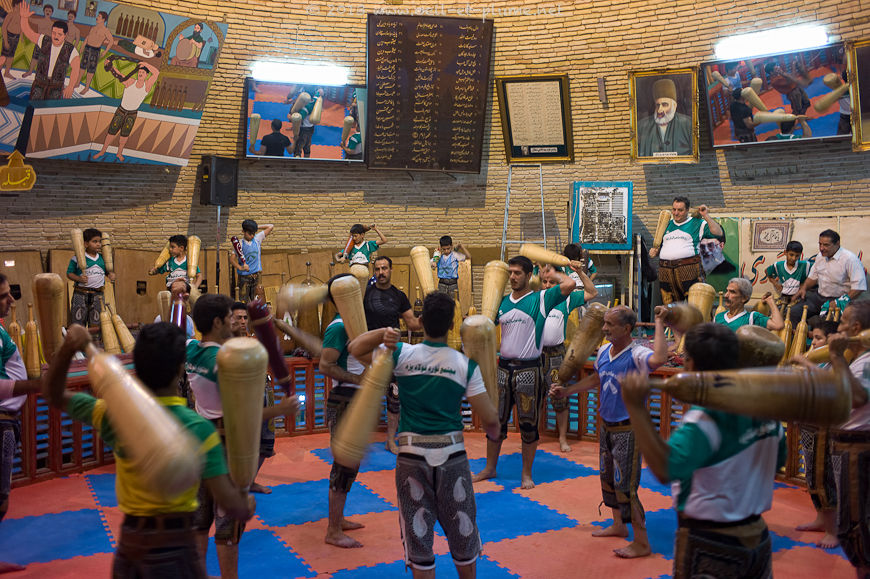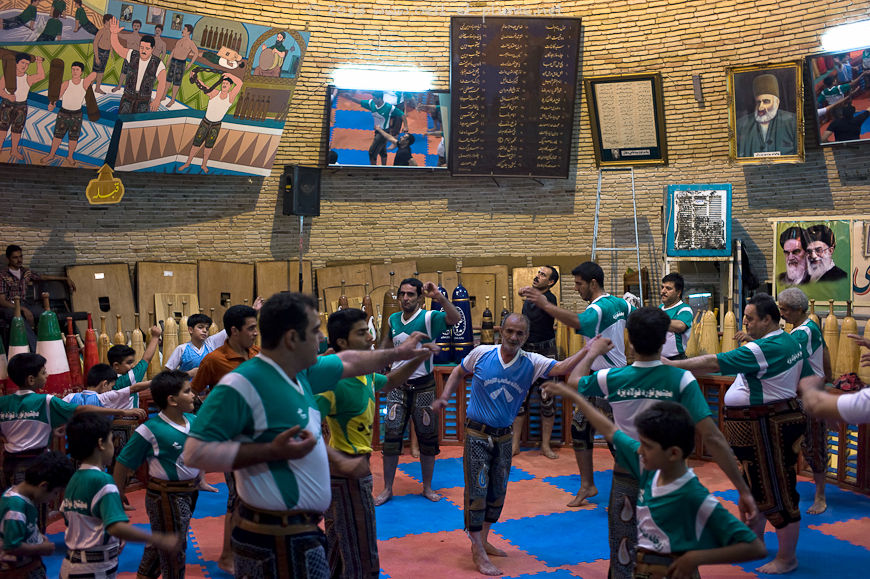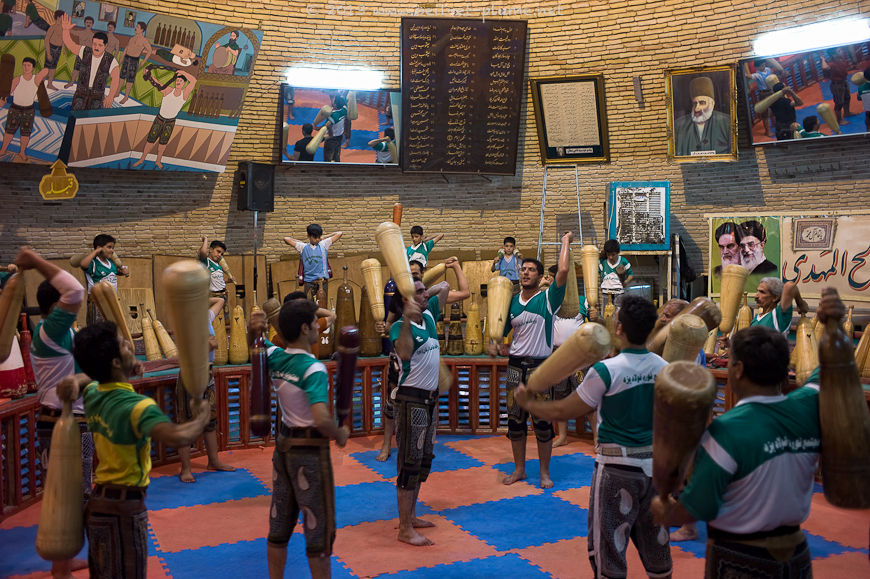 After a long and strenuous warm-up, the athletes seize heavy wooden pins and move them endlessly over their head during long periods of time. In-between two weight-lifting sessions, some of them execute sufi-like dancing. Others recite poems aiming at strengthening moral values of the participants. After an hour, the group stops, exhausted. No, I did not try…
Last but not least, Yazd is also famous for the high quality of its handicrafts, especially silk weaving. This was well noticed by the famous traveller Marco Polo in the 13th century while on his way to China along the Silk Road. I came a bit too late to meet with Marco Polo in Yazd, but I did not miss a few of his followers.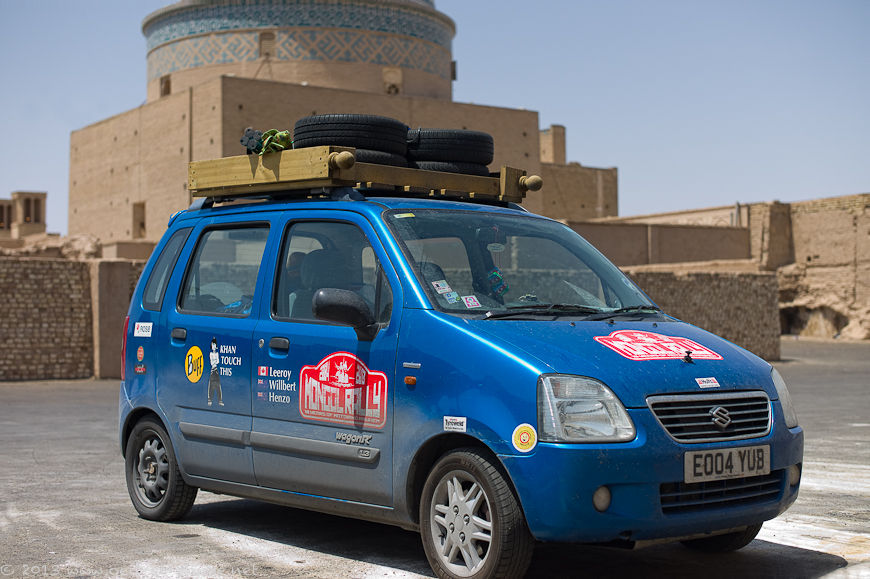 Sure, the Silk Road travellers' transportation mean and equipment evolved significantly since the 13th century. However, their adventurous spirit obviously remains. Let's check whether those will reach China.
Cheers,