Have you ever contemplated spending your honeymoon in Kyoto? Henry Lewis Stimson and his wife Mabel Wellington White did so in 1893. I am glad they did, because their honeymoon in Kyoto may have saved the former Japanese imperial capital from atomic devastation 52 years later.
After a long lawyer and statesman carrier, Henry L. Stimson serves as US Secretary of War during the Second World War. Amongst other daunting responsibilities, the senior Republican oversees the Manhattan project tasked to develop the atomic bomb. Stimson issues the deciding recommendation to the president Truman to drop 'Little Boy' and 'Fat Man' respectively on Hiroshima and Nagasaki in August 1945, which culminates in Japan's surrender. He is also instrumental in removing Kyoto from the shortlist of the Japanese towns targeted.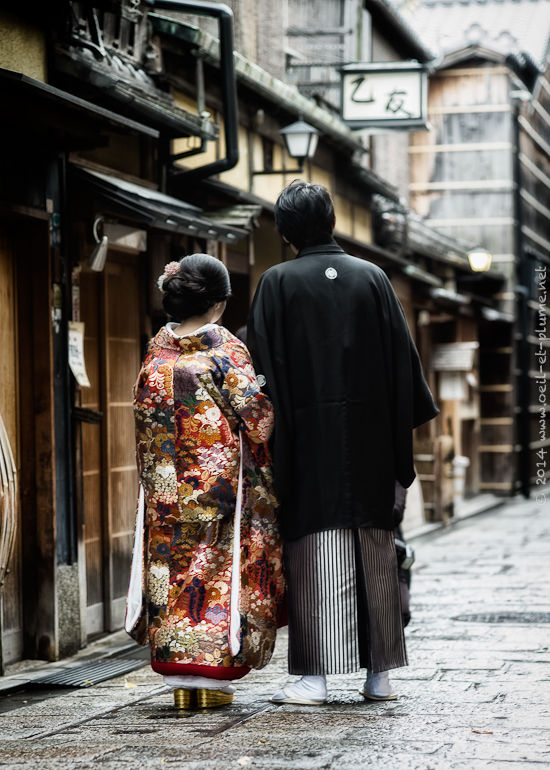 Stimson travels to Kyoto in his young age. He likes his encounter with the imperial city to the point that he convinced his wife to spend their honeymoon there. In addition, Stimson visits Kyoto twice during the 1920's on official mission as governor general of the Philippines.
The US statesman is conscious about Kyoto's unique cultural assets as greatest religious and intellectual centre of Japan. Destroying Kyoto will work against a peaceful and stable postwar Japan and will engage the postwar reputation of the United States, he argues. Nagasaki is chosen to replace Kyoto.
Kyoto becomes Japan imperial capital in the late 8th century to remain so formally until the Meiji Revolution in 1868 and the subsequent transfer of the imperial court to Tokyo. As Nara, Kyoto's cityscape is inspired by Xian – the Chinese imperial capital of the Tang Dynasty. Shinto and Buddhism merge gradually in a syncretic system that reinforces the political legitimacy and power of the imperial family. Religious pilgrimages such as in Kumano Kodo participate in the process.
Feudal fighting heavily damages Kyoto in the 15th century. However, the town does not suffer from such widespread destruction since. Therefore, Kyoto is one of the few Japanese cities still counting an abundance of historical buildings, from the former imperial city to traditional townhouses, not to mention some 1,600 Buddhist temples and 400 Shinto shrines.
Historical Kyoto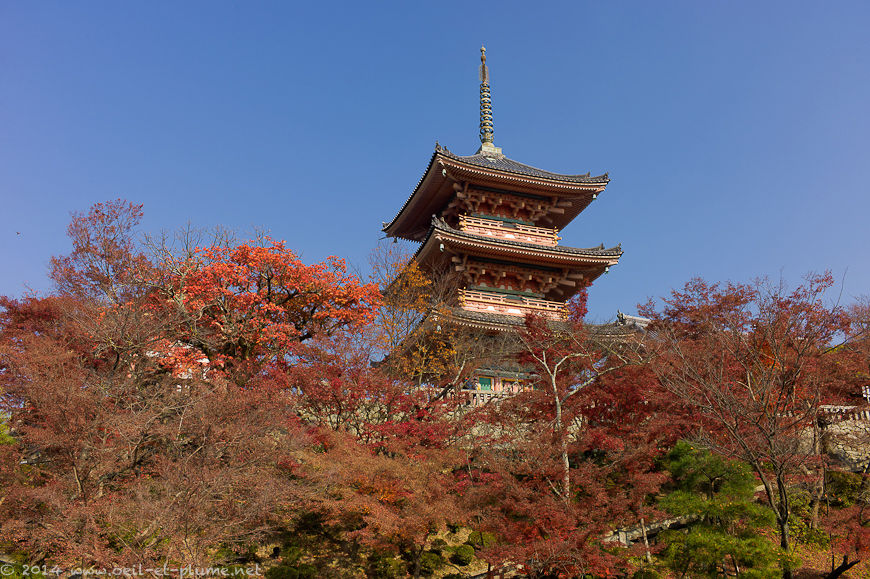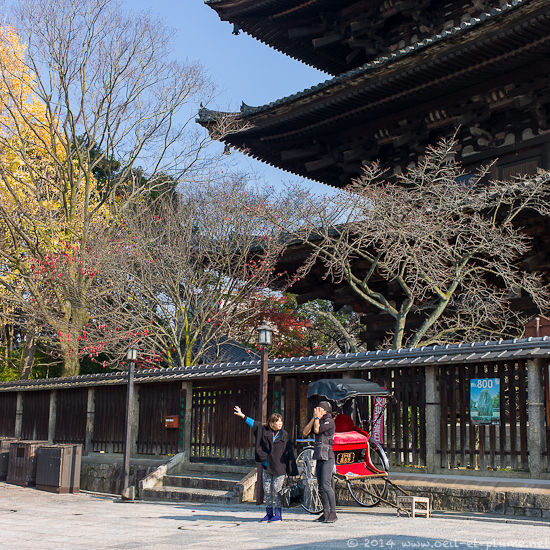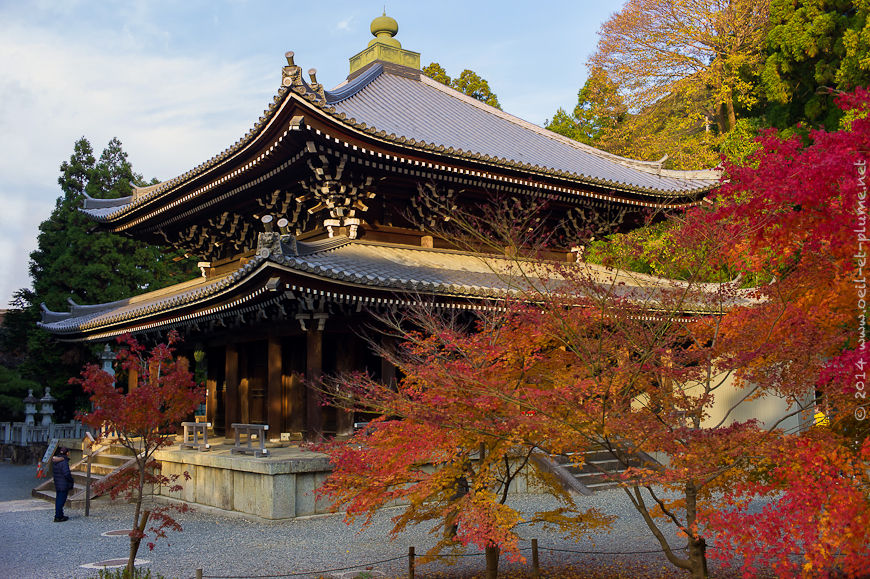 Most of Kyoto's historical sites are located in southern and northern Higashiyama area, where two days of visit are a minimum. I have liked the long urban walks there, particularly on the Philosopher's Path in northern Higashiyama. It is about walking along a pedestrian pathway connecting many major sightseeing locations. In a less philosophical endeavor, I also stroll into anonymous streets to gather more intimate images and feelings about this beautiful town.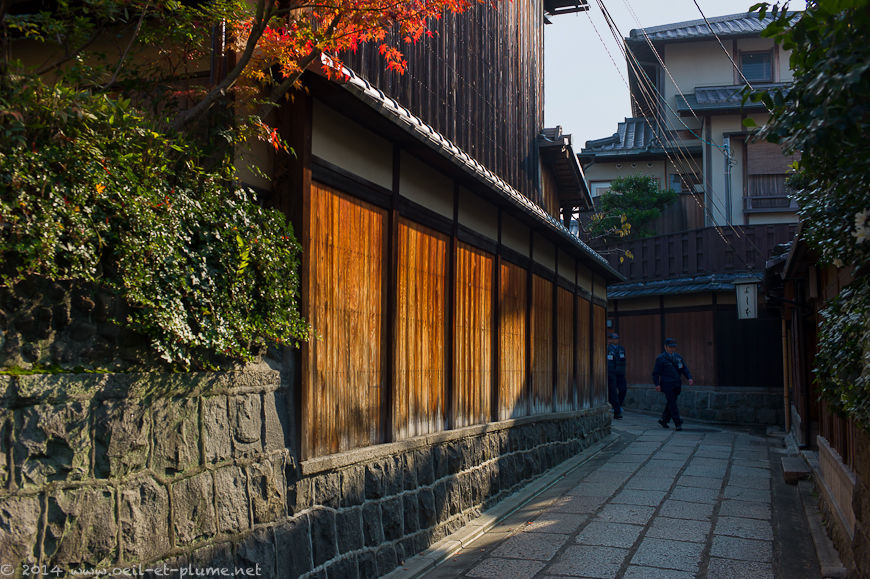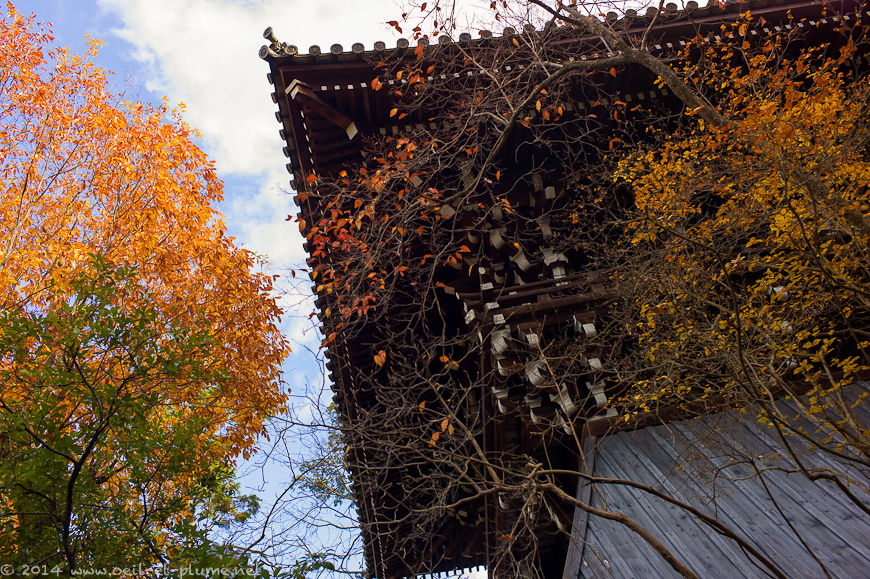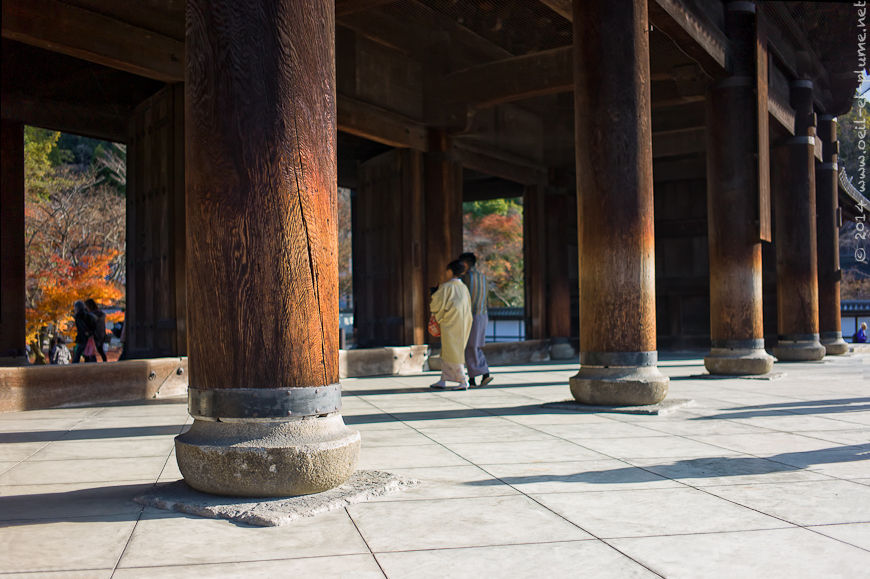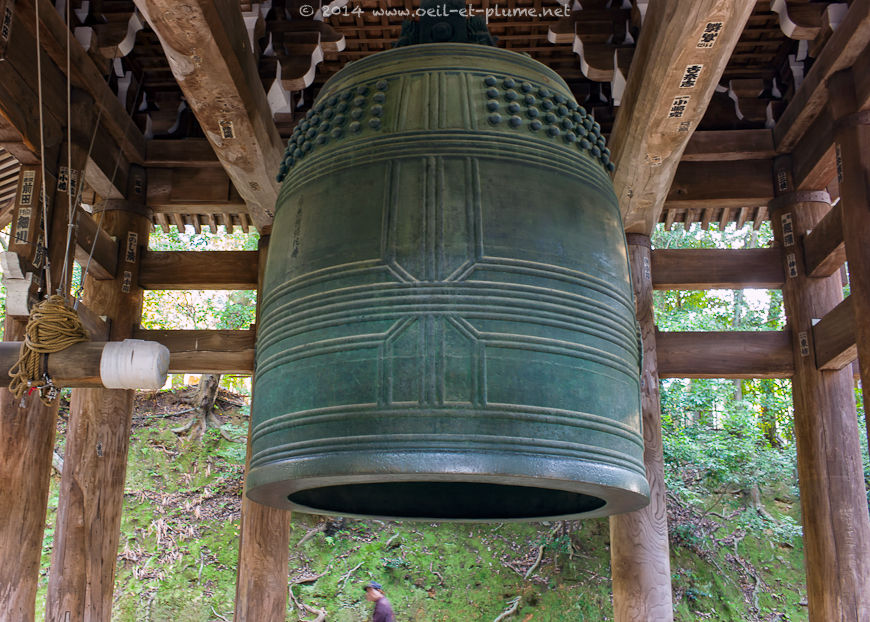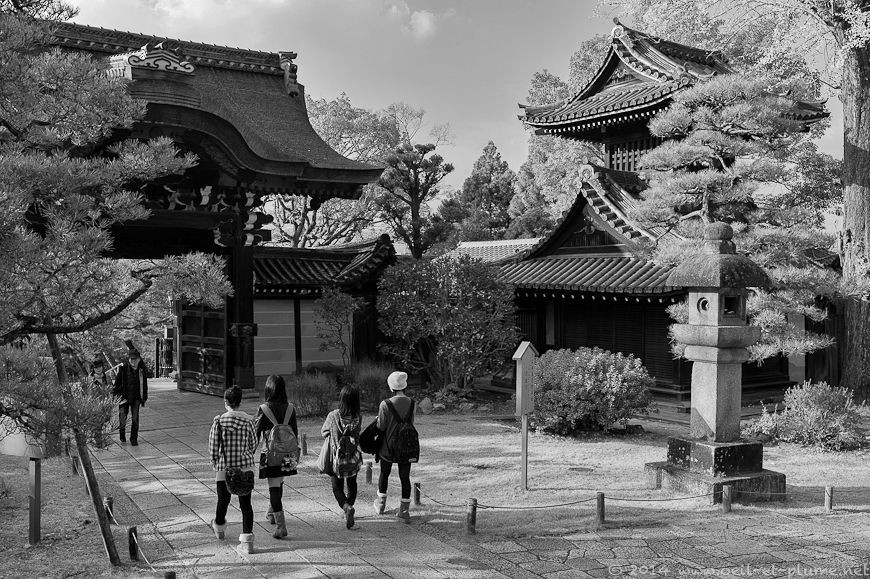 Ginkaku-ji hosting the exquisite Temple of the Silver Pavilion in a zen garden is indubitably my favorite amongst the historical locations visited in Kyoto. The visitor floats on the air while moving into the garden. Sandy geometrical shapes alternate with subtle vegetal arrangements whose compositions and lines are so harmonious that they look natural.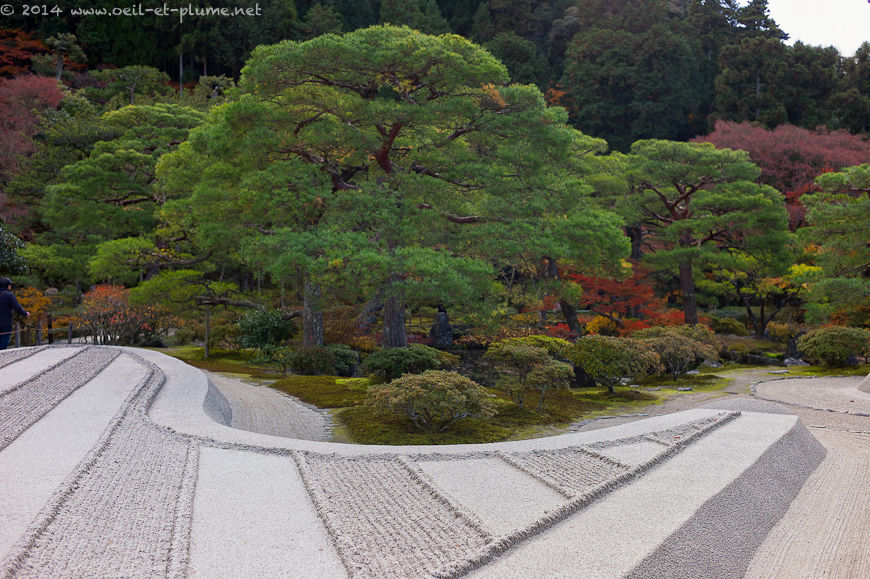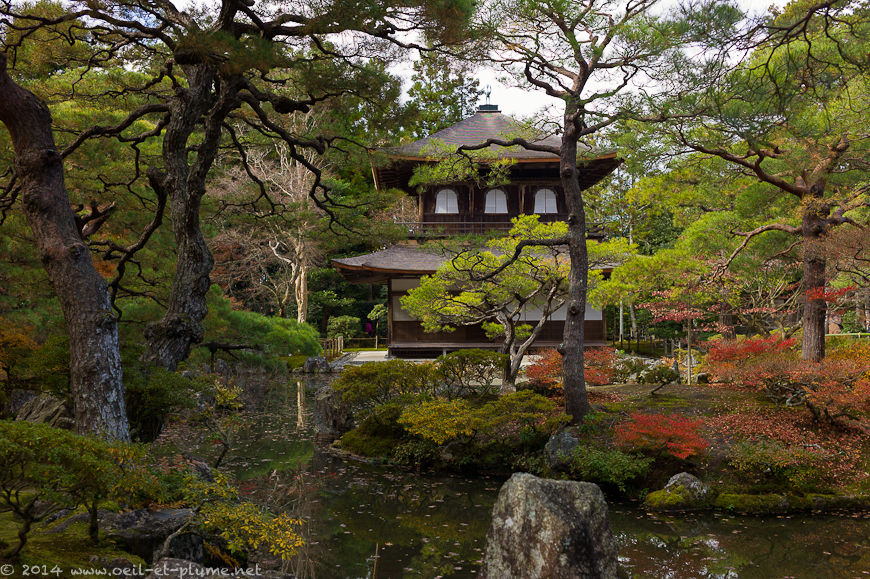 On the other side of Kyoto, Arashiyama and Sagano areas constitute other cultural hotspots painted with colorful and refreshing natural tones in late autumn. I prefer much the areal view on the Hozu-gawa River than the over-publizised Bamboo Grove. Never mind. There is a easy way to enjoy them both. Across its historical cityscape, Kyoto displays many illustrations of the unique Japanese blend of natural and spiritual balance cultivated in the Shinto culture.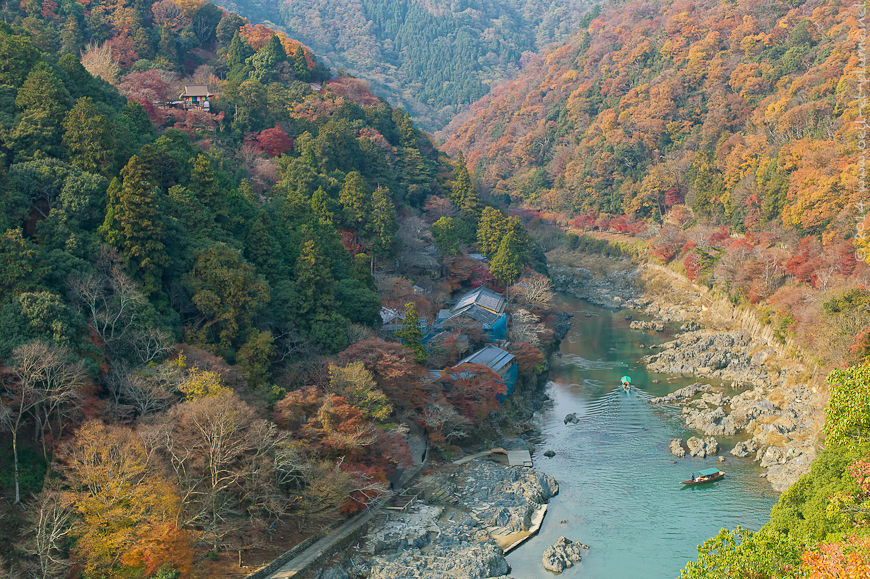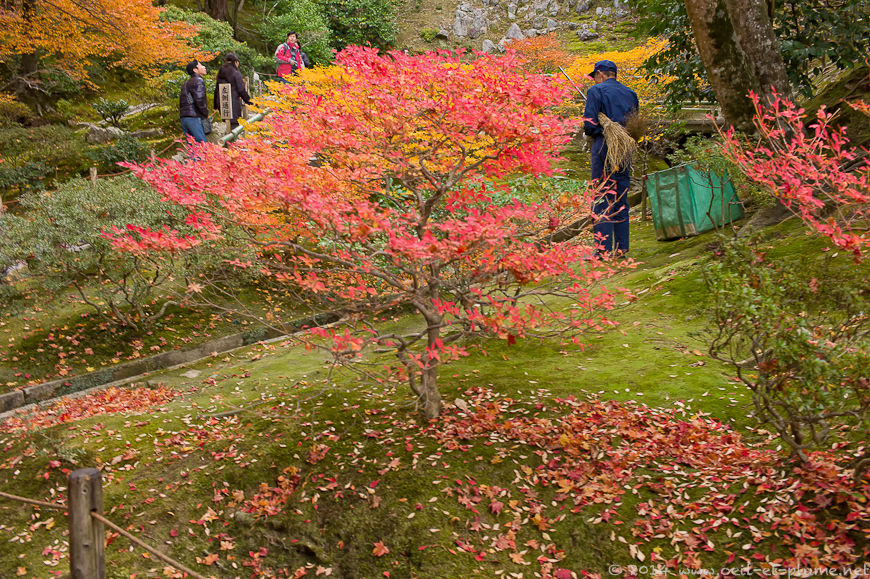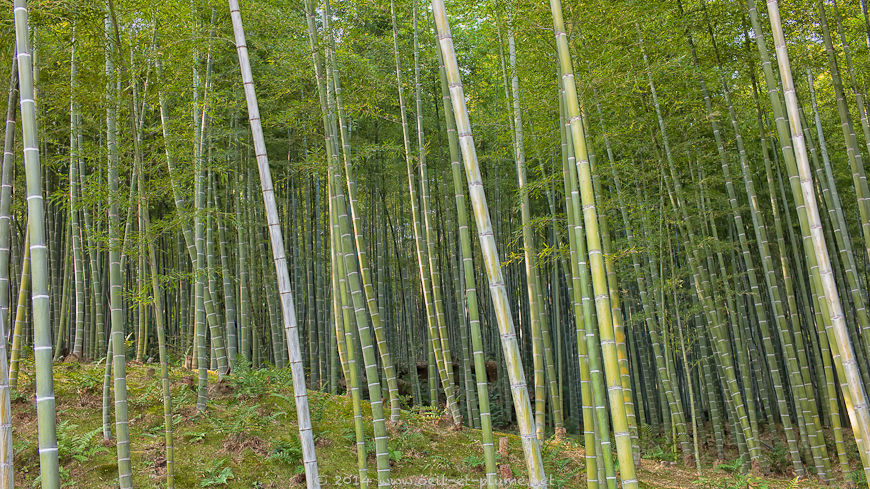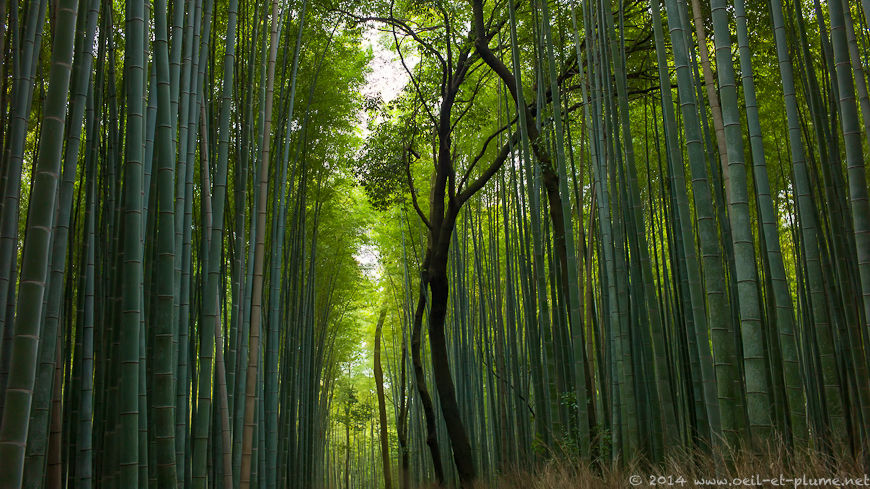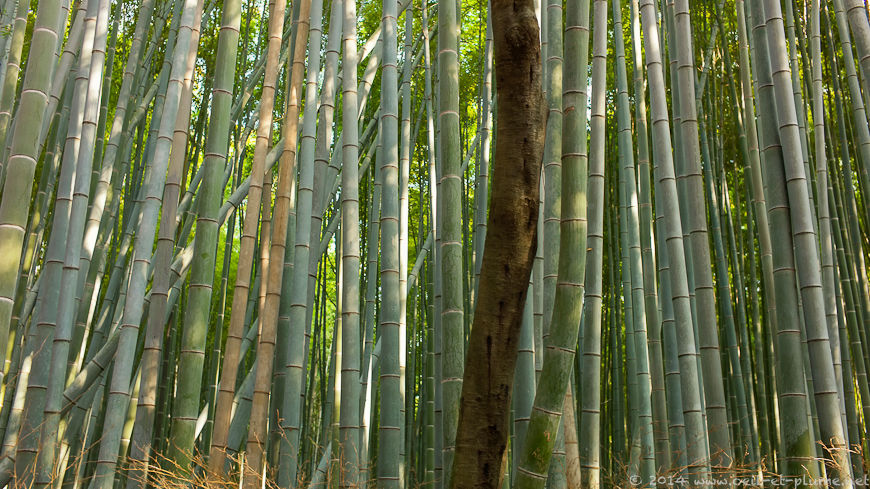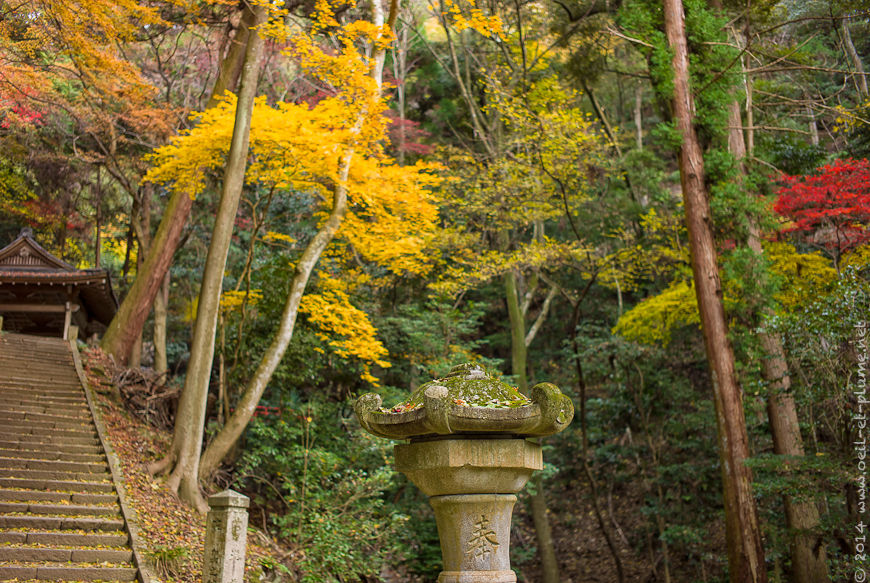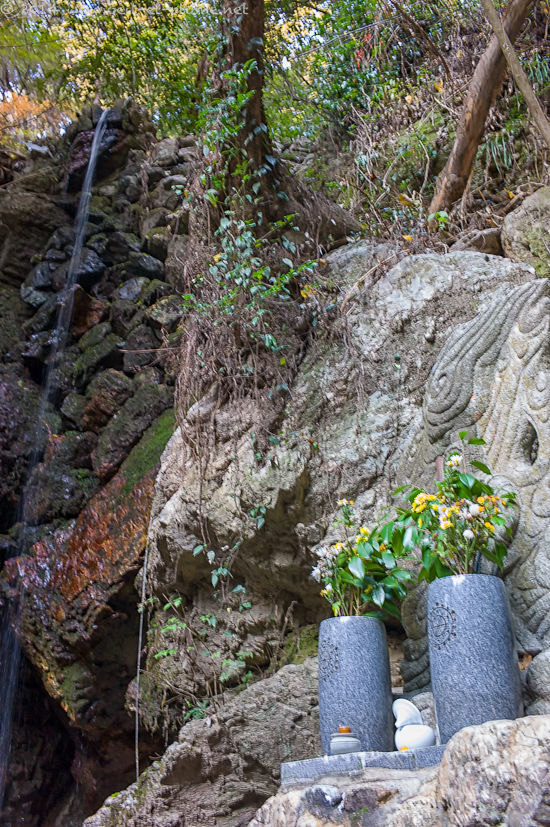 Gion district
Gion distric is where I stay overnight in Kyoto. I see pointing your smile: yes, the most famous geisha quarter in Kyoto. Let's clarify some points. First, Gion is not, and never was, a red-light district in Kyoto. It is an entertainment district, Japanese style.
Kyoto is full of short-lived geishas. Many Japanese women visit historical quarters dressed up in hired traditional dress. They don't dupe anybody, because the geisha profession is indeed much more than mere traditional dressing. In fact, there are few real geishas in Kyoto and elsewhere in Japan.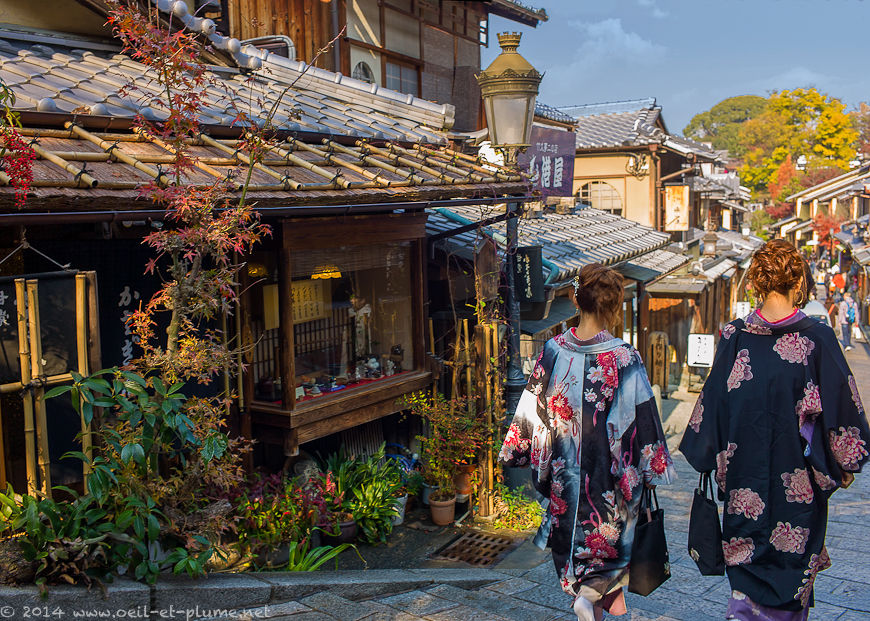 A geisha is a traditional Japanese female entertainer performing various Japanese arts such as classical music, dance and games. She is not a prostitute. In late medieval Japan (18th-19th centuries), the courtesan and the geisha constitute two distinctive professions – the former named 'flower' and the latter called 'willow' because of her subtle and gracious performances.
The distinction between both 'flower' and 'willow' fades during Word War Two for obvious reasons. Since then, the geisha has regained its cultural credentials in Japan by abiding to its cultural fundamentals.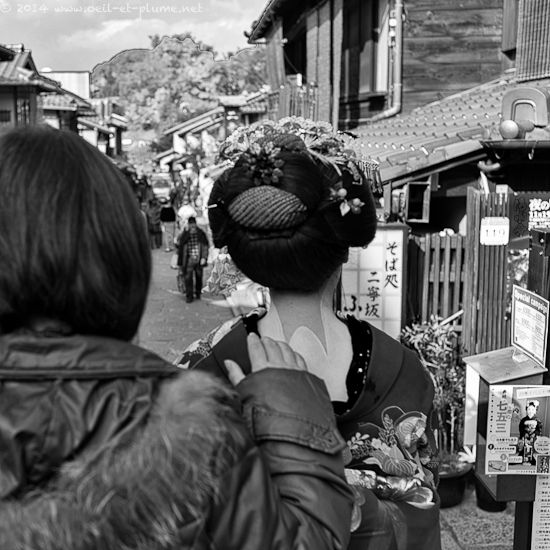 The geisha profession implies a dedicated apprenticeship lasting from two to five years. Geisha trainee is called maiko. Their entertaining skills are far away from the social role attributed traditionally to a Japanese spouse. To marry, the geisha must retire from her entertainment profession.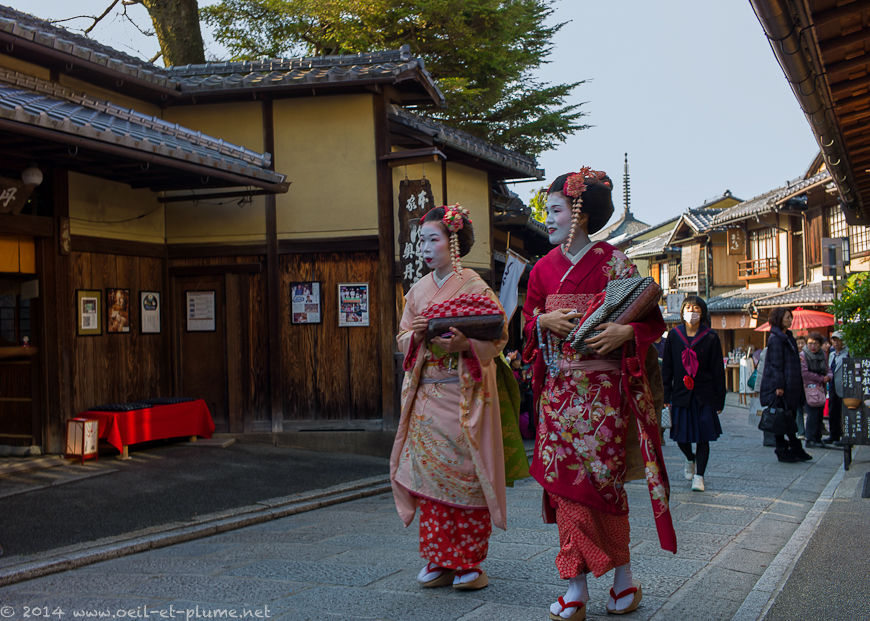 You may cross geishas in Gion district on their way to an appointment in one of the wooden Japanese town houses (ochayas) bordering the Shirakawa Canal. Or inside one of these traditional establishments which have been entertaining customers in an exclusive manner for centuries. The entertainment may include cocktails, chats, games as well as traditional Japanese music, singing and dancing.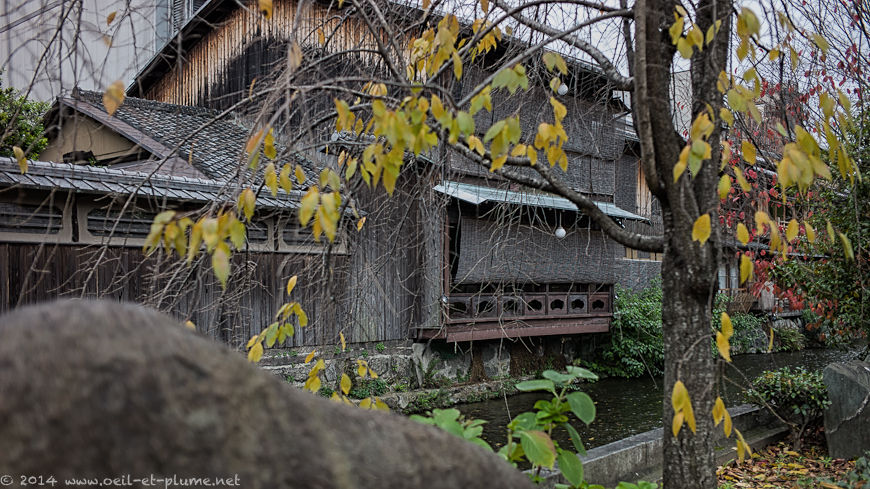 Gion district fascinates not only within the secluded world of the town houses but also and primarily in the streets. Certain historical areas are like open-air decors built and forgotten by movie directors. I feel like moving into Memoirs of a Geisha, the fiction novel published by Arthur Golden in 1997 from which derives the iconic eponymous movie directed by Rob Marshall in 2005.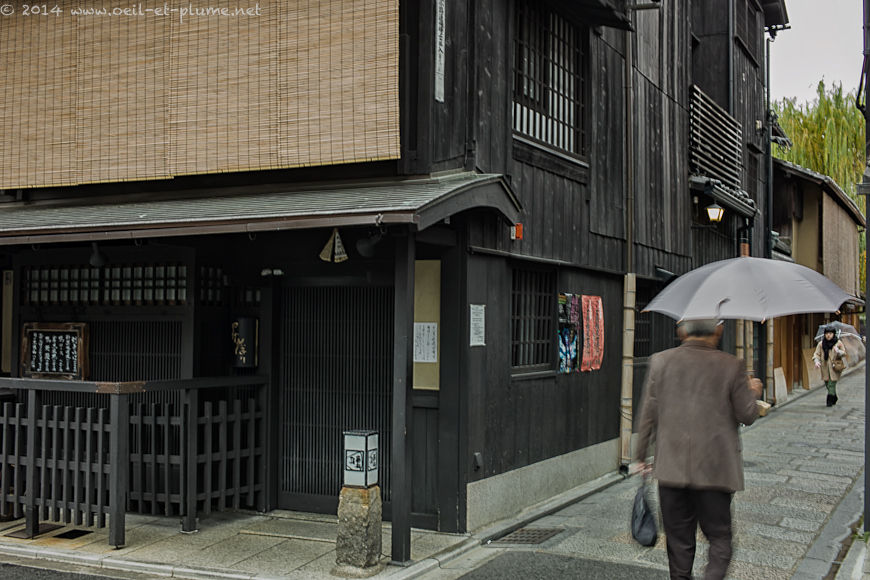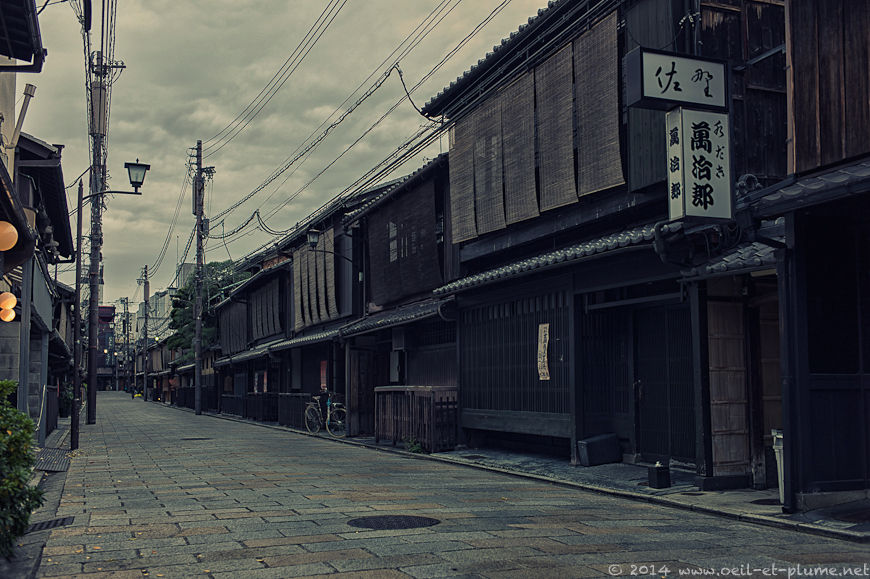 Gion is dotted also with many modern entertainment establishments. The district is both a major tourist hub and a popular nightlife spot for locals. You may again feel like in an historical movie while strolling the area lit by lantern or electric lights.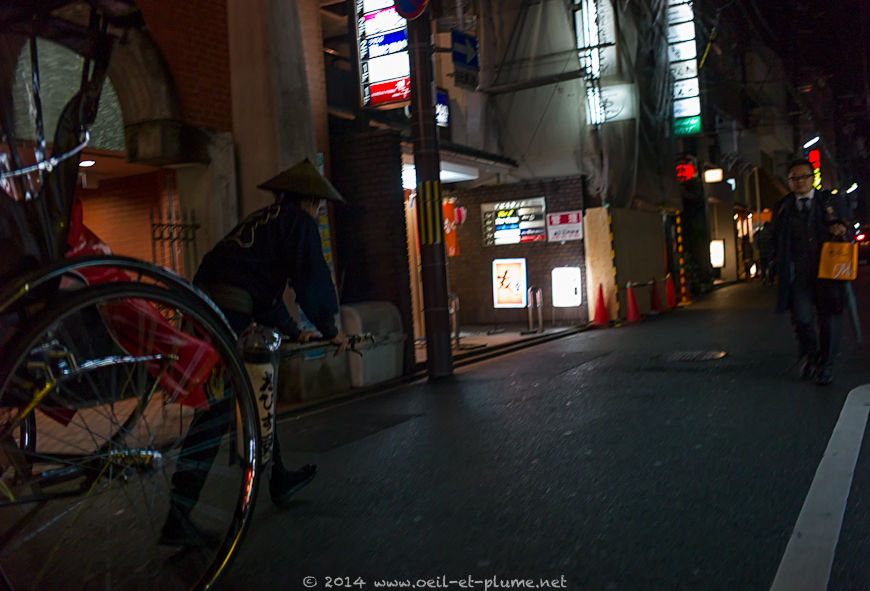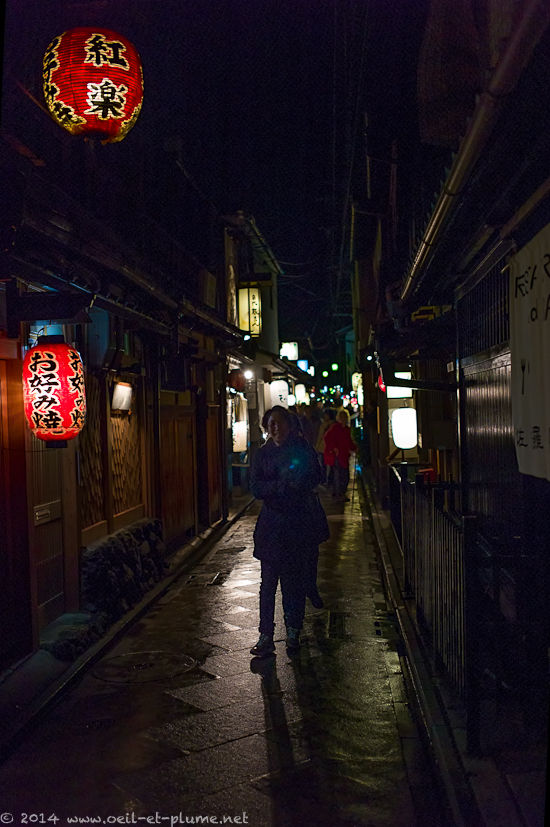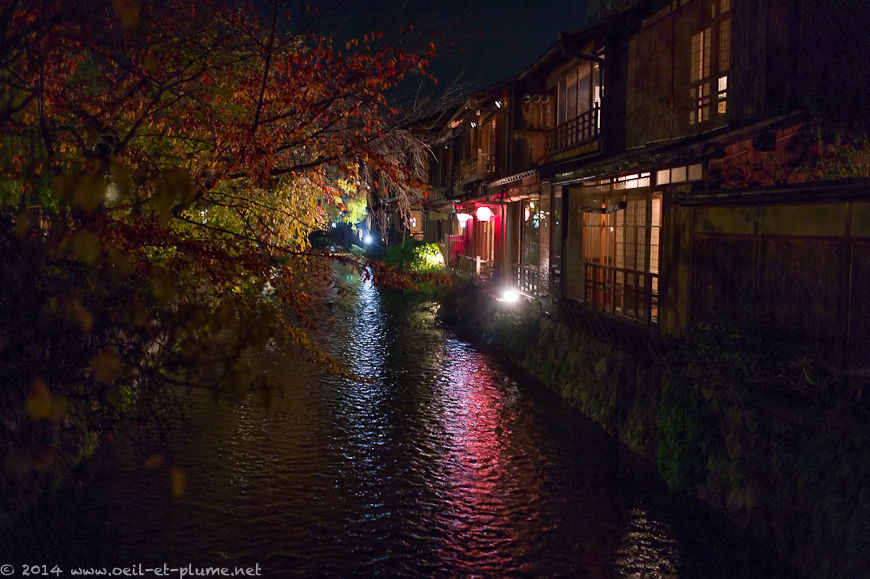 No surprise, I did not meet in Gion district Chiyo Sakamoto, the key character of Memoirs of a Geisha. In fact, Chiyo would not have even been imagined in Golden's mind without Simpson and his wife spending their honeymoon in Kyoto in the late 19th century, since the fictional story depicts the geisha's life in Kyoto just before and after the World War Two. With Kyoto destroyed, no Chiyo anymore.
Henry L. Stimson, while assuming an enormous moral responsibility in the dropping of two atomic bombs in wartime, left room to accommodate his emotional connection with Kyoto forged during his private and official stays there. Globetrotting alters positively our mindset by dissolving preconceived ideas and wrong assumptions. This is exactly what happened to me in Japan.
As Stimson and his wife, consider Kyoto for your forthcoming honeymoon or repeat it there. In addition to enjoying the visit of dozens of World Heritage sites, you will be blessed with a happy and long couple life. In his Memoires, Mr. Stimson wrote that his marriage, which lasted 57 years until his death, was 'the greatest happiness of my life.'
Cheers,