Following his Enlightenment, Buddha (6th-5th century BCE) is reputed to have travelled during 45 years in northern India and southern Nepal to disseminate the outcome of his decades-long meditation to a variety of audiences. He advocated for the Middle Way – a path of moderation between self-indulgence and self-mortification leading to the supreme liberation or Nirvana. There is little doubt that Buddha trekked a lot in the latter part of his life, thanks also to his strong physical condition.
Buddhist pilgrimages were historically common and popular in Japan. Although pilgrimage routes are nowadays less frequented, their religious legacy remains deeply engrained into Japan' contemporary culture, as illustrated by the pilgrimage across Okunoin cementary to the resting place of Kobo Daishi Kukai in Koya San.
From Koya San, I could have trekked southward across the Kii Mountain Range to reach Hongu area. The 70km-long Kohechi trail represents one of the five branches of Kumano Kodo. Kumano Kodo depicts a set of famous historical Buddhist pilgrimage routes crisscrossing the Kii Peninsula. All these pilgrimage routes converge to Kumano Hongu Taisha – one of the holiest Buddhist sites in southern Kansai.
Instead of the Kohechi route, I am advised to consider the Nakahechi trail connecting Tanabe town to Hongu area. The latter itinerary is better equipped, less physically demanding and less exposed to late autumn wind and cold. Fair enough. After a long train and bus journey, I reach Takijiri-oji – the entry point to the sacred area of Kumano. From there, I spend three days in rugged mountainous landscape before reaching the mystical Kumano Hongu Taisha.
The Nakahechi trail is well maintained and posted, including for non-Japanese-speaking trekkers. However, trekking in southern Kansai means going up and down again and again. Born in the Swiss Alps, I won't complain. I rather enjoy the stunningly wild landscape.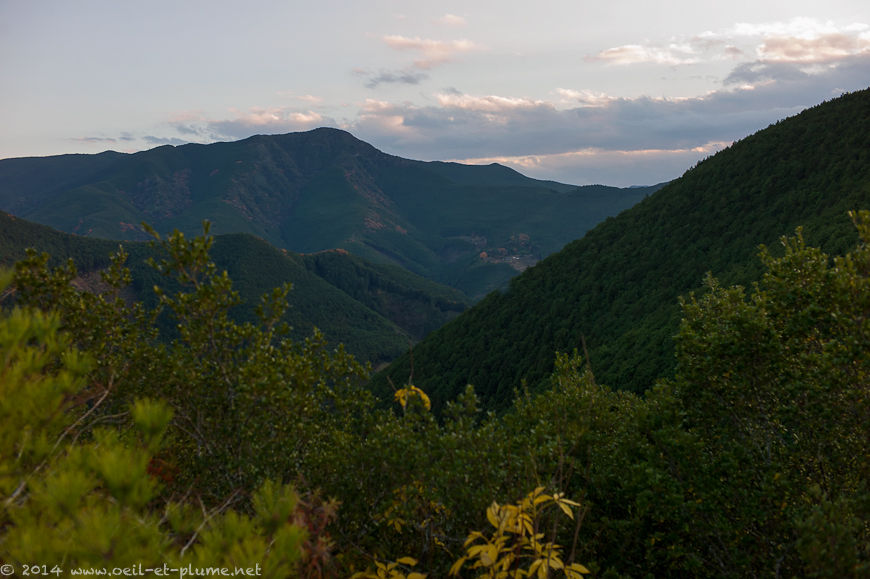 I meet very few people on the way to Kumano Hongu Taisha, except in the last kilometers. Clearly, the late autumn is no more a pilgrimage or trekking season in Kumano Kodo. Nevertheless, human imprints are scattered all along the itinerary through signposts, religious monuments or simple huts.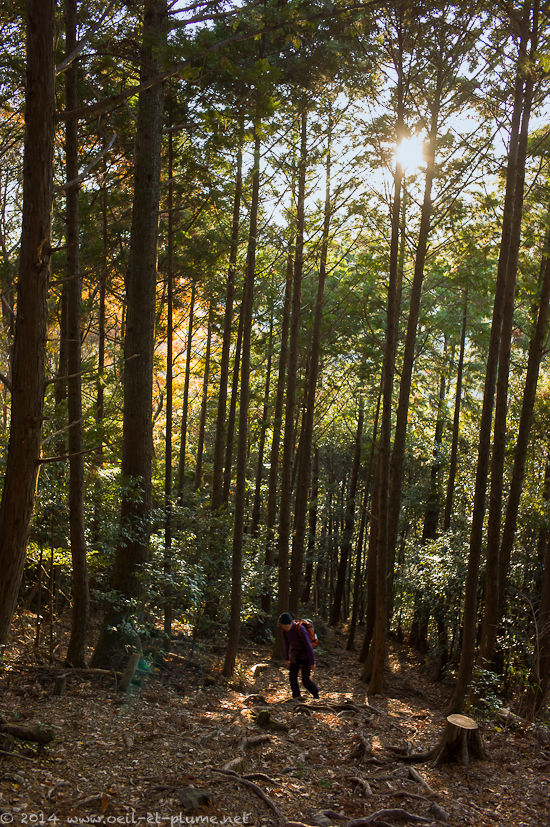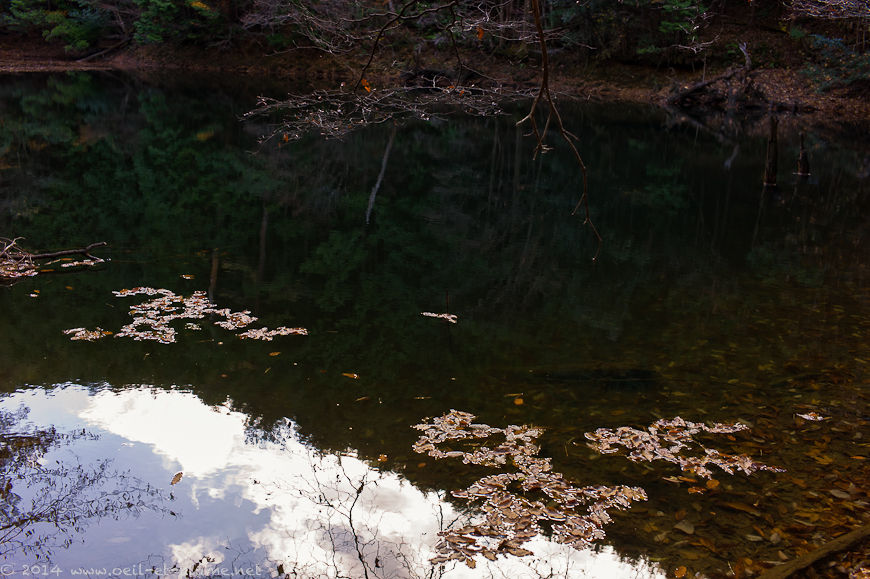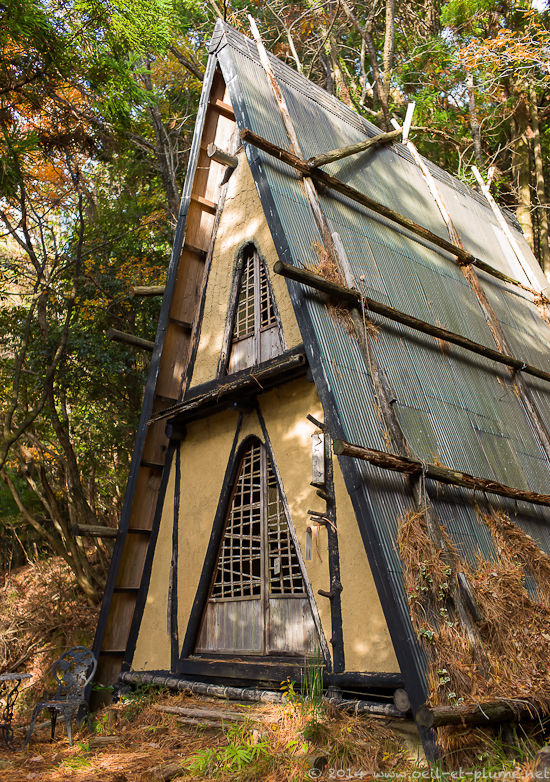 The Nakahechi route of Kumano Kodo was the most popular route used by pilgrims from Kyoto, the imperial capital relocated from Nara in late 8th century. At that time, Kumano gains its reputation as Buddhist Pure Land. The Kyoto imperial family and aristocracy starts performing pilgrimage in Kumano Kodo in the 11th century, followed later in the 15th century by scores of middle and low class devotees. Numerous shrines and infrastructures are built along the way. Kumano Kodo becomes Japan's most famous pilgrimage for centuries.
The Kumano Kodo walk was part of the pilgrimage process including rigorous worship and purification rites. Amongst the many religious monuments met on the way, the one below commemorates the death of a poor pilgrim who died of hunger and exhaustion on that place. Touched by his devotion, local residents funded and made the small votive stele.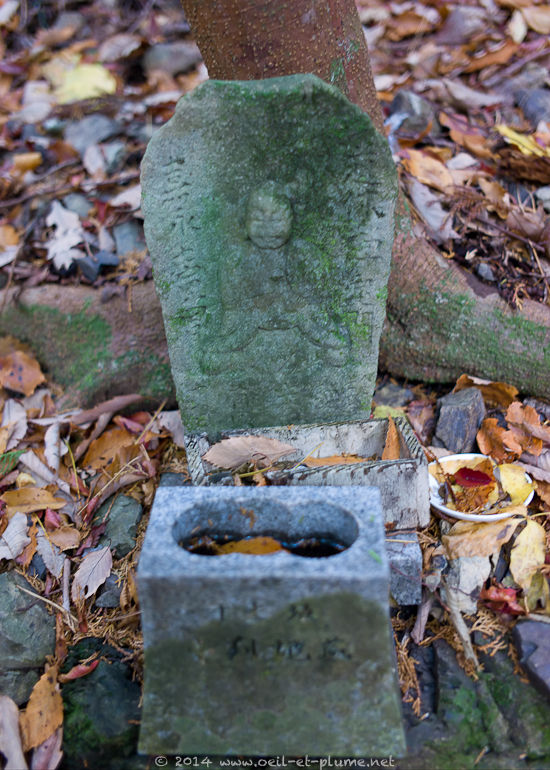 The following shrine is another of my favorites for its humble shape and condition as well as for the subtle ambiance it sustains in the shadowed woods of Kumano. The natural environment appears as spiritually enlightened as the shrine. The whole scene well illustrates the complex syncretism of Shinto and Buddhist beliefs that shaped medieval Japan.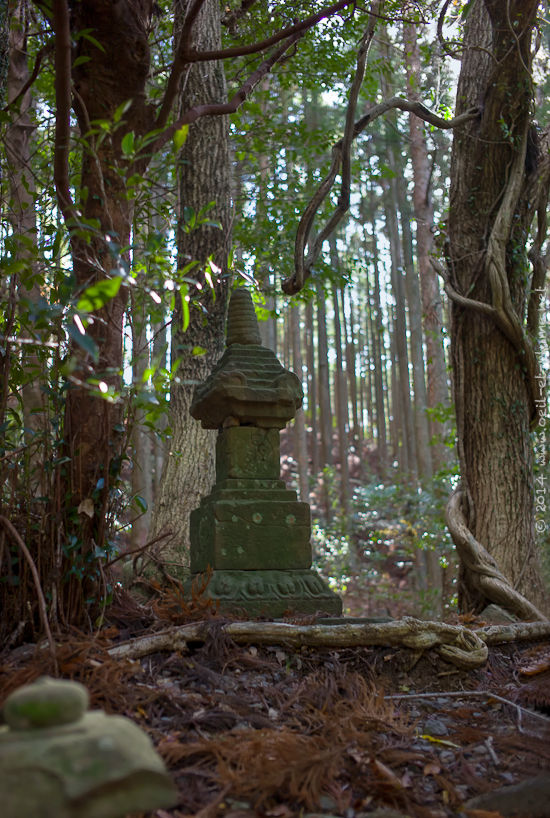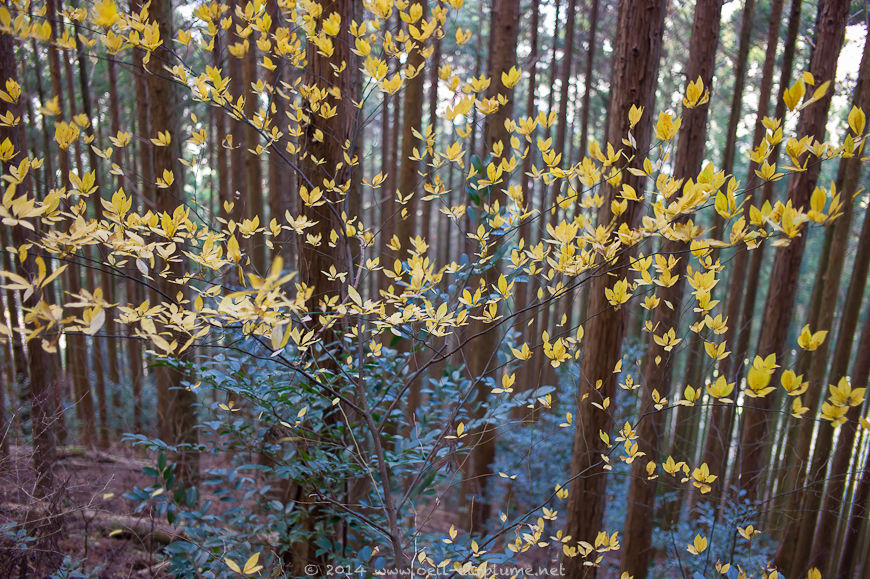 During the second part of the trek, the trail crosses more populated areas. Even there the Kumano woods remain omnipresent. Japanese people nurture a unique symbiosis with their natural environment, be it through the integration of natural elements in their constructions, or in their values and beliefs or even in their daily life. To learn from them, I will jog and run barefoot on the lawn from now on.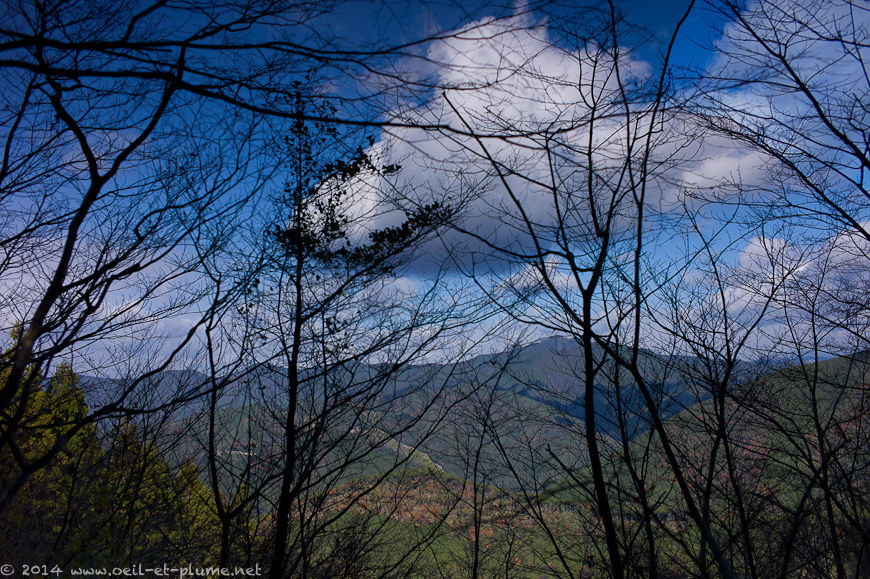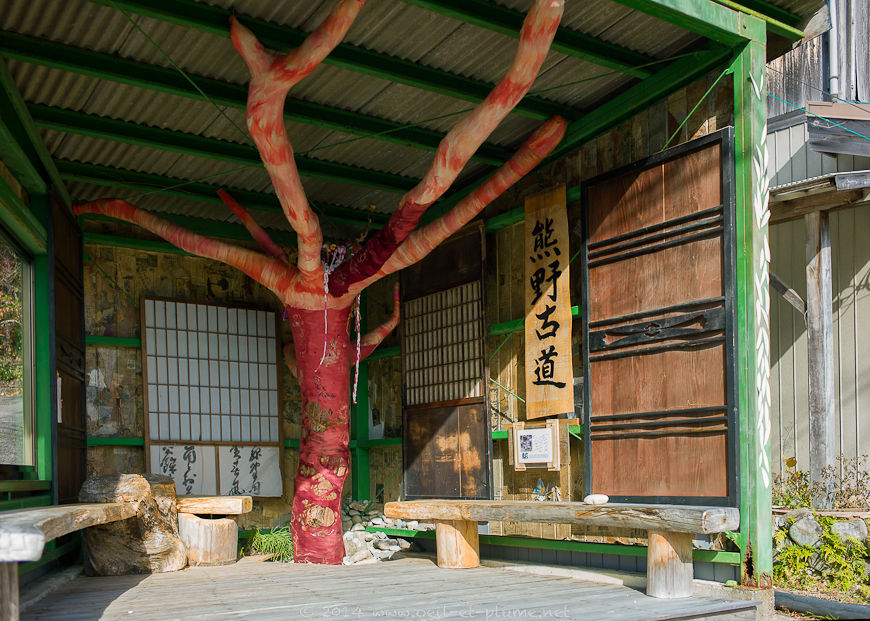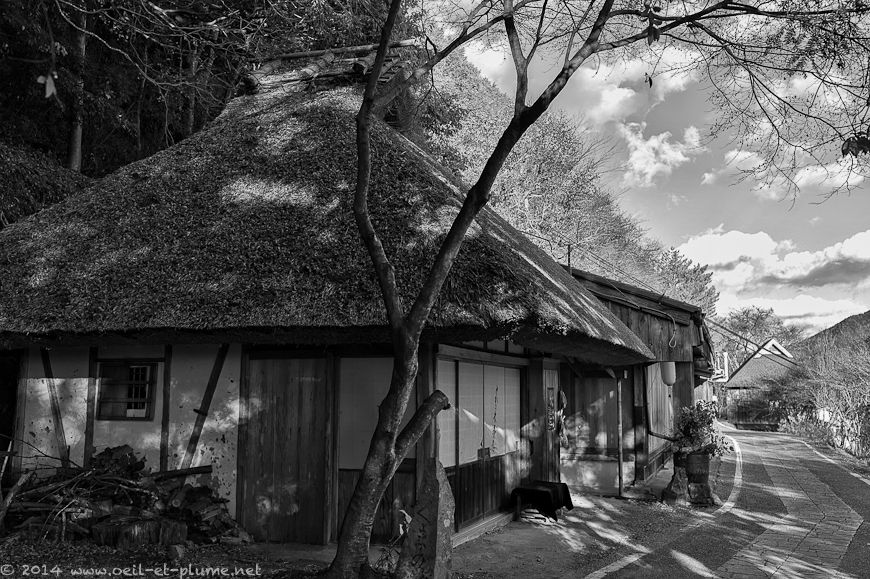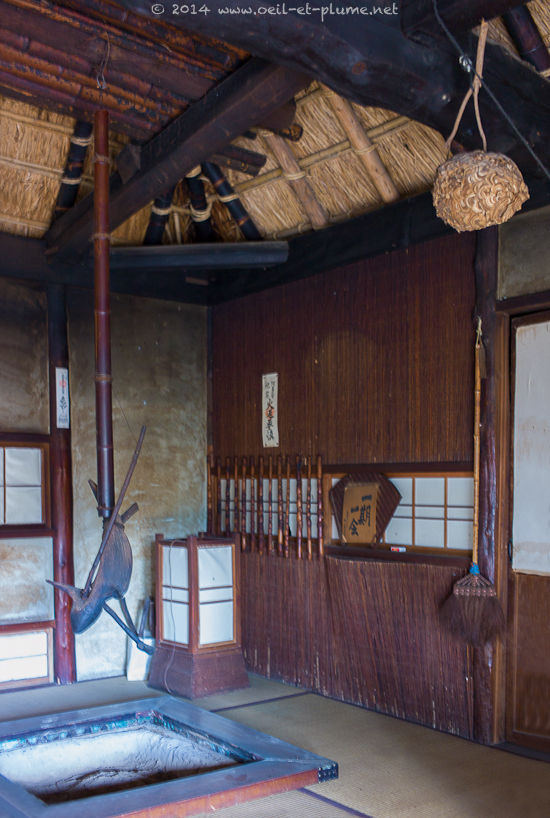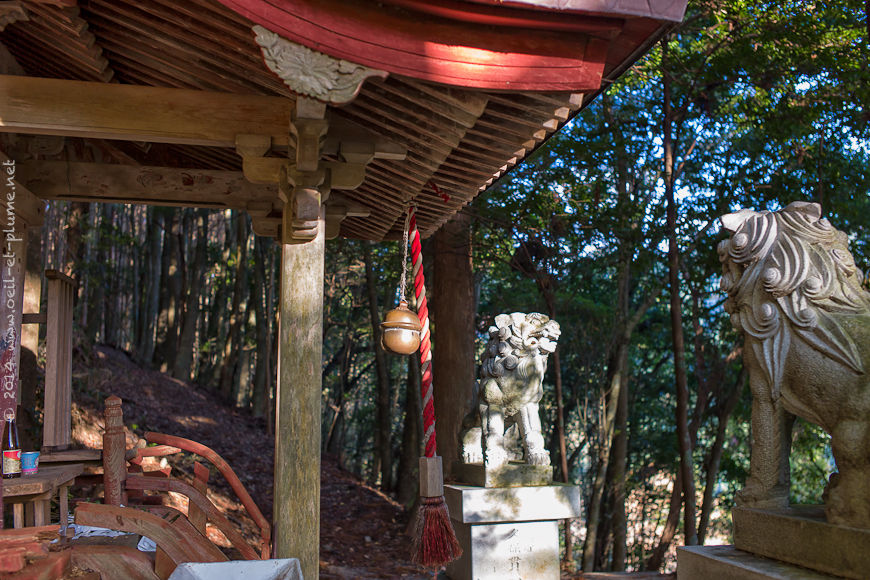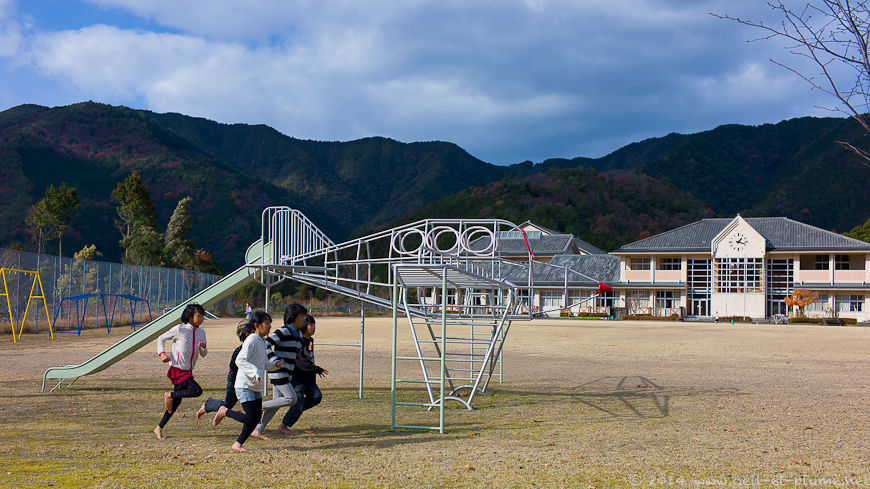 Crossing villages along the Kumano Kodo means also meeting with local people and enjoying their hospitality. Expect much more than the basic services available in the huts of the European Alps. Traditional accommodation, sumptuous food, steam bath are standard features of overnight stays. If you have the choice, opt for private stay. Kumano Kodo is also where I made my best experience of traditional home stay (ryokan) during my stay in Japan. Expect also to pay for the corresponding quality of services provided.
Trekking the Kumano Kodo provides also a unique introduction to Japanese humor and creativity. Beyond the stereotype of Japanese tourists visiting Europe in organized high-speed tours, I discover in Kumano a subtly sense of humor, a highly developed creativity displayed not only in official culture but also and primarily in daily life. Have you already witnessed such refined scarecrows protecting farming products? Did you ever think offering drinking water through a peeing wooden sculpture? Did you ever come across cheering or ironic mannequins on your pilgrimage or trekking way? Here you are.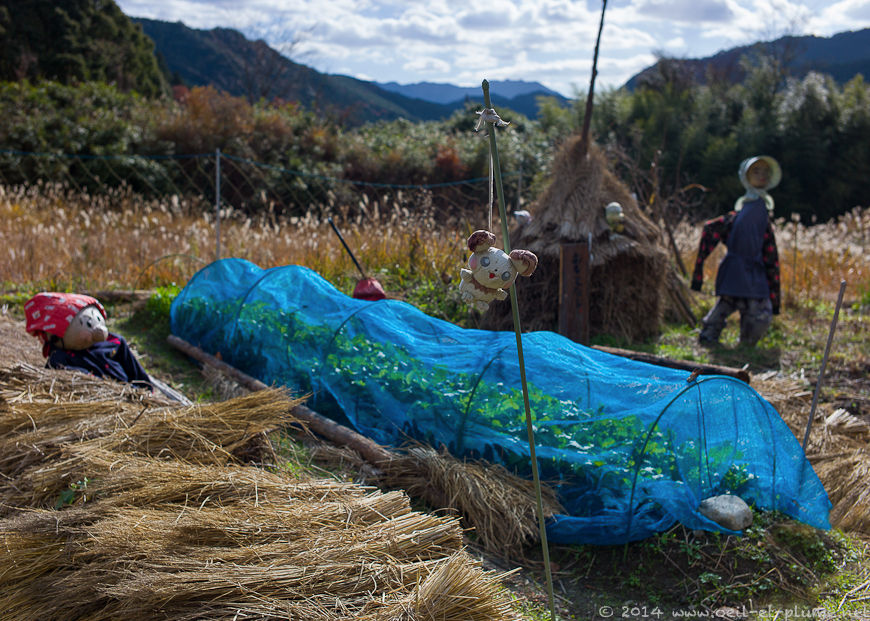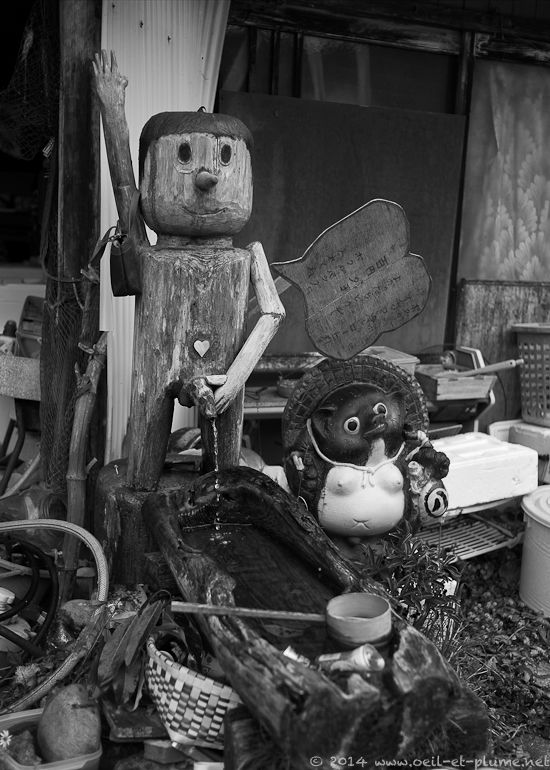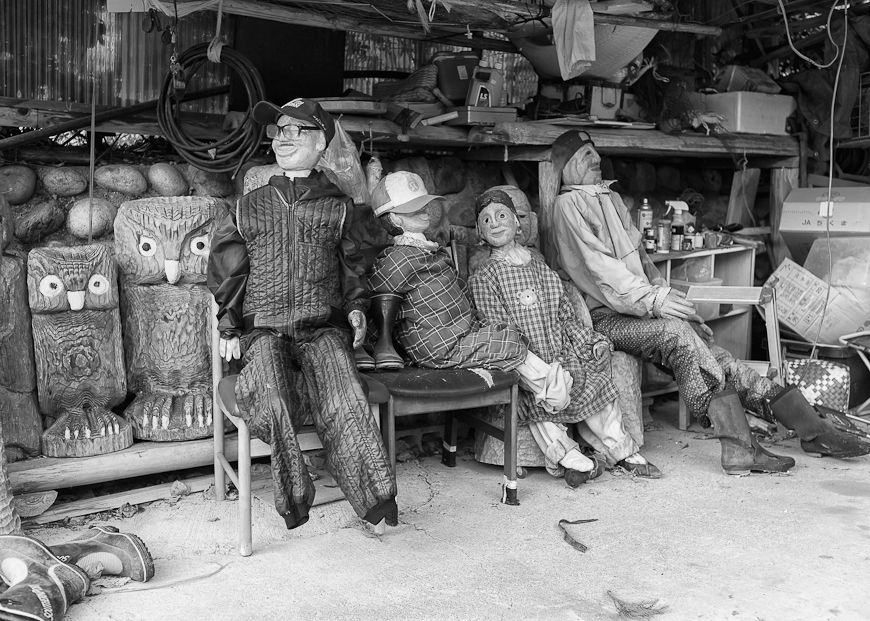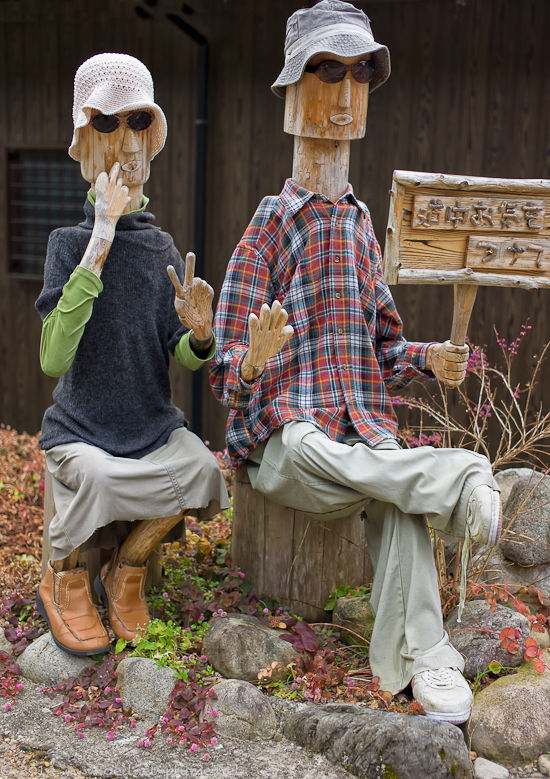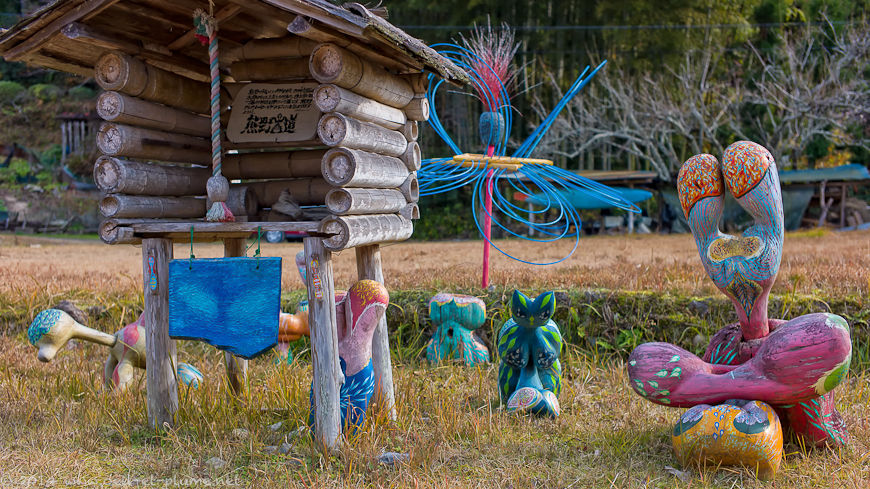 Things are getting now more serious than ever. I just reach Fushiogami-oji, a few kilometers away from my destination. Pilgrims used to knee and pray here because from that point they could sight the holy shrine of Kumano Hongu Taisha for the first time of their journey. I spot the shrine indeed, but find more aesthetically attractive the tea plantations for the time being. Shame on me, I know.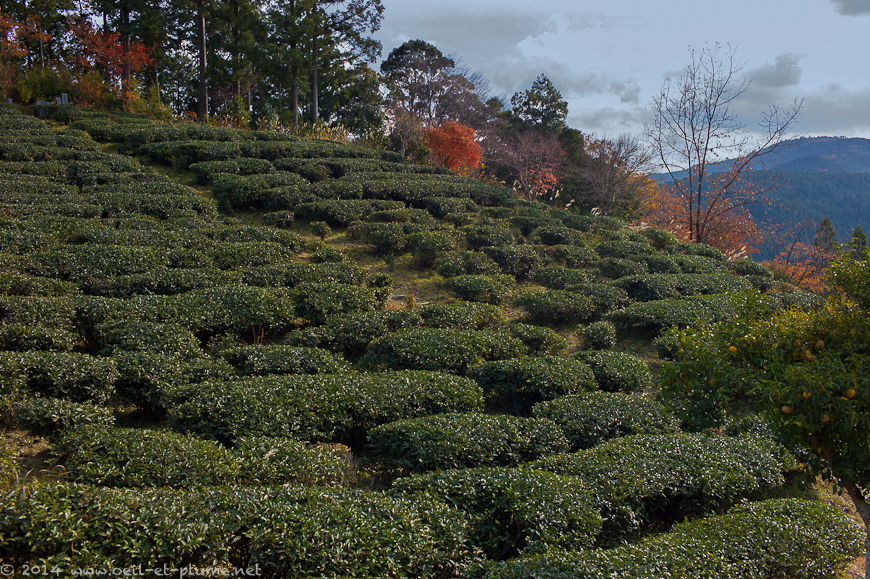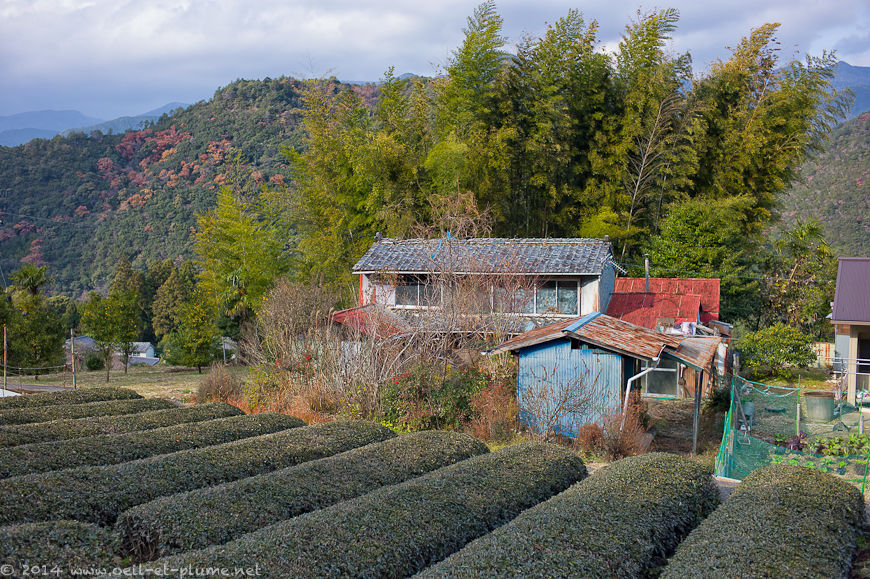 Prior to visiting Kumano Hongu Taisha, I head to Yunomine Onsen (Yunomine Hotspring) located nearby. Pilgrims performed purification rites there in a tiny rocky bath that is still open to the public nowadays. Yunomine's thermal water is also reputed for its healing properties. Repelled by the strong sulfurated smell of the water, I decline bathing. Only to discover later that the naturally hot water is also used to boil eggs.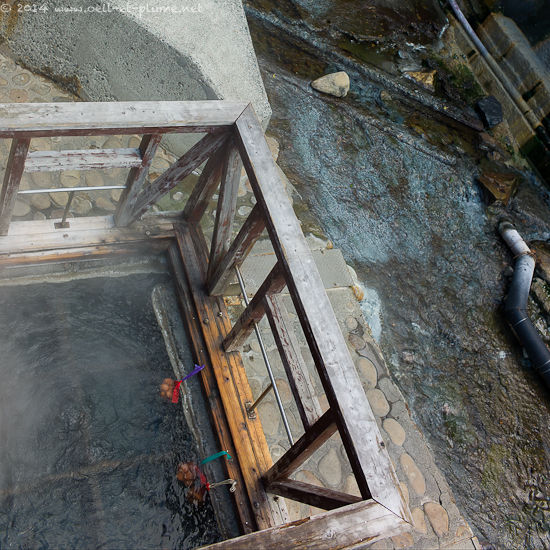 Here we are. The Kumano Hongu Taisha shrine can be a busy place indeed. Considering the timing of my visit, it is not. In fact, I visit the holy Buddhist site twice in two consecutive days to better sense its atmosphere. I better silence my feather here, to leave you room for visiting visually and mentally the shrine by yourself.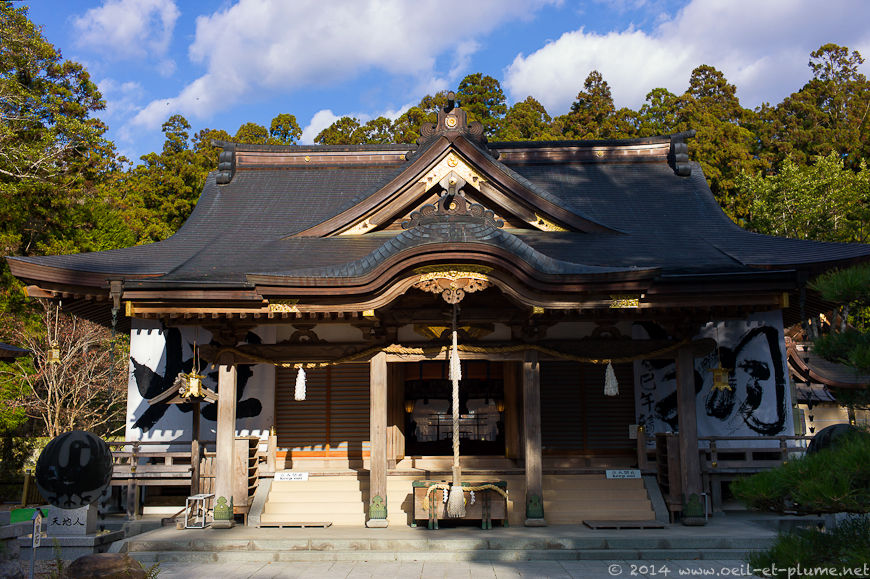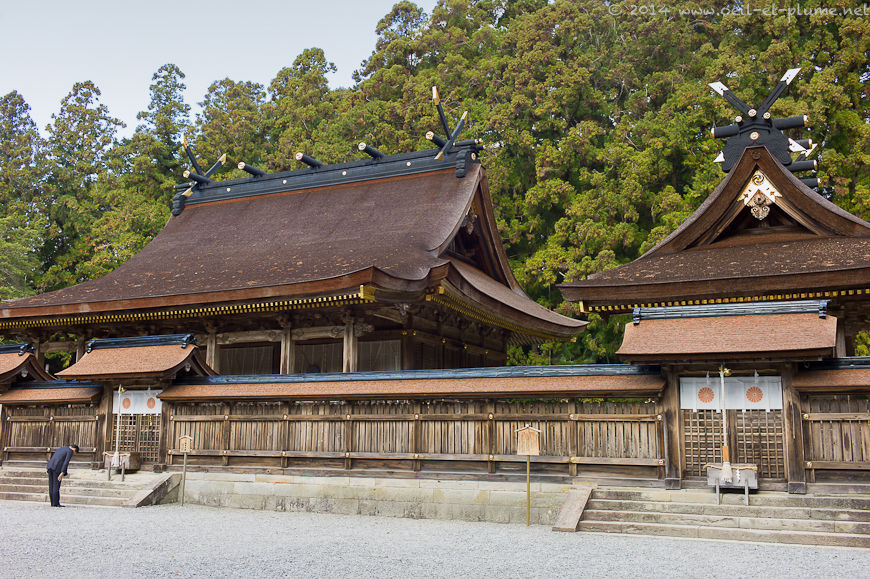 Those of you considering a closer experience of the Kumano Kodo pilgrimage can consult the hyperlink here.
Cheers,