After a long and dry drive on the barren Jol (Jawl) plateau, we reach the edge of Wadi Doan (Do'an, Dawan). Many Yemenis and other Arabs travel to Wadi Doan for its local honey, reputed to be world's premium. I am here to discover a photographic gem – unique blending of beautiful landscape, traditional habitat and lifestyle.
Haid Al-Jazeel
How not to fall in love with Wadi Doan at first sight? The view from the top of the cliff is breathtaking. Perched on a rocky molar, Haid Al-Jazeel village monitors the flat, tortuous and lush valley connecting Jol Plateau to Wadi Hadramout further north. What water coupled with human ingenuity and hard work have achieved in this otherwise ingrate environment is stunning.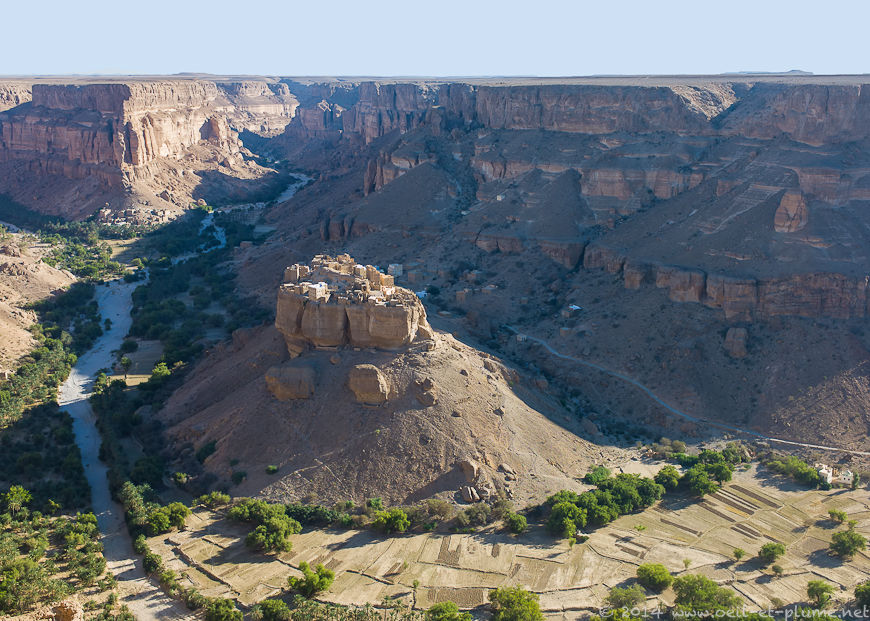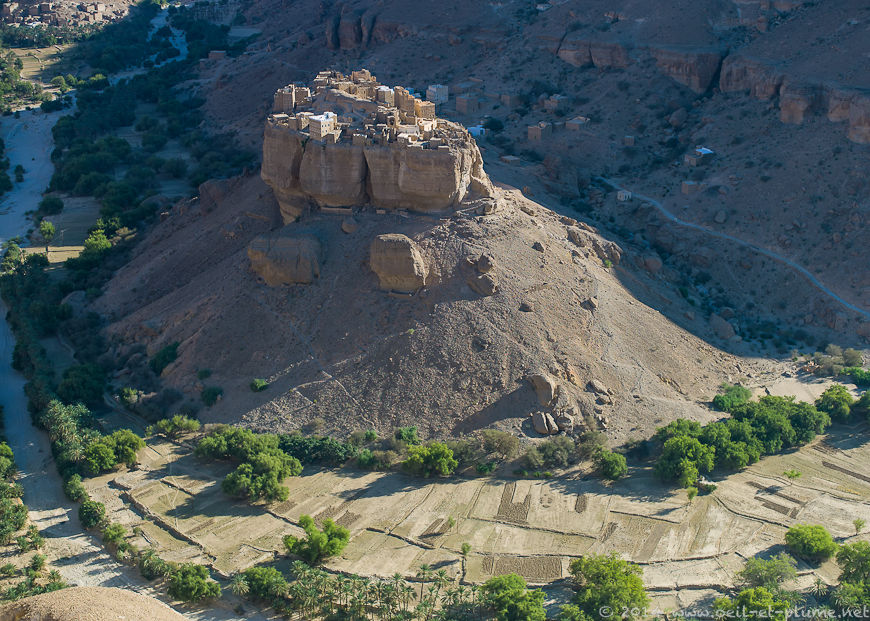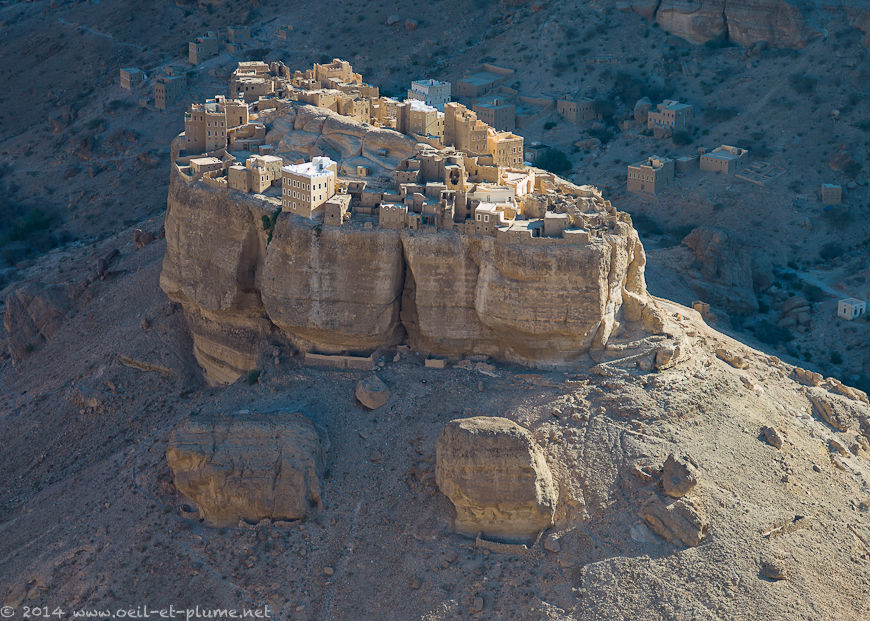 The late afternoon light carves delicately the rocks and the vegetation, while ceding gradually large swathes of the valley to the hungry shades. It would be tempting to spend the night in this comfortable hotel and enjoy the same scenery in an exquisite dawn light. I insist on descending into Wadi Doan before darkness. I wish not only to see but also to experience. A local hotel in one of the many villages will better serve that purpose. And we will for sure visit Haid Al-Jazeel village tomorrow morning.
Bugshan
The road down to Wadi Doan is brand new, broad and neat, cut in the cliffs of the valley in an impressive piece of civil engineering. We pass in front of the equally impressive Doan hospital whose modern premises would turn pale many people in Aden. Wadi Doan's power station is of the same vein, new and well built. All those pieces of public infrastructures were financed by Abdallah Ahmed Bugshan, a weathly Yemeni originally from Doan.
A trained oil engineer, Bugshan made his fortune as trader in Saudi Arabia. Philanthrope, he donated vast amounts of money to better the lives of people from Wadi Doan, including academic sholarships abroad for promising students. Bugshan owns major pieces of real estate in Doan. His investments are again less business-minded than oriented towards the enhancement of the touristic potential of Wadi Doan. The costly restoration of the Khaila Palace, with its 365 rooms, is for sure not economically profitable.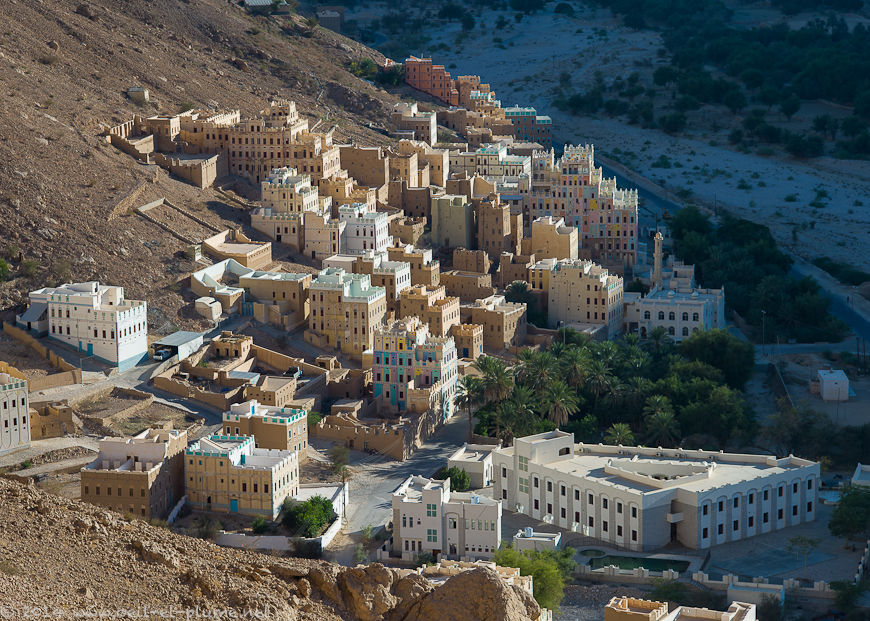 We look for a more humble hotel indeed, which we find in Budha village. After our check-in, we sit in a teashop located nearby. I feel welcome and well. I then pick up a few items in a grocery. The owner rejects my money with a smile: 'Ahlan wa sahlan!' ('May you arrive as part of the family', or in short: welcome!), he adds. By mid-December, I am the first western visitor this year, apart of a few Russian medical doctors hired by Bugshan to provide specialised health care in Wadi Doan hospital for limited periods of time.
Haid Al-Jazeel (again)
On the next morning, we head to Al-Jazeel village as planned. Once close to the river, we continue on foot until the bottom of the rocky molar. An old man crosses our way in a beautifully warm morning light. While ascending, I attempt figuring out the efforts deployed by the inhabitants to build their homes in such an eagle nest.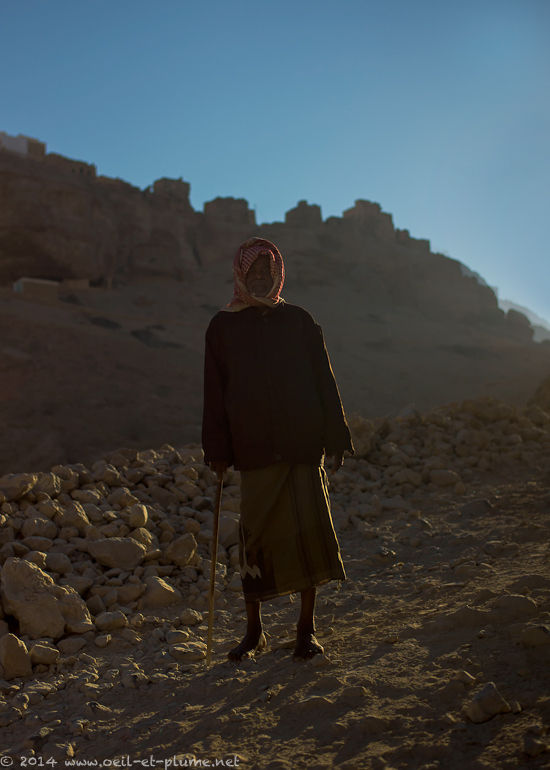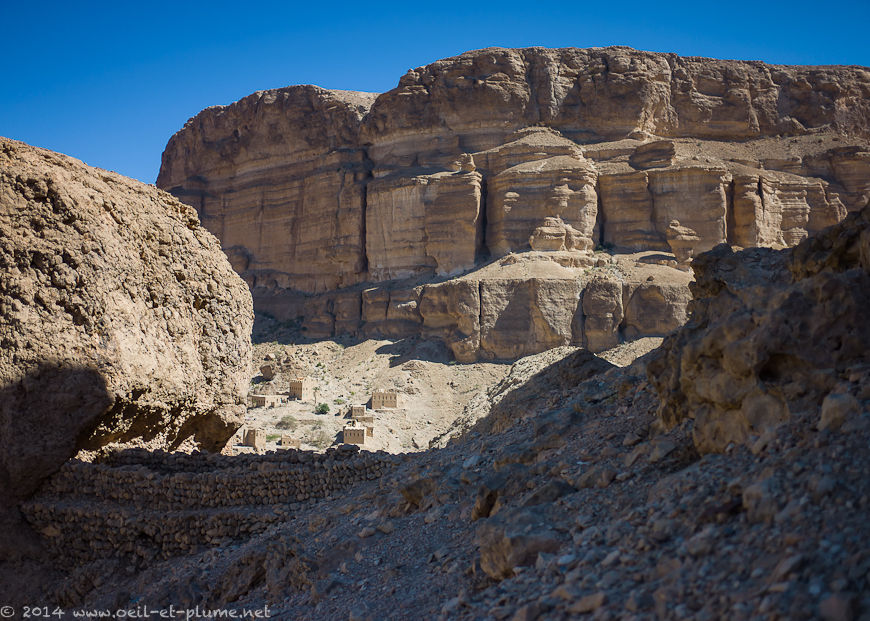 My efforts unfortunately fall short of a direct visit of the site. The village door is closed and locked; nobody respond to our calls. May be we have come too early. Well, other people have set-off for their day. Female shepherds invest the green valley bottom to graze their livestock.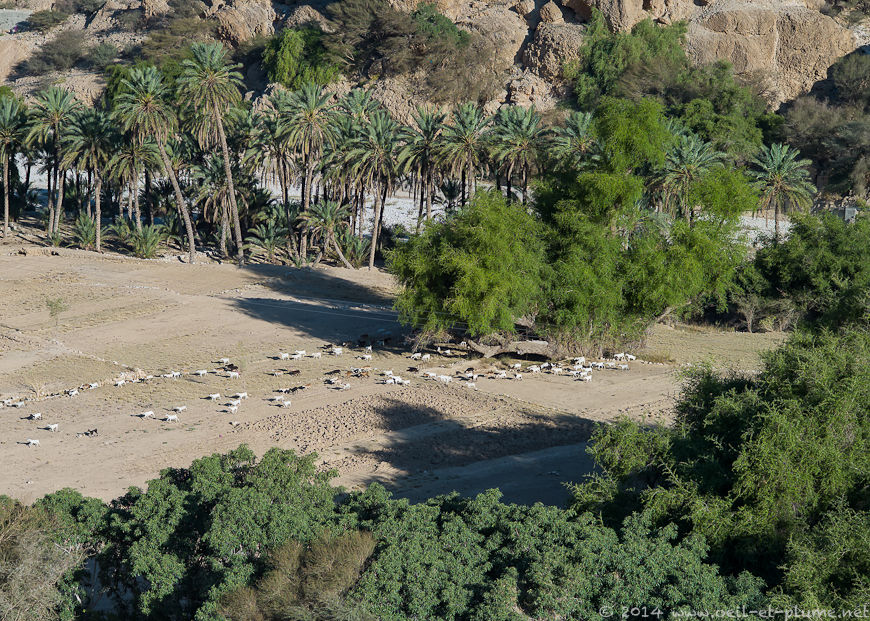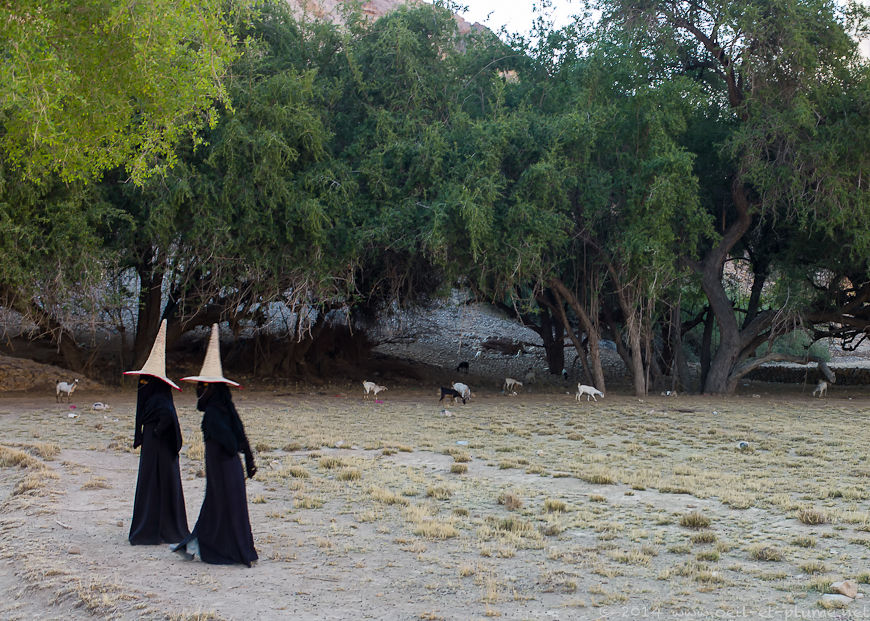 We meet them close to the river bed. The girls wonder what we are doing there, after having learnt that we have come from Aden. There is so much more to do in Aden, they argue. True, women' occupations in the conservative Wadi Doan communities are confined to household and livestock tendering.
Traditional habitat and farming
We pursue our slow-pace visit of the many traditional villages scattered along the 140-km long Wadi Doan. The views are spectacular all along. Fed by local water sources, lush oases pop up miraculously amongst rock and earth. They consist mostly in palm, date, jujube, acacia and henna trees. Their light or profound greens complement harmoniously the sand and ochre browns. In an instant, fertility replaces sterility.
All villages are beautiful in their own way. Shy and defensive, some of them stand against the vertical walls of the wadi. Others, more entrepreneurial, are draped down from mountains in the middle of the valley. Many houses, made of rammed earth, perfectly match their mineral environment. Others are less discrete with their walls completely or partially whitewashed. The most recent ones dare an explosion of colours.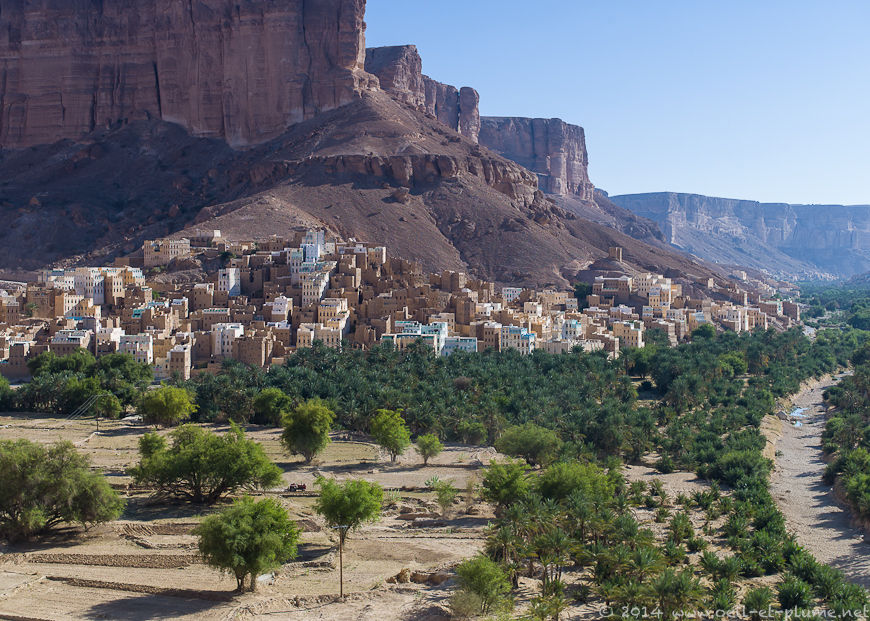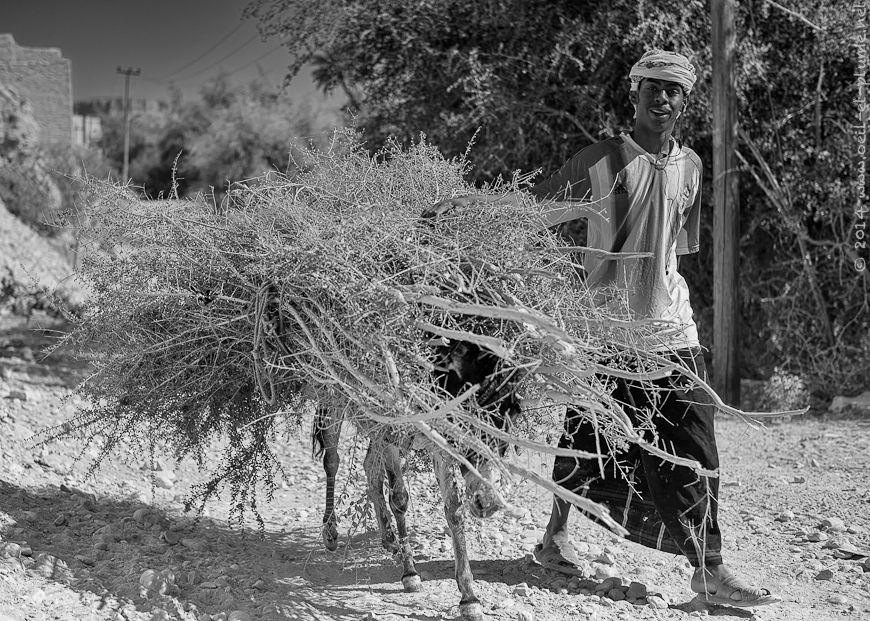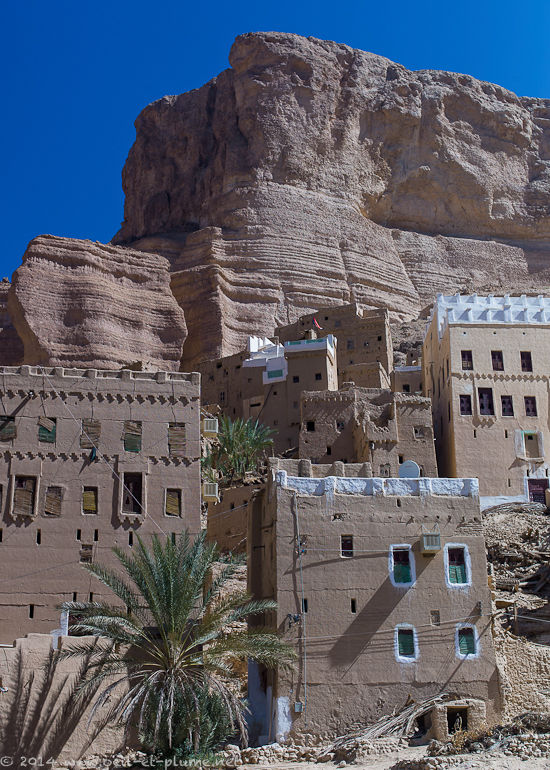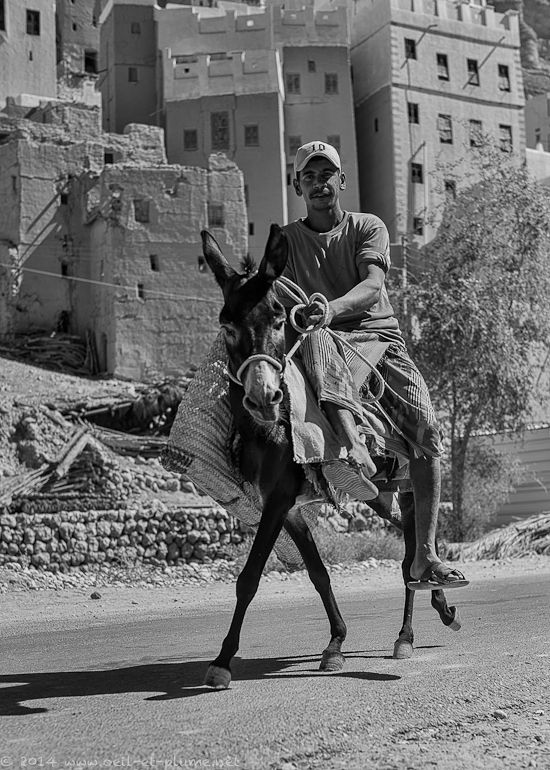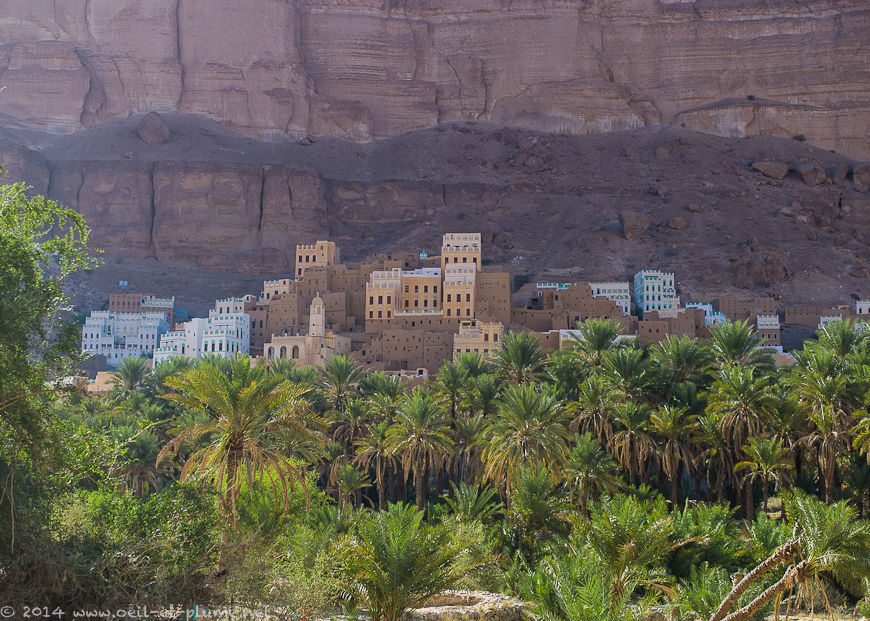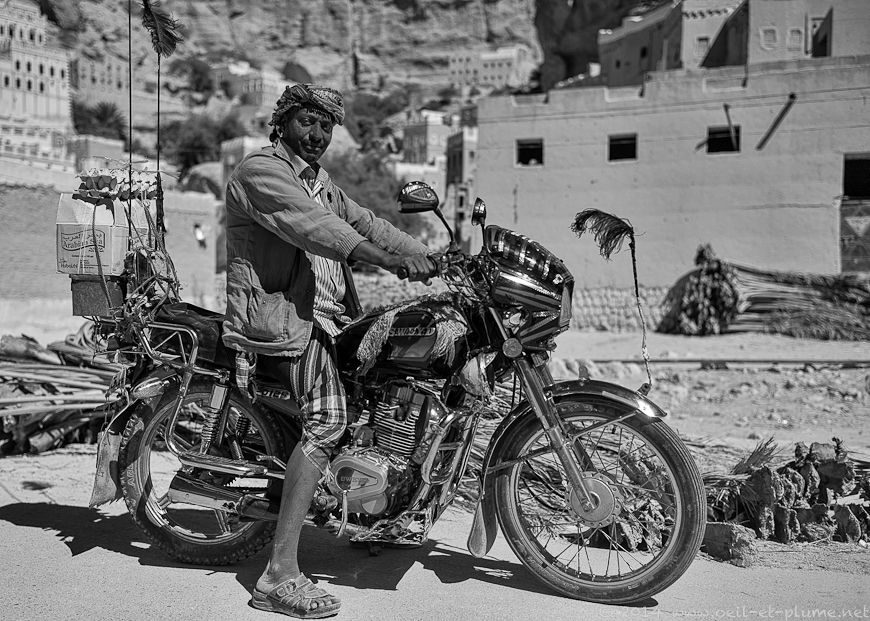 Local people harvest crops of wheat and millet, tend date palm and coconut groves, grow honey and coffee, tend livestock. I approach a male shepherd taking care of about two dozens of goats with his young daughters. 'It is good that you come to learn about us. Life is not easy here. I own only four goats while taking daily care of the others against money', he explains.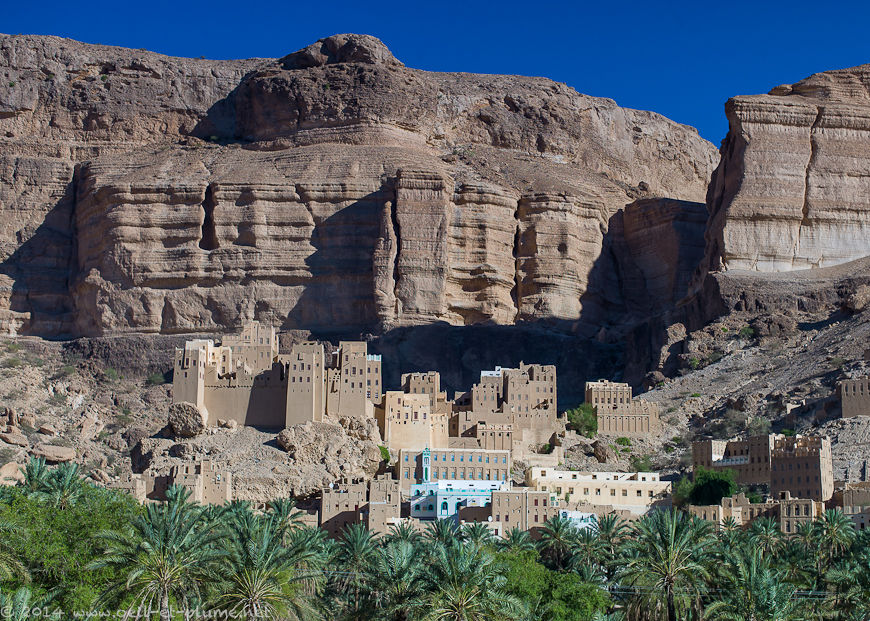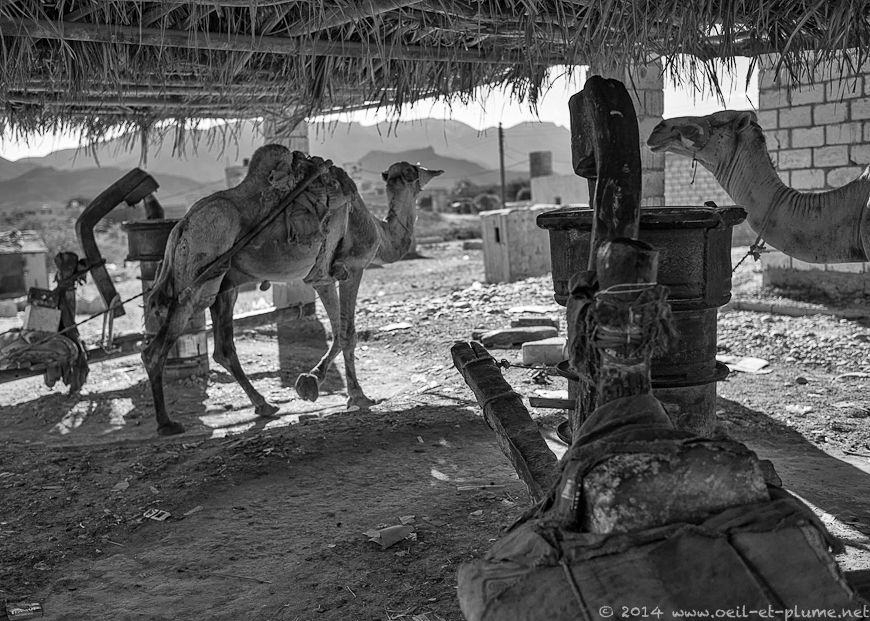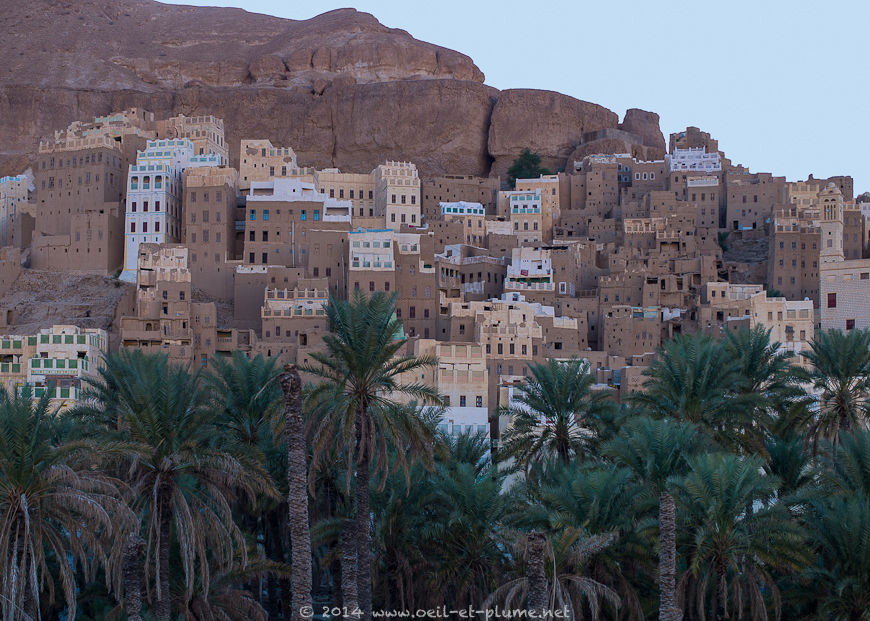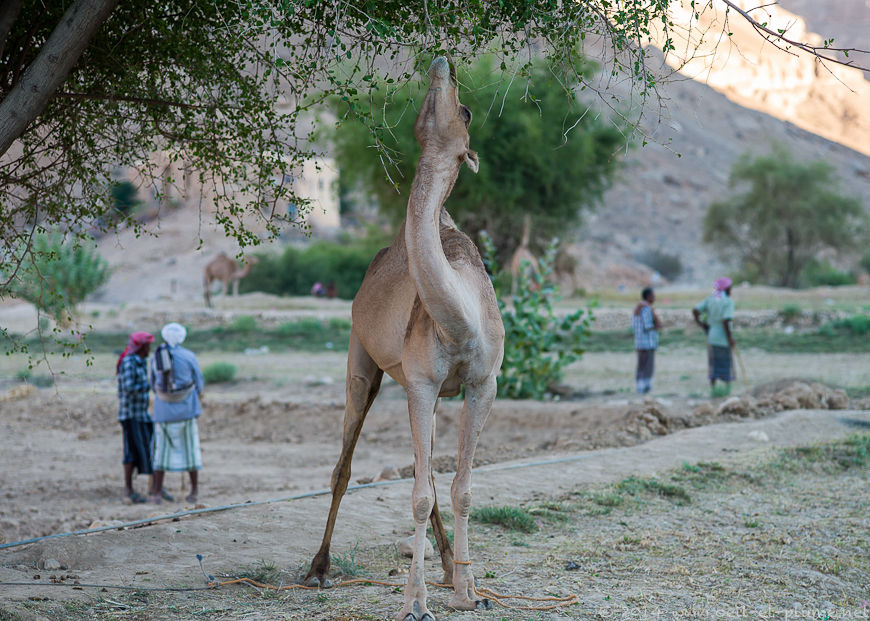 Traditional trade
Wadi Doan hosts also many camels, used mainly for transportation. Camel caravanes loaded with frankincense and silk from Dhofar region in western Oman to transit through the valley on their way to Egypt used until the 8th century. Wadi Doan produces frankincense as well, but in insignificant quantities to supply the regional trade.
Honey, in turn represent a lucrative local source of income. Harvested since many centuries, Wadi Doan's honey is reputed across the Arab world for its gustative and medicinal qualities. Reproductive panacea, Wadi Doan honey is an aphrodisiac for men and an antidote against infertility for women. As a matter of fact, in Budha village, a kilo of the best local honey sells the equivalent of 160 USD. No thanks you.
The historical legacy of commercial caravans profoundly shaped contemporary living patterns. Looking for better economic opportunities, many inhabitants of Wadi Hadramout migrated elsewhere in Yemen or abroad. Many of them made fortune in trade and other businesses, as Abdallah Ahmed Bugshan. Their remittances significantly enhance the lives of local resident nowadays.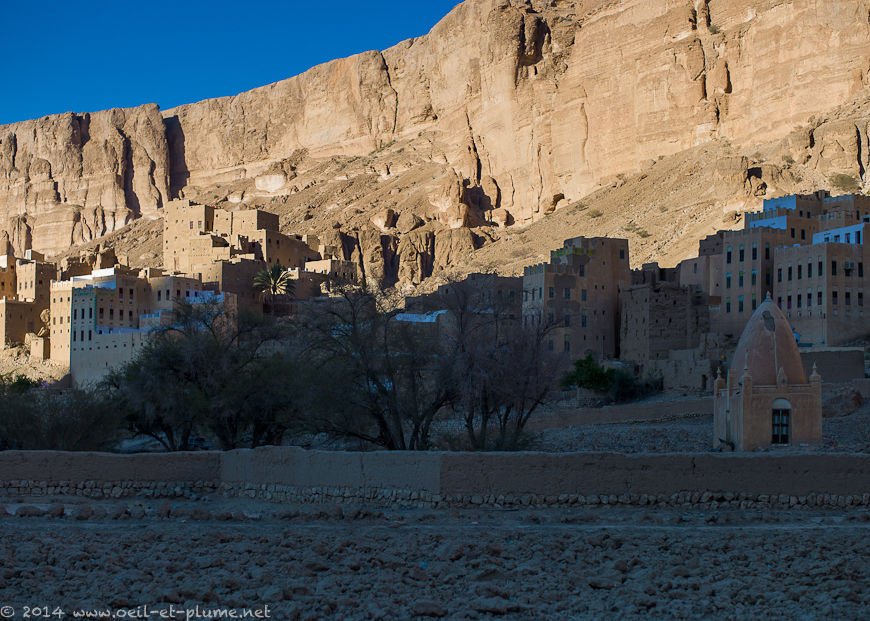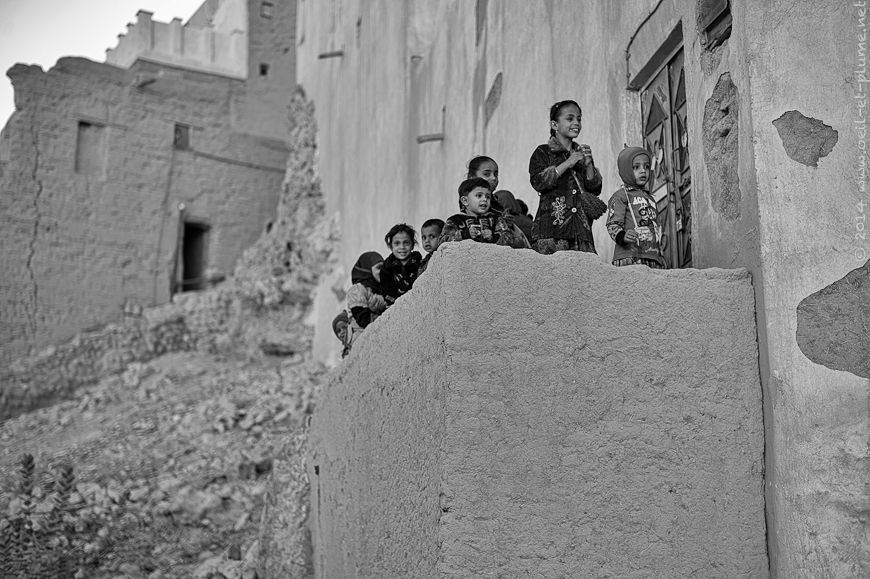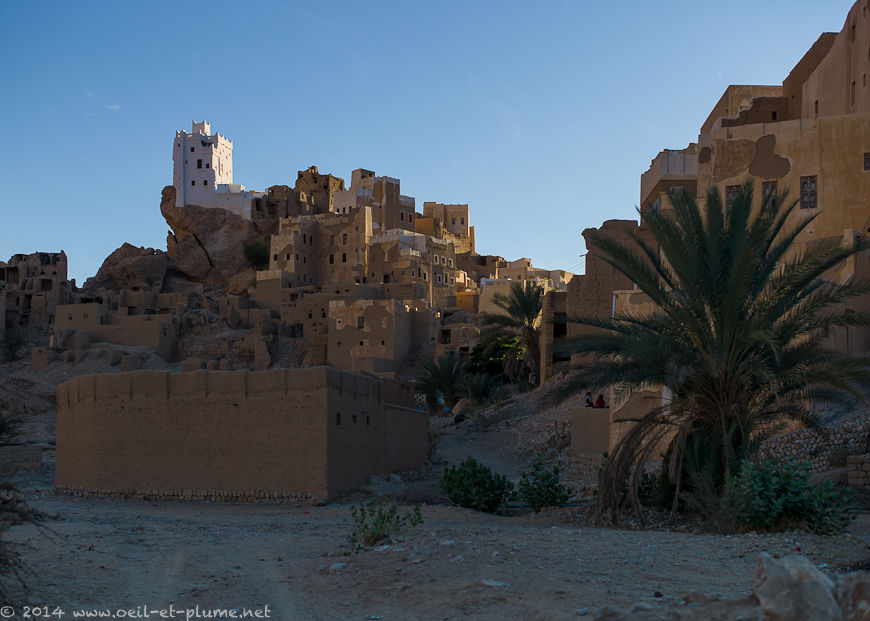 Bin Laden family is another one of them. Ossama's father left his home located in Ribat Ba Ashan village in Wadi Doan to migrate to Saudi Arabia prior to the World War II. He successfully ran construction businesses and was granted Saudi citizenship.
Al-Hajjarayn
After having admired this stunning areal view of Al-Hajjarayn (Al-Hajjarein) village some years ago, I could only make of this village one of my stay in Wadi Doan. I approach the village on foot to better sense its intimate connection with its natural environment. Traditional Hadrami houses are built with mud bricks to benefit from the natural coolness of the mud against the desert heat. Clay and wood, along with straw and water, made this traditional architecture possible.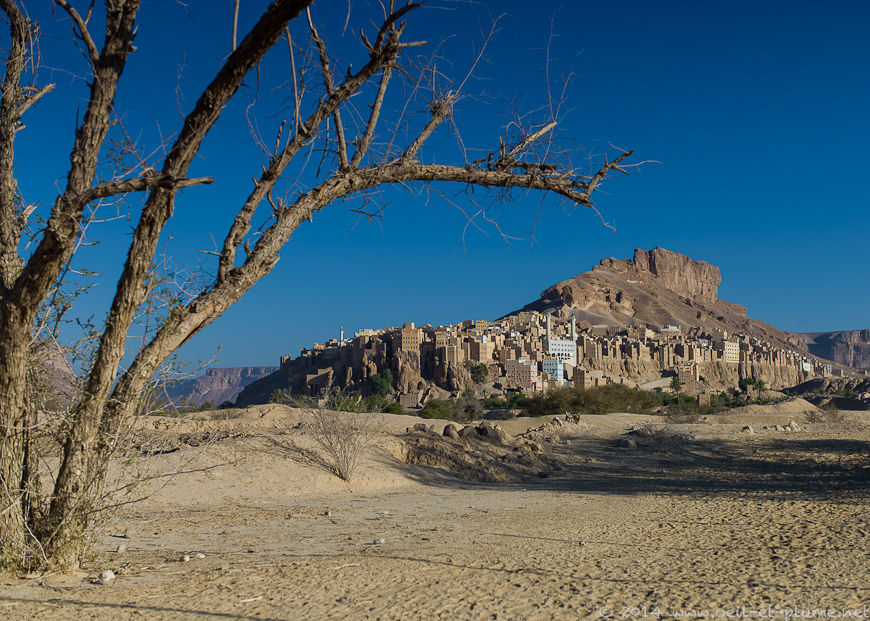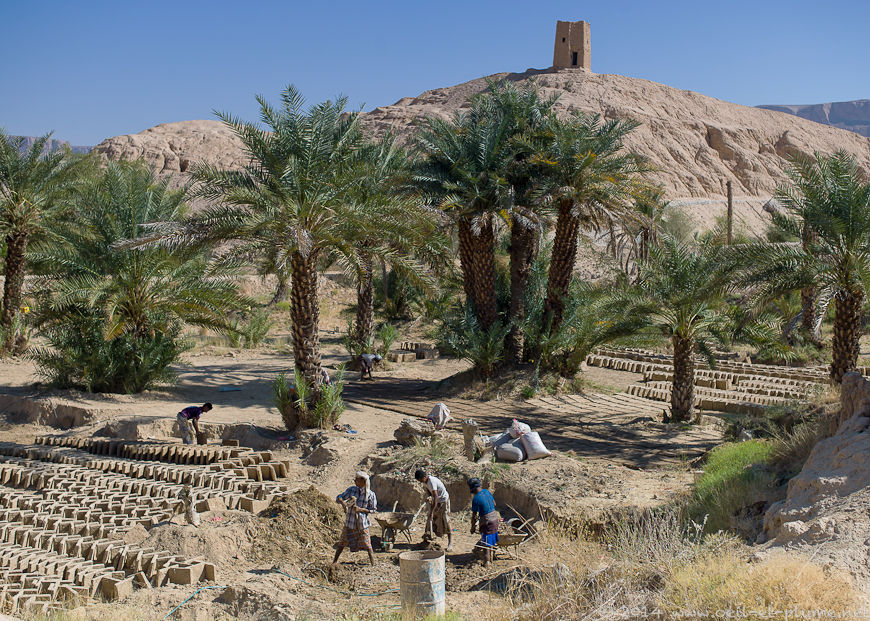 Al-Hajjarayn reminds indeed the iconic Shibam, although it is in fact much bigger than what remains of the latter. As the big village is perched high on the mountain, donkeys traditionally carry goods and people between the plain and the settlement, complemented by noisy motorbikes nowadays.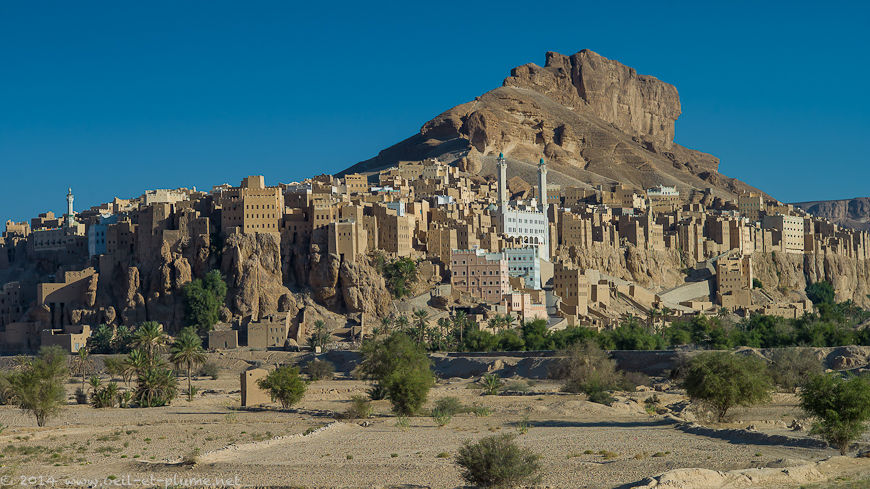 In the village, the mud architecture looses in neatness to display its cracks and asperities. The narrow alleys between the high mud houses provide room for amazing games of shade animated by tireless children.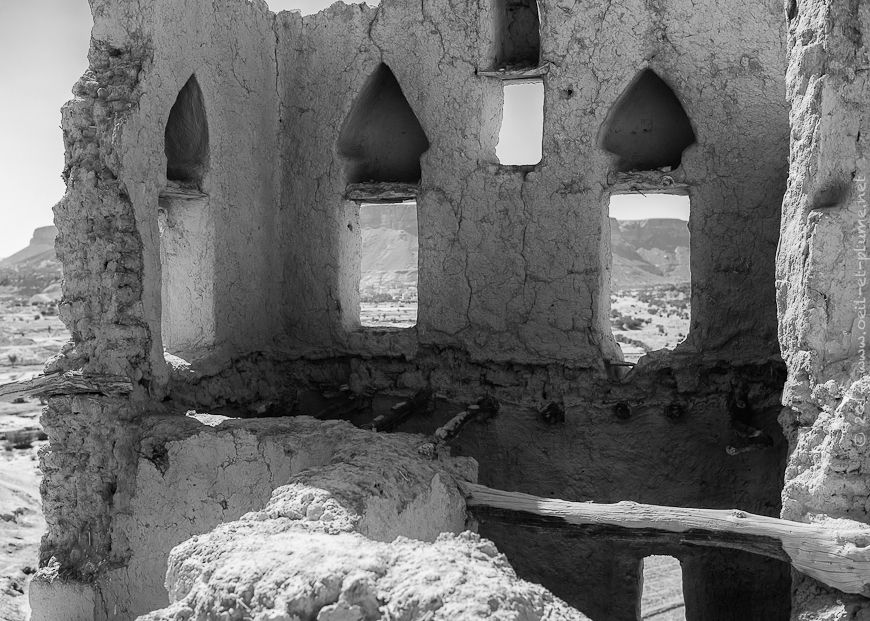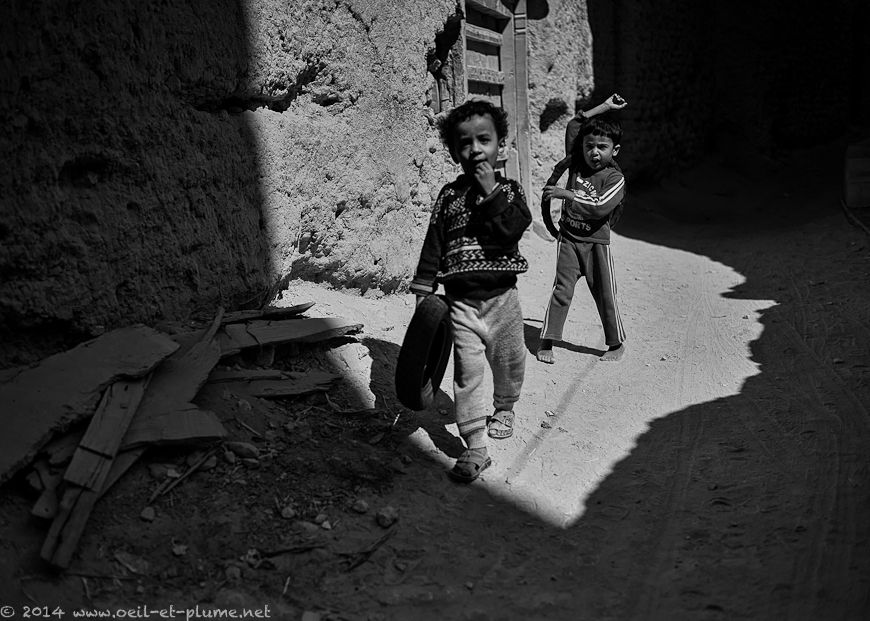 Like Shibam, Al-Hajjarayn display amazingly decorated wooden doors. Not only beautiful, they also entail refined pieces of engineering. Through wooden lattices (moucharabiehs) opened at any floor of the building, the residents check on the identity of a visitor knocking the house door before unlocking the entrance door through a cable system. Then the visitor introduces the forearm into the side hole to open the door from inside.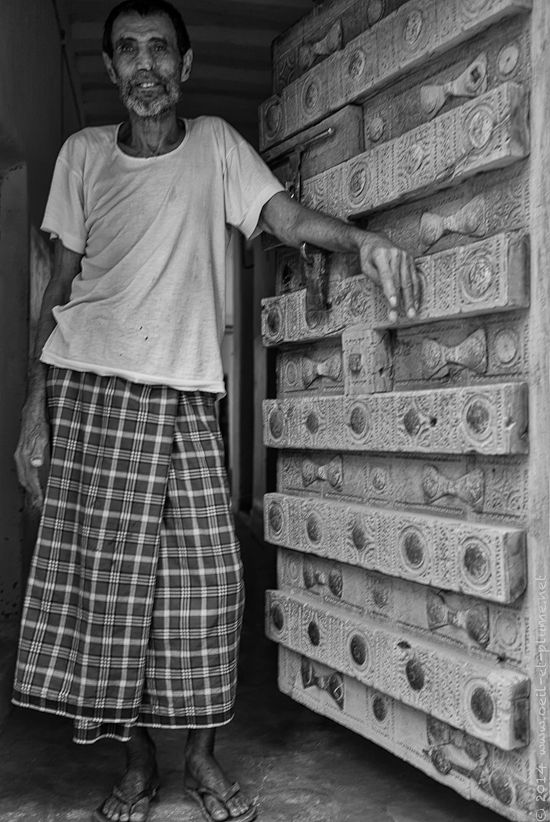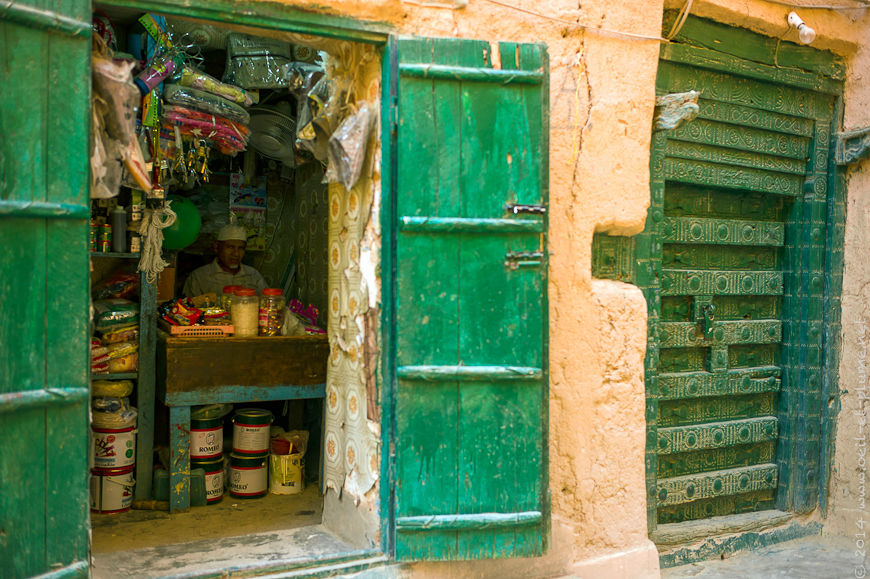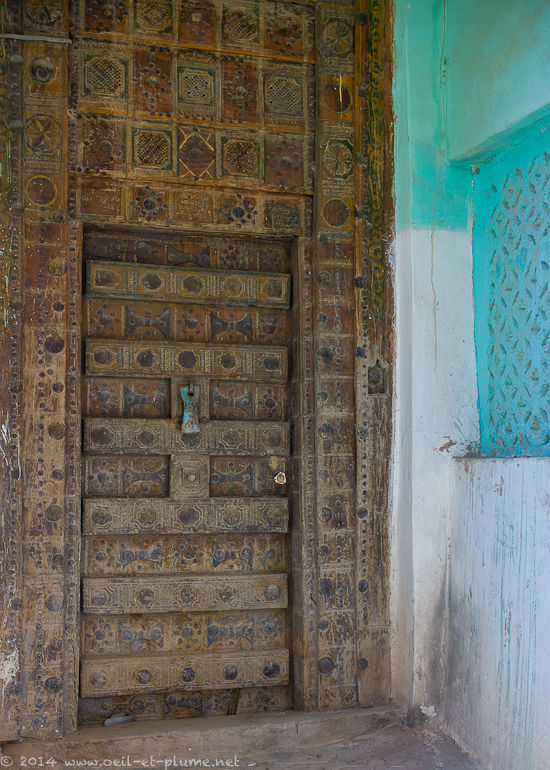 What strikes me maybe most is the quietness of the place. How to feel busy and stressed in such environment?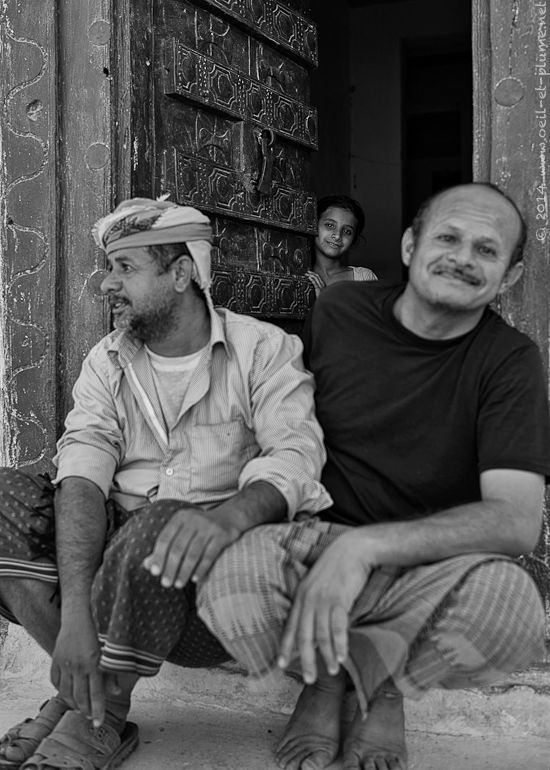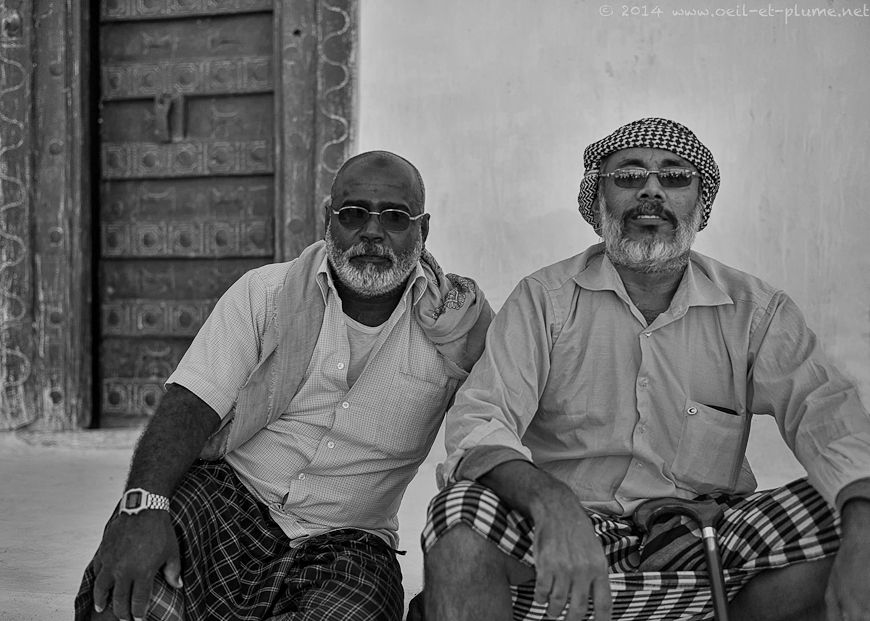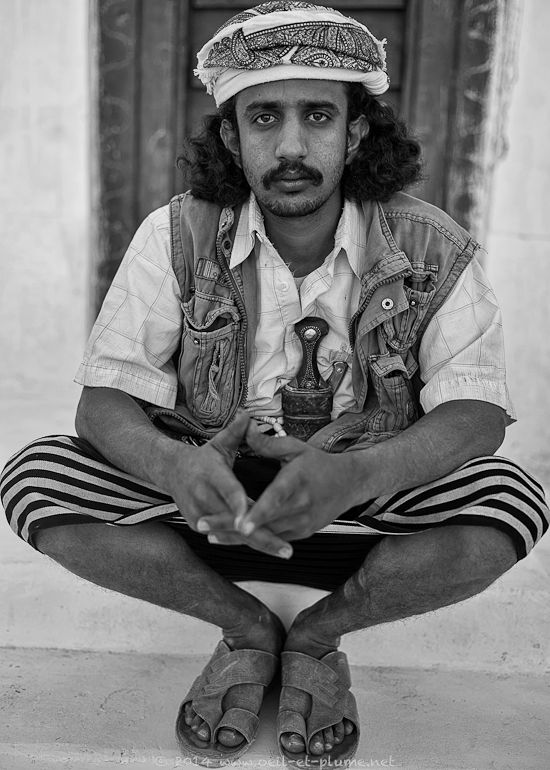 We leave Wadi Doan back to Coastal Hadramout. Ascending the valley, the enticing Rehab village clings in beautiful sunset light.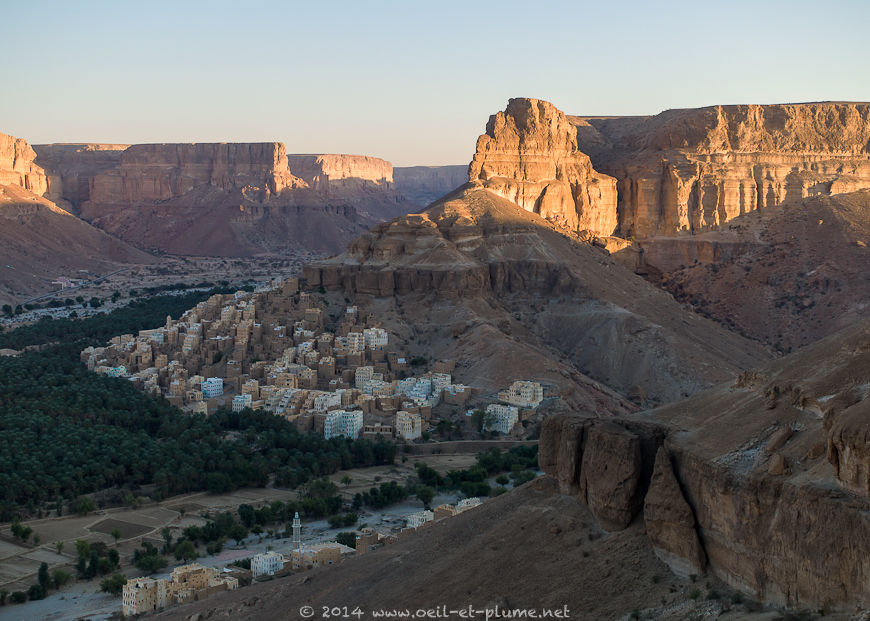 Haid Al-Jazeel (again and again)
Prior to departing Wadi Doan, we had made a second and unsuccessful attempt to visit Haid Al-Jazeel village. The village door has remained stubbornly close to our calls. Never mind, the village will continue nurturing its mysterious attraction in my soul.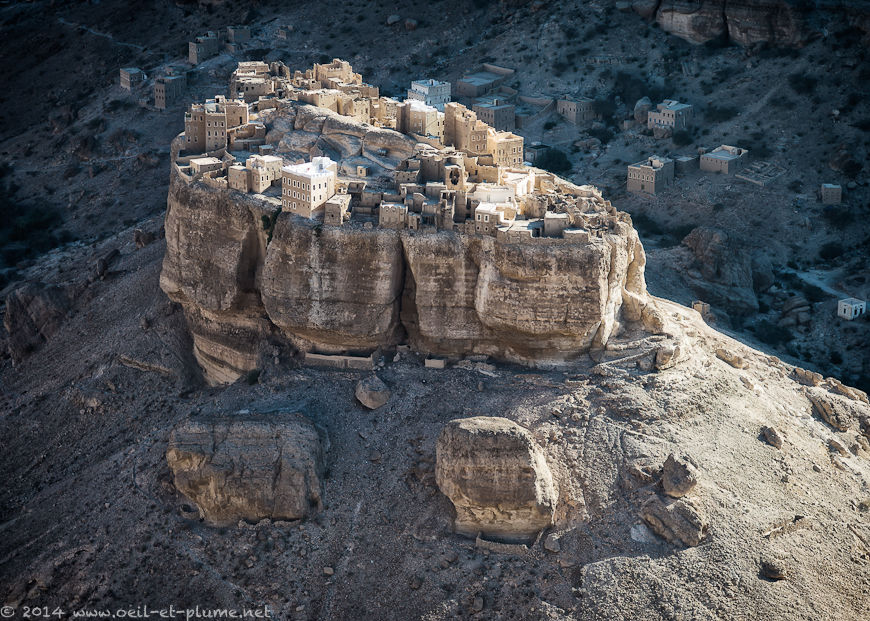 Wadi Doan epitomizes the travel experience in Yemen: utterly unique and deeply romantic, despite all challenges and shortcomings.
Happy new globetrotting year 2015 !
Cheers,