I have been always fascinated by archery. As child, I built countless elbows and arrows out of hazel tree wood. My teen-age imaginary made a large room for stories involving archery.
To start in the Antiquity, the legendary Greek warrior Achille who died of an arrow wound in his heel during Troy military siege. Continuing with Robin Hood, who reportedly stole from the riches to donate to the poors in Nottingham County in the 13th century. Later in the New World, the native American who used to hunt and battle with bows and arrows until the introduction of fireguns.
Not to mention the rightful Thorgal Aegirsson and the unscrupulous Kriss de Valnor, both outstanding archers in a famous fantasy comic book series. Last but not least, Cupid hit my heart with many sweet arrows. Unlike Achille, I managed to survive.
Bhutan's traditional archery
I was delighted to learn that archery is Bhutan's national sport and a deeply rooted tradition. Archery even grew more popular in the kingdom over the last decades. Traditionally, competitions were held only at regional and local levels. Nation-wide archery tournaments and competitions are nowadays held regularly, which help selecting the members of Bhutan's Olympic archery team.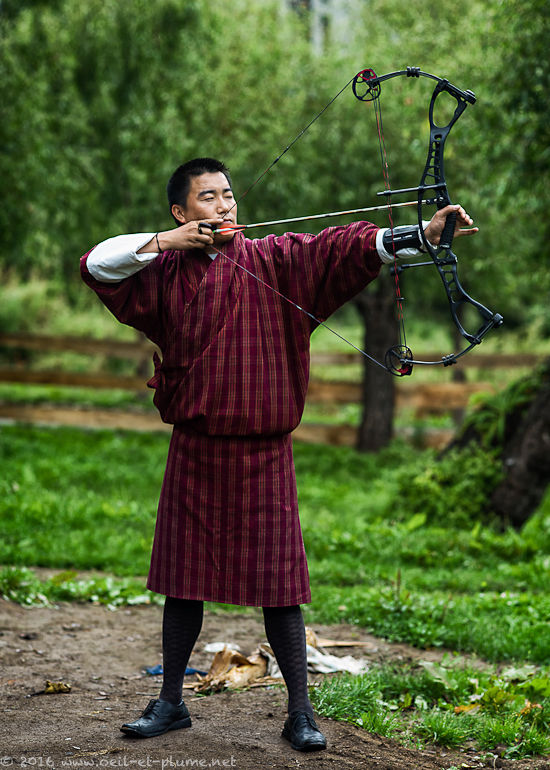 Martial art, archery requires physical as mental strength and agility. In turn, it provides much enjoyment and a rich venue for socialisation. More than a sport, it celebrates a distinctive way of life. Game-loving Bhutanese people are fond of archery, regardless their social status. No festival or celebration is complete without archery, which well epitomizes the traditions and the changes at work within Bhutanese society.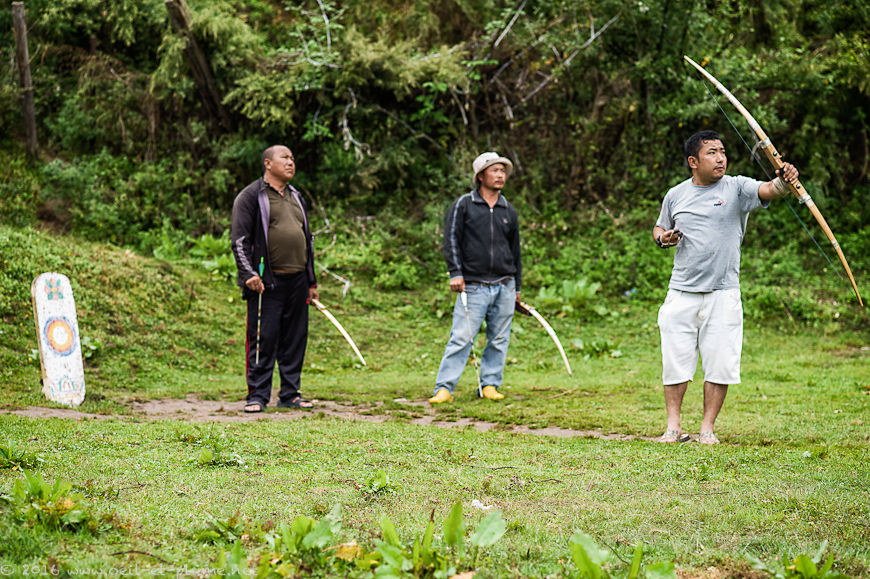 Made from a special variety of bamboo, the elbow was traditionally the favourite hunting tool in Bhutan. In medieval times, feudal landlords used to reinforce their regular troops with militiamen recruited amongst the population and equipped with bows. The elbow and arrow are abundantly referred to in the kingdom's myths, tales and legends – including in the prophecies of the 15th-century saint Drukpa Kunley, aka the Divine Madman.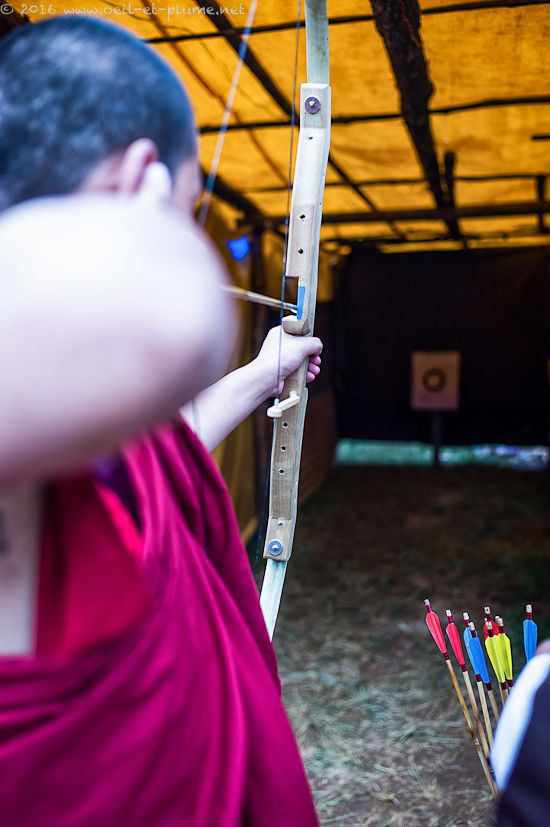 Traditionally, archery is played as a celebration or a contest between two neighbouring villages or regions. The community losing the game would face bad luck, climatic adversity and hence poor harvests. Astrologist are consulted to identify the most auspicious venue and timing of the challenge.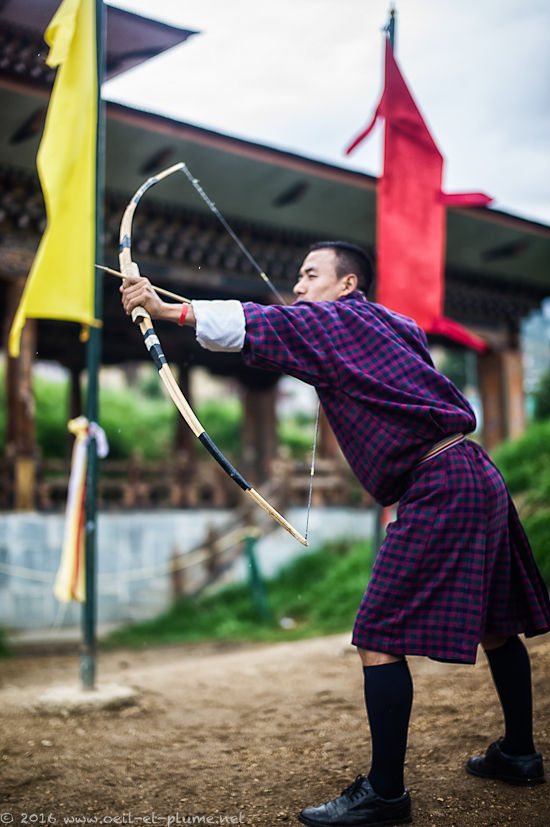 On the eve of the contest, the archers offer prayers and donations against blessings from the good fortune of the archers. Staying away from their wives, they chant and dance together, and spend the night in the woods or in a barn. Early morning, the team performs additional rituals which may include black magic in order to boost their own performance and undermine their opponents' ability.
Bhutan's modern archery
I manage to sneak into the audience of a archery contest ran in the Changlimithang Stadium in Thimphu. Two teams compete in a dedicated but joyful atmosphere. Wearing distinctive attires, they sport the finest models of contemporary compound technology.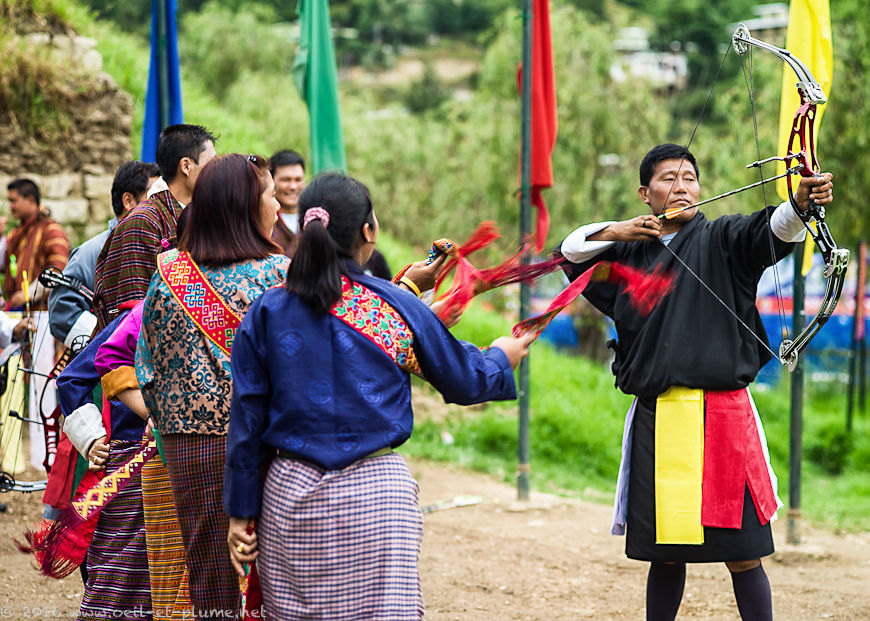 Archery teams consist usually in 11 players. Teams shoot two arrows alternatively in both directions. The first team scoring 25 points is the winner. Both teams spare no details, analysing each and every shot to improve their score. The distance to the target is about 145 meters. From afar, the wooden and painted steles look impossibly small. Hitting the target is celebrated with a victory dance performed by the teammates.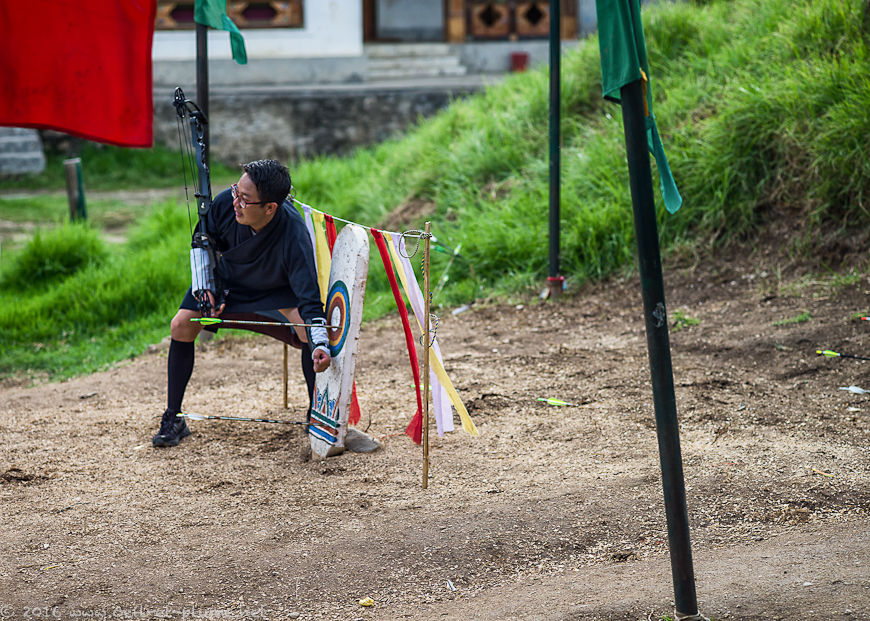 Competing archers also engage in verbal and intellectual rivalry. On both sides, players praise their own arrows and coach their fellow archers, as they demean opponents with elaborated and literary expressions.
On both sides, archers's wives partake in the contest in support mode. They dance and chant to encourage their team and tease and distract their contenders. It works pretty well. One of the players, under pressure to score, explodes in a burst of anger directed at the mocking females. He is calmed down by his teammates in front of an hilarious audience.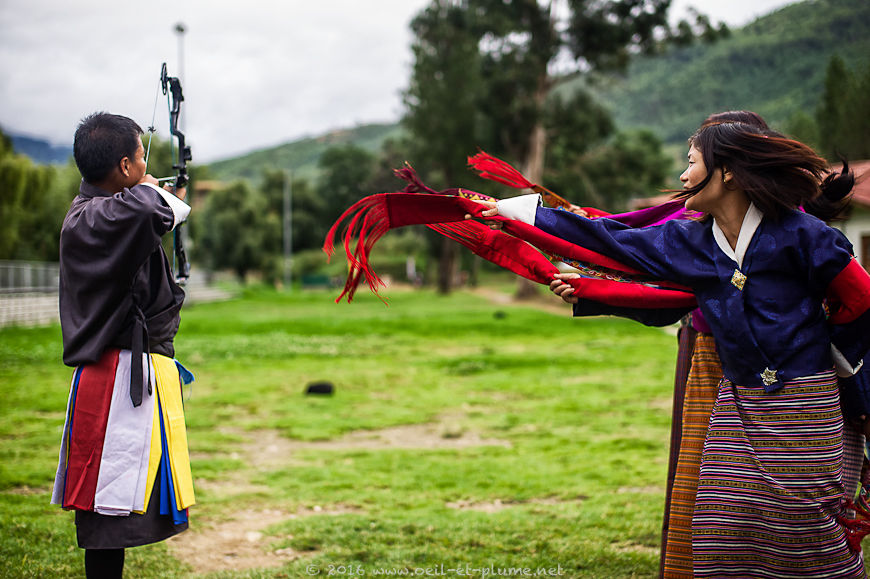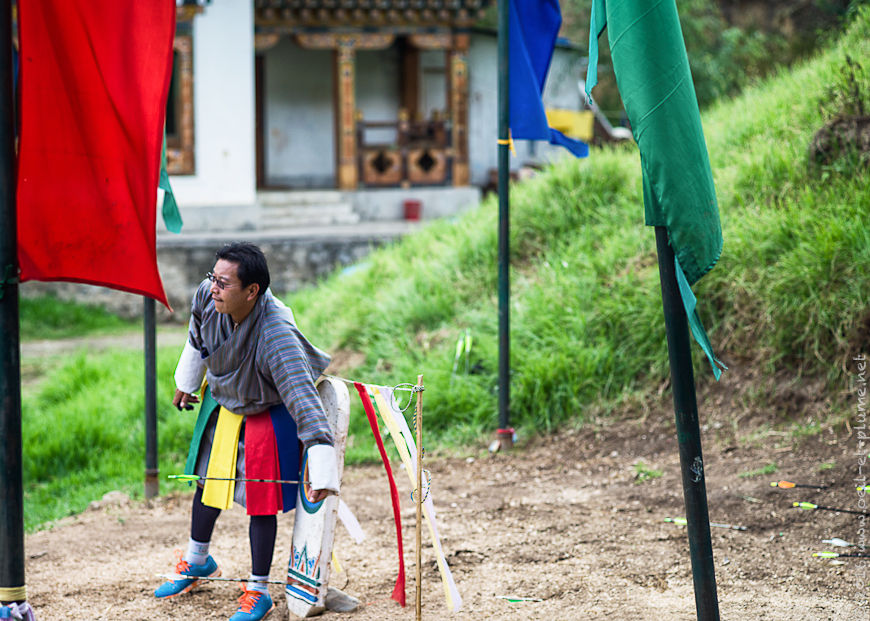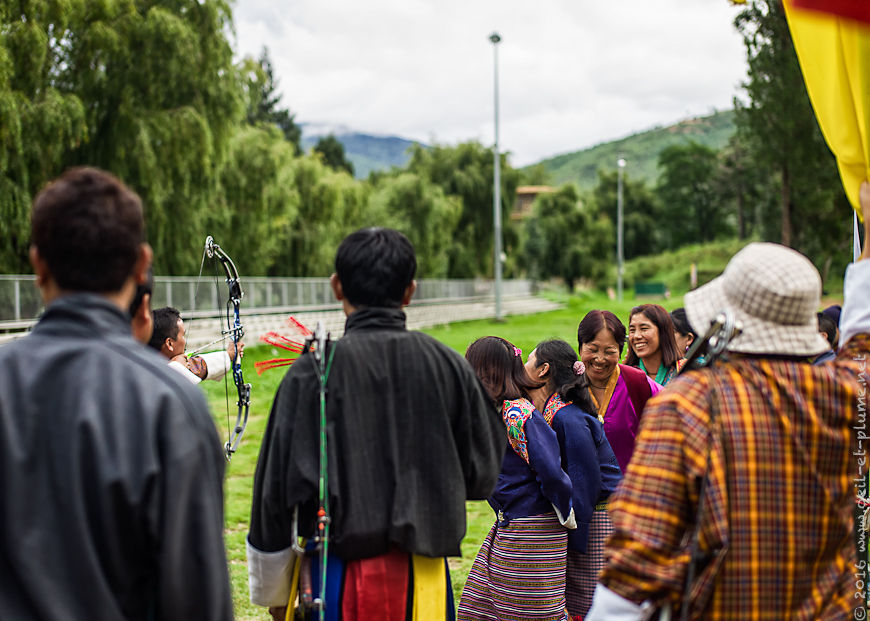 Archery is traditionally a male affair in Bhutan as it draws upon hunting and warfare – two male social duties. However, a few women made their way up to the highest distinctions. One of them, Tshering Choden, participated in the 2000 Sydney and 2004 Athens Summer Olympics.
Propulsing projectiles manually is a trained and multifaceted ability in Bhutan. Beside archery, there are other traditional games, practised often in the margin of religious festivals.
I have witnessed people playing soksom in the middle of a mountain forest. The game involves throwing a long and slender bamboo spear to a target placed at a distance. I saw often people playing khuru – a darts game played outdoors with targets set at 20 meters apart.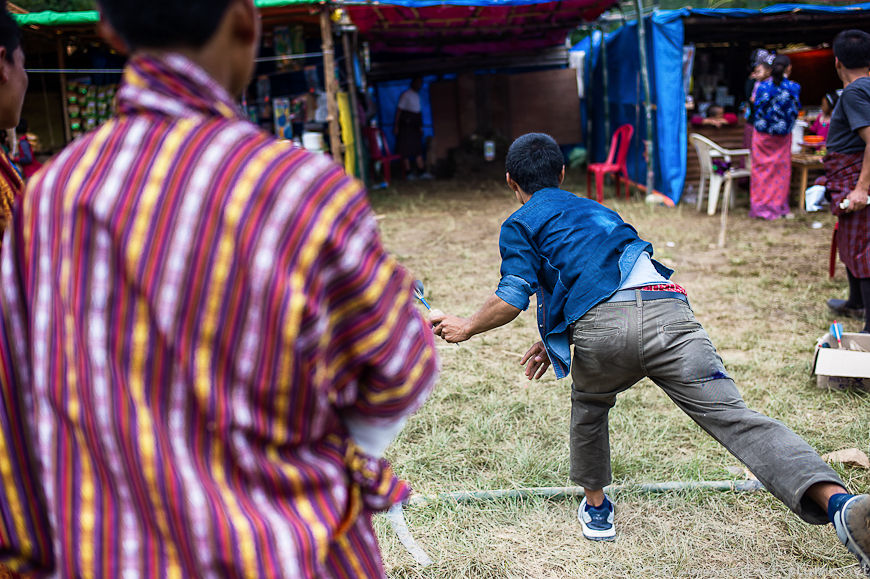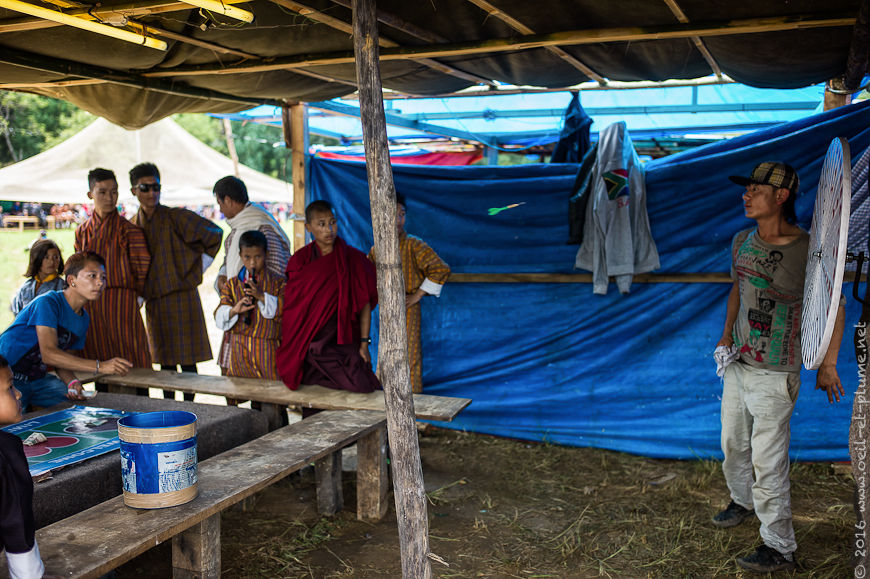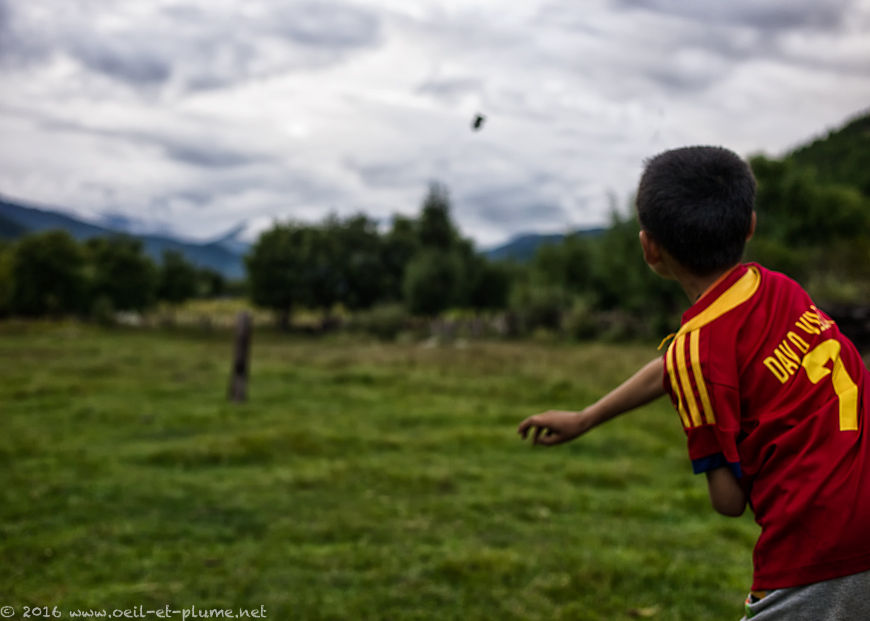 My favourite game of the sort remains archery. Because of the Trojan prince Paris' impossible shot at Achille's heel. For the fascinating Kriss de Valnor. To further enjoy Cupid's sweet work.
Cheers,