Bhutan's Buddhism
Upon arrival in Thimpu, the visitor faces a gigantic and majestic statue of Buddha meditating in the heights of Bhutan's capital town.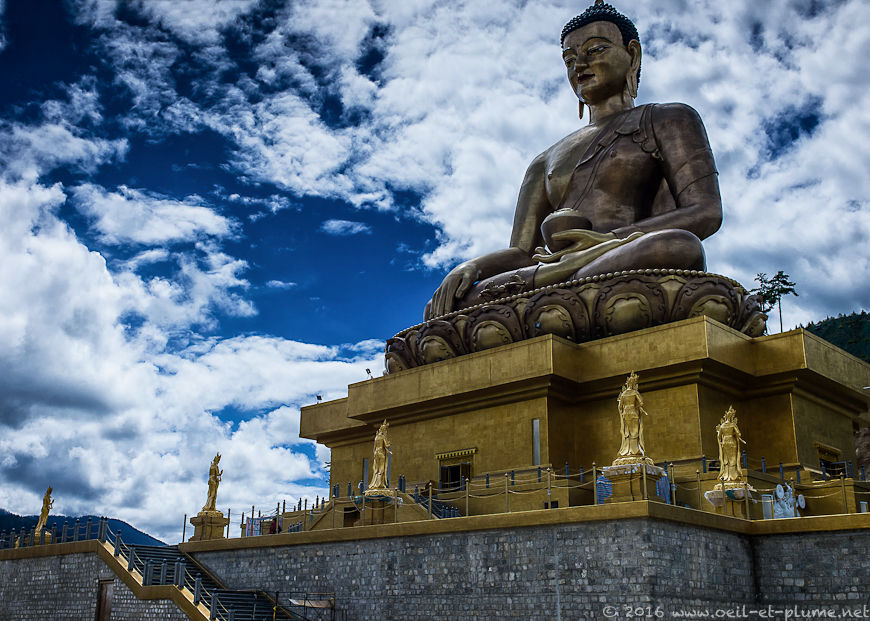 Introduced from Tibet in the 8th century, Buddhism shapes Bhutan's national culture and everyday life. Prayer and dead flags, chortens (Tibetan forms of Buddhist stupas) and temples, prayers wheels and religious paintings dot the landscape, as Buddhist art adorns the houses.
Bhutan is the only country in the world having defined Tantric Mahayana Buddhism as its official religion.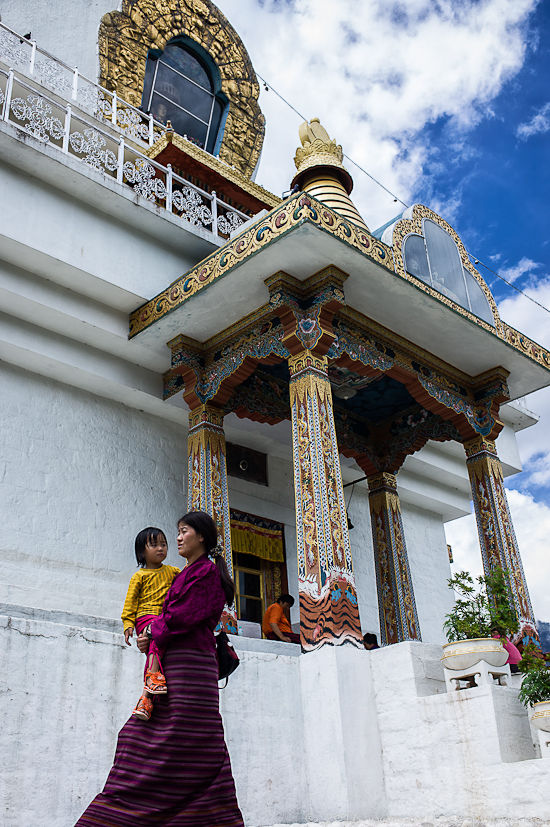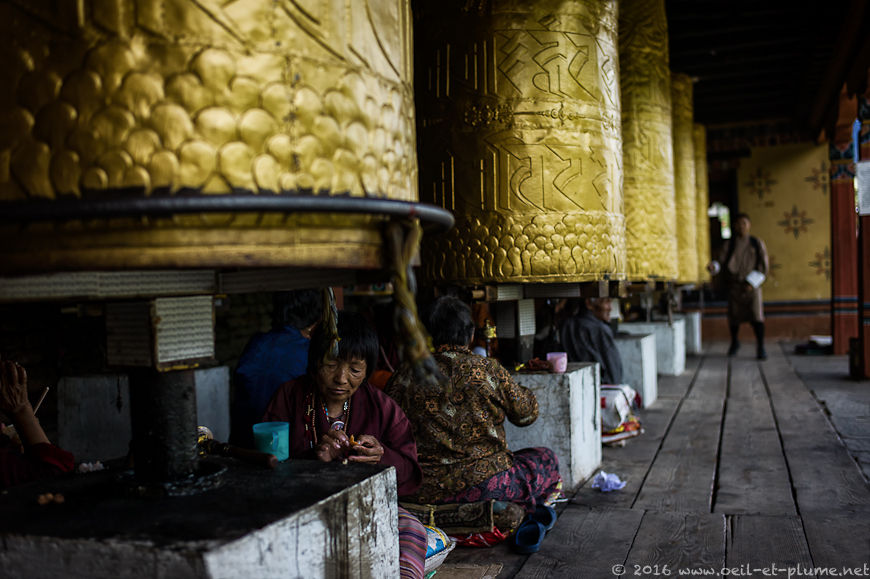 As other forms of Buddhism, the Mahayana school of Buddhism considers that human beings are forced into painful reincanations if their actions in their current lives bear negative consequences.
Hence, humans should aim at their enlightenment or awakening, i.e. their departure from the incarnations cycle into the state of Nirvana – a state free from suffering. More specifically, Mahayana Buddhism focuses on compassion towards others and the liberation of all living beings through the practice of the six perfections: generosity, moral discipline, patience, effort, concentrations and wisdom.
Tantric Buddhism recognises many symbolic deities and bodhisattvas – Buddhas-to-be who have achieved enlightenment but chose to stay in this world to help human beings reaching the Nirvana. In practice, bodhisattvas are considered as deities.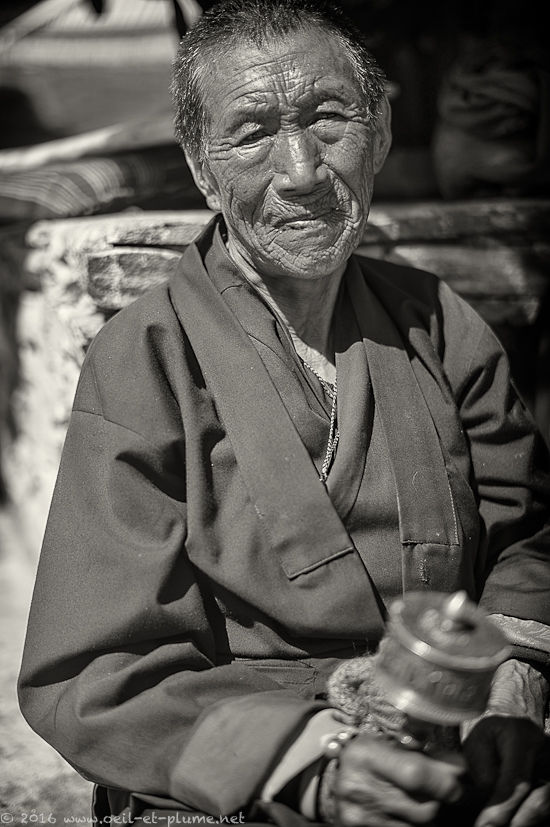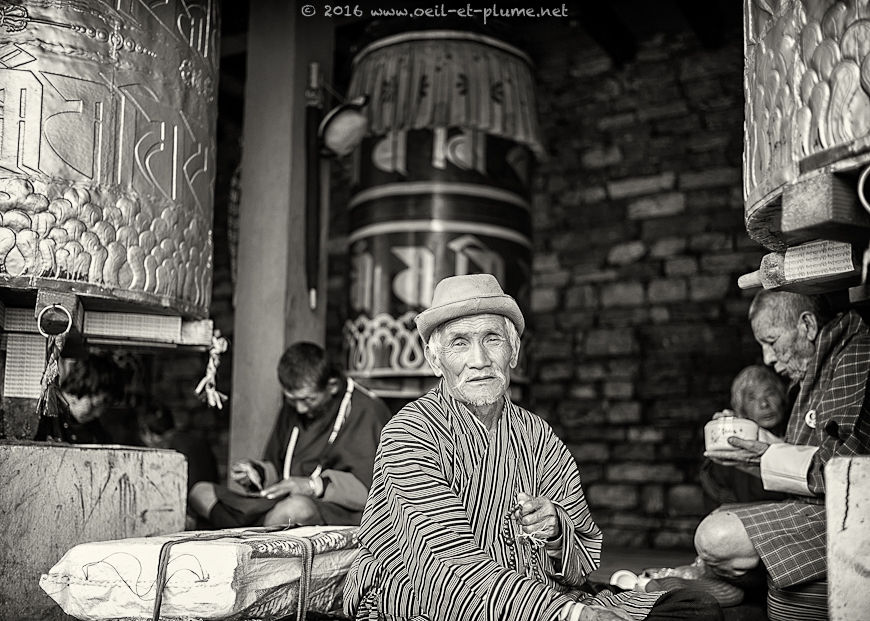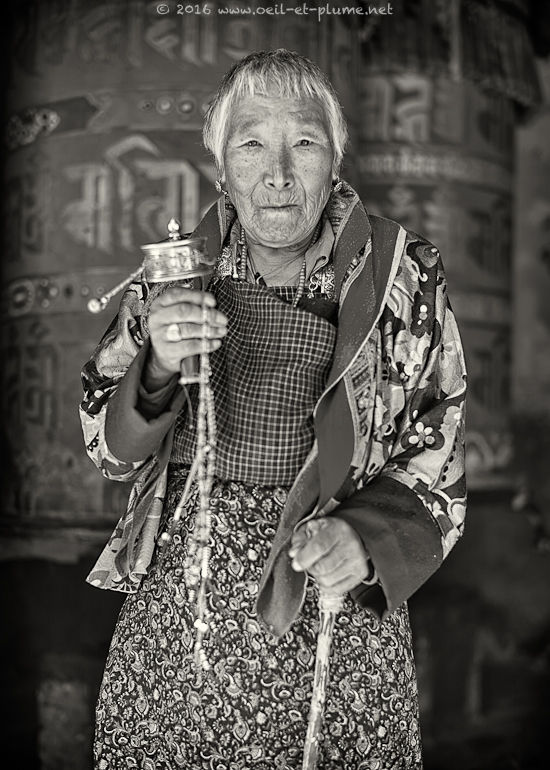 Despite the central importance of Buddhism in Bhutan, about one quarter of the population are Hindus, living mainly in the south of the Kingdom. Bhutan's Constitution guarantees the freedom of religion.
Buddhist thanatocracy
I have particularly appreciated Bhutan's cult of the dead (thanatocracy). To start with the Drukwangyal Lhakhang (temple) on the top of Dochu La Pass.  No less than 108 chortens stand there to honour the Bhutanese soldiers killed when fighting Indian rebels hiding in southeast Bhutan back in 2003.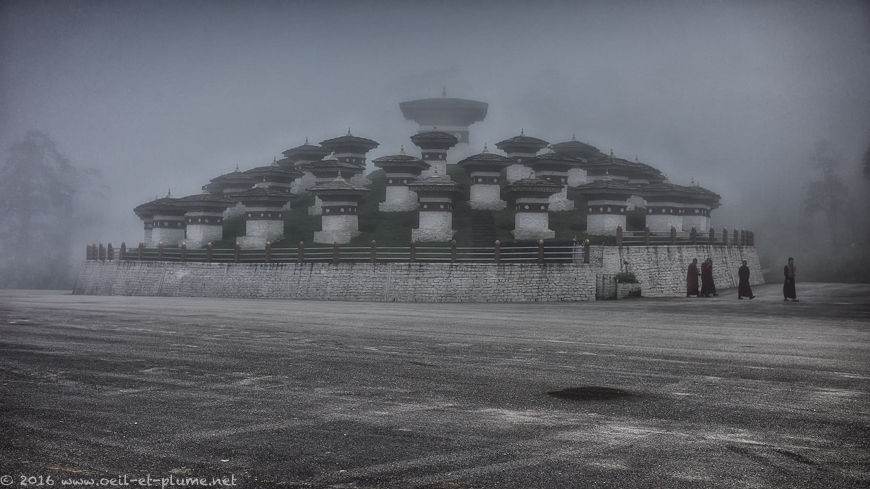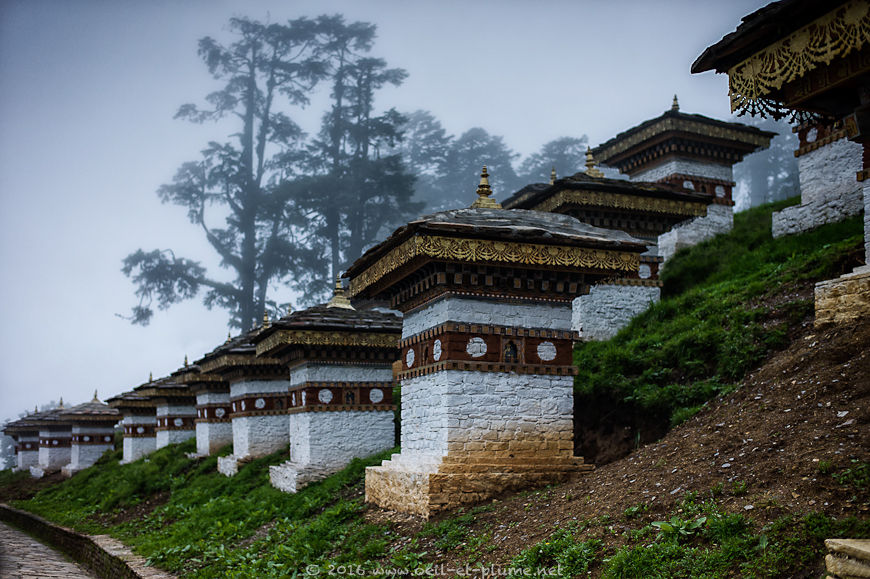 Dochu La Pass is reputed to offer breathtaking views on Himalaya's mountain range, protected by an army of fluttering prayer flags. Breathtaking view by clear weather indeed, unlike the day of my visit. In fact, the fog that enshroudes the pass during my visit fuels a very atmospheric decor to the temple.
In ancient times, Bhutanese people performed air burials in mountain tops, counting on birds to decompose the human remains. Alternatively, they used water burial in rivers, or earth burials in cemeteries. These practices were prohibited by a royal decree, in favour of cremations. Nowadays, human remains are cremated in religious venues. The family of the deceased collects part of the ashes, while the rest is disseminated in the nature.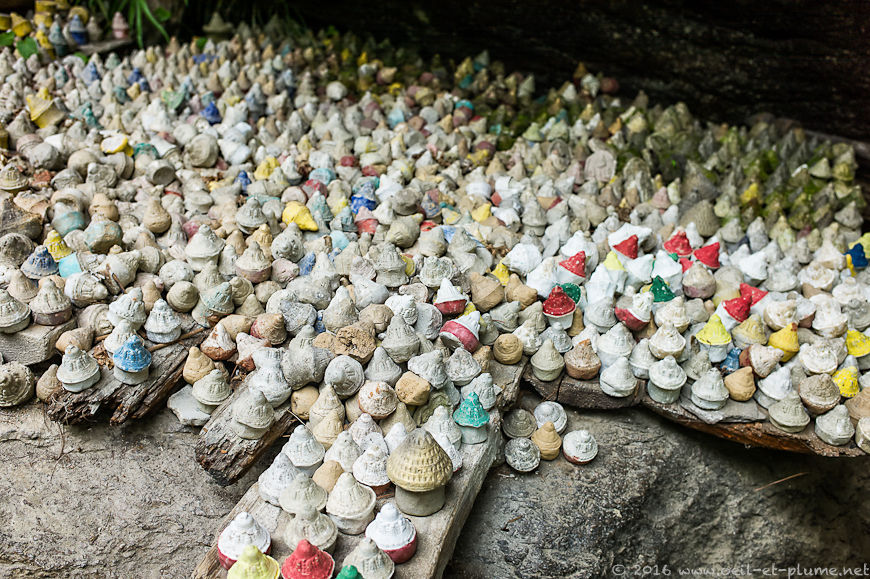 Relatives of the deceased insert the ashes into little stupas for remembrance. Moreover, they raise 108 flags per person deceased in an open and high location, with direct view on mountains and water. The flags are put once and not renewed.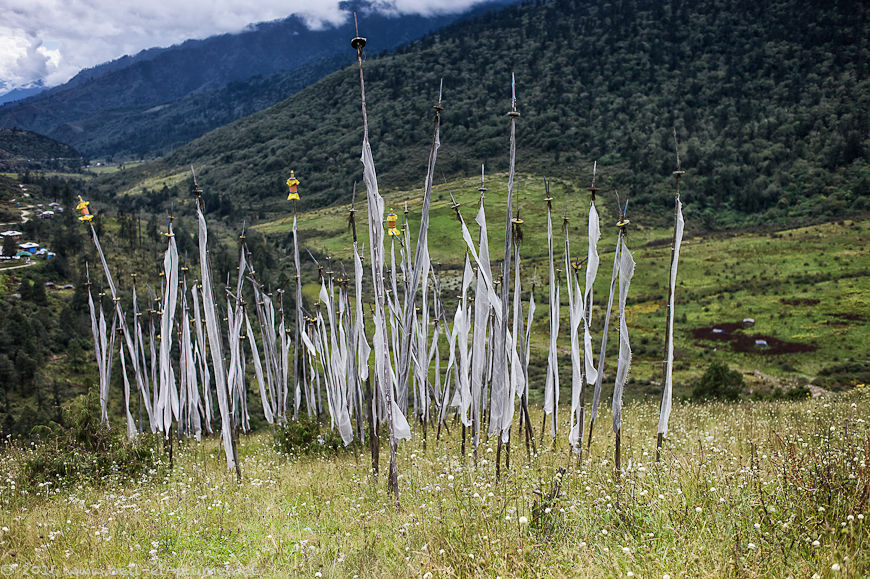 Buddhist numerology and astrology
You may wonder why 108 chorten in Dochu La Pass and why 108 dead flags. 108 is a sacred number in Bhuddism, expressing spiritual completion as well as a wealth of derived symbols.
Eigth represents another sacred number, as it refers to the Eightfold Path (Middle Way) to be followed to reach the Nirvana. As a matter of fact, series of eight prayers flag poles often flank chorten, as on the right of the picture below.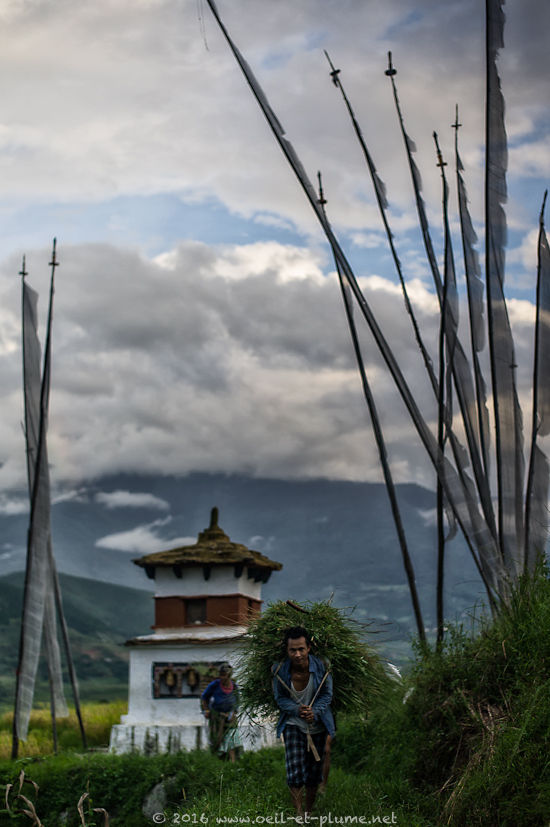 I like the way Buddhism integrates natural forces into religious practice. For instance, the wind is tasked to disseminate mantra (short prayers) written on prayers flags all around. So is the water when its flow runs into a prayer wheel. Most of the time though, it is left to human beings to disseminate Buddhist prayers in all directions.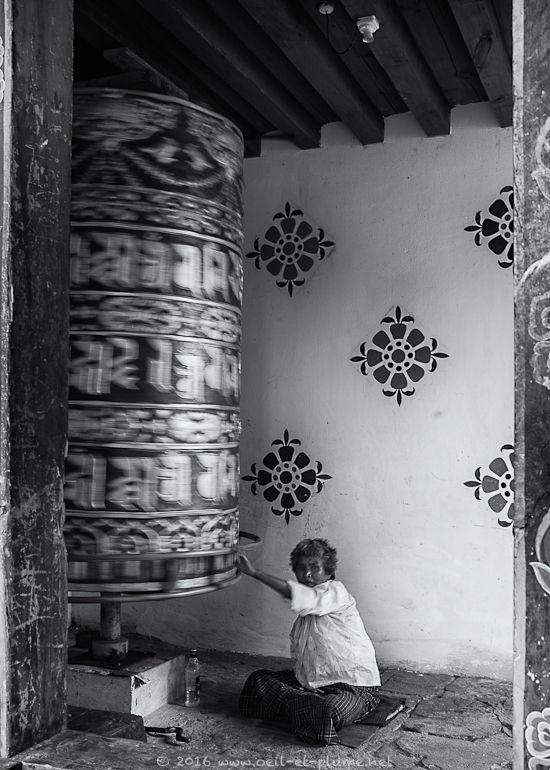 Fond of symbolism, the Mahayana Buddhism provides a fertile ground to an obsessive tendency to look for propicious auspices. Numerologists and astrologists are consulted for all important and many less important decisions in life – from birth to death.
Topics include not only the personal horoscope, health remedies and pain killers, but also the choice of a life partner, the date and place of important events, actions to be carried out and to avoid following the death of a relative, the timing and destination of a travel – and even the type and colour of a private vehicle to be acquired.
Don't think that numerology and astrology in Bhutan represent supertitious practices typical of low and uneducated social classes. They are embedded into the national religious culture. The wedding arrangments of the fifth Dragon King in 2011 were defined according to Buddhist favorable auspices.
The wheel of fortune is heavily consulted in Bhutan, also in the form of board games invoving financial bets. Here again, certain numbers are preferred upon others, in accordance to Buddhist numerology.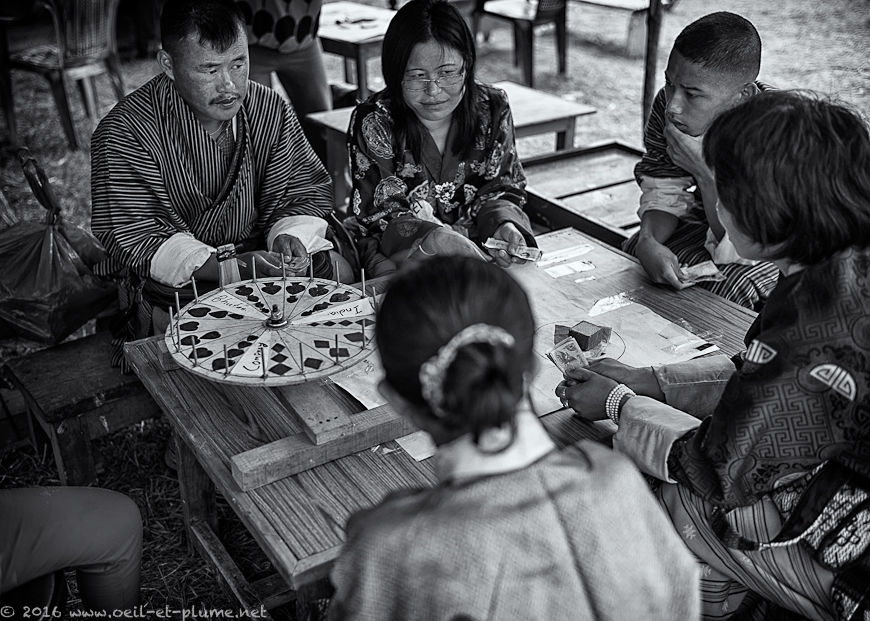 Buddhist mythology
The Bhutanese calendar is full of celebrations mixing religion and myths. The country's history is intertwined wiht tales of reincarnated rulers and saints who fight evil spirits opposing the spread of Buddhism.
Chime Lhakhang in Punakha District pays hommage to a 15th-century maverick saint named Drupka Kunley and better known as the Divine Madman. It is believed that the saint fought, subdued and trapped a demon in a rock close to the present-day temple. The revered religious figure is also famous for his unusual teaching methods, including singing.
A chorus of high and loud voices resonate within and around the Buddhist temple. A class of young monks is busy reciting sacred texts to better learn them by heart. A senior monk punctuates the learning session with gong beats.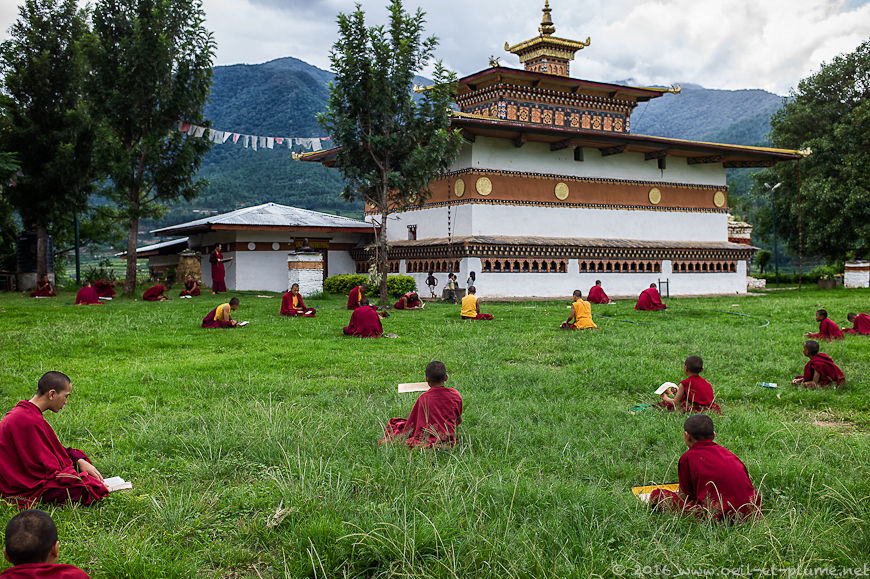 Also called the Fertility Temple, Chimi Lhakhang is visited by many couples looking to conceive and requesting blessings. A notorious womaniser and drinker, the Divine Madman is said to have seduced the demon with his male organs in order to better neutralise it.
For their protection against demons, Drupka Kunley encouraged local people to paint giant phalluses on the walls of their houses, to hang wooden phalluses from all roof corners, and to install standing wooden phalluses in their homes.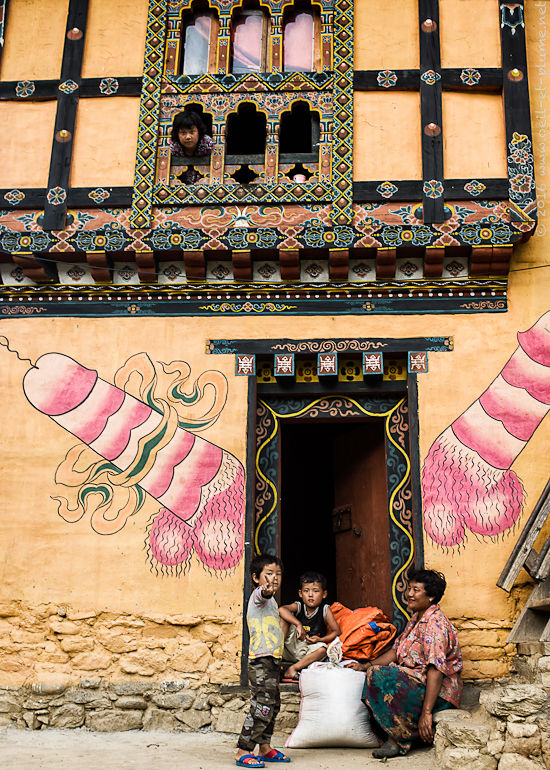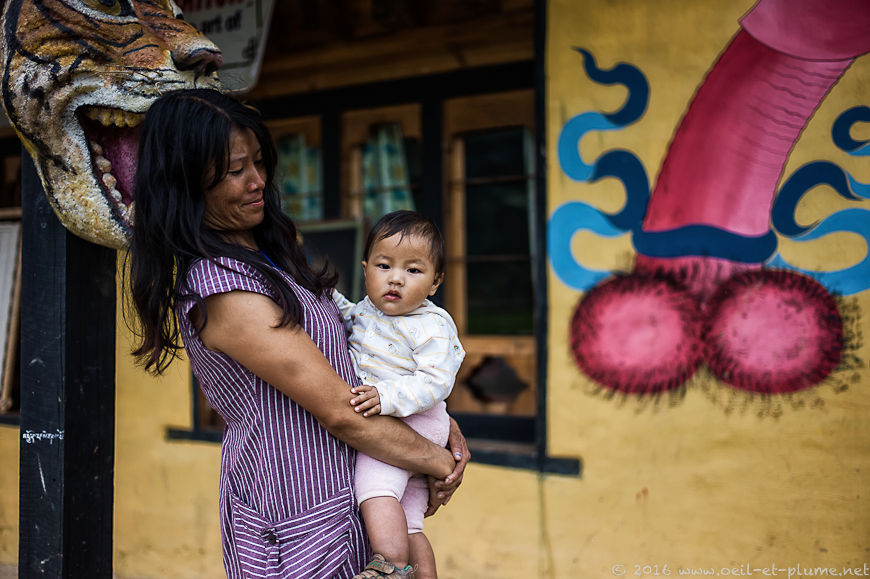 On my way to Chimi Lhakhang across the rice fields, Sopsokha village provides me telling illustrations of the fertility and protection symbol. As a matter of fact, the custom is particularly vivid in Punakha District, but not exclusive to that location.
The iconic Tiger's Nest monastery (Taktsang Palphug) further epitomizes the intricated relation between Tantric Buddhism and mythology. Nested on a sheer cliff wall about 500m above the bottom of Paro Valley, the 17th-century monastery constitutes one of the holiest sites in Bhutan. It is also one of the most spectacular.
The religous complex was built around a cave where the Indian Buddhist master Guru Rinpoche (Padmasambhava) is said to have meditated for three months in the 8th century.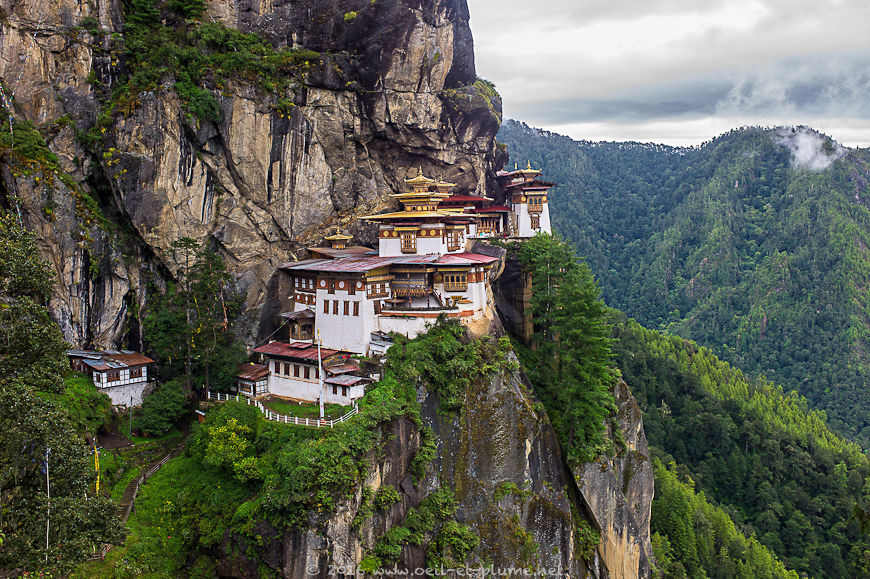 Legend has it that Guru Rimpoche flew there from Tibet on the back of his female consort Yeshe Tsogyal, whom he transformed into a flying tigress for the trip. Later he travelled to Bumthang District to subdue a deity offended by a local king. Padmasambhava's body imprint can be found in the wall of a cave at nearby Kurje Lhakhang temple.
Credited with bringing Tantric Buddhism to Bhutan in the 8th century, Guru Rinpoche is believed to be the second Buddha – fulfilling the Gautama's prophecy pronounced prior to this death that another Buddha will come one day to pursue his work.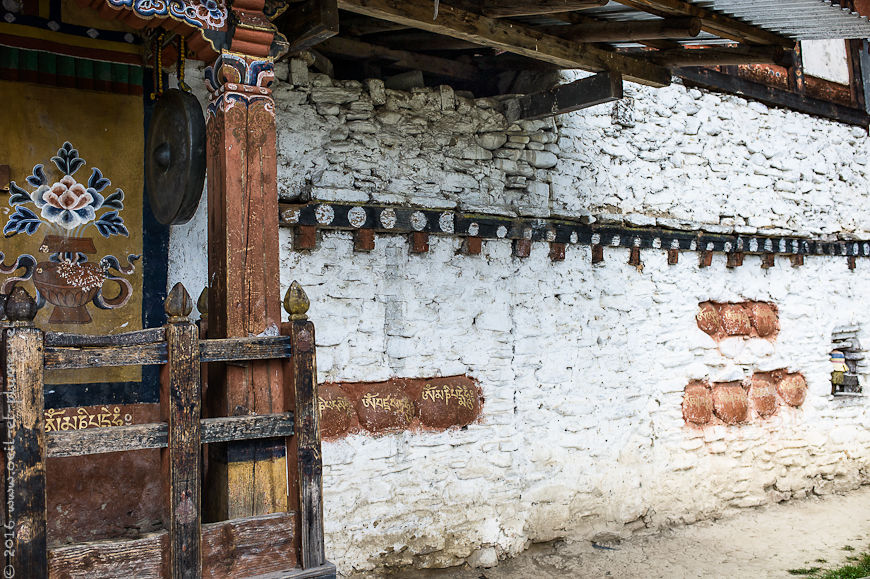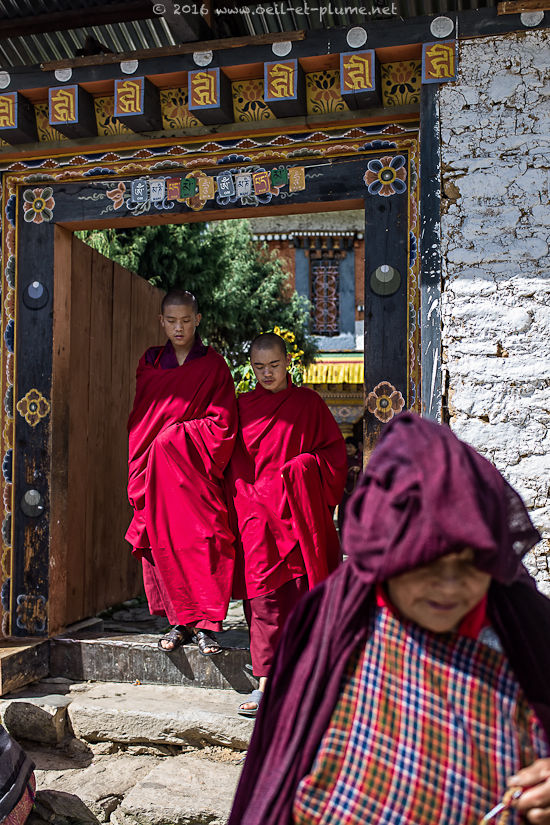 I won't review hereafter all Buddhist temples visited in Bhutan indeed. I confess also that, to the disappointment of my guide, I did not listen long to her explanations on Buddhist culture. I don't need to gather an encyclopaedic knowlegde on a place to like it. I feel more important to connect to the location and to sense its chemistry. I also need meeting people – not necessarily monks, but also simple devotees performing their religious duties.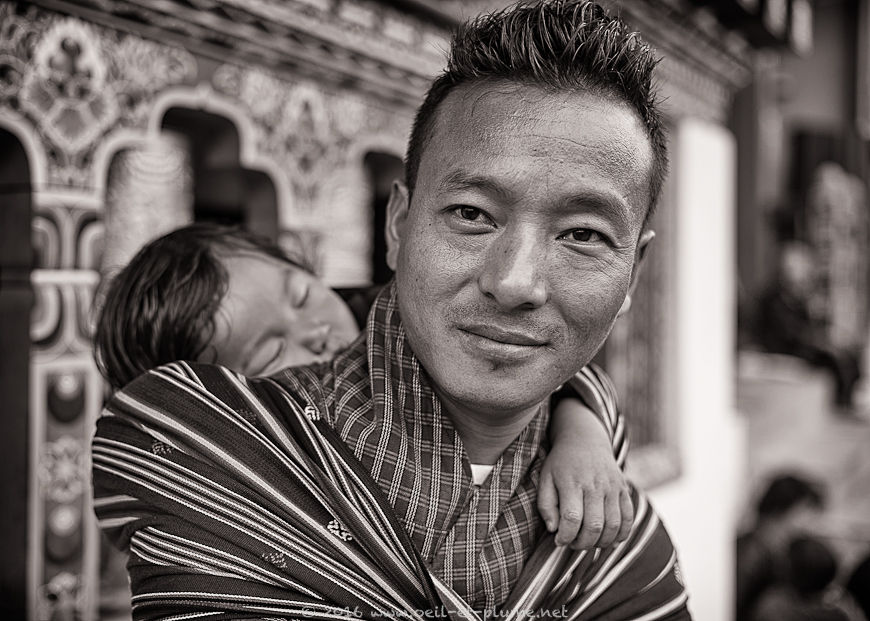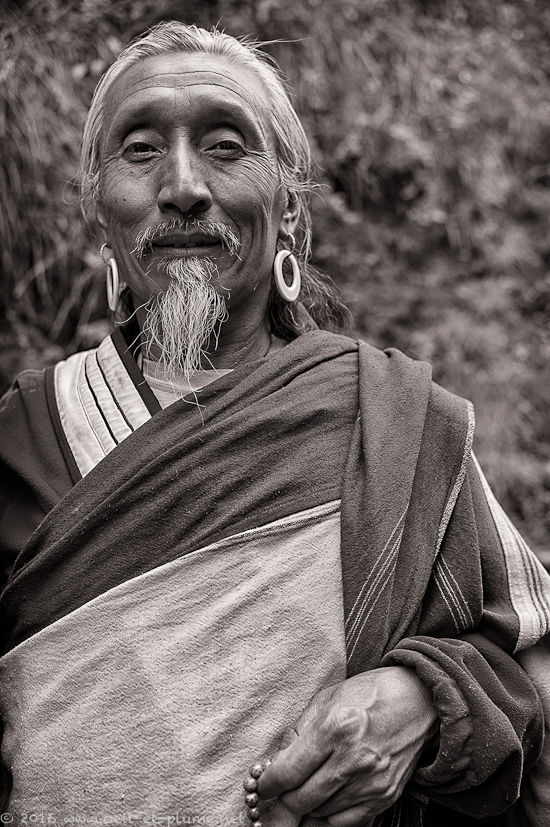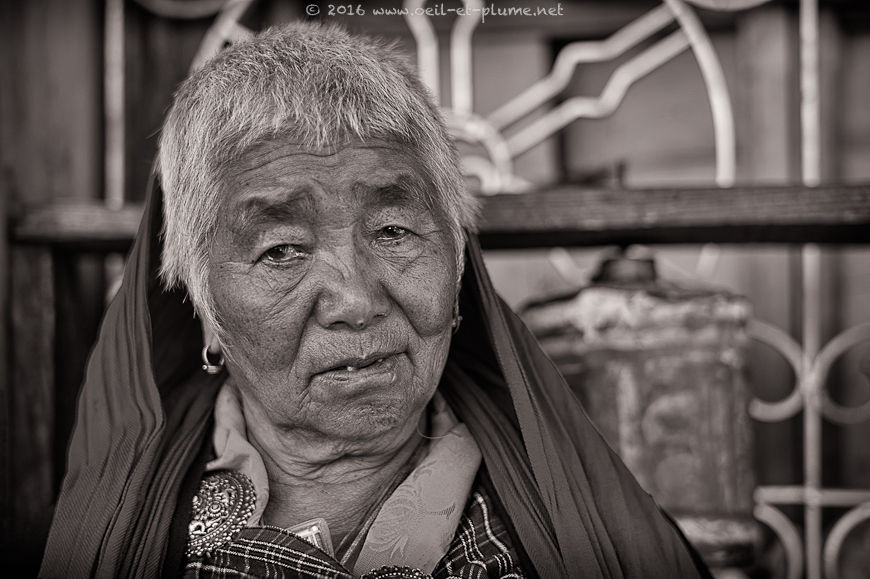 Buddhist festivals
It is not difficult to come across religious festivals in Bhutan, as there are so many. None of them attract crowds as do the tshechu – religious dancing festival taking place during several consecutive days. In Gangtey monastery, I catch devotees preparing the forthcoming tshechu with prayers and colourful man-made masks.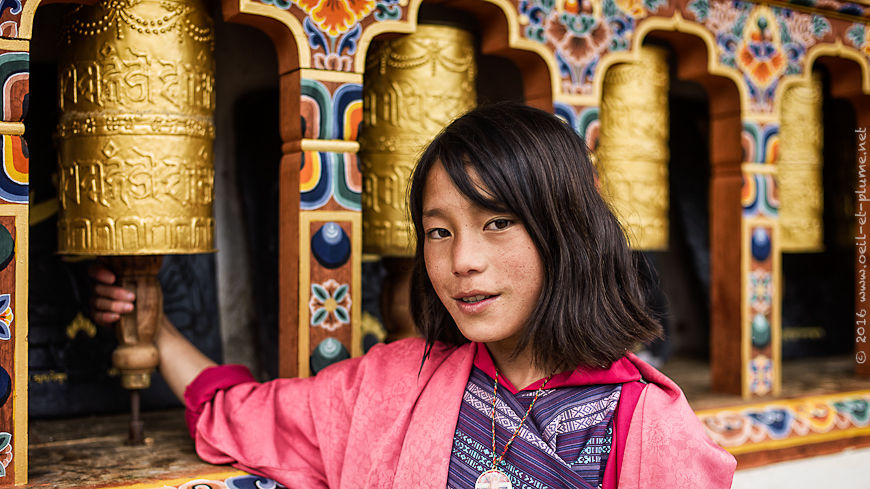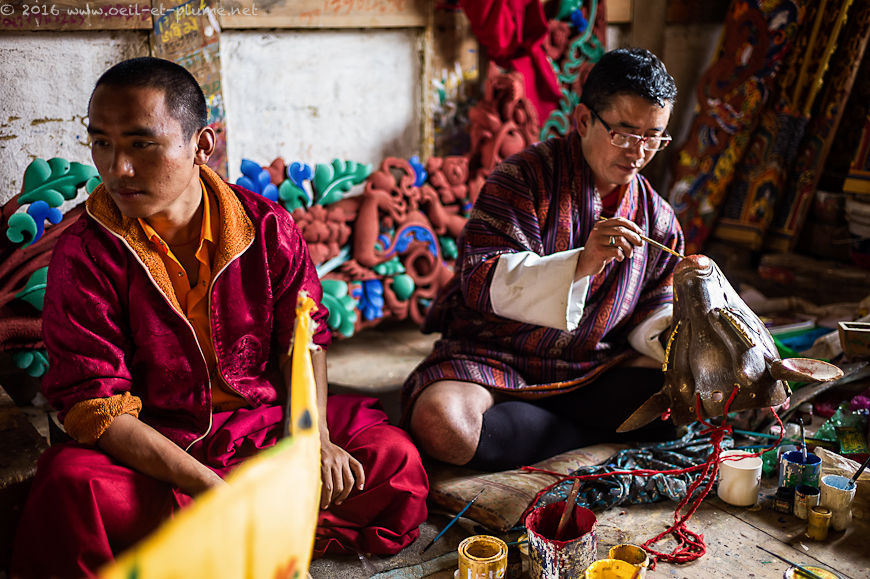 I am lucky enough to be introduced to the tshechu ceremonial in Wandue village, in Punakha District. The large open-air place is full of people watching the ceremonies, playing all types of board games or simply gathering with relatives and friends.
Tibetan horns, cymbals and drums as well as xylophons and lutes set the festive tone. Dancers appear and start their ballet, wearing heavy robes and masks. After long and complex figures, they disappear in the backstage. Time to rest, finally.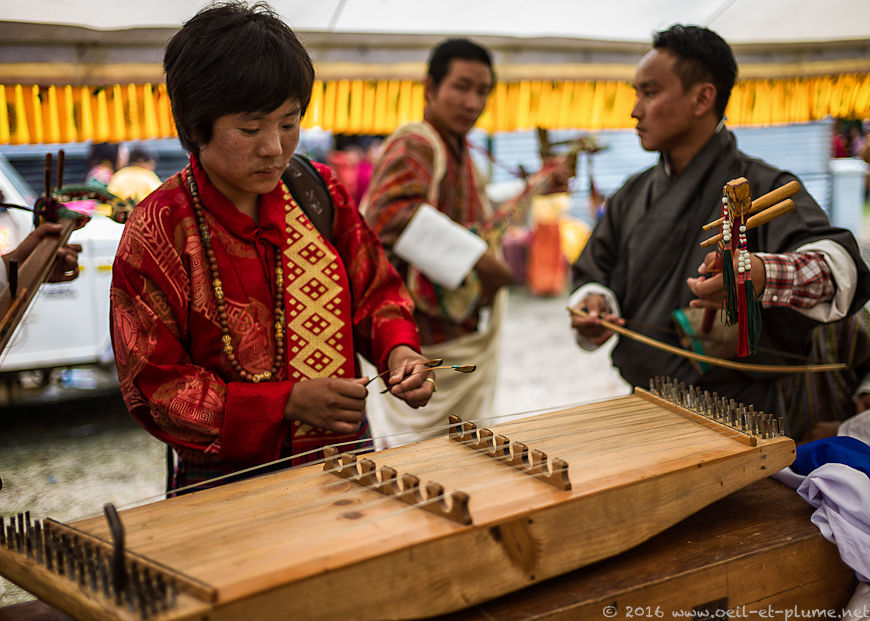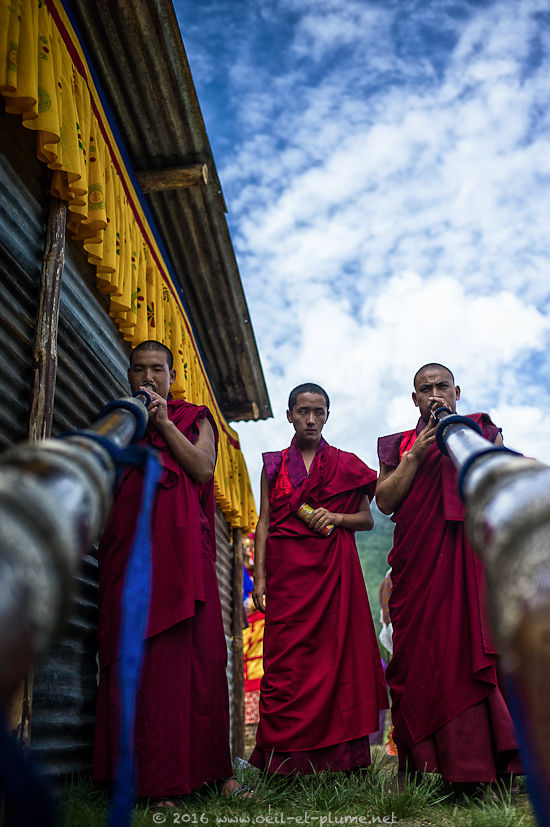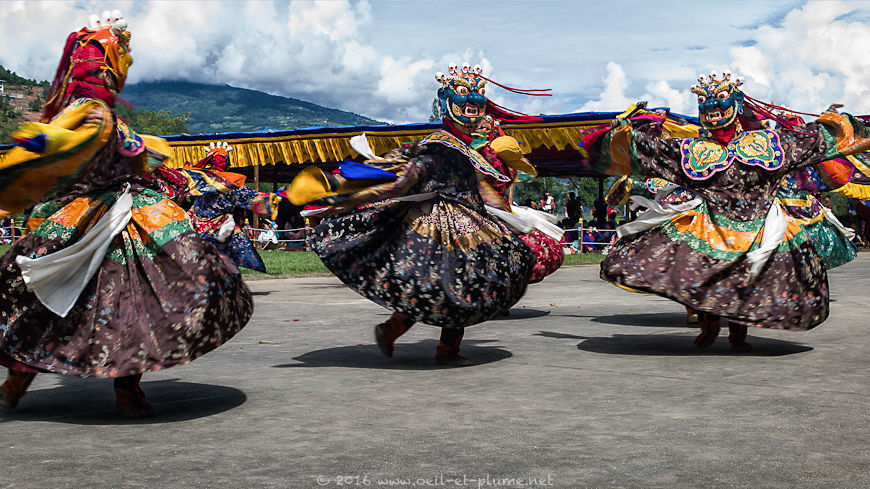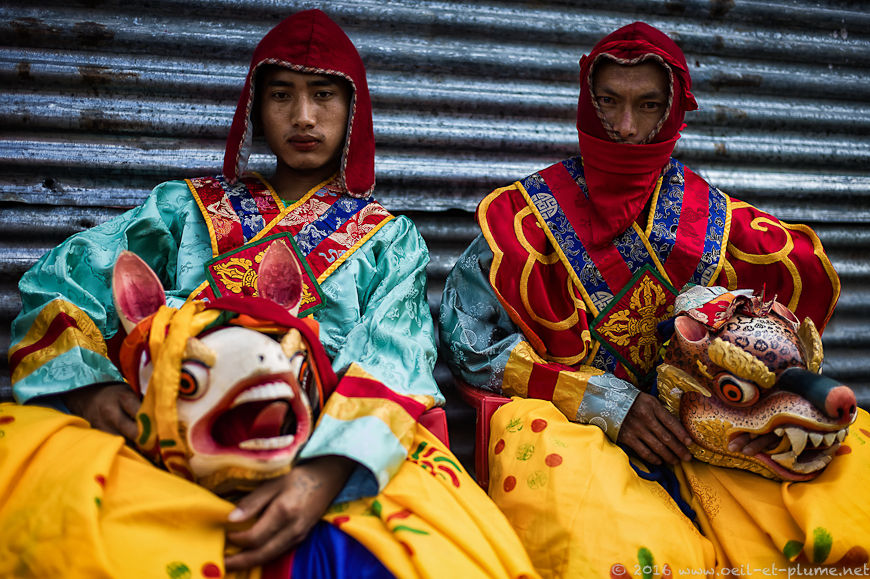 Tshechus in Bhutan are performed in remembrance of, and in honour to, Guru Rimpoche. The 8th century saint used to convert opponents of Buddhism by performing rites and reciting mantras. He also danced to better subdue local evils and spirits. Legend has it that Guru Rinpoche first danced in Bumthang Valley to restore the health of a king. The latter had got ill for having offended a deity. Grateful, the king facilitated Guru Rinpoche's Buddhist teaching in his kingdom.
The Wandue religious festival is only an appetizer to the tshechu in the capital Thimphu, I am told by my guide. I feel more than ready for the festive main course. What about you?
Cheers,