Located at the month of the Hudson River, New York City is built mainly on the three islands of Long Island, Manhattan and Staten Island. It consists of five boroughs – Brooklyn, Queens, Manhattan, the Bronx and Staten Island – merged into a single city in 1898.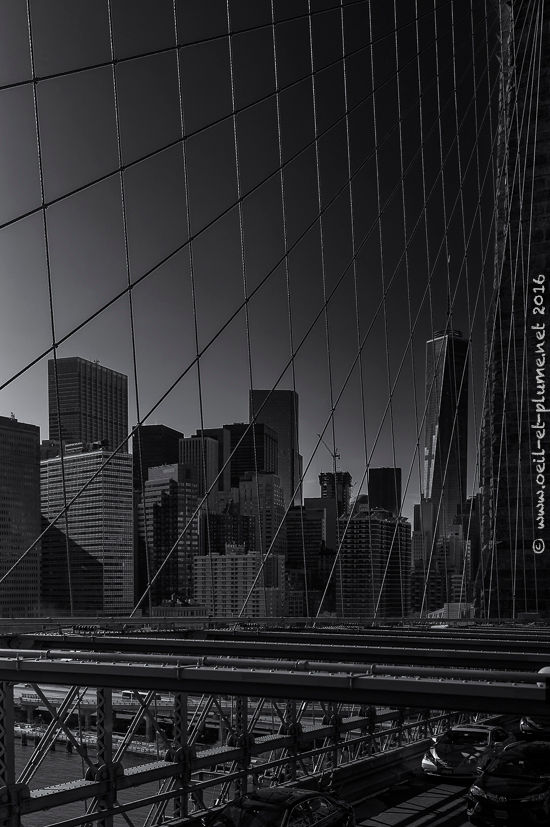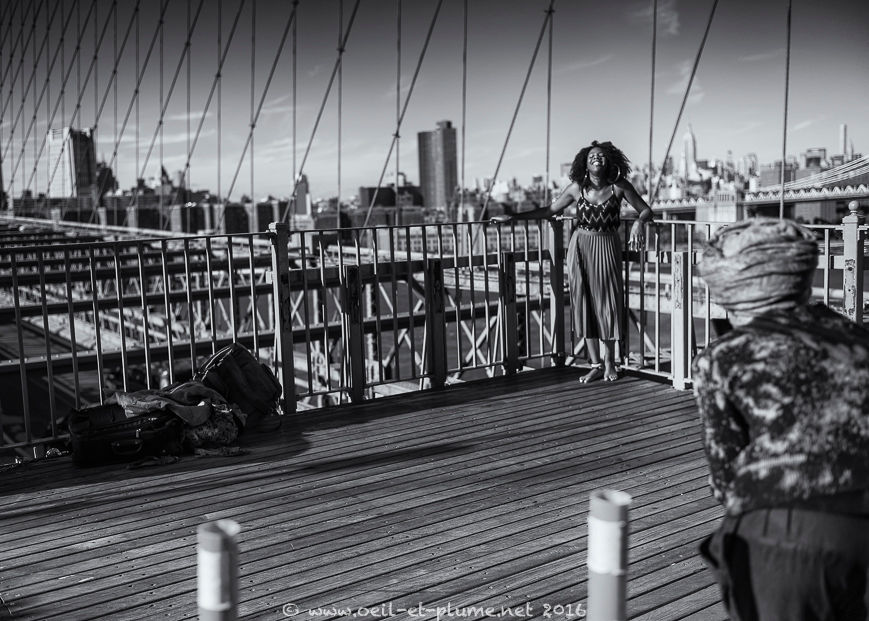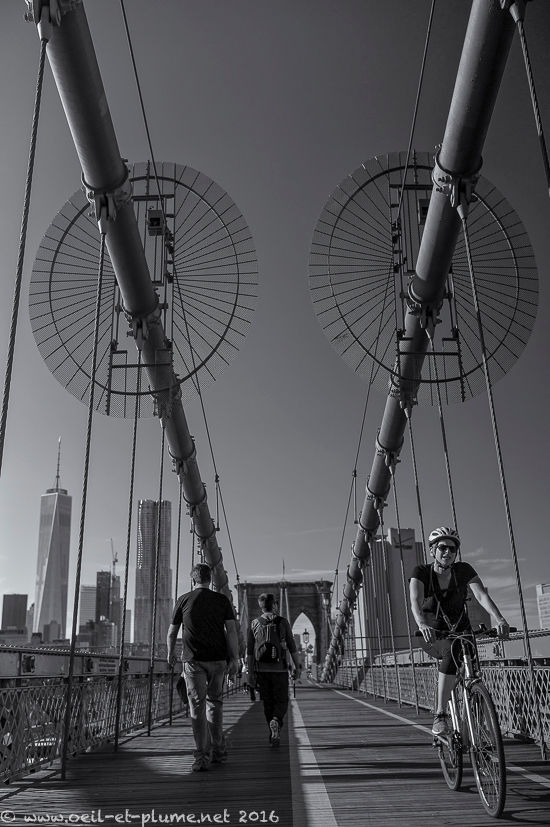 New York serves as the U.S. capital from 1785 until 1790, before focussing on business matters. In the first half of the 20th century, the city boosts its economic imprint, particularly in relation to industry, commerce, and communication. Today's New York much shapes global commerce, finance, media, art, fashion, research, technology, education and entertainment.
How to present New York, so multifaceted, so often visited and so much reported upon in the media? I started with the Native Americans. To continue with such a fascinating metropolis, I feel like adopting the perspective of a freshly arrived immigrant in the late 19th century.
American dream
Throughout its history, New York City constitutes the premier gateway for legal immigration into the United States. More than 12 million European immigrants arrive there between 1892 and 1924, attracted by economic opportunities as well as religious and political freedom. In the last quarter of the 19th century, New York City population grows from 1.0 to 3.5 million, of whom 1.3 million are foreign born. The resident population nearly quadruples between 1821 and 1855.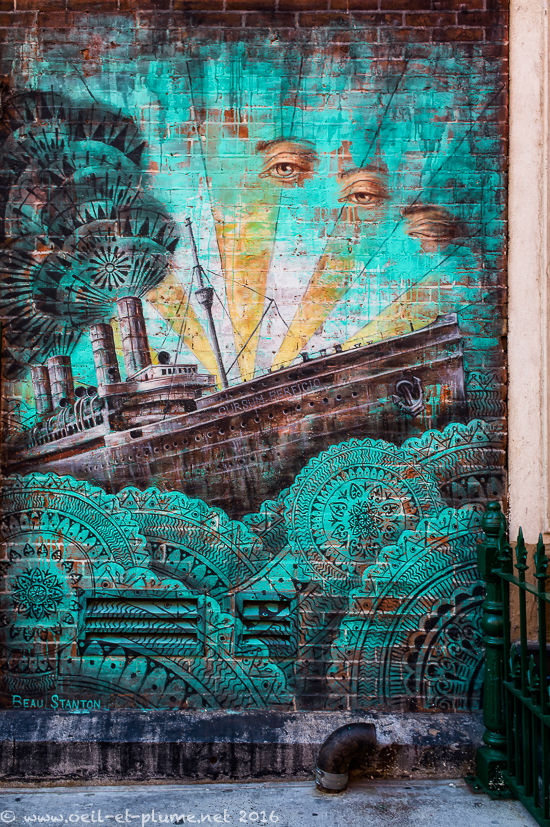 In the first step of their American dream, most immigrants move into the Lower East Side on Manhattan Island. The term 'melting pot' is then coined to depict those densely populated and culturally diverse neighborhoods. The concept may be abusive, as immigrants tend to regroup themselves along cultural lines for instance in Little Germany, Little Italy and Chinatown.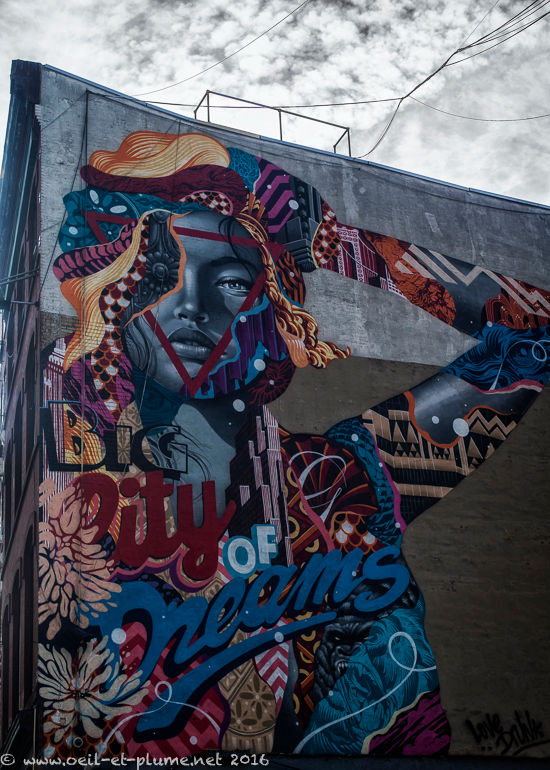 Immigrants compete for employment. As newly arrived Europeans tend to evict African-Americans and Native Americans, tensions between communities grow, and benefit employers indeed.
Worth recalling that the trading port of New York was a slavery hub in the early 18th century under British rule. Nearly half of the local households hold Black African slaves by 1730, more than nearly any other U.S. city at that time.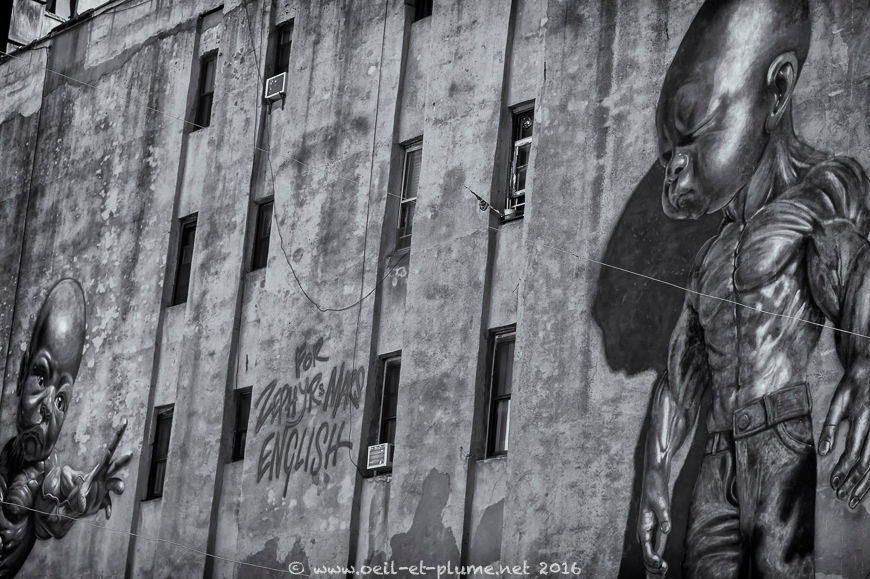 In the early 20th century, fresh waves of African Americans settle in New York, mostly in Harlem. In parallel, many Italians and Jews leave the Lower East Side for new neighborhoods including Brooklyn. Well-off German Americans equally move uptown in Manhattan. In turn, Chinese Americans remain essentially in Chinatown.
Melting pot
Today's New York is the largest U.S. city since 1790. It represents also the most culturally diverse U.S. metropolis, with about 800 languages spoken.
Interestingly enough, New York City in 2010 was composed of 28% Hispanic, 25% Black, 13% Asian and 12% Caucasian (White) residents. Its population is markedly less White and Black, and increasingly more Hispanic and Asian. Asian Americans constitute the fastest-growing population in town.
Faith-wise, Christianity and Judaism are respectively the first and second most common religions in New York. Islam ranks third, followed by Hinduism and Buddhism.
New York's iconic melting pot did not melt all cultural distinctions indeed. I tour Lower Manhattan to get a sense of the matter.
Little Italy
Once known for its large population of Italian origin, Little Italy neighborhood consists nowadays only in three blocks on Mulberry Street while it used to cover a much larger area. Many of those Italian Americans moved in other neighbourhoods in New York (Harlem, Bronx, Staten Island) or in New Jersey in the course of the 20th century. Belmont in the Bronx is New York's real 'Little Italy' nowadays.
Today's Little Italy is a thin placage on a mixed neighborhood. There are only a few remaining Italians living there, and many more recent Chinese immigrants and young Americans. China Town is just next door.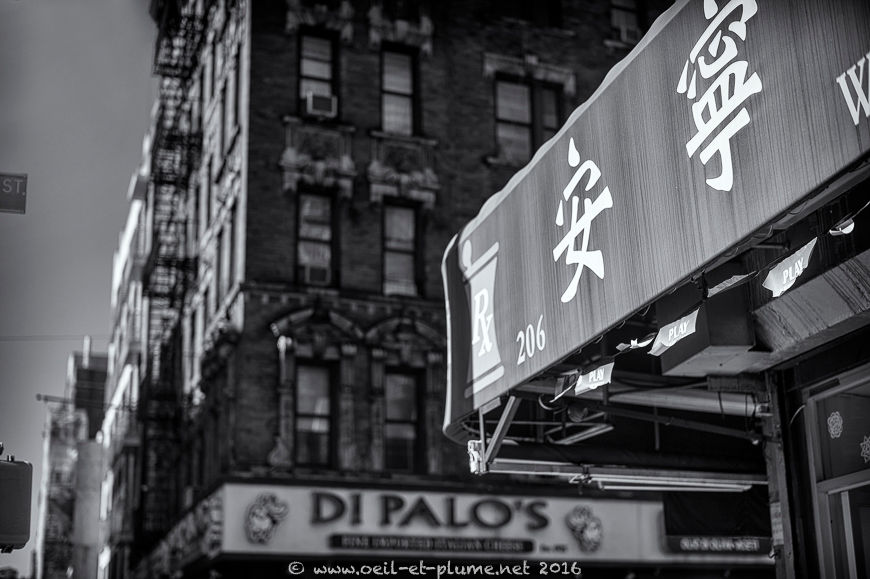 Little Italy still hosts dozens of Italian stores and restaurants. In addition, the neighborhood still displays distinctive Italian trademarks, notably a strong sense of aesthetic that I love so much in Italian culture.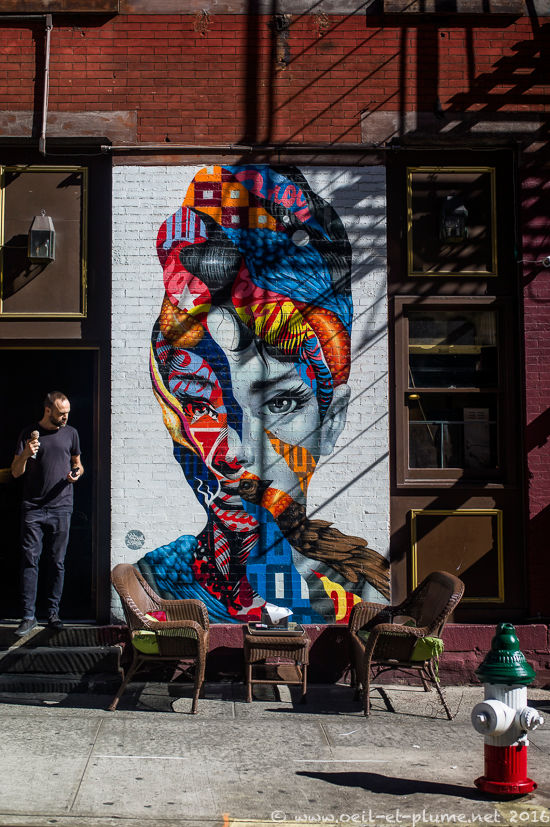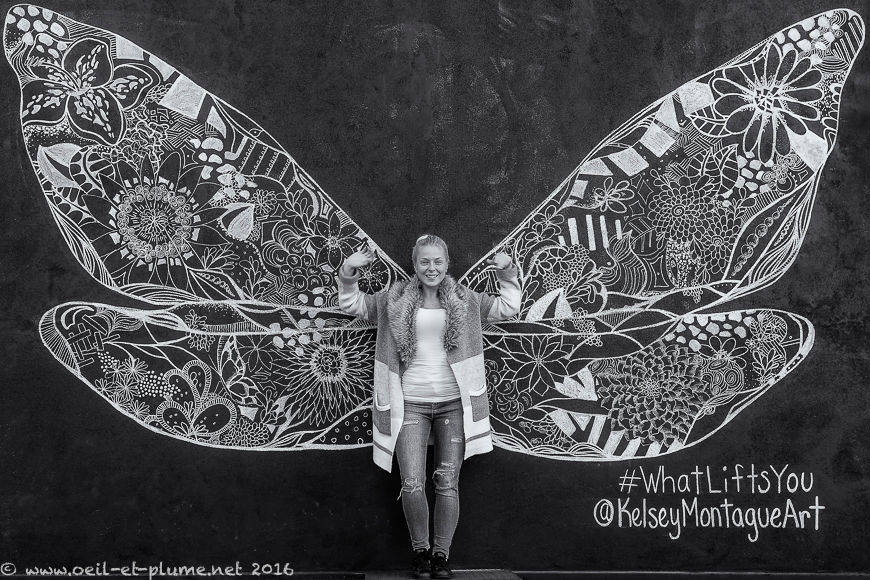 Chinatown
Chinese immigrants flock into New York after immigration restrictions are lifted in 1965. Consequently, Chinatown expands at the expense of surrounding areas. Chinatown counts today the highest concentration of Chinese people living in the Western Hemisphere.
Chinatown provides mostly very camped tenements to local residents. Only blocks away from Mulberry Street, a small park nurtures a strong Chinese microcosm. Chinese Americans gather daily to socialise, eat and drink, play music and money games. This being said, Chinatown is not just about reproducing the homeland. More composite and modern features are to be seen elsewhere.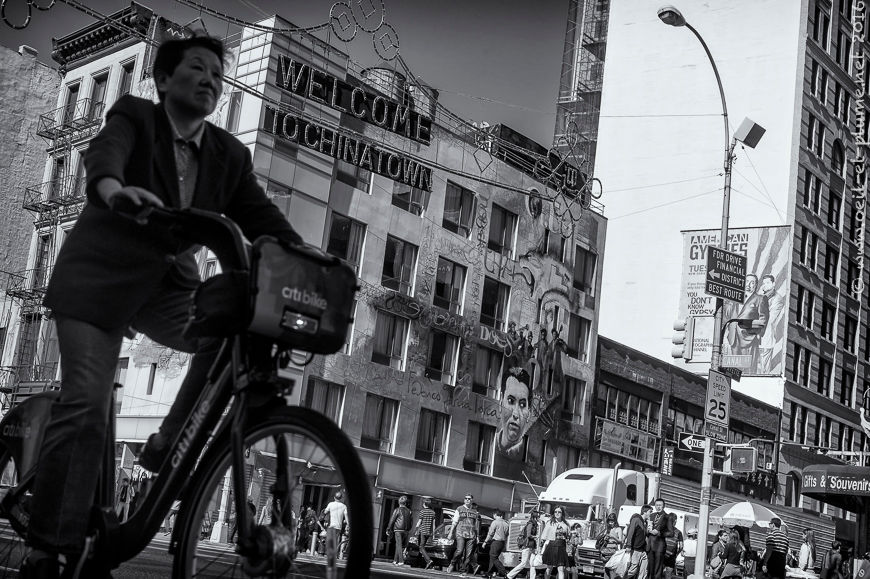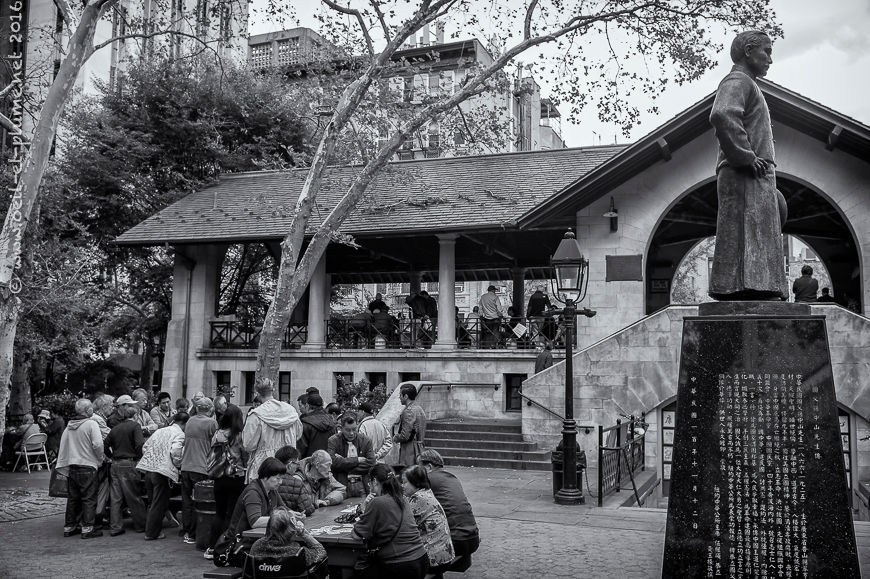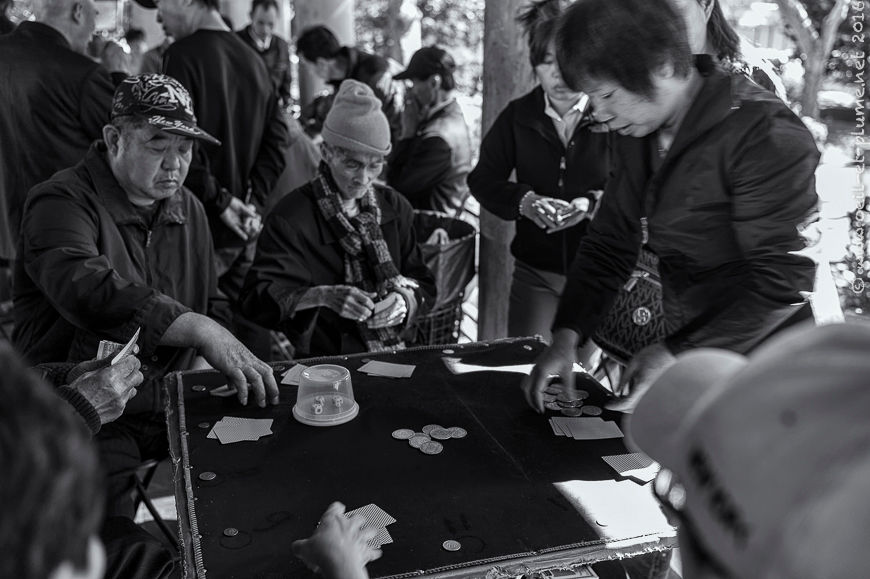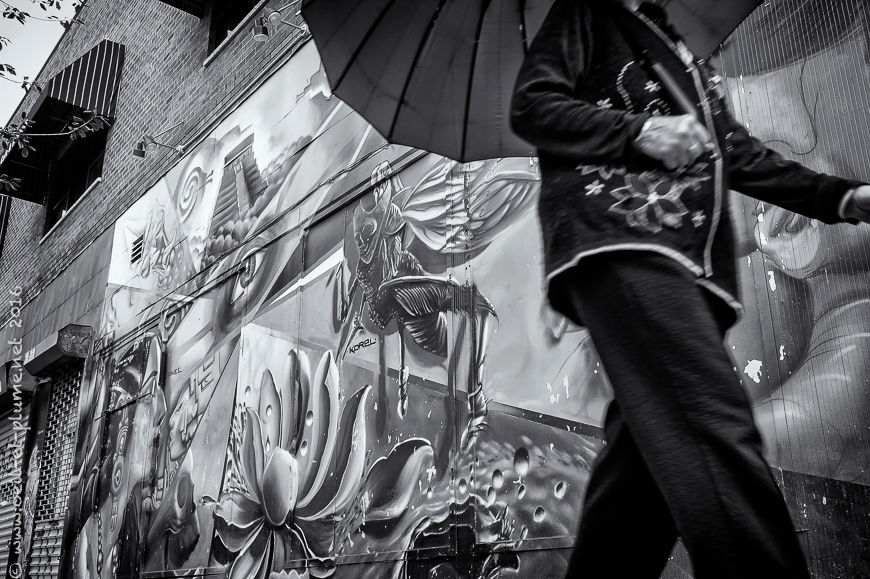 Brooklyn
Crossing the East River from Manhattan, I recall that Brooklyn witnesses the largest battle of the American Independence's War in Long Island back in 1776. Winners of the battle, the British headquarter their military and political operations in North America in the borough until their final defeat in 1783.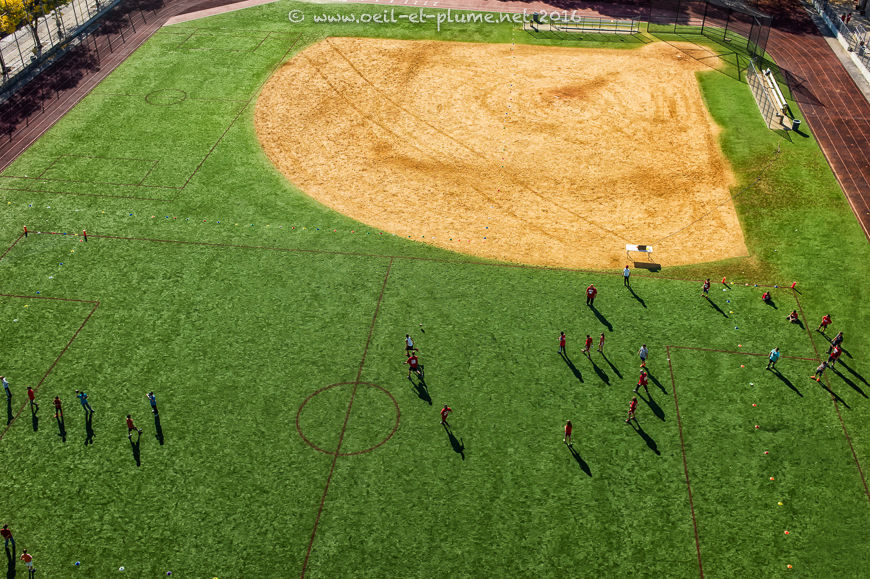 Brooklyn takes a lighter stance in the 19th and 20th century thanks to Brighton Beach – iconic entertainement area. Whereas the place is quite empty at the time of my visit, an old picture displayed on the beach helps imaging the heyday of the place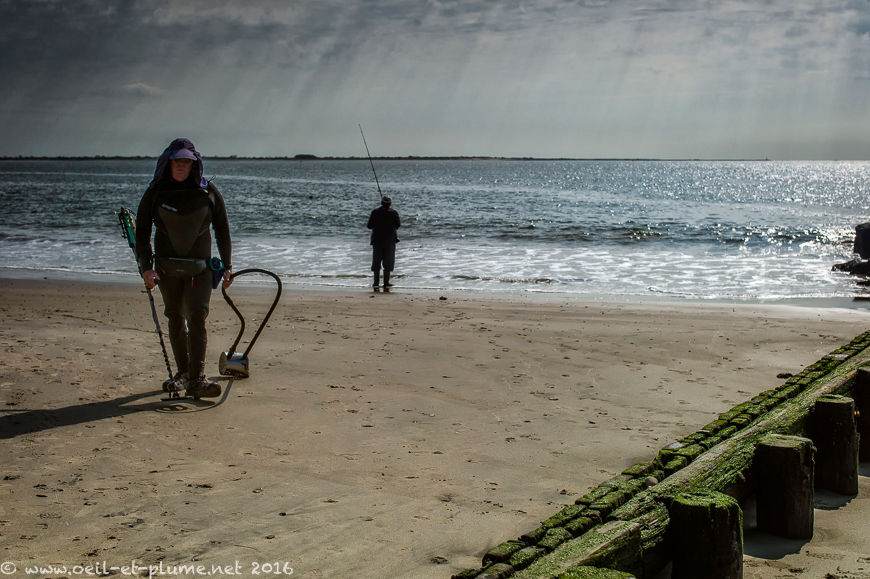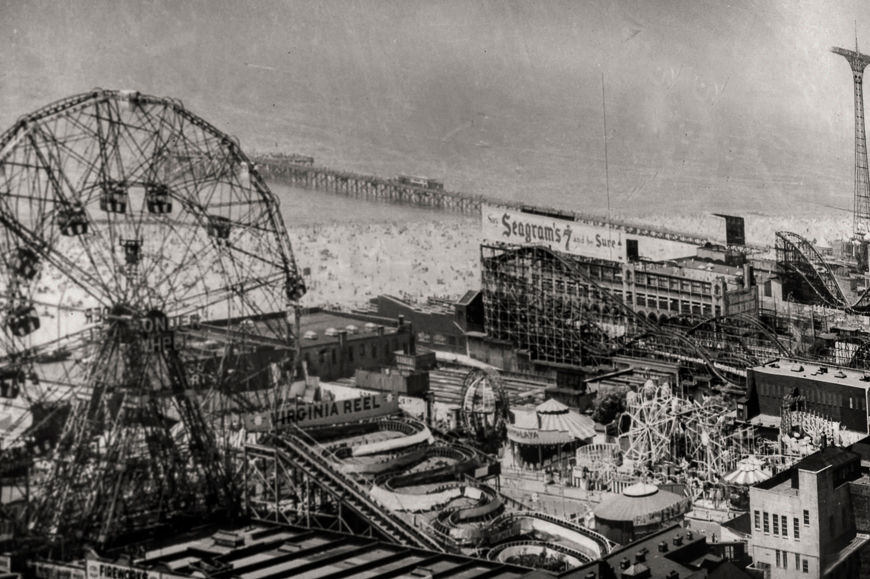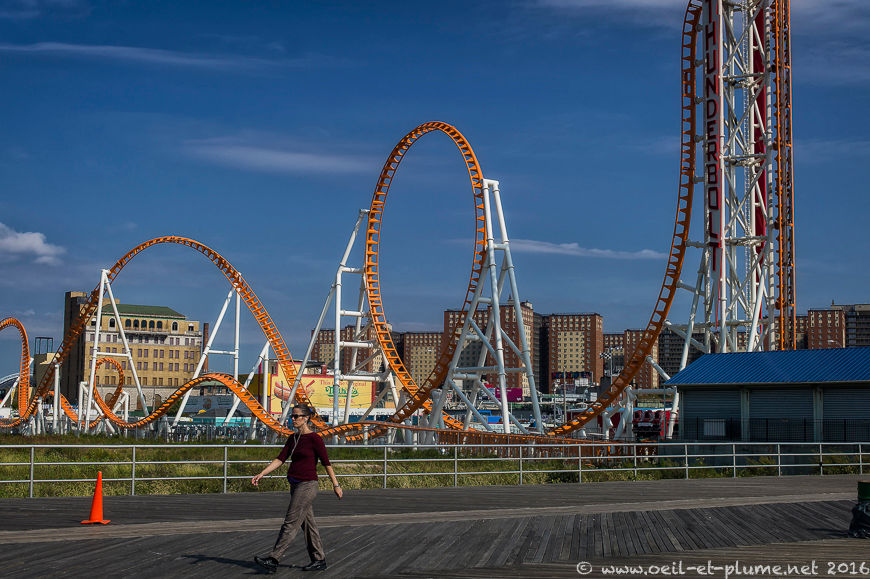 Made of massive range of ethnic enclaves, Brooklyn is New York's most populous neighborhood. It is also famous for its vibrant art scene.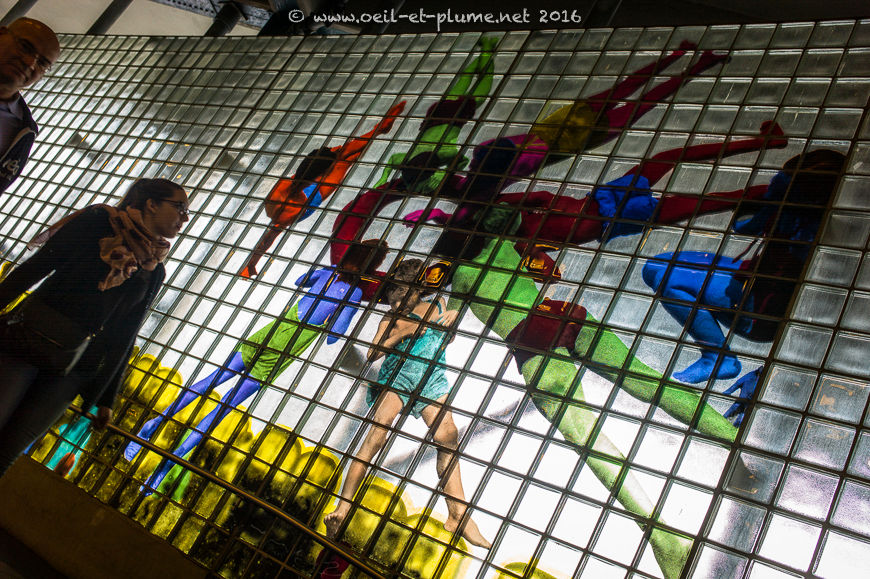 Lower Manhattan
Back in Lower Manhattan, I pay a visit to the 9/11 memorial site. The National September 11 Memorial and Museum are opened to the public since respectively 2011 and 2014. The area is still busy with the reconstruction of the World Trade Center Transportation Hub.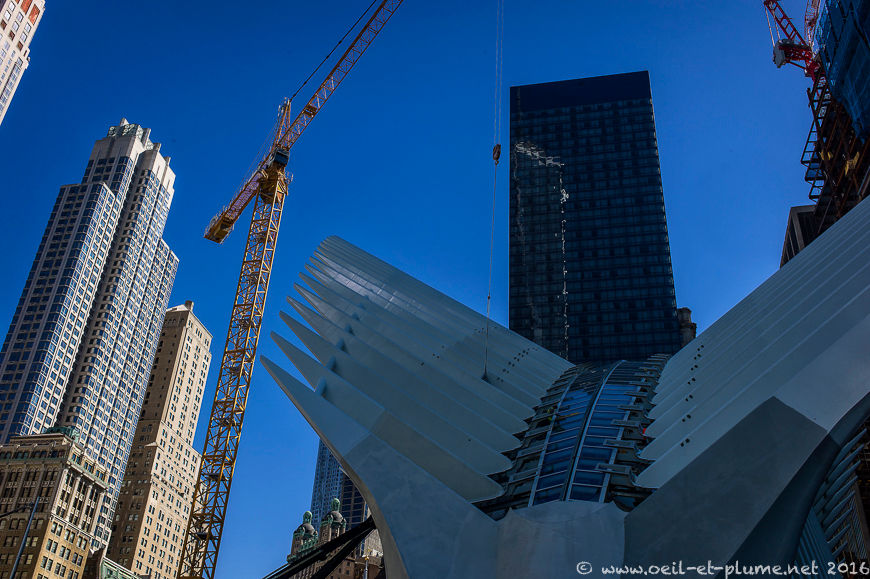 The building evokes a bird released from a child's hand, according to its designer and architect Santiago Calatrava. After much delay and overspending, the project is to be completed this year.
New York City's urban cityscape is largely modeled during the first half of the 20th century, with dozens of scycrapers competing in height and creating an identifiable skyline.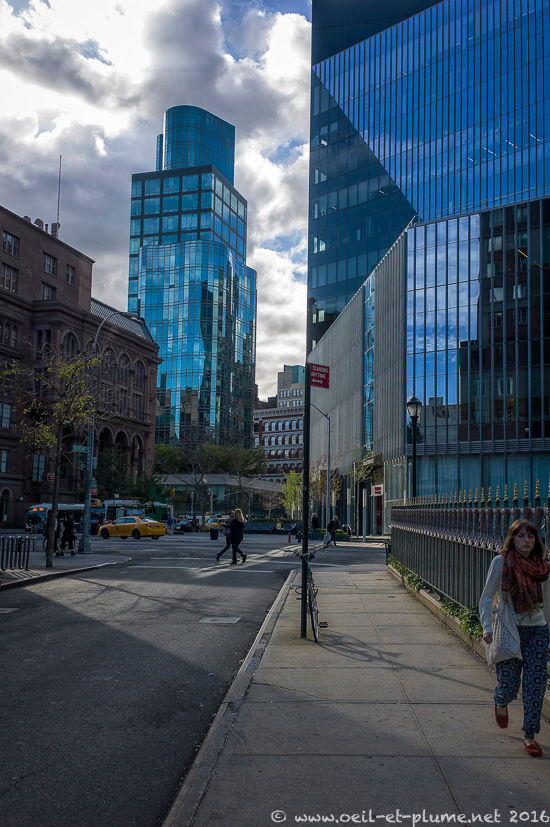 Street photographer more than fond of architecture, I spend much time roaming around in East Village and Greenwich Village. Once artistic and Bohemian places, the latter borough nests the modern gay-right movement in the 1960's. Nowadays, Washington Square Park and its surroundings continue attracting a variety of folks.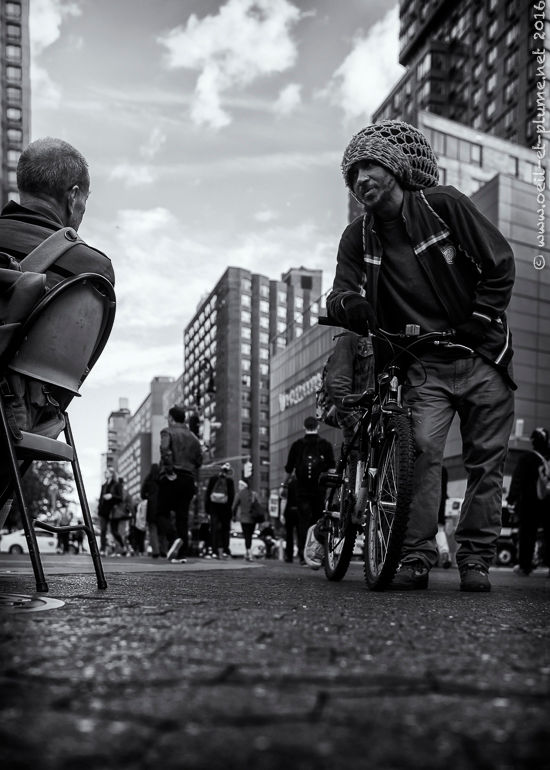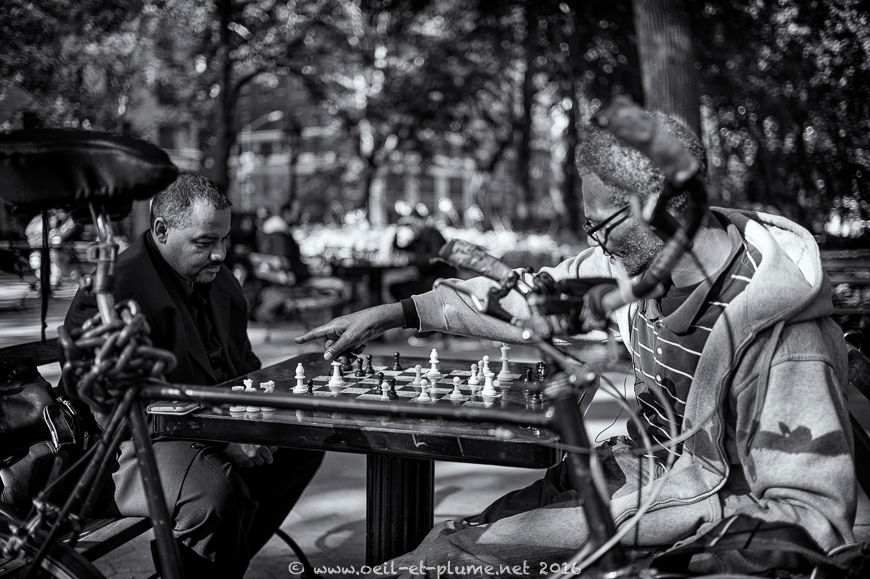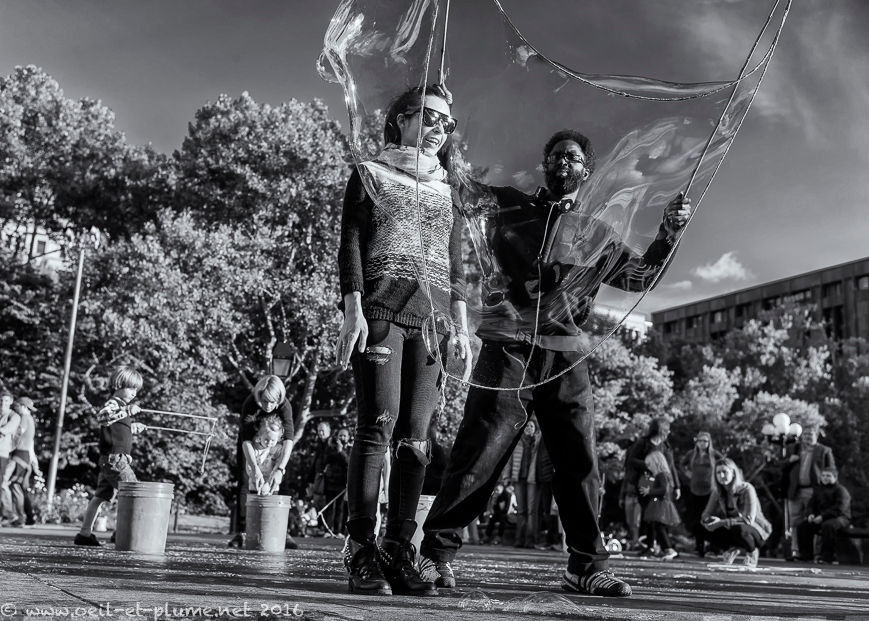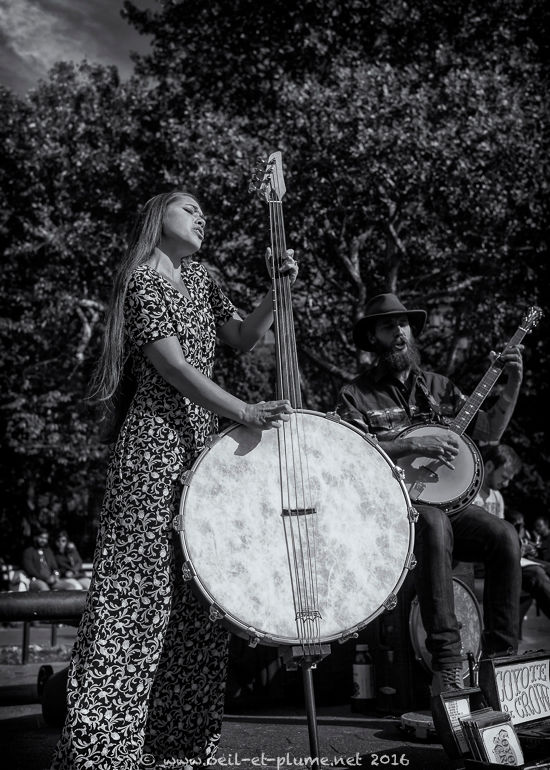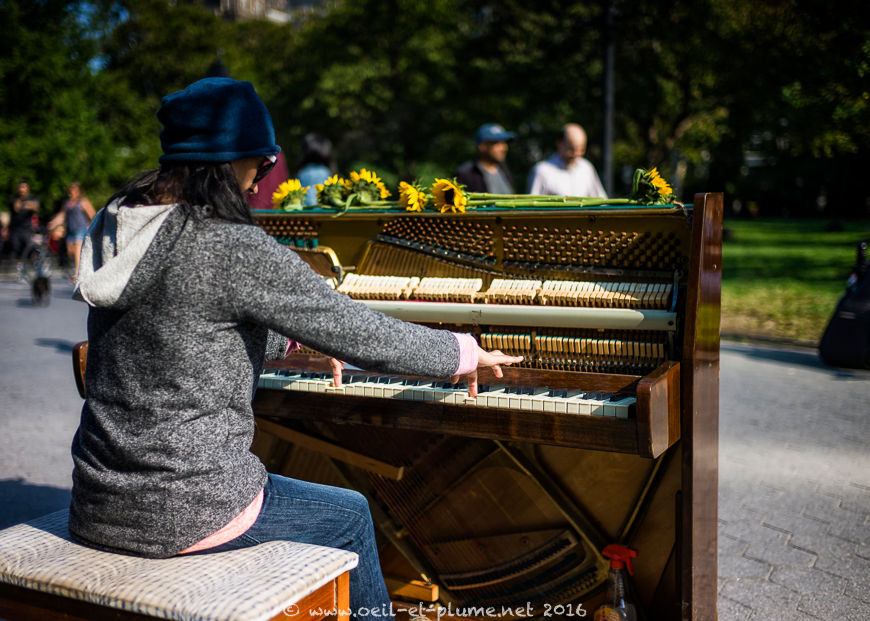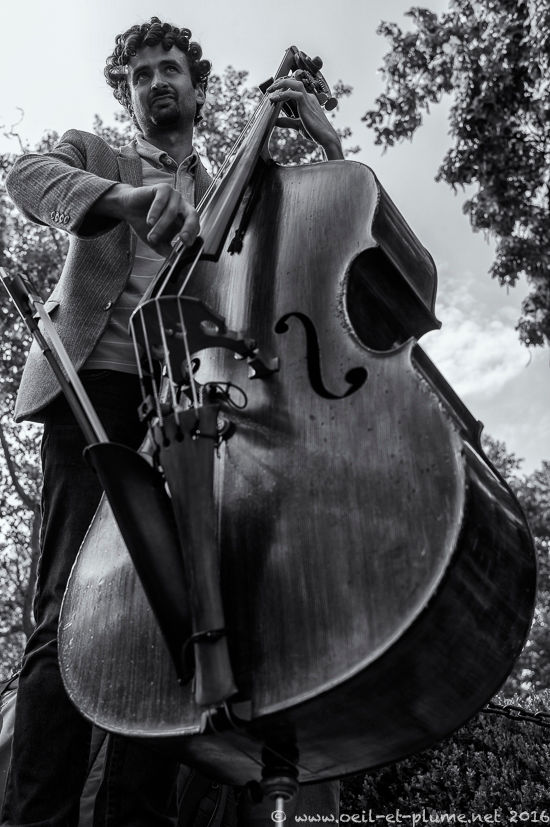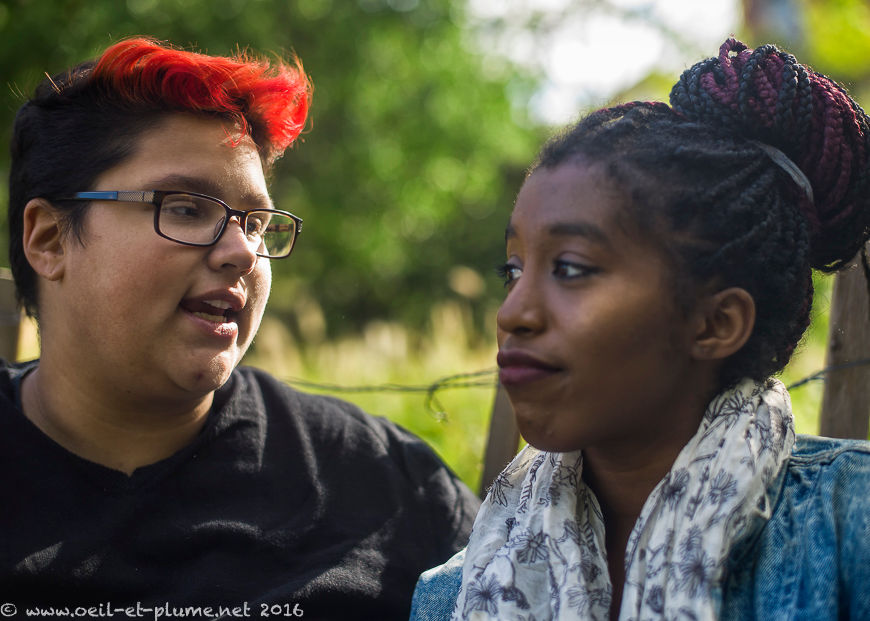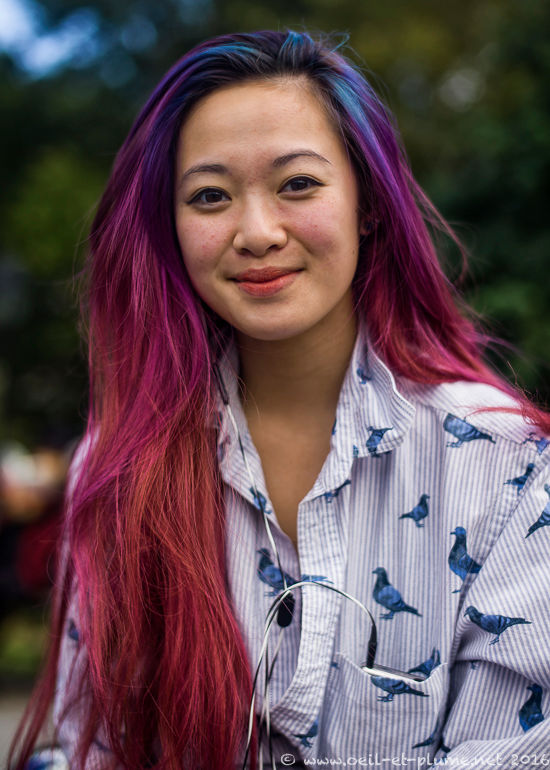 Midtown Manhattan
Moving uptown, I reach Midtown Manhattan, which concentrates the essence of classic New York City : United Nations headquarters, Empire State building, Central Station. The borogh hosts also major libraries as well as the iconic Museum of Modern Art (MoMA).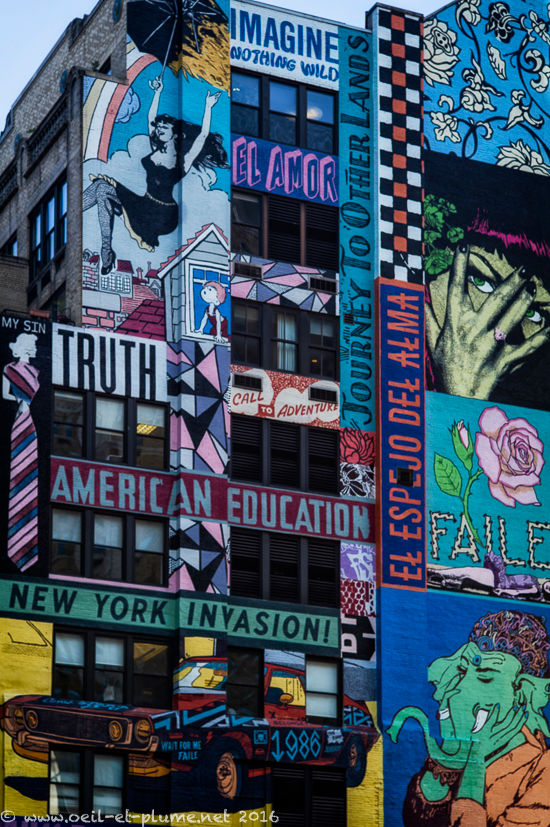 The MoMA is initiated by Abby Aldrich Rockefeller, spouse of John D. Rockefeller Jr., and some of her friends in 1929, despite the turmoil generated by the Great Depression. The museum propers over time and hosts today thousands of major pieces of art.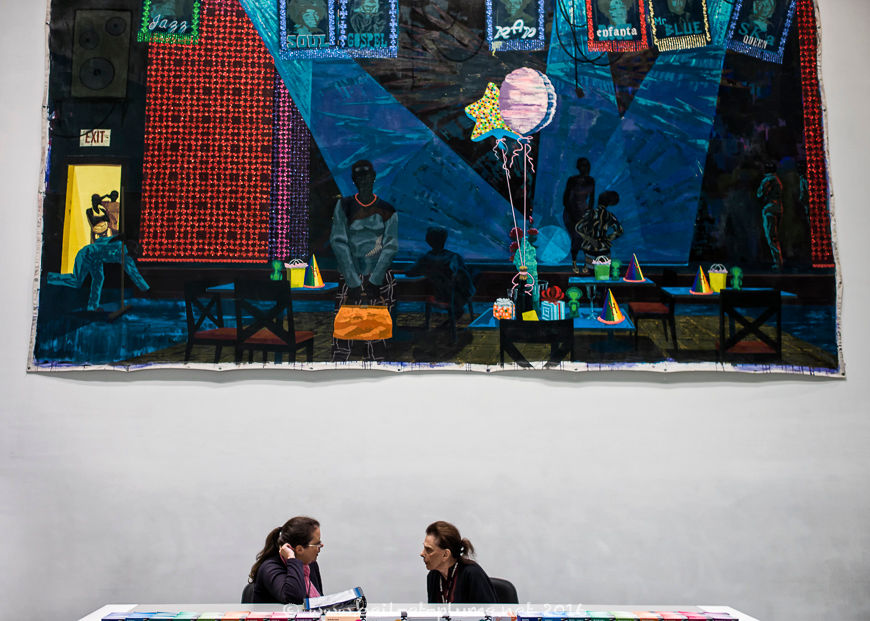 The visit is fascinating, not only for the quality of the work displayed but also because photography is allowed inside the building. I adore capturing scenes depicting how visitors looks at art pieces.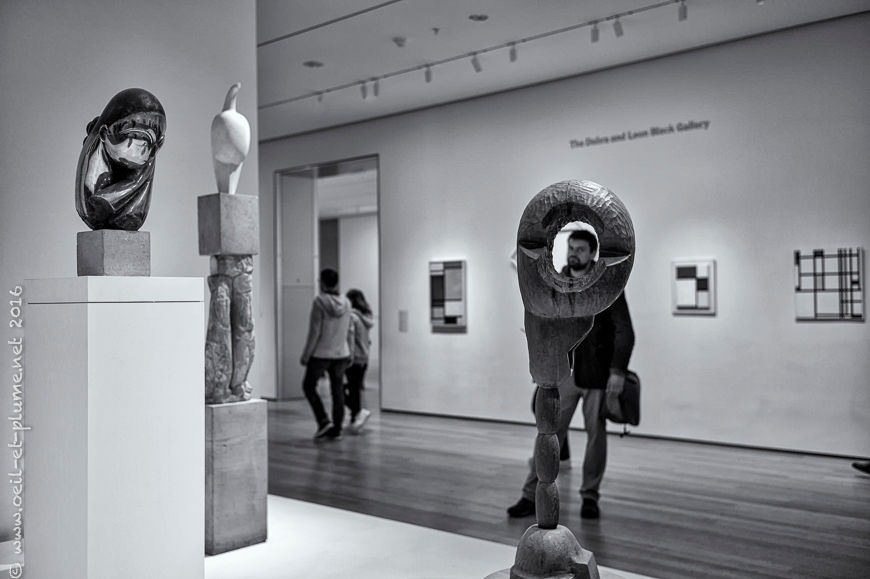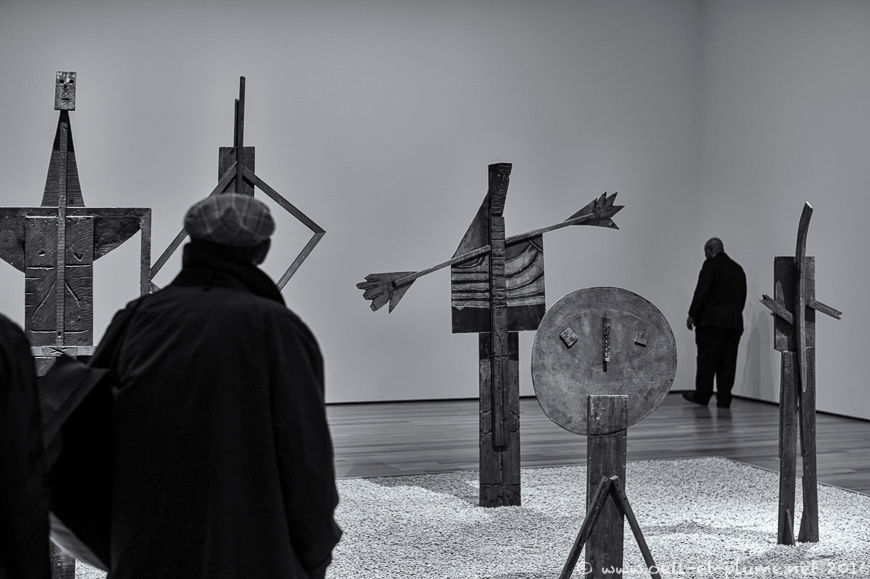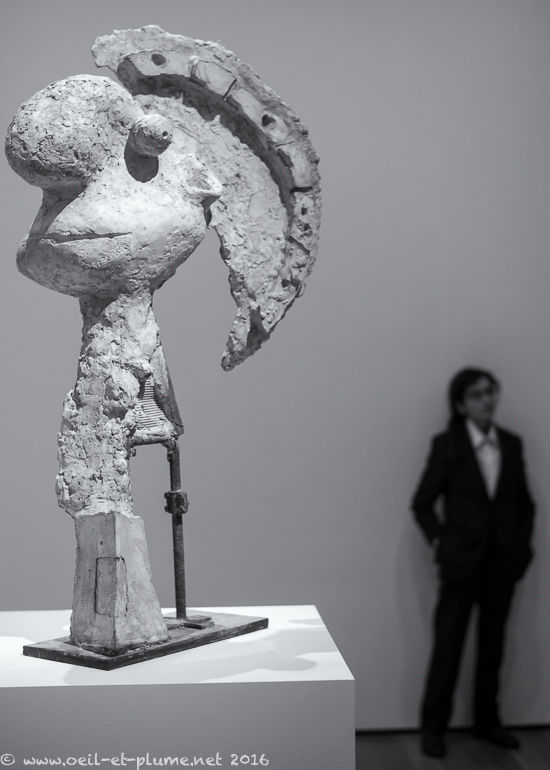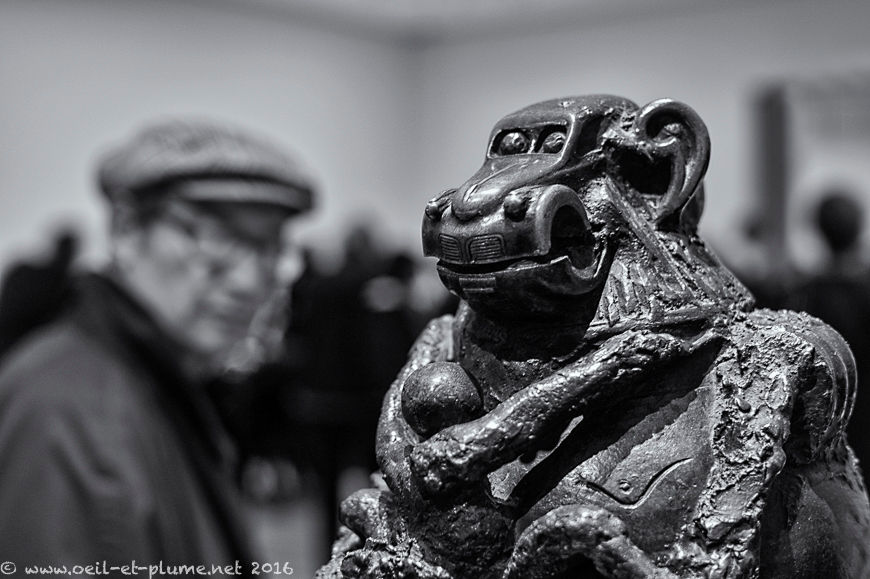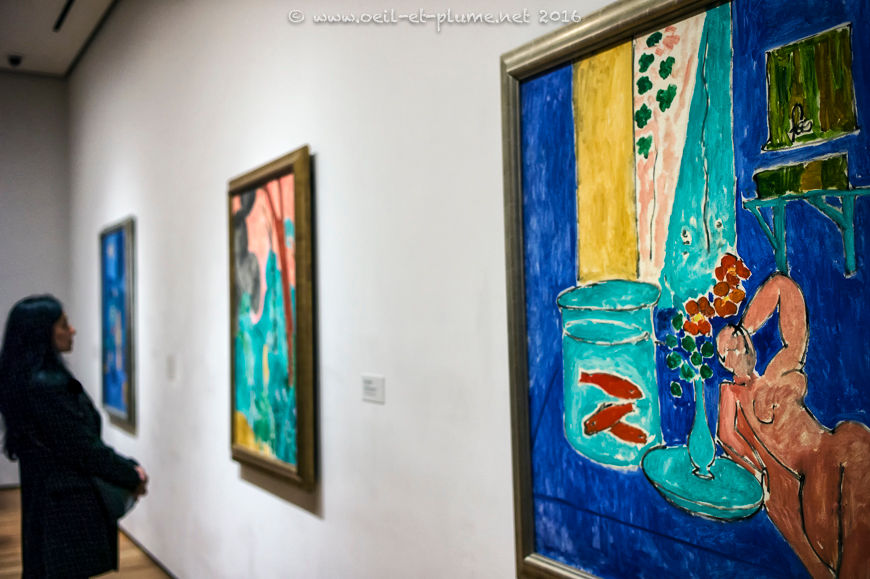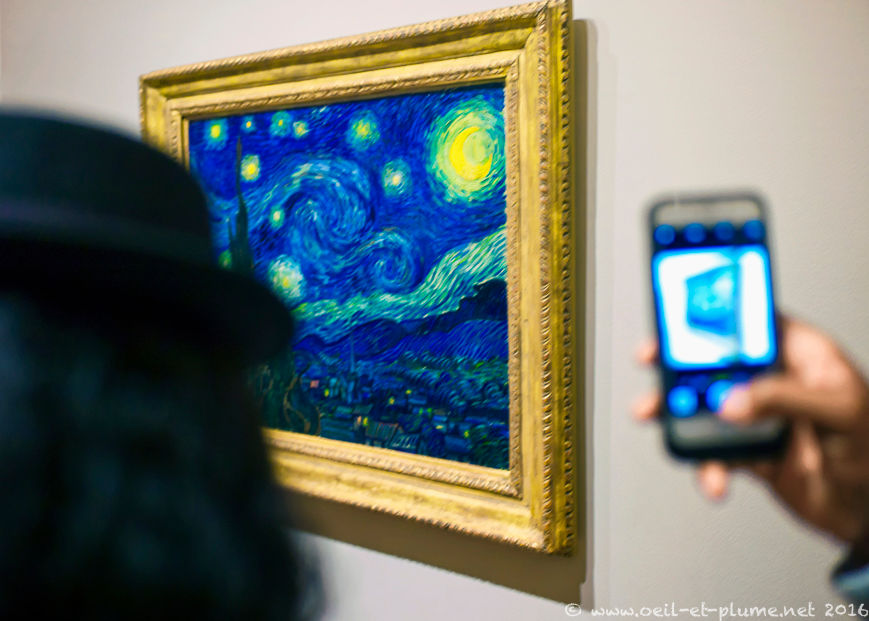 Vincent Van Gogh will certainly be flattered to consider the elegant attention paid to its Starry Night, painted in 1889.
Harlem
In Harlem beats the heart of the Afro-American culture since the 1920's. New York City constitutes a prime destination for the six million African Americans who leave the Southern United States during the Great Migration between 1910 and 1970. Many of those reaching New York settle in Harlem.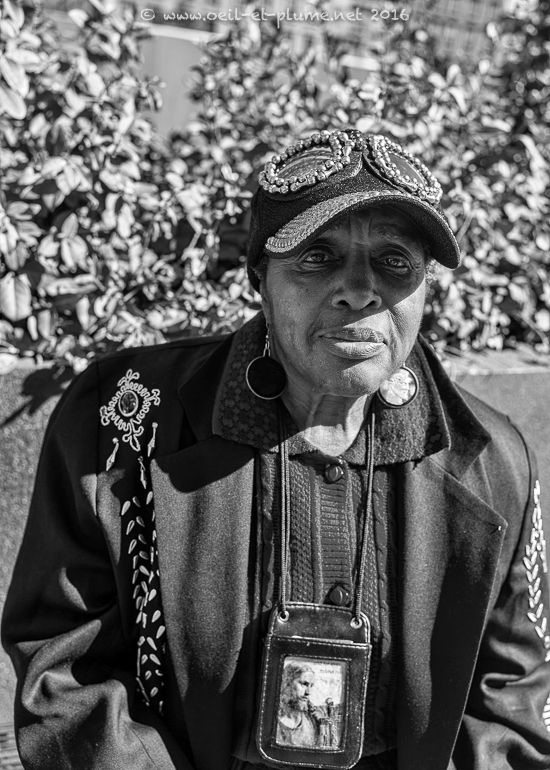 The influx is not only migratory but also cultural, fueling a prolific period named Harlem Renaissance of literary and visual arts. Invented in the 1940's, jazz flourishes in Harlem in the following decades through places like the iconic Apollo Club and stars such as the legendary B.B. King.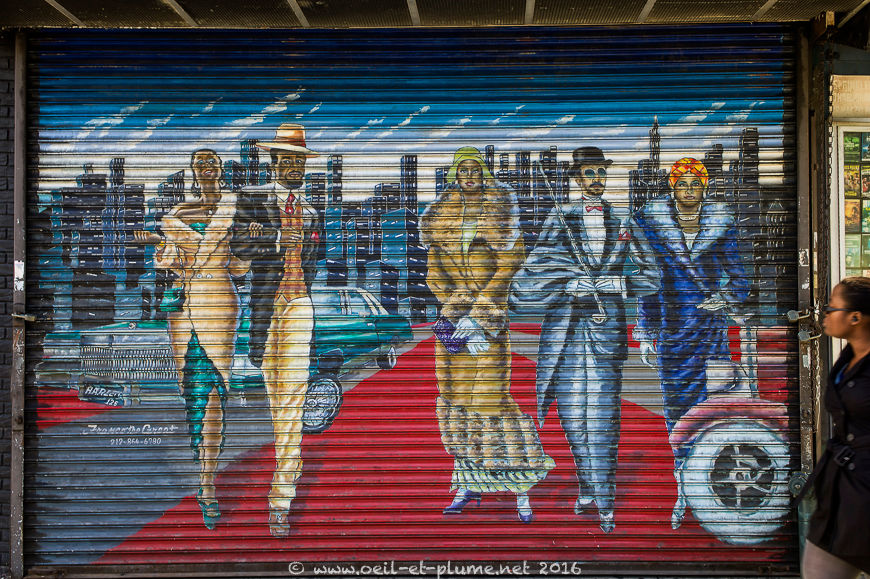 In the 1950's, New York is the birthplace of many cultural movements including abstract expressionism in painting art. New York rivals with Paris in terms of cultural brillance.
Central Park
By mid-19th century, New York is already prosperous enough to think about green and style. Influential residents lobby for a stylish place for open-air driving, similar to Paris' Bois de Boulogne or London's Hyde Park. A large area is defined in Midtown to become Central Park.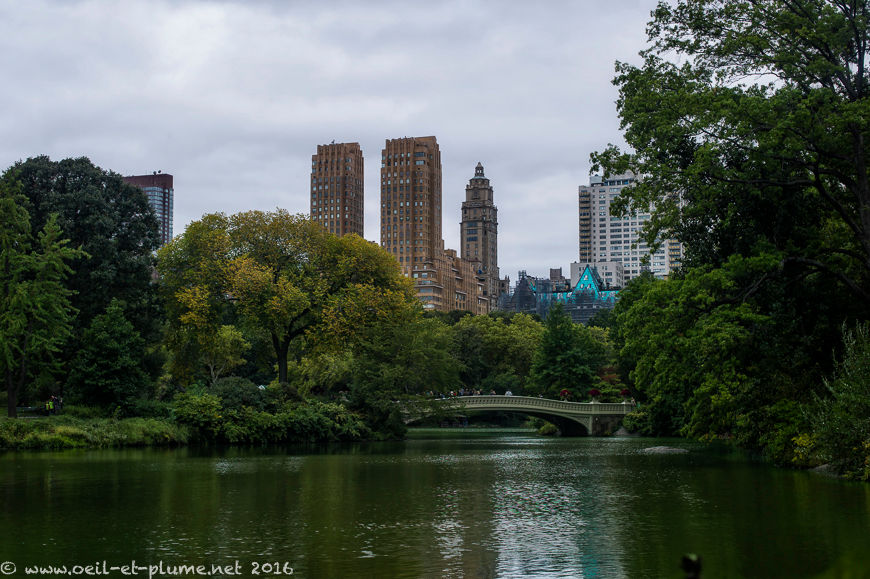 However, the construction of the park implies the area to be cleared of its inhabitants. In 1850, parts of the land under consideration is owned and used by communities of free Blacks and Irish immigrants. They have built houses, churches and cementeries, and raise livestock in grassland.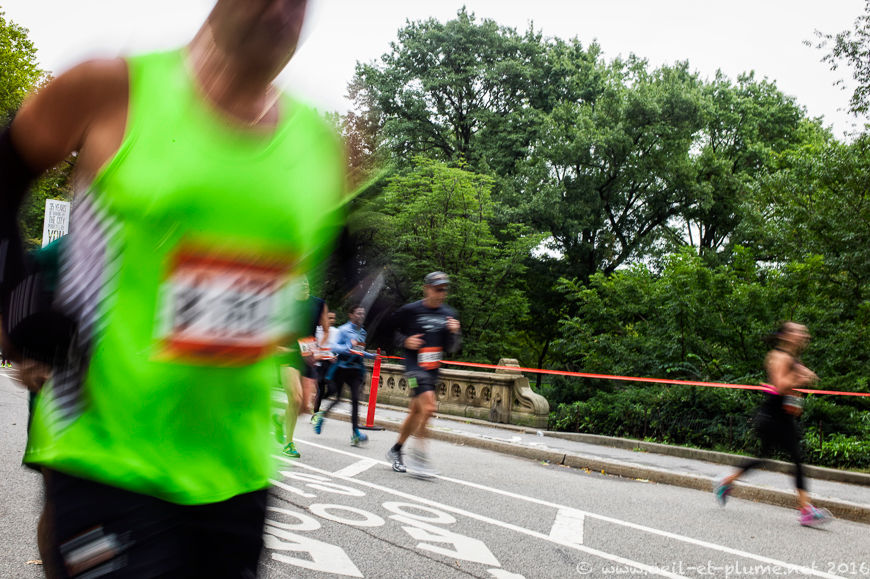 It takes a decade to start the work and nearly 15 years to complete it. By 1873, Central Park is nearly completed. During this period, massive amounts of topsoil are brought in from New Jersey, as the original soil is neither fertile nor enough to sustain the various trees, shrubs, and plants.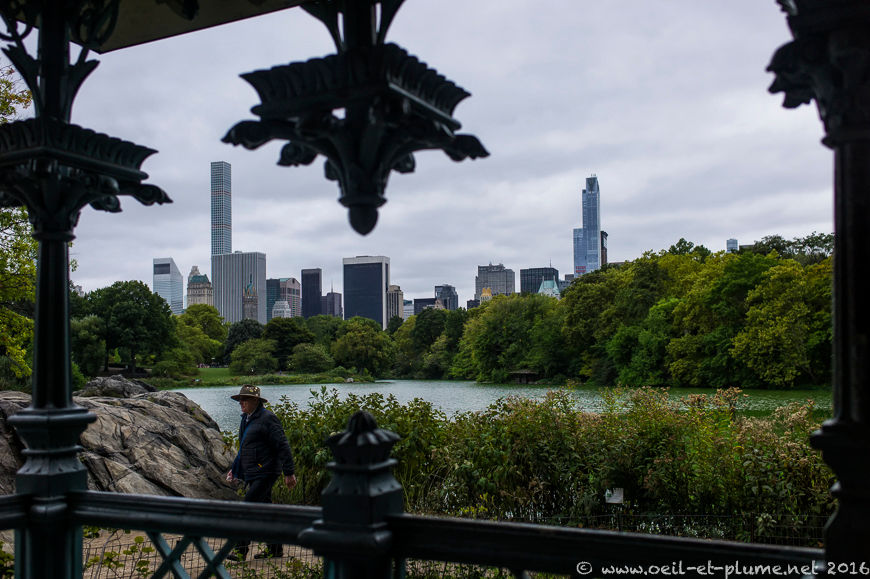 Today's Central Park constitutes a huge training and competing ground for joggers, as part of the many leisure activities available there. It provides a welcome breath of serenity in a city obsessed by time and speed.
Broadway & Times Square
Living in Manhattan for a week, I atttend indeed a musical comedy in a theater located in Broadway along the 42nd Street. I choose Les Misérables, drawn upon Victor Hugo's eponymous novel, amongst a large choice of quality performances. This is when art becomes an profitable industry.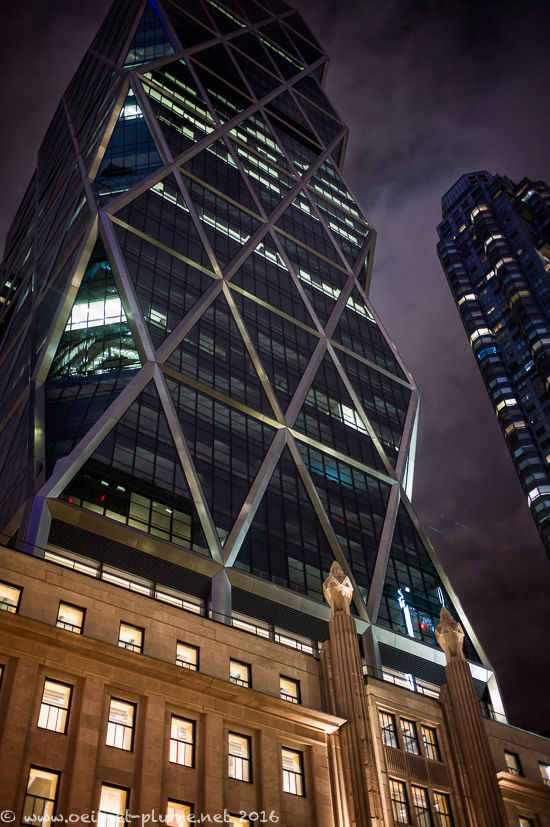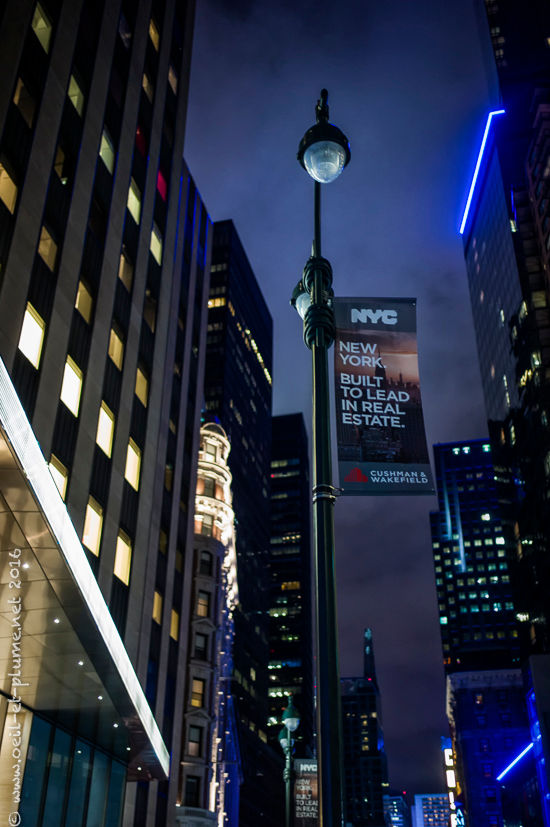 Business-obsessed Times Square is one of the world's busiest pedestrian intersections. At night, it is the most vividly illuminated area in New York City. Brightly adorned with billboards and advertisements, full of people, it represents the quintessence of New York's entrepreneurial and commercial soul.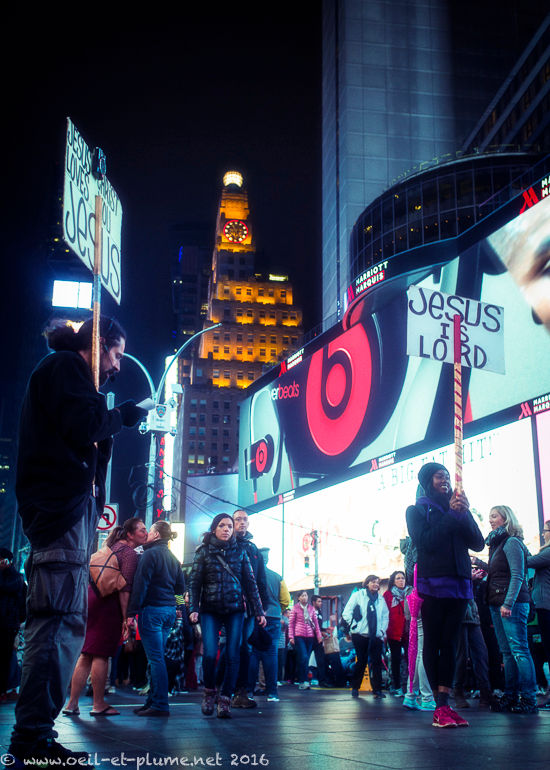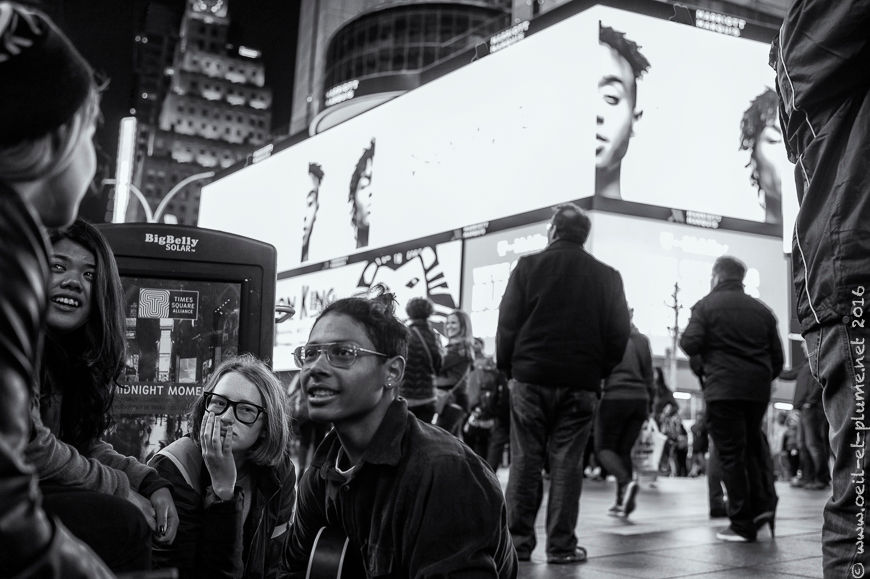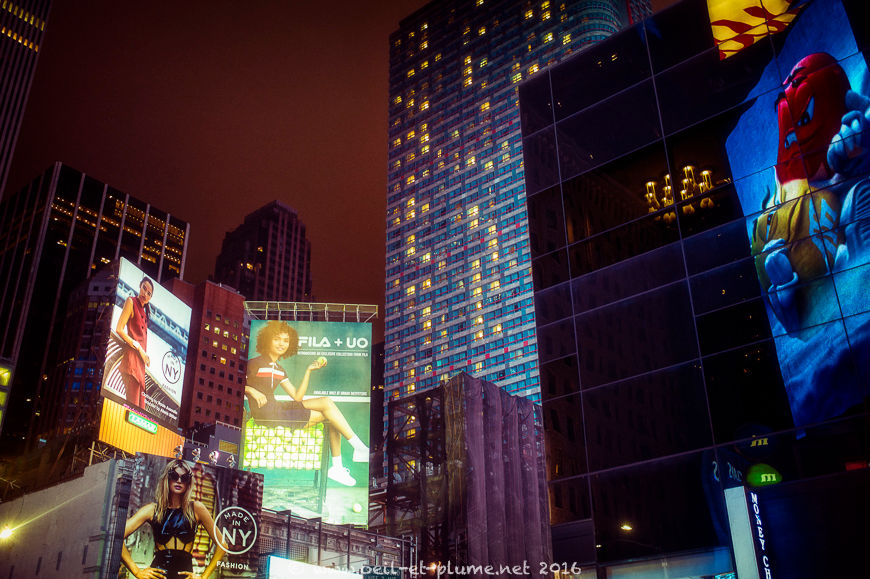 I love NY
How best to conclude but with the 'I Love NY' famous graffiti ?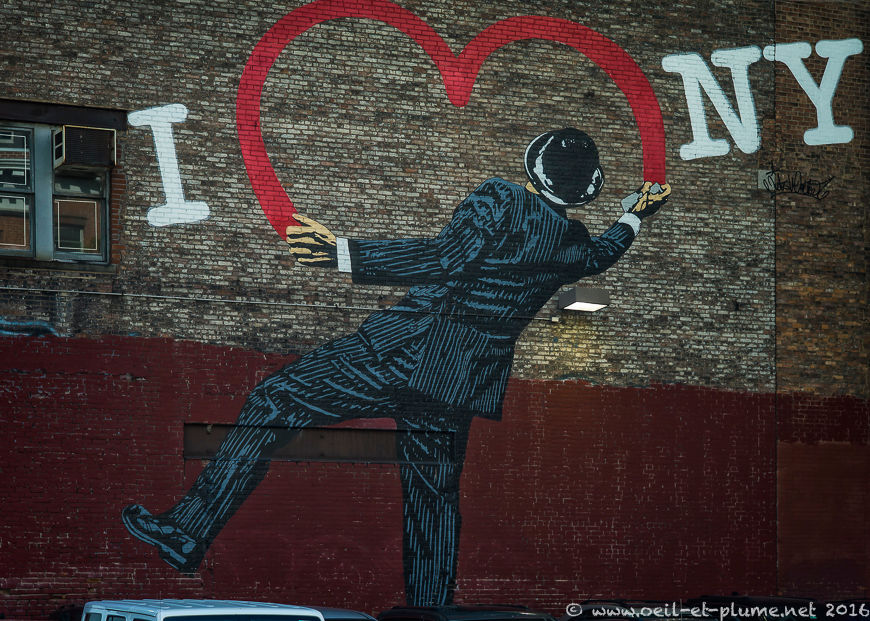 Entitled Love Vandal, the piece of street art is displayed at 17th and 6th Avenue in Manhattan and was designed by Nick Walker. His paintings often feature a bowler-hatted gentleman named "vandal", inspired by a video of the hip-hop group The Black Eyed Peas. Walker's Love Vandal design draws upon the "I Love New York" logo created by Milton Glaser in 1977.
I love NY.
Cheers,