I settled in Athens early August 2017, and I love it.
Athens blends antique and modern history tastefully, displays colourful lifestyle, vibrant street life and sweet chaos. Counting more coffee shops than traffic lights, the bubbling Hellenic capital town mixes white concrete and greenery in a tasty Mediterranean style. The port town is also springboard to a galaxy of confetti islands scattered across the western Mediterranean.
All this makes living in Athens so fascinating and rewarding.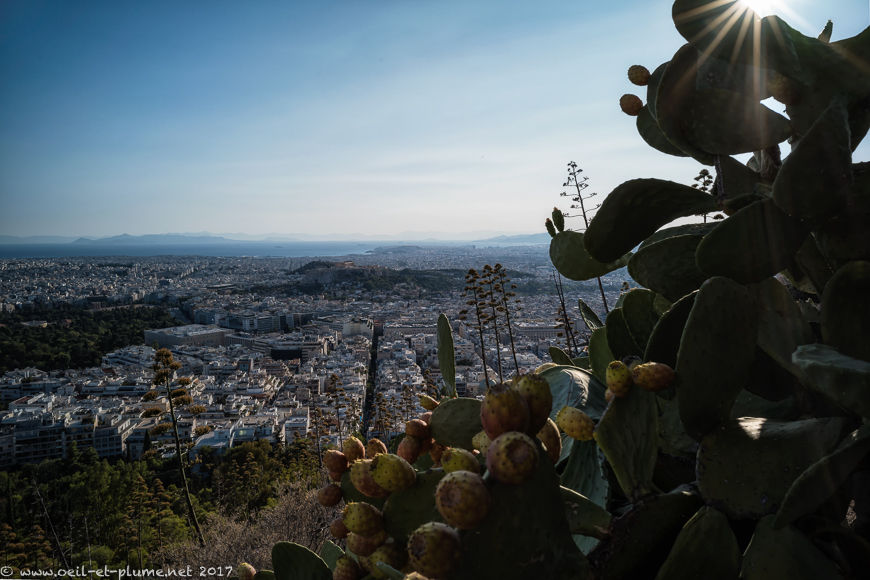 Street art
Mid-September, Banksy, the famous and elusive graffiti artist and political activist, was arrested in Palestine by Israeli security forces. The latter then published Banksy's real name (William Horner), ending the long-standing controversy about the real identity of one of the most famous contemporary street artists.
At that time, I had started documenting street art in Athens, as I did earlier in a number of cities including Geneva, Paris, New York, Tokyo and Istanbul.
I love tracking significant pieces of street art and portraying in their social environment. The project not only reproduces street artworks, but also incorporates people who participate, consciously or not, in an original photographic composition.
Street art is a form of visual art created in public locations, outside traditional art venues. It addresses an audience who does not necessarily frequent art galleries. Street art explores the legal boundaries of an urban intervention. It is often assimilated to vandalism when performed without the consent of the owner of the public or private properties where it takes place.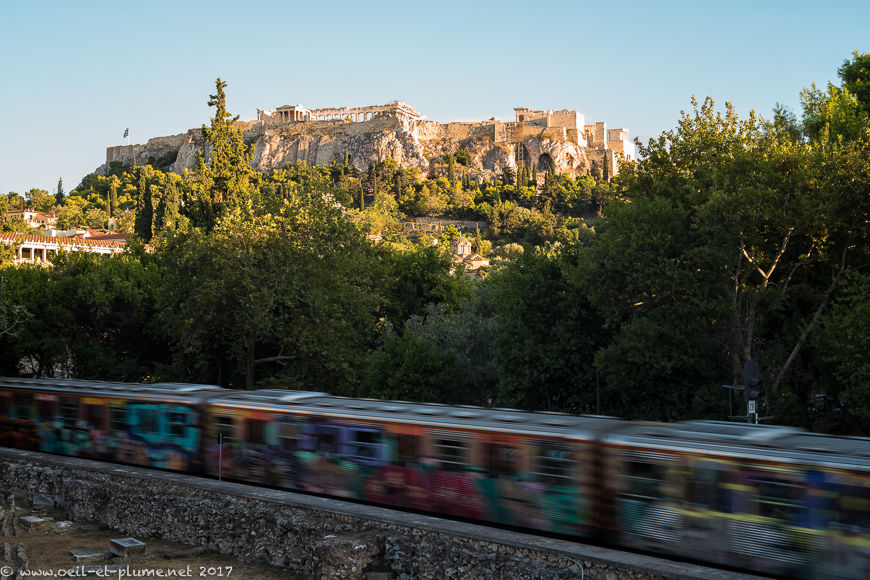 Street art is usually purposefully created on walls, facades, awnings, gates and courts. However, it can occur more randomly in a variety of forms and locations. It can embrace mobility to better reach out its audience. Metro trains can become gliding pieces of urban art.
A graffiti word painted on a wall, shoe boxes piled up on a walkway or the shadow of a statue constitute street art depending on the creativity of your eyes and your mind.
The definition of street art entails a strong element of subjectivity, for instance as to its aesthetics. To me, any tag or graffiti works created on the public scene do not necessarily qualify to street art. While I remain very open as to the multiple forms and vectors of street art, I need to encounter a sense of aesthetics in artwork to feel moved.
Street art is everywhere in Athens, particularly in Psyri, Exarchia and Kerameikos neighborhoods. WD aka Wild Drawing, Bleeps.gr, the Krah, Sonke and Roko count amongst the most prominent and my personal favourites artists active in the Hellenic capital. I found often smudged works in Athens' streets. It does not take long until fresh pieces of street art get spoilt or simply deleted, illustrating the fragile fate of street art.
Militant street art
Street art burgeoned in Athens in the late 1980's to gain momentum in relation to Greece's 2011 financial crisis. The latter not only shook the socio-economic fundamentals of the country, but also triggered a collective identity crisis.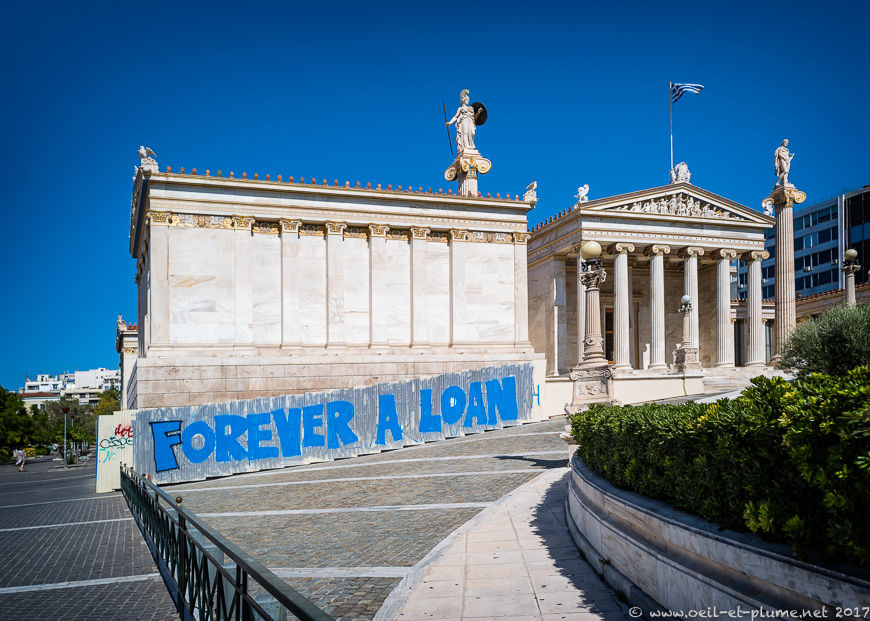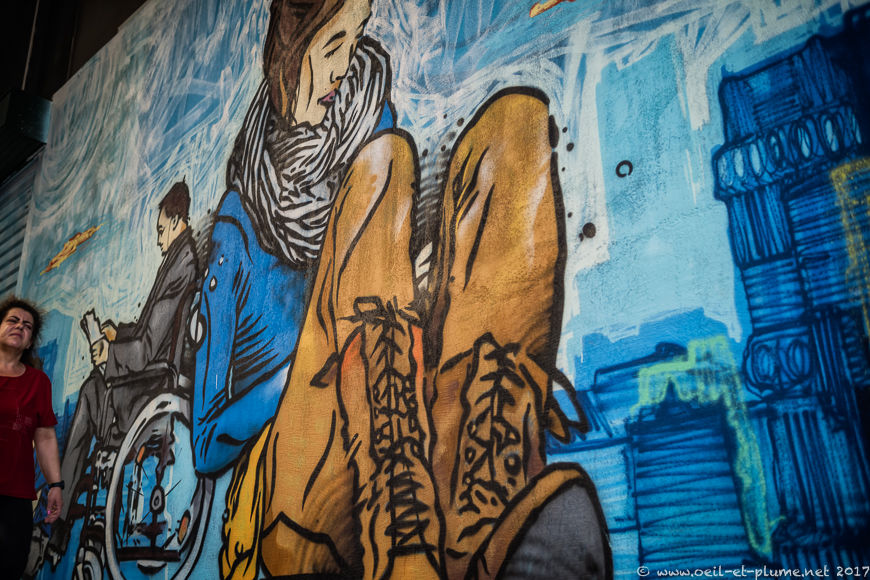 Numerous artists reviewed critically the roots and the symptoms of the debt crisis, as well as the social consequences of the correcting policies. Sometimes called artivism, militant art boomed, including in public spaces, far away from the stereotype of a hedonist Hellenic spirit.
As WD's photographer figure below, I crisscrossed parts of Athens to capture some of the most emblematic pieces of militant street art still visible in late 2017.
The overall picture emerging from the survey is rather dull, albeit not all dark. Vulnerability, dissatisfaction, solidarity are key words emerging from the survey. Economy and ecology, human rights and public policies are the main topics critically reviewed by Athens' street art militants.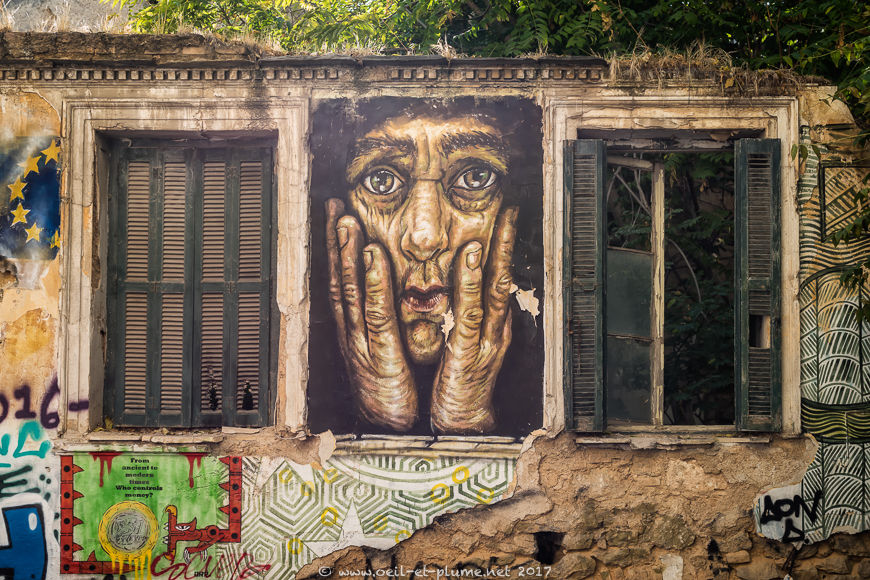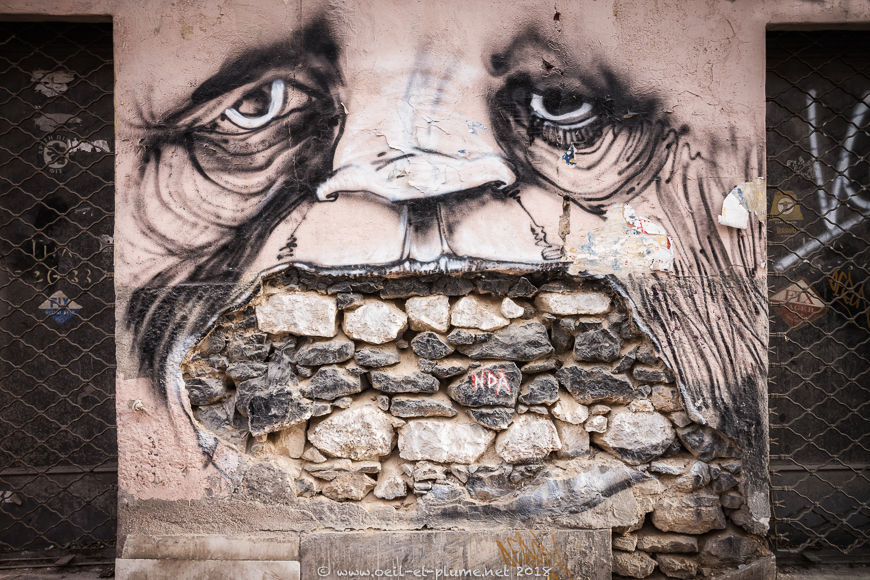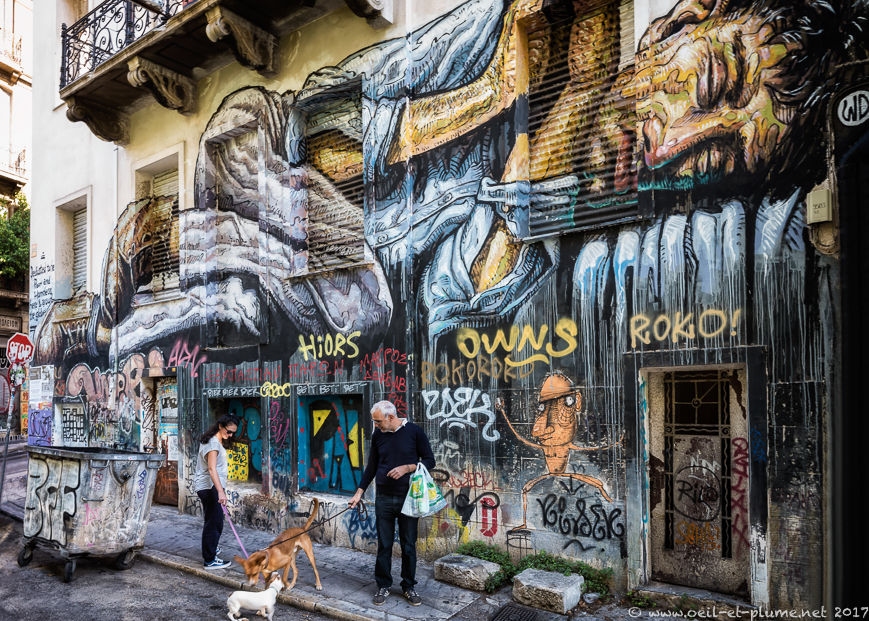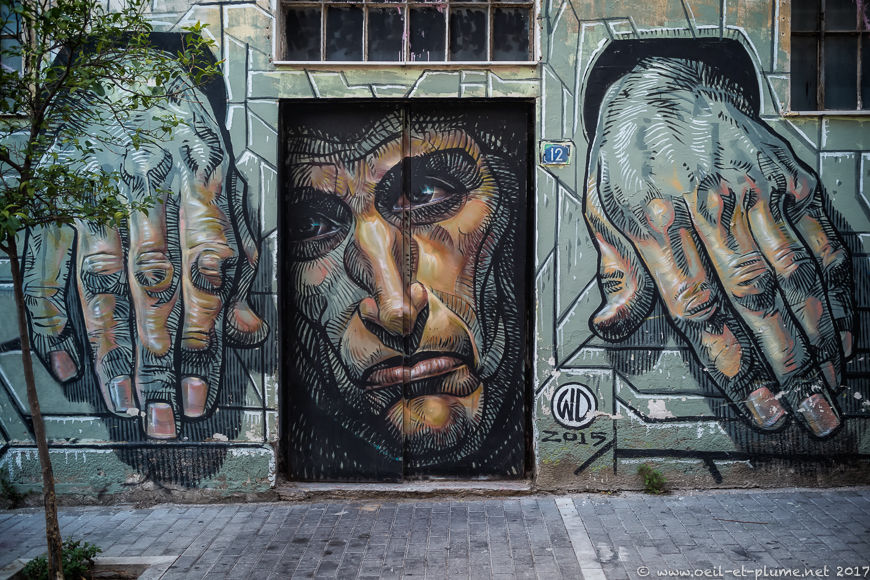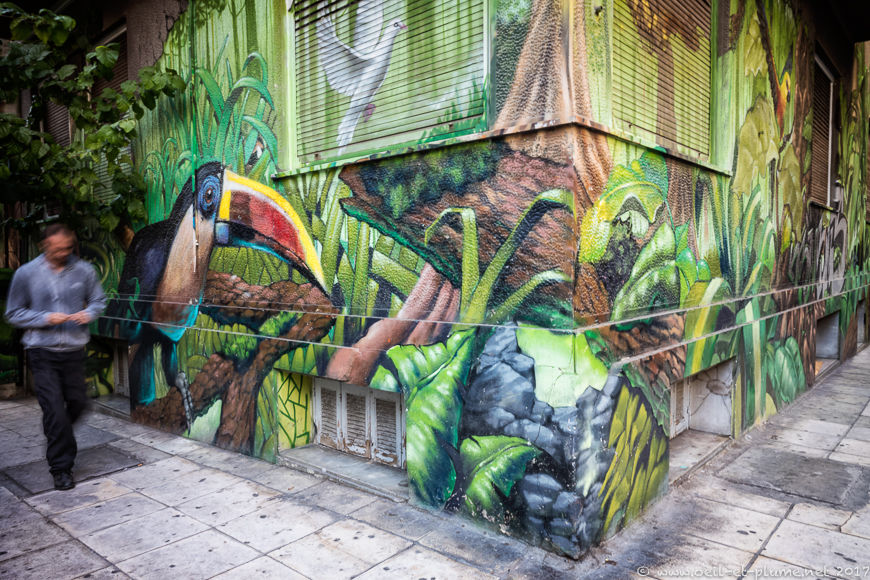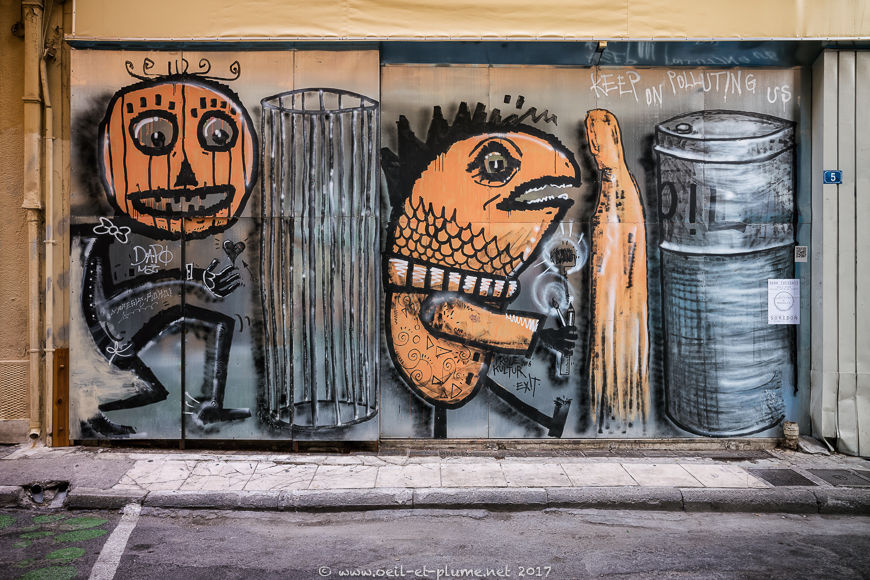 Militant street artwork may voice strongly to engage into hard-line calls for societal betterment. To do so, it relies on evocative visual representations, large formats, harsh colours as well as warmongering vocabulary.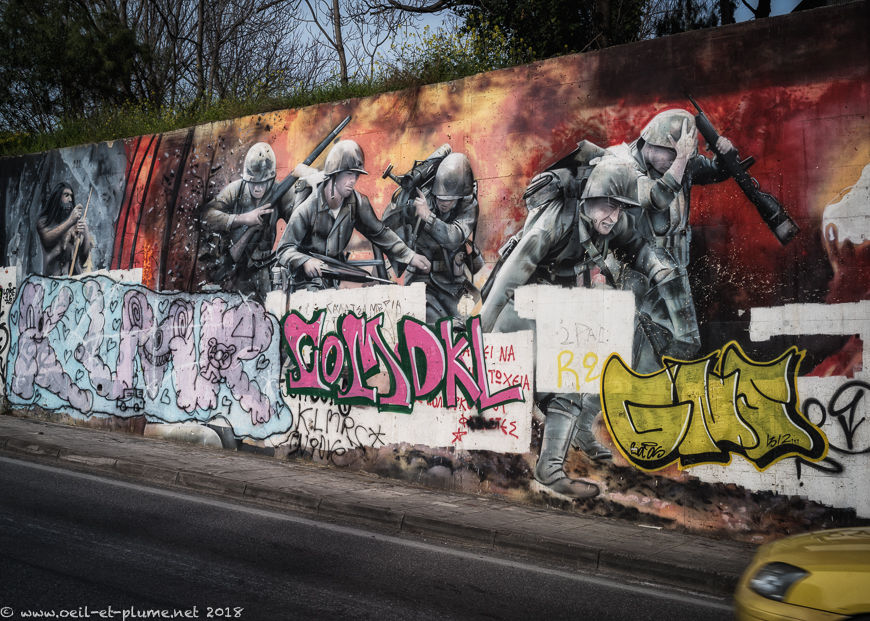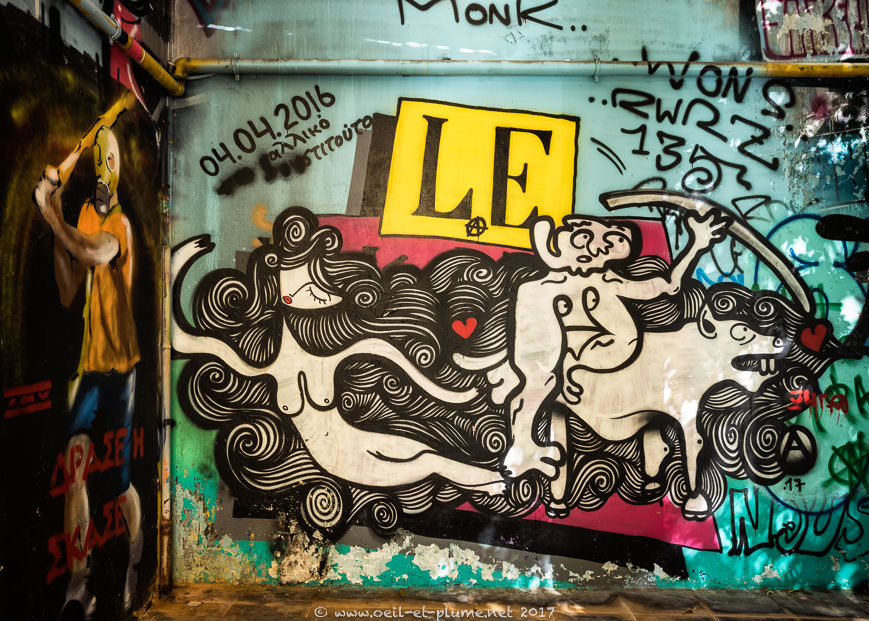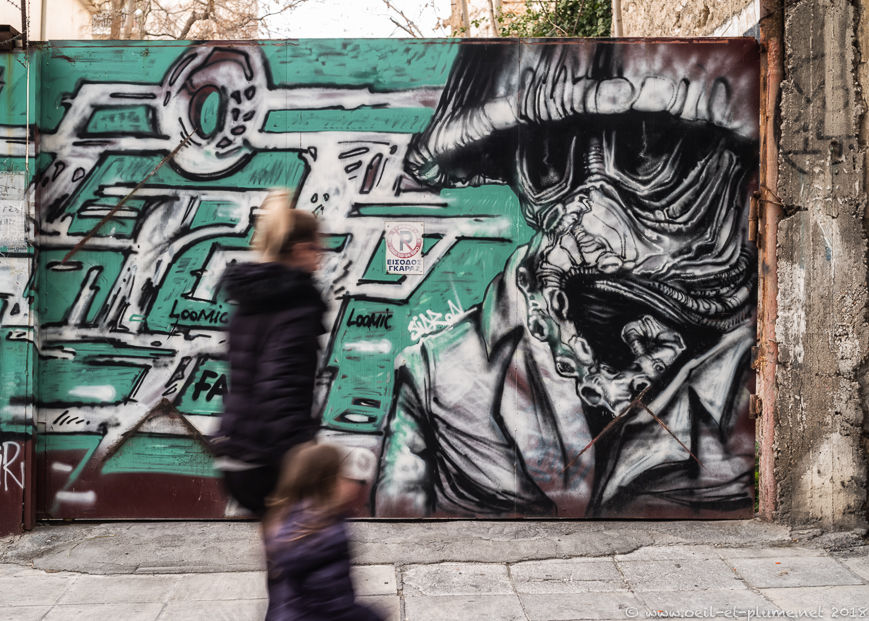 Ultimately, militant street art relies on its body of work to raise awareness on social and political issues. Possibly a form of urban vandalism, it reflects a malaise amongst some of us to live and develop within our contemporary societies.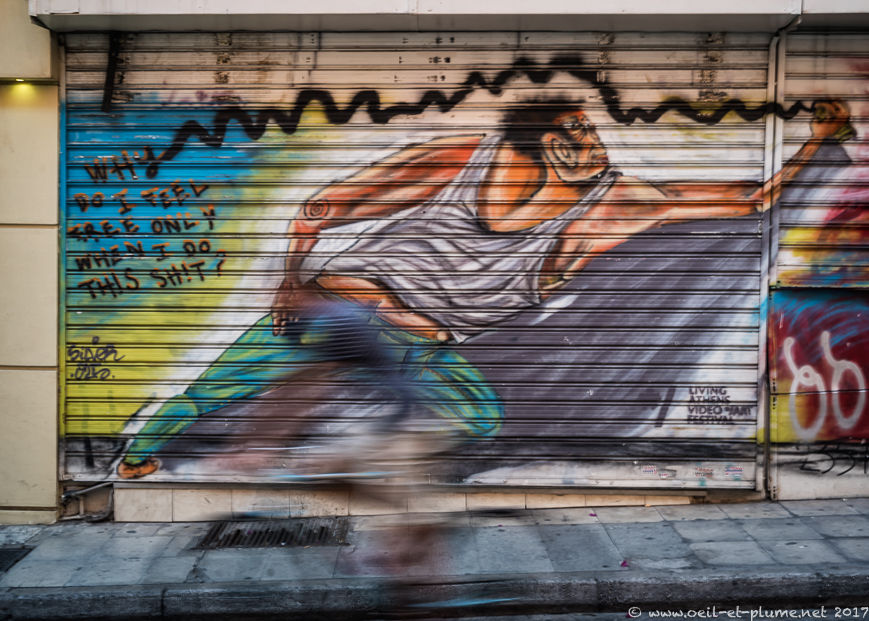 Cheers,